Angelo Mosca, colorful former CFL lineman, dies at 84
HAMILTON, Ontario — Angelo Mosca, the five-time Grey Cup champion defensive lineman best remembered for a controversial hit and a subsequent fight with Joe Kapp 40 years later, died Saturday. He was 84.
Mosca's wife, Helen, announced the death in a Facebook post.
"It is with great sadness that the family of Angelo Mosca announce his passing … after a lengthy battle with Alzheimer's," Helen wrote. "Angelo was a loving husband, father, grandfather and great-grandfather as well as friend to so many."
Elected to the Canadian Football Hall of Fame in 1987, the former Notre Dame and Hamilton Tiger-Cats star was diagnosed with Alzheimer's in 2015 shortly after his 78th birthday.
"Angelo Mosca was a superstar," CFL commissioner Randy Ambrosie said in a statement. "Tough as nails, he overcame a hardscrabble childhood and became a household name. A phenomenal football player, he played in nine Grey Cup games and won five, one with the Ottawa Rough Riders and four with the Hamilton Tiger-Cats.
"Savvy, smart and ahead of his time, he built his bad guy personae into a personal brand that was bigger than life. Unloved in some markets, where he was the villain, his stature was unmatched in Hamilton, where he was a hero, and when he traded his shoulder pads for wrestling tights, he enthralled Mosca fans in countries near and far."
The 6-foot-4, 275-pound Mosca gained national notoriety for his hit on British Columbia's Willie Fleming that knocked the running back out of the 1963 CFL title game.
Fleming took the ball on a pitchout and was running to his right. He had been tackled just inside the sideline and was lying on his stomach when Mosca came flying over on top of the Lions player. No penalty was called on the play but many — including then-Lions quarterback Kapp — felt Mosca's hit was not only late but dirty.
With Fleming no longer able to play, Hamilton went on to win 21-10 and further enhance Mosca's reputation as the CFL's meanest player, something he later promoted during his pro wrestling days as bad boy "King Kong" Mosca.
Kapp never shook Mosca's hand following the 1963 Grey Cup. But he and the Lions gained some revenge by downing Mosca and the Tiger-Cats 34-24 in the 1964 title game at Toronto's Exhibition Stadium for the B.C. club's first-ever CFL championship.
In November 2011, the two old foes were guests at a CFL Alumni luncheon during Grey Cup week in Vancouver. The former players were called onstage before the crowd when the then 73-year-old Kapp attempted to give the 74-year-old Mosca flowers as an apparent peace offering but Mosca rejected the gesture with an expletive.
Kapp then shoved the flowers in Mosca's face, prompting Mosca to attempt to push them away with his hands. Kapp then swatted Mosca with the flowers, and Mosca retaliated by swinging his cane and striking Kapp in the head. Kapp then landed a right hand to Mosca's jaw, then a left that felled Mosca.
Born in Waltham, Massachusetts, Mosca went from Notre Dame to the Tiger-Cats in 1958 before being selected in the 30th round, 350th overall, in the 1959 NFL draft by the Philadelphia Eagles. Mosca elected to remain in Canada and was dealt to the Ottawa Rough Riders in 1960, earning the first of his five Grey Cup rings that year.
Mosca spent two seasons with the Riders before joining the Montreal Alouettes in 1962. He returned to Hamilton in 1963 and remained with the Ticats until his retirement following the club's home Grey Cup victory over Saskatchewan in 1972.
Mosca lived for years in St. Catharines, Ontario, wrote a book with Steve Milton entitled "Tell Me To My Face" that was released in September 2011.
San Francisco 49ers WR Deebo Samuel, LB Fred Warner out 1-2 weeks, coach Kyle Shanahan says
SANTA CLARA, Calif. — The San Francisco 49ers breathed a collective sigh of relief Monday after receiving important injury news on two of their best players.
Niners coach Kyle Shanahan said Monday that receiver Deebo Samuel and linebacker Fred Warner suffered groin and hamstring strains, respectively, in San Francisco's 34-26 victory Sunday over the Minnesota Vikings.
The bad news is that both will miss at least Sunday's game against the Seattle Seahawks. But Shanahan was more pleased by the fact that both players aren't expected to miss more than a game or two as the 6-5 Niners make their push for an NFC playoff spot.
"That's what I was kind of telling you guys last night that I hope for that it was just a strain," Shanahan said. "And strains usually [last] anywhere from one to two weeks. I think it was very good news considering what it could have been."
According to Shanahan, both Samuel and Warner could return as soon as the Dec. 12 game against the Cincinnati Bengals. Barring a setback, both would be expected back in time for a Dec. 19 home game against the Atlanta Falcons.
While the Niners got relatively good news in the big picture, the loss of Samuel and Warner even for one week is significant.
Samuel has been the team's most productive offensive player, establishing himself as the league's premier multidimensional weapon.
On Sunday, Samuel became just the third player in NFL history to record 1,000 receiving yards, five rushing touchdowns and five receiving scores in the same season.
Without Samuel, the Niners will look to second-year receiver Brandon Aiyuk to continue building on his recent surge, as well as the likes of tight end George Kittle, wideout Jauan Jennings and a burgeoning running game.
"He's been a big part of our offense," Shanahan said. "But I think we're in a spot right now that we can overcome that."
Replacing Warner also won't be easy, especially since it's something the Niners haven't had to do at any point in his three-plus seasons. When he misses Sunday's game against the Seahawks, it will be the first contest Warner has missed since he came into the league in 2018, snapping a streak of 59 consecutive regular-season starts.
When Warner departed in the third quarter against the Vikings, the Niners turned to Demetrius Flannigan-Fowles to step in at middle linebacker with Azeez Al-Shaair remaining at weakside linebacker.
How that plays out this week will depend on the status of fellow linebacker Dre Greenlaw. Greenlaw also left Sunday's game with what Shanahan described as an "irritation" of the core muscle injury that had kept him out since Week 1. Greenlaw is considered day-to-day this week.
And with strongside linebacker Marcell Harris in the concussion protocol, the 49ers figure to enter the Seattle game woefully thin at linebacker. That puts even more onus on Al-Shaair, who had an interception and a fumble recovery in the win against Minnesota.
"Azeez has been ready for anything we've asked him to do," Shanahan said. "He always runs around and plays like his hair is on fire and he loves playing the football game. That's not changing, but he's just getting more and more confident of where to be, what to anticipate … He's been playing at a high level all year and whether he's inside or outside, I expect it to continue, we need it to continue, because he's one of the reasons we're playing pretty good right now."
Elsewhere on the injury front, running back Trey Sermon suffered an ankle sprain that Shanahan said will keep him out "for a little while" and makes him a candidate to head to injured reserve with a chance to return later in the season.
Green Bay Packers QB Aaron Rodgers not expected to have surgery to repair broken toe during bye week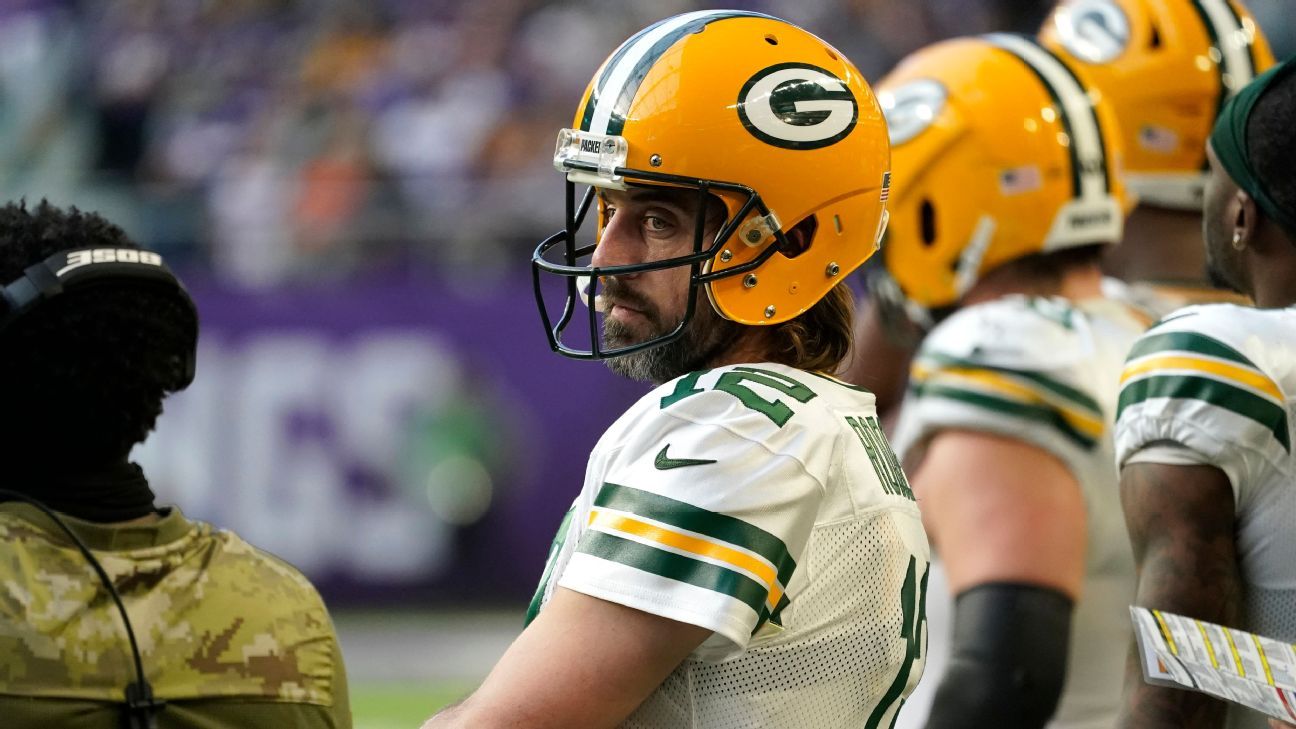 GREEN BAY, Wis. — Aaron Rodgers and the Green Bay Packers are expected to use rest — not surgery — to help the quarterback's fractured pinkie toe heal.
Packers coach Matt LaFleur said Monday that Rodgers is "gathering other opinions, so we'll see where that goes," but a source said those opinions are not expected to lead to surgery during this week's bye.
The Packers (9-3) are off until Dec. 12, when they'll face the Chicago Bears in a Sunday night prime-time game.
"The most important thing is healing and taking care of my toe," Rodgers said Sunday when asked about his bye-week plans.
NFL Network reported earlier on Monday that Rodgers does not plan to have surgery.
Rodgers said he fractured the toe during his COVID-19 quarantine earlier this month, and he has played in the past three games since with almost no on-field practice preparations.
The only full-fledged practice he took part in during that stretch was on Nov. 19, two days before the Packers' loss at Minnesota. He said he received a pain-killing injection at halftime of the game against the Vikings but did not need one to play in Sunday's win over the Los Angeles Rams.
"The difference is I didn't have to get shot up again at halftime, so definitely the healing this week not practicing [helped]," Rodgers said after he threw for 307 yards and two touchdowns in Sunday's 36-28 win over the Rams.
"Last week, I tried to do some stuff on Friday, felt like we needed maybe a little jolt and that kind of impacted Sunday a little bit from a pain standpoint. This week, I just did a walk-through on Saturday and obviously all the walk-throughs during the week, but no practice time, I think really helped. It definitely helped looking at the scans. The healing, kind of get to a better spot, so I've definitely felt better, but third quarter, late third, early fourth and I got stepped on early in the game, there was definitely some pain I was dealing with."
Rodgers even had a rushing touchdown on Sunday, beating Rams cornerback Jalen Ramsey around the edge for a 1-yard score. In the past two games combined, Rodgers has thrown for 692 yards and six touchdowns without an interception.
He said after Sunday's game that he would make a decision about surgery after additional tests on Monday.
"The toe felt good most of the game," Rodgers said. "Was just actually in talking with the docs. Not sure at this point; we're going to do some more testing in the morning and get a better view of what's going on in there, and then make a decision at that time."
LaFleur said previously that he would leave the decision up to Rodgers and the medical staff.
"I'm not involved in any of those decisions, so I just take any information and hear it," LaFleur said. "I don't have 'M.D.' after my name. So I'll let them handle that."
Dallas Cowboys DT Trysten Hill suspended two games for punching Las Vegas Raiders OG John Simpson
The NFL suspended Cowboys defensive tackle Trysten Hill without pay for two games on Monday for punching Raiders guard John Simpson following Dallas' Thanksgiving Day loss to Las Vegas.
The suspension was issued by NFL vice president of football operations Jon Runyan for violations of unnecessary roughness and unsportsmanlike conduct rules.
"After the Las Vegas Raiders-Dallas Cowboys game on November 25, you engaged in conduct that this office considers unnecessary roughness and displays a lack of sportsmanship. Specifically, as both teams were shaking hands, you waited more than 50 seconds for your opponent at the 50-yard line. When you located him, you then walked toward him in the opposite direction of your locker room. You both engaged in a verbal chest-to-chest confrontation which you escalated by throwing an open hand punch to his facemask, forcible enough to cause your opponent's helmet to come off," Runyan wrote in the letter to Hill.
Hill is appealing the suspension, a source told ESPN's Todd Archer. Derrick Brooks or James Thrash, who are jointly appointed and paid by the NFL and the NFLPA, will issue a ruling on the appeal.
If Hill's suspension stands, he would be eligible to return to the Cowboys' active roster on Monday, Dec. 13. He would miss games against the New Orleans Saints this Thursday and against the Washington Football Team on Dec. 12.