Source — Chicago White Sox not picking up option on 2B Cesar Hernandez's contract
CHICAGO — The White Sox won't be picking up the $6 million contract option on second baseman Cesar Hernandez for the 2022 season, according to a source familiar with the situation, while the team has until Saturday to decide on an option for reliever Craig Kimbrel.
Both players were July trade deadline acquisitions and both underachieved with their new team.
"Our acquisitions at the deadline … were absolutely the right moves to make on a team that had World Series aspirations," general manager Rick Hahn said on a Friday zoom with reporters. "We don't regret being aggressive. We don't regret addressing what we felt were clear needs at the time.
"Obviously it didn't work out because those moves were made with the goal of winning a World Series."
The White Sox lost to the Houston Astros in four games in the divisional round of the postseason. Hernandez slugged only .299 for the White Sox after coming over from Cleveland Indians where his slugging percentage was .431.
Kimbrel had an even tougher time in a White Sox uniform. He compiled a 5.09 ERA over the final two months as their primary eighth inning pitcher after sporting a 0.49 mark as the Chicago Cubs closer from April through July.
His 2022 option is for $16 million. If the Sox pick it up, Kimbrel is likely to be traded. Righty Liam Hendriks has a long term deal as the team's closer.
"If I look at it from the perspective (of) the decisions at the time they were made, they were the right decisions," Hahn reiterated about the trades.
The White Sox have several holes to fill including at second base now and potentially in right field. They'll need bullpen arms to replace Ryan Tepera, who is a free agent, while righty Michael Kopech is moving into the rotation.
"We think he's going to be potentially a dominant starter for a long time but we are dealing with a limited innings base and we need to build it up wisely," Hahn said.
Lefty Garrett Crochet could take Kopech's role in the pen as both a long man and spot starter in 2022.
The team isn't overreacting to its playoff loss, believing it's a stepping stone to greater things. The White Sox are coming off back-to-back postseason appearances for the first time in franchise history.
"I tend to be binary about these things," Hahn said. "It's pass/fail. We didn't win the final game of the postseason so we didn't meet our ultimate goal. That said there is a lot of reason for hope going forward."
The White Sox are likely to add to their team via the free agent market as well as with trades. The offseason work will begin at the general manager's meetings, which take place next week.
"We have X number of needs to address. Free agency will have certain options to address a certain need and trades will have others. It's just a matter of how we line them up."
Hahn indicated catcher Yasmani Grandal should be moving better laterally come spring training after surgery on his knee, while outfielder Adam Engel had his left shoulder 'cleaned up.'
The team, on Friday, also out-righted pitchers Jimmy Cordero, Evan Marshall and Jace Fry along with outfielder Brian Goodwin to Class Triple-A Charlotte, making them free agents.
The White Sox also announced they have canceled SoxFest, the team's annual fan fest scheduled for January, due to lingering COVID-19 concerns.
San Diego Padres sign RHP Nick Martinez on 4-year, $20 million deal
The San Diego Padres and right-hander Nick Martinez have agreed on a four-year, $20 million contract, sources told ESPN's Jeff Passan.
Martinez's deal includes opt-outs after his first and second year.
Martinez, 31, spent the past four seasons in Japan and starred for the Fukuoka SoftBank Hawks this year, posting a 1.62 ERA. He previously played four seasons in the major leagues, all with the Texas Rangers from 2014-17, and went 17-30 with a 4.77 ERA.
Martinez also won a silver medal while playing for Team USA in the Tokyo Olympics.
What we do in the shadows
NEW YORK — Within minutes of locking out players Thursday amid contentious negotiations on the next collective bargaining agreement, Major League Baseball scrubbed all remnants of player likenesses off its official properties such as MLB.com, replacing player photos with generic silhouettes.
In response, players decided to lean all the way in.
Players started to change their profile pictures on Twitter to the generic player silhouettes in solidarity and as a response to the league's action. The decision to do so was not an organized, calculated move by the Major League Baseball Players Association but rather started off as a joke in a small player text group chat, according to New York Mets pitcher Trevor Williams, one of the first to change his profile picture.
"It was just being silly," Williams told ESPN. "It's a meme. When you think about it, by us posting a picture of what MLB does, we're doubling down on what they're doing. It's not supposed to be serious."
It's amazing to see players around the league change their avi in solidarity. MLB can take away our image but never our LIKENESS!

— Trevor Williams (@MeLlamoTrevor) December 2, 2021
I have no idea what likeness means

— Trevor Williams (@MeLlamoTrevor) December 2, 2021
During a news conference Thursday morning, commissioner Rob Manfred said the league was legally obligated to remove all player likenesses due to the lack of a collective bargaining agreement.
Along with Williams, San Diego Padres pitcher Joe Musgrove, Chicago White Sox pitcher Lucas Giolito, New York Yankees pitcher Jameson Taillon and Mets pitcher Taijuan Walker were among the first players to change their profile pictures on Twitter.
Due to the lockout, players cannot use team facilities or work with trainers. Taillon underwent surgery in October to repair a partially torn ankle tendon and was expected to miss five months.
"Since MLB chose to lock us out, I'm not able to work with our amazing team Physical Therapists who have been leading my post surgery care/progression," Taillon tweeted. "Now that I'm in charge of my own PT – what should my first order of business be? I'm thinking I'm done with this boot. It can go."
Since MLB chose to lock us out, i'm not able to work with our amazing team Physical Therapists who have been leading my post surgery care/progression. Now that I'm in charge of my own PT- what should my first order of business be? I'm thinking I'm done with this boot. It can go😎

— Jameson Taillon (@JTaillon50) December 2, 2021
The bit soon started catching on among those not in the initial group chat. When Mets reliever Trevor May woke up Thursday, he noticed players changing their profile pictures and decided to join in.
"I saw it, and that's what I did," May said. "Anything when it comes to Twitter, memes, I'm all for it. I just went for it. It's not a strong message I'm trying to send. … This is one of the funny ways for players to poke at [the league]. It's a funny way to point out they don't really have anything without us."
Other players who joined in included Chicago Cubs outfielder Ian Happ, free-agent reliever Sean Doolittle, Minnesota Twins pitcher Randy Dobnak, Seattle Mariners outfielder Mitch Haniger and shortstop J.P. Crawford, free-agent second baseman Shed Long Jr., and Mets closer Edwin Diaz.
MLB free-agency grades – Marcus Stroman signing a good first move for Chicago Cubs' 'retool'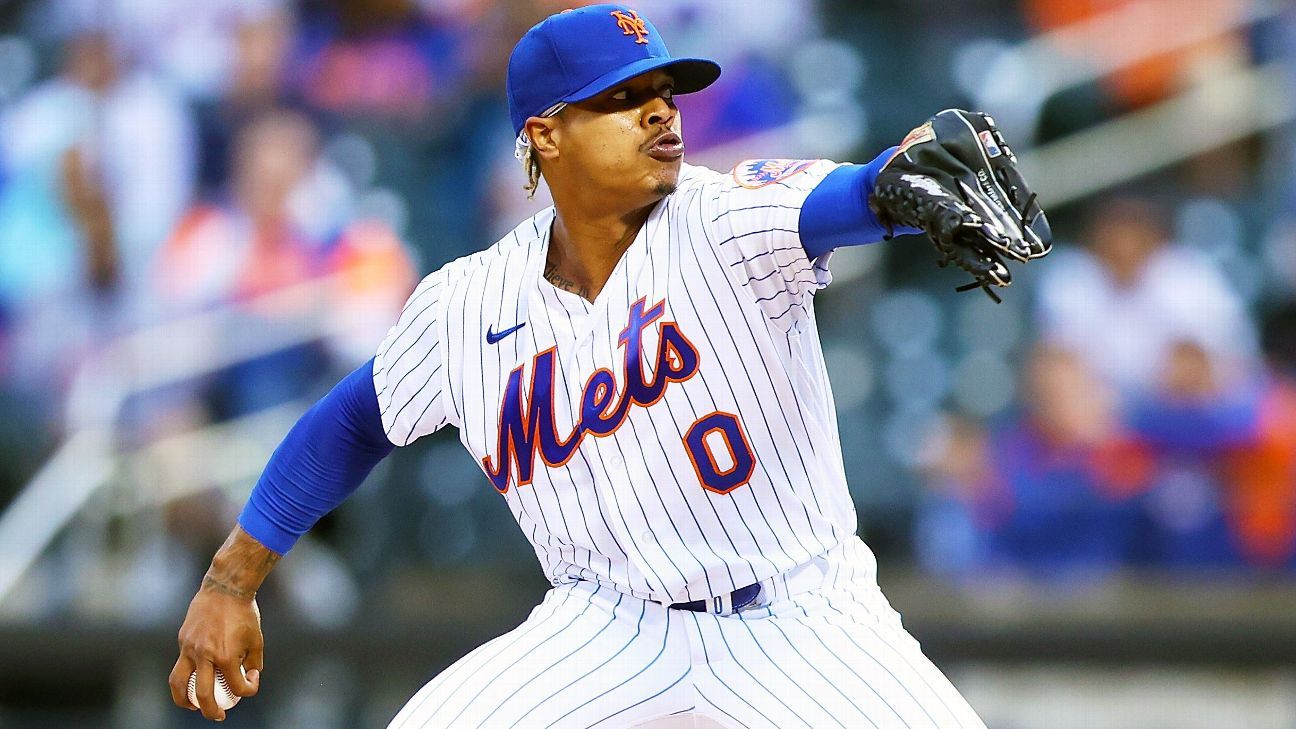 The last time the Chicago Cubs rebuilt from the ground up, back in 2012, it took four years — and in the end, it won them a World Series. This time, the front office has promised Cubs fans a much quicker process. They took the first step in fulfilling that commitment on Wednesday, signing free-agent pitcher Marcus Stroman to a three-year, $71 million contract.
Stroman, 30, was one of the better pitchers available this year. In Chicago, he'll join Cubs mainstay Kyle Hendricks and newcomer Wade Miley in a revamped 2022 rotation. They still don't have an ace, in the truest sense of the word, but the rotation is better today than it was yesterday.
And just as telling for the Cubs' expectations of their place in the larger baseball landscape: The deal includes an opt-out after two seasons, a fact that will lead Cubs fans to believe a contender is around the corner. Why spend that much in the short term if you're not trying to win?
President of baseball operations Jed Hoyer claims he wants to be nimble and calculated as he builds "the next great Cubs team." In that way, Stroman is a clear fit for Hoyer's plan. He'll make a high annual salary, but it's not a really long commitment, especially if he were to opt out. Stroman earned a very similar yearly salary to that of free agents Robbie Ray and Kevin Gausman — but they both signed five-year deals. Stroman's shorter deal keeps the Cubs flexible as they move through their mini-rebuild — or "retool," as Hoyer has preferred to call it since he ripped the Band-Aid off the group that won him and the organization a World Series in 2016.
With stars Anthony Rizzo, Javy Baez, Kris Bryant and Kyle Schwarber all gone, Hoyer has a clean slate to work with. He still has plenty of holes to fill but has committed to doing it methodically. In other words, the Cubs aren't going to buy themselves a championship. This is going to be one player at a time. And Stroman is a very good place to start.
If Hoyer hits on some other moves — or a couple of young players take the next step — and the team is competitive in the very near future, it has a very good pitcher to lead them. If not, Stroman's deal will be over pretty quickly and Hoyer can look for the next one. The veteran right-hander gives the team the ability to be more competitive than it was to end last season while not tying it up financially for years to come.
Behind Stroman, Hendricks and Miley, there are still questions in the rotation. The Cubs likely will look to youngsters such as Adbert Alzolay, Justin Steele and Keegan Thompson along with veteran Alec Mills. The additions probably are not enough to win a championship — or even get to the postseason — but it's a start.
And the Cubs have players around the diamond who should continue to improve. Second baseman Nick Madrigal, acquired in the Craig Kimbrel trade with the Chicago White Sox, is a contact-maker. So is infielder/outfielder Nico Hoerner. Patrick Wisdom and Frank Schwindel were nice storylines in 2021, but the team still lacks star players with MVP credentials. Signing shortstop Carlos Correa would be an even clearer signal the Cubs are moving quickly, but there's been no indication they'll dip that heavily into the free-agent pool. Correa wants a massive commitment, and the Cubs probably don't want to give that out right now.
Hoyer promised the organization would spend this offseason, so early deals for Miley and backup catcher Yan Gomes were no surprise. But Stroman signals a bigger expenditure. He is the first player signed to a three-plus-year deal since Yu Darvish and Tyler Chatwood before the 2018 season. That alone should tell fans the Cubs want to be competitive again.
There's more to do, but this move feels like exactly the right start to Hoyer's plan — and the key is the length of the contract. The Cubs got a good pitcher who will still allow them to follow through on their longer-term goals.
Grade: B+