New York Jets QB Mike White (forearm) exits in 1st quarter during 45-30 loss to Indianapolis Colts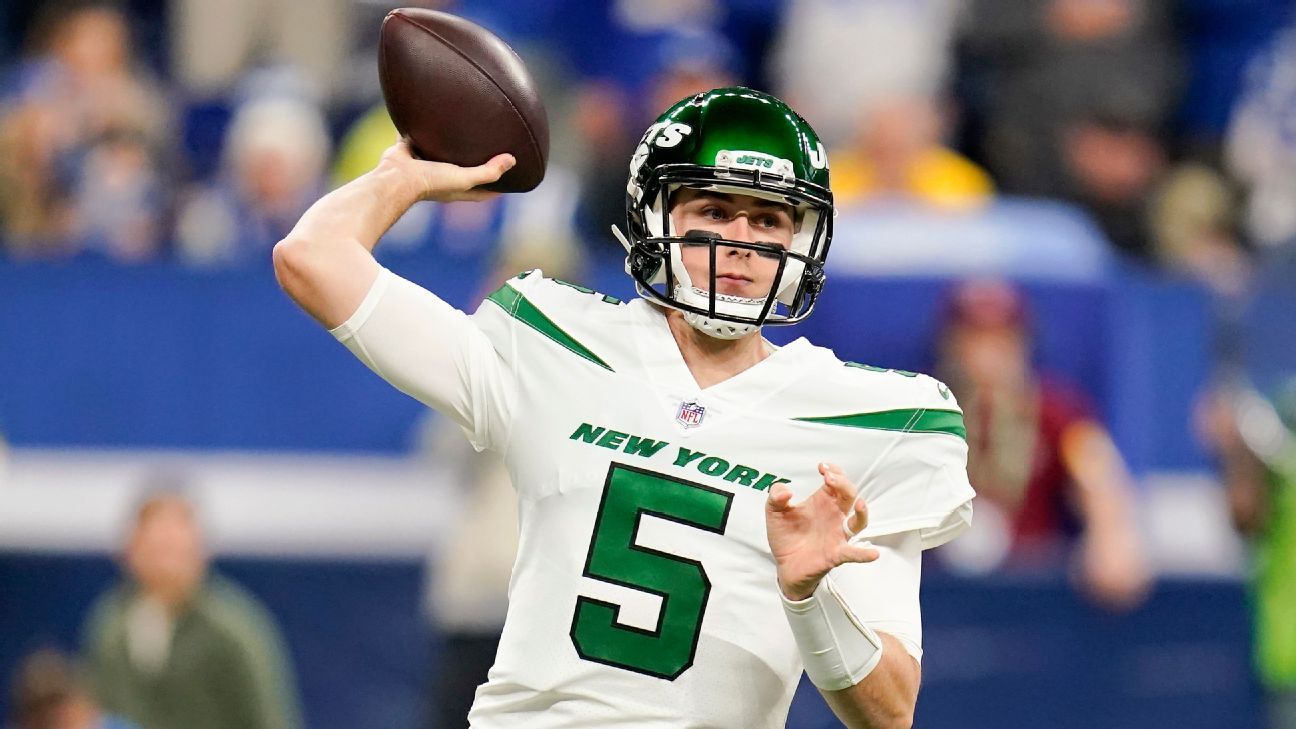 New York Jets quarterback Mike White, one of the NFL's hottest stories after a historic starting debut last Sunday, didn't get a chance Thursday night to continue his storybook run.
White left the 45-30 loss late in the first quarter after injuring his right forearm. He was replaced by journeyman Josh Johnson, their third stringer.
Starting for the injured Zach Wilson, White was hurt on a 19-yard touchdown pass to rookie Elijah Moore. He banged his forearm on the left arm of defensive tackle DeForest Buckner, who was pass rushing.
The Jets can't catch a break.
White, a relatively anonymous, former practice-squad player, electrified the Jets and their fan base in a 34-31 win over the Cincinnati Bengals. He passed for 405 yards and three touchdowns, setting the league record for most completions (37) by a quarterback in his first start. On Wednesday, his game-worn jersey was displayed in the Pro Football Hall of Fame.
He kept the momentum alive against the Colts, completing seven of his first 11 passes for 95 yards and a touchdown. He left a terrific scoring drive, hitting four passes for 72 yards. He hit Moore on back-to-back plays for 26 and 19 yards.
And then White was gone, relegated to the medical tent for an examination. He was listed as questionable but didn't return to the game.
The well-traveled Johnson, who has played for 13 teams, hasn't seen significant action since 2018 for the Washington Football Team. He threw four passes last week in a brief appearance for White, who went out for a few snaps with a sore neck.
Johnson finished Thursday's game 27-of-41 for 317 yards, three touchdowns and an interception.
Veteran Joe Flacco, acquired last week in a trade, was inactive for the game. The plan was to make Flacco the backup during Wilson's injury, but coach Robert Saleh decided to go with Johnson for the second straight week as the backup.
Wilson (knee) is expected to practice next week. Saleh has remained non-committal on his quarterback plans.
Baltimore Ravens lose star CB Marlon Humphrey for rest of season because of torn pectoral muscle
OWINGS MILLS, Md. — Pro Bowl cornerback Marlon Humphrey was diagnosed with a season-ending, right pectoral muscle tear on Monday, perhaps the biggest loss in a season filled with injuries for the Baltimore Ravens.
Humphrey, 25, became the seventh starter (and third in the secondary) to get sidelined for the season for the Ravens (8-4), who cling to first place in the AFC North by one game. He was injured in Sunday's 20-19 loss in Pittsburgh to the Steelers when he tried to tackle Diontae Johnson before the wide receiver scored the go-ahead touchdown late in the fourth quarter.
The loss of Humphrey is not only the latest blow, but perhaps also the most devastating one. A two-time Pro Bowl cornerback, Humphrey is the Ravens' most talented defender, who can match up against the opposition's top wide receiver and rip the ball away with his physical play. Since being the No. 16 overall pick in 2017, he is one of two NFL players with at least 50 passes broken up and 10 forced fumbles (safety Logan Ryan is the other).
Injuries have depleted a Baltimore team that has reached the playoffs the past three seasons. After Humphrey is placed on injured reserve, the Ravens will have $44.3 million of their salary cap on IR — which accounts for 25% of their cap.
Three of Baltimore's players with the five biggest cap hits — offensive tackle Ronnie Stanley ($10.042 million), cornerback Marcus Peters ($9.968 million) and Humphrey ($8.44 million) — have suffered season-ending injuries. Overall, the Ravens have lost 11 players who will make more than $800,000 this season.
Baltimore has placed at least one player on injured reserve in four of the past five weeks. The Ravens' total number of players on injured reserve will increase to 17 when Humphrey is added.
"I mean, we've got a lot of injuries, so we've been dealing with stress all season, and we've still been able to overcome it," Ravens nose tackle Brandon Williams said after Sunday's game. "So, that's what we plan on doing. It's a 'next man up' mentality, so the show must go on. We pray that Marlon [Humphrey] makes it back. We pray that everybody who is down right now gets healed up, but we still have games to play. Next week, we have the [Cleveland] Browns, so we have to focus on that."
With Humphrey out, the Ravens are expected to start Chris Westry in his spot, if he's healthy. Westry was inactive Sunday with a thigh injury. Last week, all five cornerbacks on the 53-man roster missed at least one practice because of an injury or illness.
Through 11 games, the Ravens have lost three starters to season-ending injuries in the secondary: Humphrey, Peters (torn ACL) and safety DeShon Elliott (torn biceps). Strong safety Chuck Clark is the only remaining starter in the secondary from the beginning of the season.
Baltimore is allowing 272.4 yards passing (second-worst in the NFL). The Ravens finish the season against three top-10 rated quarterbacks in Aaron Rodgers, Matthew Stafford and Joe Burrow.
Washington Football Team TE Logan Thomas avoids ACL tear
ASHBURN, Va., — The Washington Football Team received better-than-expected news on tight end Logan Thomas' injured left knee, coach Ron Rivera said, but that does not yet mean he'll return this season.
Rivera said an MRI revealed that Thomas did not tear his ACL, as was originally feared, but that there was damage to his knee. Initial reports said Washington feared that he had torn both his ACL and MCL. A torn MCL would still require surgery and could sideline him for the rest of the season, barring a playoff run, according to a source.
Rivera said during a conference call that they were awaiting confirmation on the results and that he did "not want to get ahead of it" by saying how long Thomas would be out. Still, if further tests confirm no torn ACL then, if nothing else, it allows Thomas to recover well ahead of next season. That would be a big win for him and the organization.
Washington has won four in a row and currently owns the sixth playoff spot. Thomas already missed six games this season because of a hamstring injury, which landed him on injured reserve. If Washington placed Thomas on injured reserve again, he'd be done for the season.
The WFT also could opt to keep Thomas on the active roster, just in case he could return in four-to-six weeks for the playoffs. But it's possible they might need that roster spot if more injuries hit.
Thomas was hurt with 10 minutes left in Sunday's 17-15 win over the Las Vegas Raiders when defensive end Yannick Ngakoue went low as Thomas pulled from the opposite side to block him. Rivera said he wishes Ngakoue had used his hands to fight off Thomas rather than go low.
"It's an unfortunate play," Rivera said. "I felt it was something that was avoidable."
Thomas was a key target for Washington, especially in the red zone, and had developed into a physical blocker. He caught a career-high 72 passes and six touchdowns last season, earning a three-year contract extension worth up to $24.05 million. In parts of six games this season, Thomas caught 18 passes, including three for scores. He leads all NFL tight ends since the start of last season with 151 yards receiving in the red zone. At 6-foot-6, 250 pounds, the former quarterback makes for a big target.
Washington should be helped this week with the expected return of tight end Ricky Seals-Jones, who missed the last three games with a hip injury. It also has rookie John Bates, who has earned praise for his blocking in particular.
Rivera also said defensive end Montez Sweat, on injured reserve with a jaw injury, might be cleared to resume practice Wednesday. At that point Washington would have 21 days to activate him. Also, Rivera said he's anticipating that safety/linebacker Landon Collins will return to practice Wednesday. He did not play Sunday because of a foot injury.
Carolina Panthers coach Matt Rhule doesn't regret hiring Joe Brady as offensive coordinator
CHARLOTTE, N.C. — Carolina Panthers coach Matt Rhule said the decision to fire offensive coordinator Joe Brady on Sunday was "purely football."
He made it clear there were no regrets in his 2020 decision to hire Brady, at the time the 30-year-old passing game coordinator for national champion LSU with no experience calling plays in the NFL or at any level.
"When I took the job I decided to be bold and step outside my comfort zone," Rhule said on Monday. "I certainly don't look at that as a mistake."
Rhule wouldn't go into specifics on what led to his decision, but he has been consistent the past month saying the Panthers needed to be more committed to the run and be better coming out of halftime.
The Panthers (5-7) had only a combined 39 rushes the past two games combined, including 18 in a loss to the Miami Dolphins before the bye week. Rhule said after an Oct. 17 loss to the Minnesota Vikings he wanted 30 to 33 rushes a game.
Brady also wasn't effective at halftime adjustments. Carolina is averaging only 2.1 points in the third quarter to rank 31st in the NFL, with only Houston, at 1.8 points, worse.
Overall, the team ranks 29th in offense after ranking 21st a year ago in Brady's first season as a play caller.
Rhule called Brady's replacement, running backs coach Jeff Nixon, a "calming, steadying influence."
Nixon was Rhule's co-offensive coordinator at Baylor in 2019. That team averaged 36 rushes a game.
"He's done a lot to get us moving in the right direction," Rhule said of Brady, 32. "But this was something I felt from a football perspective had to be done."
Rhule said he "anticipates" Cam Newton being his starting quarterback for Sunday's game against the Atlanta Falcons. He also didn't rule out mixing in PJ Walker, reminding that the former XFL star is 2-0 as a starter in the NFL.
Rhule said he had some "feelings" a change needed to be made at offensive coordinator coming off the Miami loss. He spent the week evaluating film not only of games, but practice.
He made the decision to fire Brady late last week. The two had a meeting scheduled for Saturday, but that was pushed to Sunday because Brady had a conflict.
Rhule made it clear the decision to move on from Brady was his and not a request from owner David Tepper. He said the meeting with Brady ended in a handshake and a hug.
"I hope this is the right move," Rhule said. "It was purely football. This is in the best interest of us moving forward."