Cleveland Browns' Baker Mayfield 'surprised' by Odell Beckham Sr.'s critical post, says he hasn't heard from OBJ
BEREA, Ohio — Cleveland Browns quarterback Baker Mayfield admitted to being stunned that the father of Odell Beckham Jr. trashed him over social media, and he said he hasn't heard from the Browns receiver since the posts went viral.
"Naturally, he wants his son to succeed. I can't blame him for that," Mayfield said. "I want Odell to succeed. That's where we were at — or at least so I thought."
Beckham might have played his final game with the Browns, as his representation is engaged with Cleveland general manager Andrew Berry on the next steps for the wide receiver.
Beckham was told not to attend Wednesday's practice, one day after his father posted a video on Instagram highlighting times when Mayfield didn't throw the ball to Beckham when he was open. In addition to other comments he made, Odell Beckham Sr. responded with three green check marks in the comments section of a post that said Mayfield was "either hating on Odell or he just doesn't want him shining."
Beckham Sr. also responded with "#bigfacts" to a post that called Mayfield "mediocre."
"I've had conversations with his dad before, man-to-man, face-to-face, and I was pretty surprised by the video and the intentions and the feelings behind it," said Mayfield, who scoffed at the allegation that he has deliberately not thrown Beckham's way this season. "I would be lying if I said otherwise."
A league source confirmed to ESPN that Browns coach Kevin Stefanski told players earlier in the day that Beckham effectively is not on the team right now, as the two sides were working on a resolution, which NFL reporter Michael Silver first reported.
Still, Mayfield left the door open for a reconciliation — and Beckham's return to the Browns — if Beckham sought it.
"If he's back, then we'll work through it and do whatever it takes," Mayfield said. "I can put my ego and pride to the side to win. Because that's all I care about is winning. If not, then we'll roll with the guys we have out there. And those guys will know that I completely trust them, and they'll know that I'm always here for them, and that's the leader and the type of quarterback I am."
Asked whether he could trust Beckham again, Mayfield said he would have to address the situation with Beckham first before he could answer the question.
Stefanski said before Wednesday's afternoon practice that he also had not spoken to Beckham in the past 24 hours.
Beckham had one catch for 6 yards in Sunday's 15-10 loss to the Pittsburgh Steelers. Mayfield did target Beckham again late in the game, but the wide receiver went up for the ball with only one arm and failed to come down with the catch.
Cleveland's passing game has struggled in recent weeks, as the Browns have fallen to 4-4 and last in the AFC North standings. Mayfield ranks 27th in QBR (42.2) and has only six touchdown passes. Beckham, meanwhile, ranks 151st in the NFL in receptions per target and 139th in receptions per route run.
Both players have played through shoulder injuries this season.
"A lot of this frustration, the tension that's built up," Mayfield said, "because we're not playing how we should be."
Mayfield said he had spoken to Pro Bowl wide receiver Jarvis Landry, who is Beckham's closest friend on the team, about the incident.
"We didn't get into too many details because I do not want to draw that line in between them at all. That's not what I am trying to do," Mayfield said. "Jarvis wants to win just as badly as I do. Those are the types of guys, the type of focus that we need to have right now."
Mayfield and Beckham have struggled with their connection since the Browns traded for Beckham during the 2019 offseason. Since then, they rank 57th out of 62 quarterback-receiver duos with a minimum of 125 targets, according to ESPN Stats & Information research. They also rank 59th in completion percentage (55%) and 60th in off-target percentage (27%). Mayfield has also underthrown or overthrown Beckham on 27% of his passes, the third-highest rate since 2019 of any quarterback and receiver.
The Browns face the Cincinnati Bengals on Sunday.
"Unfortunately, this is a part of the job that's not much fun," Mayfield said of preparing for a game amid the drama. "You want to try and eliminate the distractions and everything, but trying to get the best out of your teammates is first and foremost, and I think the most important thing for me is trying to elevate the guys around me. Being able to get the focus back on football is extremely important. This is something that's very unique.
"There's not a manual for this one. There's not a handbook on how to navigate this besides talk to people, see how they are feeling about it and just keep it open because this is one of those things that, like everybody can see, it can be a dividing thing or it can be a rallying cry."
Pandemic life offered Zach and Julie Ertz a glimpse of their marriage after pro sports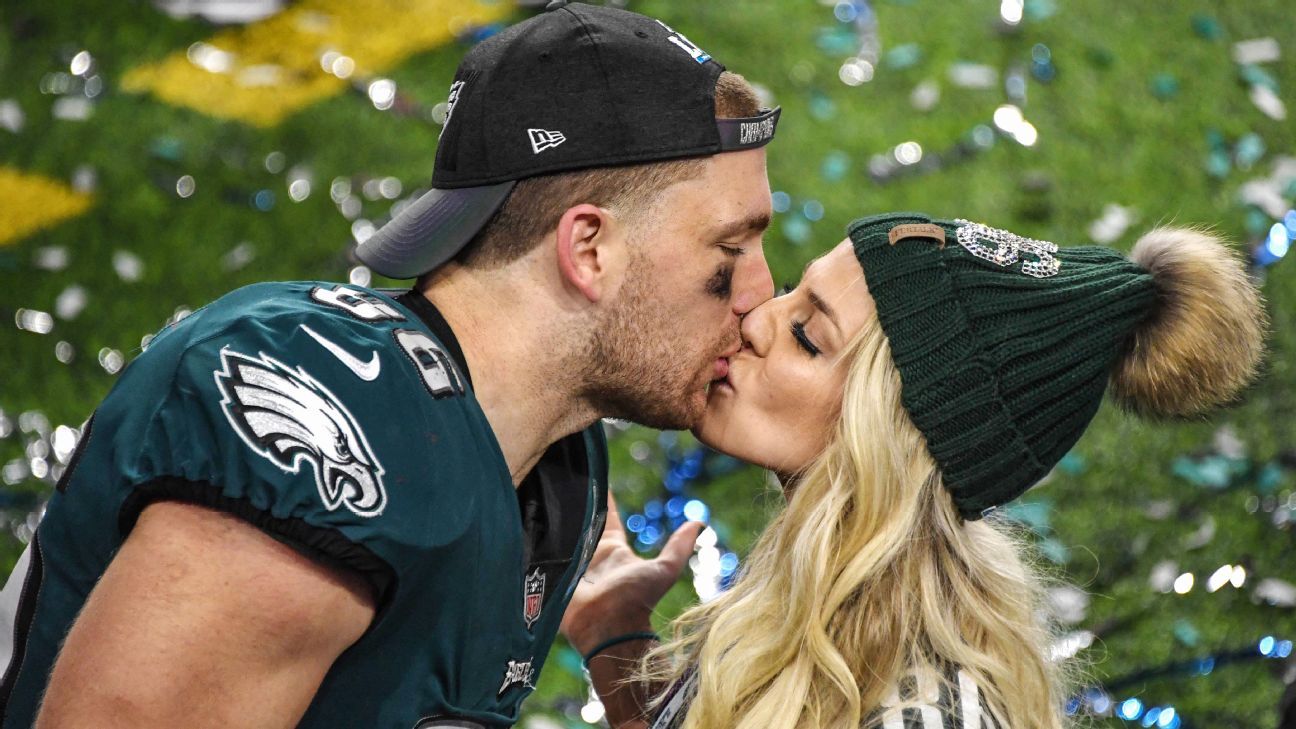 TEMPE, Ariz. — For the majority of their 4½-year marriage, Zach and Julie Ertz didn't know what it was like to be a "normal married couple."
Their respective careers — Zach a tight end with the Arizona Cardinals and Julie a defender for the U.S. women's national team and most recently the Chicago Red Stars — often kept them apart. They'd have a month together here, a couple of weeks there and maybe a weekend in between. Despite being married, they were in, essentially, a long-distance relationship. They had to rely on their phones to stay connected, texting all day, sometimes FaceTiming six or seven times a day.
"We kind of joked that we had a relationship with our phones because like, if it wasn't for FaceTime, I don't think it would make those days that we weren't together go by easier," Julie said.
One year, they saw each other just 84 days.
"We've been doing this for an extremely long time," Zach said. "And, unfortunately, we've gotten good at it."
But in March 2020, when the COVID-19 pandemic struck the world and America went into quarantine, the Ertzes found themselves together all day, every day for the first time since they met while both attended Bay Area universities.
Their life together the past two years has mostly consisted of a training together, rehabbing injuries together, a cross-country move after Zach was traded from the Philadelphia Eagles to the Cardinals, an Olympics in Japan and two NFL seasons. And for the first time in their relationship, the sense of anxiety they each experienced when the other needed to leave for an extended time to join their team happened only once, when Julie reported to the Chicago Red Stars for the start of training camp Feb. 1. Even that time apart was truncated after she tore her MCL in the season opener.
On Sunday, Julie, who was traded to Angel City FC on Thursday, will see Zach and the Cardinals take on the Bears in Chicago (1 p.m. ET, Fox), where she played for more than seven years. She'll do so with life having changed for the both of them. Mostly for the better.
"It's not weird. It's great," Julie said of spending more time together. "I think people are shocked by that, but I don't really get annoyed with him. I'm fine sitting in like silence with him and I feel like that's when you know you're just super comfortable. I don't need to talk all the time."
Being together "day in and day out" has allowed the couple to just "really enjoy being married," Zach said.
"It was a glimpse into what life would be like when one of us was done playing whenever that may be — and we love it."
Everything's a competition
Within a couple of weeks of quarantining with each other in 2020, Zach and Julie quickly figured out they needed a workout routine.
They've been creatures of habit their entire athletic lives, but they had never found themselves together in an offseason setting. Usually, their seasons were opposite each other. They found parks around Philadelphia to work out in and although they didn't do many of the same exercises, they "were able to really just push each other," Zach said.
"We do work out a lot," Julie said. "It's kind of obnoxious."
They just wanted to be together.
While there are some major differences in their training, they showed each other a new thing or two.
Julie loves distance running, even going for long runs on vacation. Zach hates it.
"I don't get how someone can go just to run on a treadmill for an hour," he quipped.
But they worked on their speed together, racing each other, even though Zach always won, and Zach would do some of Julie's core stability exercises.
He also started incorporating some soccer into his warm-up by dribbling a ball the length of the field before workouts. Sometimes Julie asked him to kick passes to her. That didn't always go well.
"I'll get yelled at," he said. "My soccer skills aren't up to national team level and it really bothers me that she holds me to such a high standard and she'll belittle me sometimes if my passes aren't as accurate as they need to be. But I try my best, I try my best."
There's a natural competitiveness constantly floating between them. And nothing is spared.
They had to start tracking their gin rummy games because of how often they disputed who won after a night of playing. They'll challenge each other to a game of HORSE on their backyard basketball hoop to see who does the dishes.
"I'm definitely winning HORSE," Zach said, although he admitted Julie has improved her basketball skills while conceding she waxes him in any foot-dominant activity.
However, it doesn't matter how often Zach wins. "Either way, I'm gonna end up doing the dishes," he said.
They don't race to see who can fold the most socks in five minutes, but Julie said she's the better cleaner and makes the bed better. Zach vehemently denies the latter.
"No, that is not true," Zach said. "I would challenge that tenfold."
So what does Julie think Zach is better than her at?
"Video games," she said. "He's going to be so mad I said that."
'Couples therapy'
This past summer gave both Zach and Julie a new experience: They rehabbed together.
Zach had ankle surgery in early January and Julie tore her MCL in mid-May during the first half of the Red Stars' season opener — nine-and-a-half weeks before the Olympics opener. They drove together to rehab every morning with Julie, unable to bend her knee, in the back seat not wanting to talk to Zach. They had two training tables in the corner. Zach went first and then Julie had her rehab.
It was, as they called it, "couples therapy."
Having Zach there, someone who has had injuries before, who understands the emotional roller-coaster, who understands the mental battle and physical demands of rehab, was invaluable to Julie.
"I could be so vulnerable, I can be so honest, I can be so brutally honest and just every thought and insecurity and worry that I ever had," she said.
"I was kind of the one that had to cook and kind of carry more of the burden and that's just what people do," he said. "That's what life is: some other person's down, the other person's got to pick them up."
Each relationship, each marriage is unique. None, as Zach pointed out, are perfect. For the Ertzes, though, having someone at home who understands what the other is going through and "gets the whole picture," Julie said, is great.
"It's been a real blessing for both of us, I think because every adversity, trial, coaching thing that I've had to deal with, she's already dealt with it," Zach said.
They also hold each other accountable. When one is too tired to go work out, the other pushes them.
To everyone else, they're Zach Ertz the football player — a Super Bowl champion with the Eagles who has scored three touchdowns in five games since being traded to the Cardinals — and Julie Ertz the soccer player — a two-time World Cup champion and former U.S. Player of the Year. To each other, though, they're husband and wife. And, at the end of the day, they want to go home to each other, talk about their day, make dinner and be together.
For the first time in years, they've been able to do that.
"You go home and there's someone that loves you just for who you are, not the athlete, not the football player, not what everyone else sees — just for who you are," Zach said. "And, so, I think it's just rewarding to just be able to come home and know that regardless of what's going on in life, in football, that you have someone that's always going to be in your corner, regardless."
Los Angeles Rams cornerback Jalen Ramsey has become the Mariachi Rams' biggest fan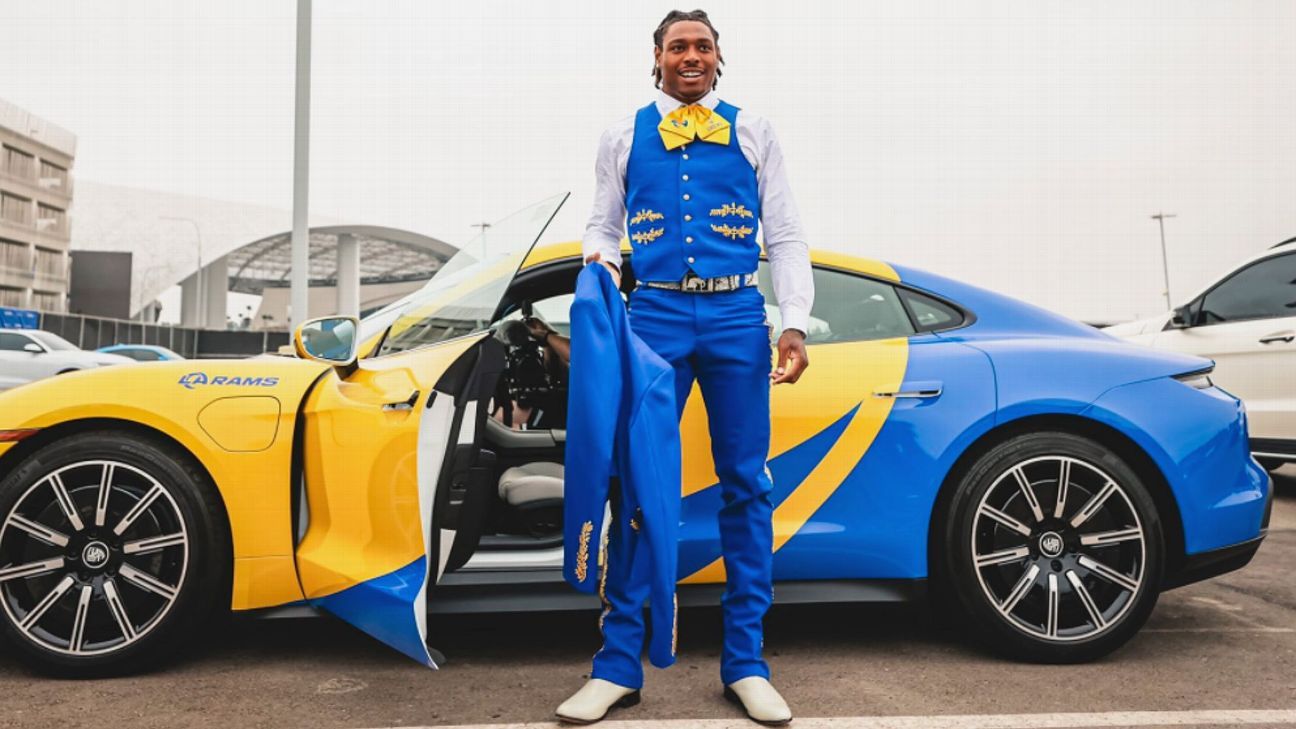 INGLEWOOD, Calif. — A trumpet blared a vibrant beat as a string ensemble joined along.
"I got five on it!" sang the Mariachi Rams as the unexpecting SoFi Stadium crowd roared in anticipation.
Standing near midfield, a grin grew across Jalen Ramsey's face as the Los Angeles Rams' cornerback glanced to the infinity screen, saw the Mariachi Rams donning his No. 5 jersey and heard their tune, one of his favorite hip-hop songs arranged with a mariachi flavor.
"The energy was amazing and in that moment I just wanted to be like, 'Yeah, what's up? Get turnt up!'" Ramsey recalled. "That was something that was super special and personal that they did."
When the Mariachi Rams' 60-second rendition of Luniz's 1995 hit ended, Ramsey nodded his head, waved his hands in appreciation, then got back to the Week 9 game against the Tennessee Titans.
"We wanted him to actually know that we were doing it for him," said Jesse Hernandez, one of nine band members. "Jalen is the man. He's our buddy."
The Mariachi Rams have grown something of a cult following since they started playing at Rams games in 2019.
"It's electrifying," said Santiago Alberto, a band member who arranges the group's music. "Like the adrenaline gets going. It feels like we're doing a concert for 70,000 fans."
Rams fans often ask the impeccably suited band members for selfies and provide their full attention when the band performs from a stage in the Northwest corner of the stadium bowl during breaks in the football action.
But perhaps the Mariachi Rams' most notable fan is the All-Pro Ramsey, a 27-year-old Nashville native whose attention they captured when he played his first game in Los Angeles two seasons ago after his blockbuster trade from the Jacksonville Jaguars, whom the Rams host Sunday (4:05 p.m. ET, Fox).
"It was a star-studded event like I had never experienced in my NFL career yet," Ramsey recalled, thinking back to his first game in Los Angeles in 2019. "Then there was a mariachi band and it was something that was super unique and I knew obviously it was something that was specifically unique to the L.A. Rams, because we didn't have that in Jacksonville."
The Mariachi Rams perform authentic hits but enjoy mixing in occasional mariachi-infused hip-hop or popular culture music. They've played 2Pac's "California Love," the theme song to "Rocky" and even ESPN's Monday Night Football theme. They're the NFL's first mariachi band.
"It's just so cool to see all these different cultures all together, unified through sports and music," said Alberto, a 27-year-old music teacher. "I just feel like we're lucky that we have the opportunity."
"Being in L.A. and being in the culture here and being around so many different people in the community, they kind of embody what L.A.'s about," Ramsey said.
Before a Week 3 matchup against the Tampa Bay Buccaneers, Ramsey pulled up to SoFi Stadium in a blue and yellow Porsche and stepped out in a matching charro, a traditional mariachi suit, with custom white boots, proudly displaying his esteem for the band.
"It was just pure joy," Ramsey said, describing his homage. "They hand-stitched everything to a T, got my measurements, everything, the suit fits perfectly. … It was super special. Super special moment."
It was something Ramsey decided he wanted to do after watching the Mariachi Rams infuse life into the stadium with a performance during a preseason game, providing a much-needed change in atmosphere after NFL teams were forced to play mostly in silence in 2020 because of the coronavirus pandemic.
"We were like, 'Damn, he looks better than we do, man!'" said a laughing Hernandez, 70, who is also a music teacher. "And he's like a gigantic guy, like really buff. But it just like fit him like perfectly."
"He wore it with a lot of pride," Alberto said. "He wore it with dignity and respect."
Because of the NFL's safety protocols surrounding COVID-19, Ramsey has not been able to meet the band in person, but he was able to FaceTime with the group the day he wore their suit.
"They were super excited, and I was super excited to meet them, too," Ramsey said. "I was happy to be able to represent them walking into SoFi Stadium."
Said Alberto: "How cool is that to have an NFL player that wants to meet you or something that you're involved in. Usually it's the other way around."
"It's a cool thing because you would never expect it," Hernandez said about Ramsey's fandom.
In a video produced for the Los Angeles Rams' website, Ramsey mentioned it would be cool if the band learned how to play, "I Got 5 on It."
Little did Ramsey know, they heard his request and got to work, despite the challenge of taking an original track that included drums, keyboards and synthesizers and making it authentically mariachi, utilizing trumpets, violins, a guitarron, vihuela and guitar with only one formal rehearsal.
"I write the arrangements for the group and I thought, 'You know what, we're gonna do this and we're gonna do it right.' We're not gonna make it like, cheesy or anything. We're gonna do it all the way," Alberto said. "That was a challenge, but I was up for it."
"That was dope," Ramsey said. "I wasn't expecting that."
As for Ramsey's next request?
"I'm hoping that right after the Super Bowl, Lord willing, the Rams play in and win the Super Bowl and right after the Super Bowl I can meet them," Ramsey said. "And we can have a good offseason of me learning how to play an instrument."
Minnesota Vikings DE Everson Griffen says he is bipolar, wants to be mental health advocate
Minnesota Vikings defensive end Everson Griffen announced that he is bipolar in an Instagram post on Friday night and said he will be an advocate for mental health after an incident last week in which he called police to his home and then refused to leave.
"It's true I am bipolar. I will embrace it and I will be an advocate for mental health," Everson's post read. "I been running from it a long time. I'm not ashamed of it anymore. It all started when my mother passed away. Went into a dark place, thought I was great for many years.
"I promise this time I will do everything the experts say and my wife. I love my family and I miss my friends. Thank you for all the love and support, but most of all thank you for all the prayers."
Griffen, 33, was transported to a mental health facility Wednesday after he refused to come out of his home following a disturbing series of posts he made on Instagram, including one in which he held a gun and said people were trying to kill him.
Griffen called 911 shortly after 3 a.m. local time Wednesday and said someone was inside his home and that he needed help from the police. He told the 911 dispatcher that he fired a weapon but that nobody was injured.
Local law enforcement and Vikings team psychologists were on site and in communication with Griffen beginning around 7 a.m. Wednesday before the defensive end finally came out of his residence without incident around 1:30 p.m.
"We got him the necessary help that he needs and [he's] in the care of medical professionals," Vikings general manager Rick Spielman said at the time.
The Vikings placed Griffen on the reserve/non-football illness list on Friday, meaning he will miss at least three games.
ESPN's Courtney Cronin contributed to this story.