Inside story of why the Houston Texans didn't trade quarterback Deshaun Watson, what's next
HOUSTON — A day after the NFL trade deadline, with quarterback Deshaun Watson still on the Houston Texans roster, general manager Nick Caserio said the situation hasn't been a distraction in the building.
But on Wednesday morning, much of Caserio's 27-minute news conference was taken up by questions about Watson's future with the franchise, trade discussions with the Miami Dolphins that fizzled out and the "serious" legal situation that Watson is in.
"I don't really want to comment on something that is out of my control," Caserio said when asked if he believed Watson's legal situation made a trade more difficult to complete. "So, again, we just take it one step at a time and take the information as it comes and try to make good decisions the best we can. In the end, it wasn't a trade that came to fruition."
The Texans cannot trade Watson now until the start of the new league year on March 16, 2022, but there are several complicating factors that could prevent a trade from being completed.
On March 16, 2021, one day before the start of the 2021 NFL year, the first of 23 civil lawsuits was filed against Watson accusing him of sexual assault and inappropriate behavior during massage sessions. There are currently 22 active lawsuits as one was dropped after a judge ruled in April that plaintiffs needed to amend their petitions to disclose their names.
Two months before the first lawsuit was filed — and less than six months after Watson signed a four-year, $156 million contract extension that would keep him in Houston through the 2025 season — the quarterback asked for a trade. According to ESPN's Adam Schefter, Watson was unhappy his input wasn't considered in the hiring of Caserio.
Caserio and coach David Culley insisted in their news conferences before the lawsuits against Watson were filed that the former first-round pick out of Clemson would not be traded. However, that discussion shifted after the allegations against Watson came to light.
Once Caserio began having conversations about the possibility of trading Watson, the general manager made it clear he would only move on from the quarterback for the right offer, sources told ESPN. Schefter reported in September that Caserio was looking for a package of six players and draft picks from teams interested in acquiring Watson.
There were a handful of teams interested in the weeks after Watson's desire to be traded became public, including the Dolphins, Denver Broncos, Carolina Panthers, San Francisco 49ers, Philadelphia Eagles and Washington Football Team, sources told ESPN. But once teams became aware of the lawsuits filed against Watson, several declined to pursue the trade further.
In the two weeks before Tuesday's trade deadline, there were reports out of Houston a deal with the Dolphins was close. But on Wednesday morning, Miami general manager Chris Grier called "90 percent" of the rumors false.
"We never got to a point where anything was going to be realistic in terms of happening," Grier said. "It was still us just doing our due diligence, just talking through things. We never got to a point where anything was that close to happening."
While the Dolphins were interested in Watson, owner Stephen Ross wasn't comfortable going forward with it, Schefter reported Tuesday. On Tuesday night, Tony Buzbee, the attorney for the 22 plaintiffs, told Fox 26 in Houston there was a "pretty tough effort to try to settle" the lawsuits before the trade deadline.
​​According to Schefter, Texans chairman and CEO Cal McNair privately told people he wanted the team to separate from Watson before the trade deadline, but he ultimately left the decision up to Caserio.
Grier said Wednesday he didn't want to get into the specifics of trade offers with other teams, but a team source told ESPN the Dolphins weren't willing to guarantee all three first-round draft picks Houston wanted the package for Watson to be built around.
A no-trade clause in Watson's contract extension, signed in September 2020, limited Caserio while looking for a trade partner. In fact, Watson would only waive his no-trade clause for the Dolphins, a source told ESPN. The Texans and Panthers did not get very far in trade talks, a source said, because Watson had not agreed to be traded to Carolina.
Last week, NFL commissioner Roger Goodell told reporters the league didn't have enough information about the lawsuits to make a decision on potential discipline for Watson. The information they did have wasn't enough to place the quarterback on the commissioner's exempt list.
If Watson is put on the list, he would be paid — as he is now — but not allowed to practice or play. Because Goodell didn't put Watson on the exempt list, the Texans are carrying him on their 53-man roster and making him a healthy scratch on game day. Watson gets a $620,000 game check each week even though he is deactivated.
If the Texans trade Watson before June 1, Houston would take on $16.2 million in dead money on their 2022 salary cap. If the trade happens after June 1, there would be $5.4 million of dead money against the cap in 2022 and $10.8 million the following year.
Even before Watson was accused of sexual assault and inappropriate behavior, it was going to be a challenging task to trade the 25-year-old franchise quarterback because of his contract. Along with the dead money the Texans would have to eat because of the guaranteed money and the $27 million signing bonus, acquiring Watson would have the potential to decimate an interested team's draft capital and pool of young talent, considering what Houston would have wanted in return.
What's next?
If the civil cases were to go to trial, the earliest it could begin is in early May. According to the agreed-to case docket, a status conference would be set for May 2, 2022, and the court would set a trial date.
Even if Watson and the 22 women were able to settle the civil lawsuits, Watson could still face criminal charges. Ten women have filed complaints with Houston police against Watson, his attorney Rusty Hardin told ESPN's John Barr in July. According to Hardin, eight of them are among the women who have filed suits against Watson; two have not sued the quarterback.
Of course, if there are criminal charges filed against Watson, the Texans won't receive the value Caserio was determined to get. But given Houston's insistence of not accepting a conditional pick, that's clearly a risk the front office is willing to take.
While a lot will depend on whether there are criminal charges and/or the lawsuits are settled, there is a huge difference in keeping Watson on the roster in 2022 if a trade is not made. In 2021, the Texans are paying Watson a base salary of $10.54 million. In 2022, they would be paying him $35 million.
ESPN's Marcel Louis-Jacques contributed to this story.
San Francisco 49ers WR Deebo Samuel, LB Fred Warner out 1-2 weeks, coach Kyle Shanahan says
SANTA CLARA, Calif. — The San Francisco 49ers breathed a collective sigh of relief Monday after receiving important injury news on two of their best players.
Niners coach Kyle Shanahan said Monday that receiver Deebo Samuel and linebacker Fred Warner suffered groin and hamstring strains, respectively, in San Francisco's 34-26 victory Sunday over the Minnesota Vikings.
The bad news is that both will miss at least Sunday's game against the Seattle Seahawks. But Shanahan was more pleased by the fact that both players aren't expected to miss more than a game or two as the 6-5 Niners make their push for an NFC playoff spot.
"That's what I was kind of telling you guys last night that I hope for that it was just a strain," Shanahan said. "And strains usually [last] anywhere from one to two weeks. I think it was very good news considering what it could have been."
According to Shanahan, both Samuel and Warner could return as soon as the Dec. 12 game against the Cincinnati Bengals. Barring a setback, both would be expected back in time for a Dec. 19 home game against the Atlanta Falcons.
While the Niners got relatively good news in the big picture, the loss of Samuel and Warner even for one week is significant.
Samuel has been the team's most productive offensive player, establishing himself as the league's premier multidimensional weapon.
On Sunday, Samuel became just the third player in NFL history to record 1,000 receiving yards, five rushing touchdowns and five receiving scores in the same season.
Without Samuel, the Niners will look to second-year receiver Brandon Aiyuk to continue building on his recent surge, as well as the likes of tight end George Kittle, wideout Jauan Jennings and a burgeoning running game.
"He's been a big part of our offense," Shanahan said. "But I think we're in a spot right now that we can overcome that."
Replacing Warner also won't be easy, especially since it's something the Niners haven't had to do at any point in his three-plus seasons. When he misses Sunday's game against the Seahawks, it will be the first contest Warner has missed since he came into the league in 2018, snapping a streak of 59 consecutive regular-season starts.
When Warner departed in the third quarter against the Vikings, the Niners turned to Demetrius Flannigan-Fowles to step in at middle linebacker with Azeez Al-Shaair remaining at weakside linebacker.
How that plays out this week will depend on the status of fellow linebacker Dre Greenlaw. Greenlaw also left Sunday's game with what Shanahan described as an "irritation" of the core muscle injury that had kept him out since Week 1. Greenlaw is considered day-to-day this week.
And with strongside linebacker Marcell Harris in the concussion protocol, the 49ers figure to enter the Seattle game woefully thin at linebacker. That puts even more onus on Al-Shaair, who had an interception and a fumble recovery in the win against Minnesota.
"Azeez has been ready for anything we've asked him to do," Shanahan said. "He always runs around and plays like his hair is on fire and he loves playing the football game. That's not changing, but he's just getting more and more confident of where to be, what to anticipate … He's been playing at a high level all year and whether he's inside or outside, I expect it to continue, we need it to continue, because he's one of the reasons we're playing pretty good right now."
Elsewhere on the injury front, running back Trey Sermon suffered an ankle sprain that Shanahan said will keep him out "for a little while" and makes him a candidate to head to injured reserve with a chance to return later in the season.
Green Bay Packers QB Aaron Rodgers not expected to have surgery to repair broken toe during bye week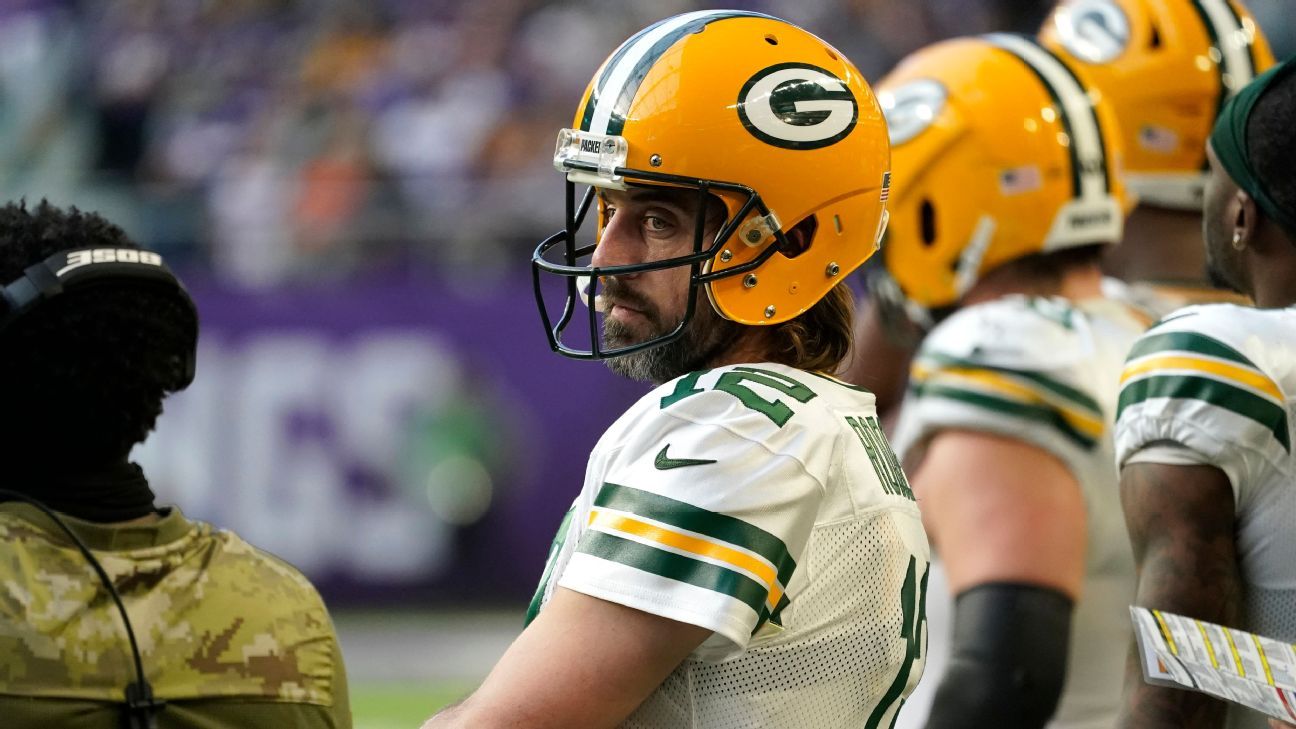 GREEN BAY, Wis. — Aaron Rodgers and the Green Bay Packers are expected to use rest — not surgery — to help the quarterback's fractured pinkie toe heal.
Packers coach Matt LaFleur said Monday that Rodgers is "gathering other opinions, so we'll see where that goes," but a source said those opinions are not expected to lead to surgery during this week's bye.
The Packers (9-3) are off until Dec. 12, when they'll face the Chicago Bears in a Sunday night prime-time game.
"The most important thing is healing and taking care of my toe," Rodgers said Sunday when asked about his bye-week plans.
NFL Network reported earlier on Monday that Rodgers does not plan to have surgery.
Rodgers said he fractured the toe during his COVID-19 quarantine earlier this month, and he has played in the past three games since with almost no on-field practice preparations.
The only full-fledged practice he took part in during that stretch was on Nov. 19, two days before the Packers' loss at Minnesota. He said he received a pain-killing injection at halftime of the game against the Vikings but did not need one to play in Sunday's win over the Los Angeles Rams.
"The difference is I didn't have to get shot up again at halftime, so definitely the healing this week not practicing [helped]," Rodgers said after he threw for 307 yards and two touchdowns in Sunday's 36-28 win over the Rams.
"Last week, I tried to do some stuff on Friday, felt like we needed maybe a little jolt and that kind of impacted Sunday a little bit from a pain standpoint. This week, I just did a walk-through on Saturday and obviously all the walk-throughs during the week, but no practice time, I think really helped. It definitely helped looking at the scans. The healing, kind of get to a better spot, so I've definitely felt better, but third quarter, late third, early fourth and I got stepped on early in the game, there was definitely some pain I was dealing with."
Rodgers even had a rushing touchdown on Sunday, beating Rams cornerback Jalen Ramsey around the edge for a 1-yard score. In the past two games combined, Rodgers has thrown for 692 yards and six touchdowns without an interception.
He said after Sunday's game that he would make a decision about surgery after additional tests on Monday.
"The toe felt good most of the game," Rodgers said. "Was just actually in talking with the docs. Not sure at this point; we're going to do some more testing in the morning and get a better view of what's going on in there, and then make a decision at that time."
LaFleur said previously that he would leave the decision up to Rodgers and the medical staff.
"I'm not involved in any of those decisions, so I just take any information and hear it," LaFleur said. "I don't have 'M.D.' after my name. So I'll let them handle that."
Dallas Cowboys DT Trysten Hill suspended two games for punching Las Vegas Raiders OG John Simpson
The NFL suspended Cowboys defensive tackle Trysten Hill without pay for two games on Monday for punching Raiders guard John Simpson following Dallas' Thanksgiving Day loss to Las Vegas.
The suspension was issued by NFL vice president of football operations Jon Runyan for violations of unnecessary roughness and unsportsmanlike conduct rules.
"After the Las Vegas Raiders-Dallas Cowboys game on November 25, you engaged in conduct that this office considers unnecessary roughness and displays a lack of sportsmanship. Specifically, as both teams were shaking hands, you waited more than 50 seconds for your opponent at the 50-yard line. When you located him, you then walked toward him in the opposite direction of your locker room. You both engaged in a verbal chest-to-chest confrontation which you escalated by throwing an open hand punch to his facemask, forcible enough to cause your opponent's helmet to come off," Runyan wrote in the letter to Hill.
Hill is appealing the suspension, a source told ESPN's Todd Archer. Derrick Brooks or James Thrash, who are jointly appointed and paid by the NFL and the NFLPA, will issue a ruling on the appeal.
If Hill's suspension stands, he would be eligible to return to the Cowboys' active roster on Monday, Dec. 13. He would miss games against the New Orleans Saints this Thursday and against the Washington Football Team on Dec. 12.