Atlanta Braves finish off Houston Astros for first World Series championship since 1995
HOUSTON — Jorge Soler coiled, and then he unleashed the mightiest swing he could muster. His batted ball would clear the left-field train tracks in Houston's Minute Maid Park, soaring 446 feet to give his team the early three-run lead that Max Fried would not relinquish. He dropped his bat upon contact, turned to his dugout, patted his chest repeatedly and pointed to the ground as if to say the Atlanta Braves' time had finally arrived.
Undeniably, improbably, it was here.
They were ravaged by injuries early, dismissed as late as August and counted out at practically every juncture of these playoffs, but the 2021 Braves — with a brand-new outfield at midseason and a depleted starting rotation by the end — are World Series champions for the first time since 1995. Their long-elusive title was sealed with a 7-0 victory over the Houston Astros in Tuesday's Game 6, powered by six scoreless innings from Fried and an emphatic, prodigious home run from Soler.
Soler's shot — on a two-out cutter by Luis Garcia, who was making a rare start on short rest for an Astros rotation that was equally short-handed — accounted for his third home run and sixth hit of the series, and cemented him as the clear choice for MVP.
The Braves began Game 5 with a first-inning grand slam but couldn't hold the lead, spoiling an opportunity to win it all in Atlanta. This time, Fried capitalized on Soler's blast to deliver the victory that had eluded this franchise for more than a quarter-century. The Braves came into this World Series with 16 consecutive postseason appearances without a title, accounting for the longest streak of all time — and now it's finally over.
Brian Snitker, who has spent the past 44 years in the Braves' organization but didn't become their major league manager until year 39, is a champion.
Freddie Freeman, the cornerstone of this franchise for the past decade, is a champion.
Freeman provided the finishing touches in the seventh inning, lining a two-out slider over the center-field fence for the solo homer that increased the Braves' lead to seven. The Astros' fans, who rallied around their team while most of the country vilified them this season, had fallen silent by then.
The Astros have reached the World Series three times in a span of five years, a dominant run that put them among the greatest teams in the sport. But they have come away with only one title, in 2017, a year tainted by the trash-can-banging-scheme that triggered severe punishment. In 2019, they blew a three-games-to-two lead to a Washington Nationals team that didn't catch fire until the very end. In 2021, they were defeated by a Braves team that followed a similar trajectory.
Marcell Ozuna, signed to a $65 million extension to bolster the Braves' offense, was arrested in late May on domestic violence charges and never returned. Mike Soroka, one of their promising starting pitchers, tore his Achilles tendon in late June and never contributed. And Ronald Acuna Jr., their superstar center fielder, tore his ACL on July 10, spoiling what was looking like an MVP season.
By the end of July, the Braves sat five games out of first place and two games below .500. But their run differential was promising, and their revenues were higher than projected, so their general manager, Alex Anthopoulos, engineered trades to acquire four outfielders that drastically changed the trajectory of their season.
The Braves won 36 of their last 55 regular-season games and, with 88 wins, ran away from the rest of the National League East. They dispatched the Milwaukee Brewers in four NL Division Series games, then dethroned the mighty Los Angeles Dodgers — a team that led the sport in run-differential and won 18 more games — to reach their first World Series this century. They were the first team in MLB history to reach the final round despite not boasting a winning record until Aug. 6.
They were powered by Adam Duvall, Joc Pederson, Eddie Rosario and Soler, their four new additions. By Austin Riley, who became a star in his age-24 season. By an excellent trio of starting pitchers (Fried, Charlie Morton and Ian Anderson) and a dynamic bullpen foursome (A.J. Minter, Tyler Matzek, Luke Jackson and Will Smith). And, most of all, by their lynchpin, Freeman, a pending free agent who continued to be a steady presence.
The World Series was won on contributions from practically everyone.
Morton suffered a broken leg in the third inning of Game 1, but the Braves' offense got after Framber Valdez and never let the Astros get close. Anderson began Game 3 with five hitless innings, and the Braves' four high-leverage relievers allowed only two the rest of the night. In Game 4, Dansby Swanson and Soler provided a lead with back-to-back home runs in the seventh and Rosario preserved it with his glove in the eighth. In Game 6, their best pitcher dominated around an offense that suddenly became suffocating.
Fried, eager to avenge a rough outing in Game 2, scattered only four singles through six innings and set the tone at the onset, after Michael Brantley stepped on his right ankle on an eventual infield single. There were two on with none out in the bottom of the first, but Fried retired the next three batters in order, two on strikeouts, and cruised from there. The Astros' offense led the majors while averaging 5.3 runs per game during the regular season and increased that to 6.7 through the first two rounds, but the Braves' staff, shorthanded as it might be, limited them to two runs or fewer in four of six games.
Swanson, a Georgia product who grew up rooting for the Braves, increased his team's lead to five with a two-run homer off Cristian Javier in the sixth. Freeman drove in another run with a liner in the left-center-field gap three batters later, then ended it with his seventh-inning homer.
Advocates for Minor Leaguers forms steering committee to give players a voice, push for better conditions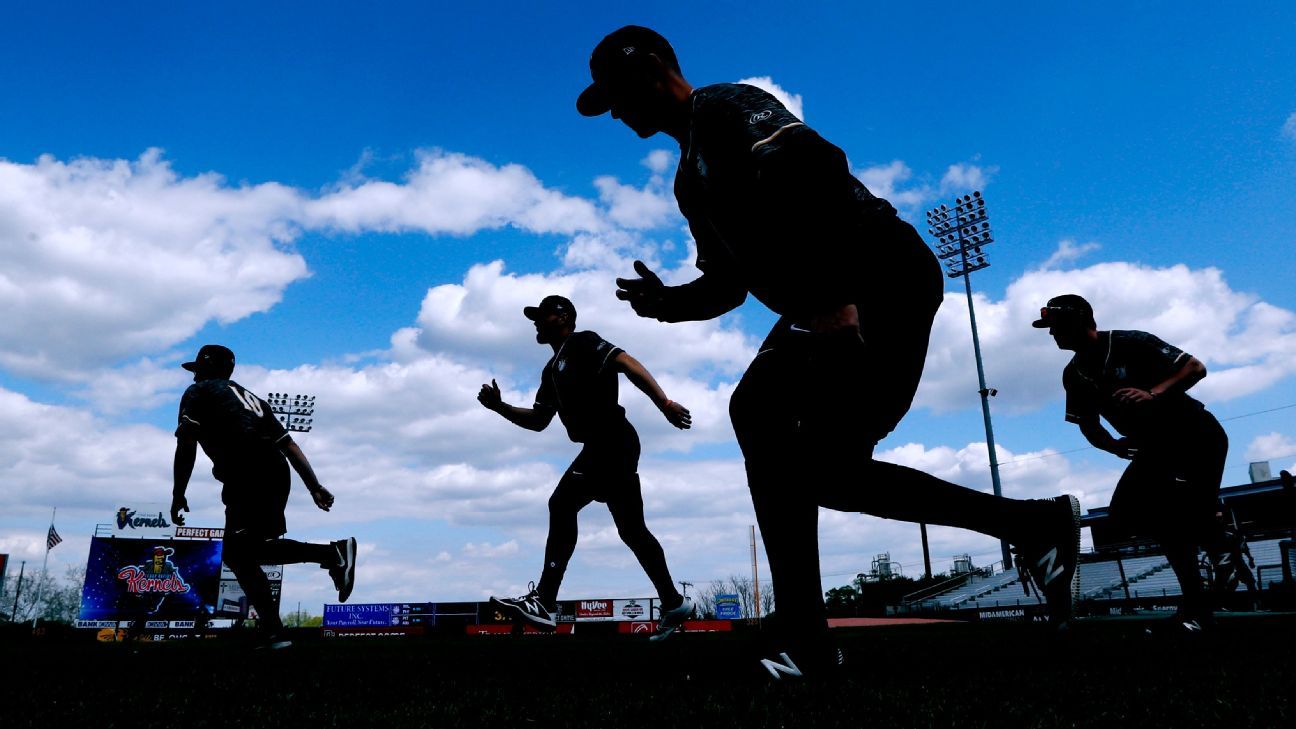 NEW YORK — While the owners and Major League Baseball players intend to collectively bargain for the terms of their next agreement, one group will not be at the table during those discussions: minor leaguers.
While Major League Baseball recently announced improved housing conditions across all levels of the minor leagues — including furnished housing — many across the minor leagues do not believe this is enough. As a result, Advocates for Minor Leaguers announced the formation of a player steering committee on Thursday, which will provide strategic advice and leadership regarding the ongoing labor battle to provide better conditions across baseball's development levels.
"The players on the Advocates for Minor Leaguers Player Steering Committee have decades of combined experience in the Minor Leagues," said Advocates for Minor Leaguers director Harry Marino. "They are thoughtful, intelligent and committed to improving the game of baseball for future generations. At a meeting earlier today, they decided to make public the existence of the committee and to voice support for the Major League Players Association."
The players on the committee will remain anonymous to protect their future job prospects in the sport.
"For decades, we Minor League players have been exploited by Major League Baseball's owners, who have abused their unique antitrust exemption to pay us less than we are worth," the steering committee said in a statement. "This year, most of us will make less than $15,000. Many of us will work second and third jobs, struggling just to make ends meet and put food on the table. Without question, the mistreatment that we endure as Minor League players is the most urgent labor issue facing the sport."
Marino said that the recent concession by Major League Baseball to provide improved housing shows the balance of power is shifting towards minor leaguers.
"There is much work yet to be done," Marino said. "Going forward, I expect the committee to play a key role in our ongoing effort to provide a collective voice for Minor League players and improve Minor League working conditions."
The first action for the committee is to voice their public support for the Major League Baseball Players Association, who the owners decided to lock out at midnight on Thursday morning.
"The owners who have voluntarily decided to shut down Major League Baseball are the same individuals who abuse a legal loophole to pay Minor Leaguers poverty-level wages," the committee said. "As in the past, they use restrictive contracts and collusion to pay the vast majority of professional baseball players less than their actual worth."
The committee stated the uniform player contract for minor leaguers — which ties a player to the same team for seven seasons and prevents them from seeking better pay in baseball domestically or internationally — is fundamentally unfair.
"Now that we have found our collective voice," the committee said, "we intend to use it." —
San Diego Padres sign RHP Nick Martinez on 4-year, $20 million deal
The San Diego Padres and right-hander Nick Martinez have agreed on a four-year, $20 million contract, sources told ESPN's Jeff Passan.
Martinez's deal includes opt-outs after his first and second year.
Martinez, 31, spent the past four seasons in Japan and starred for the Fukuoka SoftBank Hawks this year, posting a 1.62 ERA. He previously played four seasons in the major leagues, all with the Texas Rangers from 2014-17, and went 17-30 with a 4.77 ERA.
Martinez also won a silver medal while playing for Team USA in the Tokyo Olympics.
What we do in the shadows
NEW YORK — Within minutes of locking out players Thursday amid contentious negotiations on the next collective bargaining agreement, Major League Baseball scrubbed all remnants of player likenesses off its official properties such as MLB.com, replacing player photos with generic silhouettes.
In response, players decided to lean all the way in.
Players started to change their profile pictures on Twitter to the generic player silhouettes in solidarity and as a response to the league's action. The decision to do so was not an organized, calculated move by the Major League Baseball Players Association but rather started off as a joke in a small player text group chat, according to New York Mets pitcher Trevor Williams, one of the first to change his profile picture.
"It was just being silly," Williams told ESPN. "It's a meme. When you think about it, by us posting a picture of what MLB does, we're doubling down on what they're doing. It's not supposed to be serious."
It's amazing to see players around the league change their avi in solidarity. MLB can take away our image but never our LIKENESS!

— Trevor Williams (@MeLlamoTrevor) December 2, 2021
I have no idea what likeness means

— Trevor Williams (@MeLlamoTrevor) December 2, 2021
During a news conference Thursday morning, commissioner Rob Manfred said the league was legally obligated to remove all player likenesses due to the lack of a collective bargaining agreement.
Along with Williams, San Diego Padres pitcher Joe Musgrove, Chicago White Sox pitcher Lucas Giolito, New York Yankees pitcher Jameson Taillon and Mets pitcher Taijuan Walker were among the first players to change their profile pictures on Twitter.
Due to the lockout, players cannot use team facilities or work with trainers. Taillon underwent surgery in October to repair a partially torn ankle tendon and was expected to miss five months.
"Since MLB chose to lock us out, I'm not able to work with our amazing team Physical Therapists who have been leading my post surgery care/progression," Taillon tweeted. "Now that I'm in charge of my own PT – what should my first order of business be? I'm thinking I'm done with this boot. It can go."
Since MLB chose to lock us out, i'm not able to work with our amazing team Physical Therapists who have been leading my post surgery care/progression. Now that I'm in charge of my own PT- what should my first order of business be? I'm thinking I'm done with this boot. It can go😎

— Jameson Taillon (@JTaillon50) December 2, 2021
The bit soon started catching on among those not in the initial group chat. When Mets reliever Trevor May woke up Thursday, he noticed players changing their profile pictures and decided to join in.
"I saw it, and that's what I did," May said. "Anything when it comes to Twitter, memes, I'm all for it. I just went for it. It's not a strong message I'm trying to send. … This is one of the funny ways for players to poke at [the league]. It's a funny way to point out they don't really have anything without us."
Other players who joined in included Chicago Cubs outfielder Ian Happ, free-agent reliever Sean Doolittle, Minnesota Twins pitcher Randy Dobnak, Seattle Mariners outfielder Mitch Haniger and shortstop J.P. Crawford, free-agent second baseman Shed Long Jr., and Mets closer Edwin Diaz.