Seattle Seahawks QB Russell Wilson takes key step, has pin removed from repaired right finger
RENTON, Wash. — Seattle Seahawks quarterback Russell Wilson had the pin removed from his surgically repaired right middle finger, a key step in his return from the most significant injury of his career.
But the question remains of whether Wilson will be ready to play against the Packers at Lambeau Field on Nov. 14 after the Seahawks (3-5) return from this week's bye.
Wilson posted a picture Monday afternoon of his removed pin with the caption, "No more Pin. Time to Win." That was about an hour after coach Pete Carroll told reporters that he still didn't know when it would be removed.
"I don't know when it's coming out and I don't have any updates for you," Carroll said. "Really, we're just kind of hoping for the best in terms of his return and that everything is handled really well as we get him in the mode where he starts to use his hand and his finger with the football and all that. So we've just got to do a good job and see what happens. There's no updates as of now."
The removal of the pin is far from the final step in Wilson's return, according to Carroll. He said the team has been told that Wilson's finger will then need to heal for "a couple of days" before he can resume throwing.
"It's how he works after that's out and he's ready to start developing," Carroll said. "It's more that. There's a pretty clear-cut timeframe they think for the couple days after that is removed and then it's just how he can progress. Of course, the docs are going to take a look at it and see what it looks like now once he gets it out. That will be the first time he'll be able to bend his finger, so we've got to see how that works out."
Wilson had surgery on Oct. 8, a day after he banged his hand against Aaron Donald on a follow-through in the third quarter of the Seahawks' loss to the Los Angeles Rams. According to Dr. Steven Shin, who operated on Wilson, the surgery was to repair a tendon rupture (mallet finger) and a fracture-dislocation.
That landed Wilson on injured reserve, snapping his streak of 149 consecutive starts to begin his career. He's is eligible to return from IR now that he has missed the required three games. Monday, when the Seahawks return from their bye, will mark four weeks and three days since Wilson's surgery. ESPN's Jeremy Fowler and Adam Schefter initially reported that Wilson could return in as soon as four weeks post-surgery.
On Sunday morning, Wilson posted pictures showing the stitches removed from his finger and the end of the pin sticking out of it.
Later that day, Geno Smith made his third start for Wilson and led the Seahawks to a 31-7 win over the Jacksonville Jaguars to snap a three-game losing streak. Smith accounted for three touchdowns and no turnovers in his best performance since Wilson went down.
Carroll had a more encouraging update on Chris Carson than the one he shared last Friday, when he suggested it wasn't certain that the running back would return this season from his neck injury. Carson is planning on practicing next week with an eye toward returning at Green Bay, though Carroll isn't sure that he'll be able to play in that game.
Carson has missed the past four games and has spent three on IR, meaning he's also eligible to return. He'll be examined by doctors on Monday to determine if he's ready to resume practicing.
"So then we'll find out where he stands once we get to practice," Carroll said. "He's real determined to get that done, so I'm going to keep my fingers crossed for him that he can get a chance to get back on the field and start working with us. That's about as optimistic as we can be until we know more."
Alex Collins has started all four of the games Carson has missed, rushing 61 times for 227 yards and a touchdown in that span.
Cornerback D.J. Reed appears to be OK after leaving Sunday's game with a pulled groin, per Carroll. He said an MRI came back clear.
Tennessee Titans waive RB Adrian Peterson after three-game stint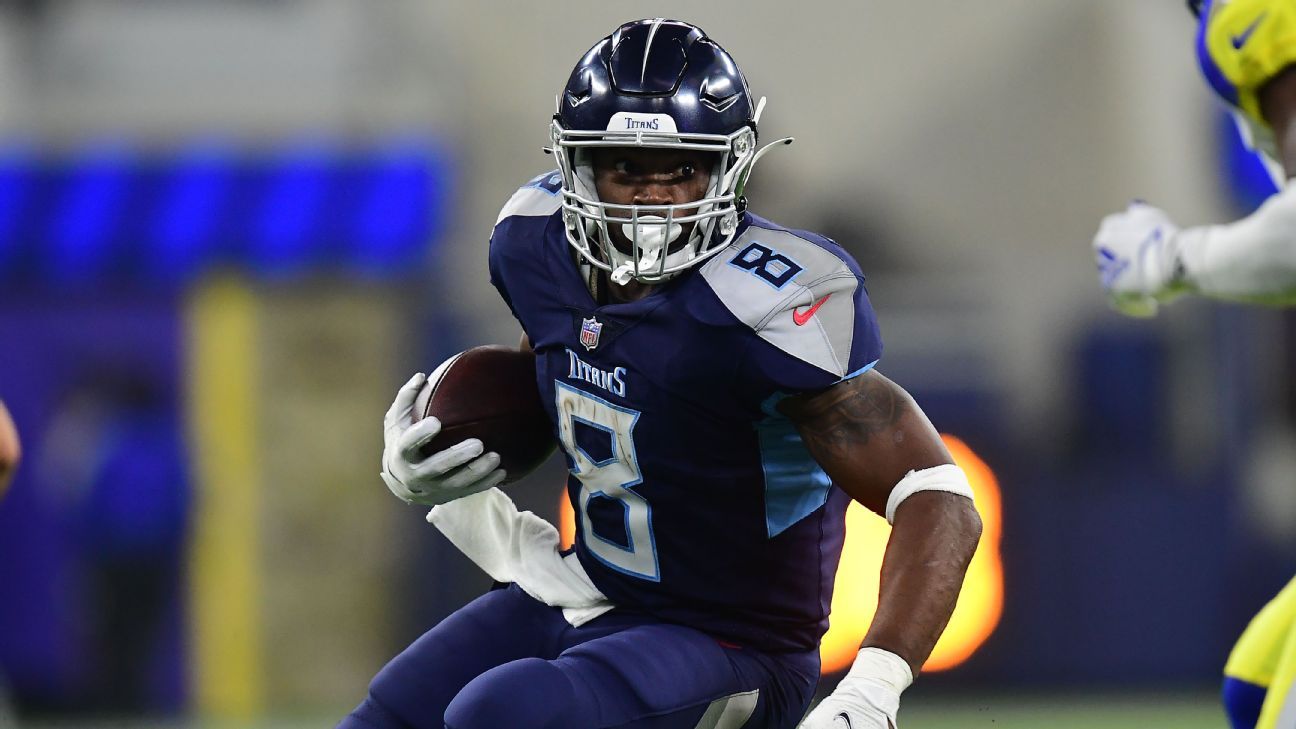 NASHVILLE, Tenn. — The Tennessee Titans announced Tuesday that they have waived veteran running back Adrian Peterson.
Peterson signed with the Titans to their practice squad on Nov. 2 after Derrick Henry was placed on injured reserve that same day.
The Titans signed Peterson to the 53-man roster on Nov. 5.
Peterson, 36, made his Titans debut in Week 9 against the Los Angeles Rams. His 1-yard touchdown run tied him with Walter Payton for 11th place on the career scoring list.
Peterson split carries with D'Onta Foreman, Jeremy McNichols and Dontrell Hilliard. Peterson carried the ball 27 times for 82 yards and one touchdown in three games this season.
In corresponding moves, Hilliard, defensive back Buster Skrine and outside linebacker John Simon were signed to the team's active roster.
Tennessee also placed defensive back Chris Jackson and wide receiver on injured reserve and added receivers Golden Tate and Austin Mack, running back Rodney Smith, and defensive lineman Kevin Strong to the practice squad.
QB Zach Wilson returns for struggling New York Jets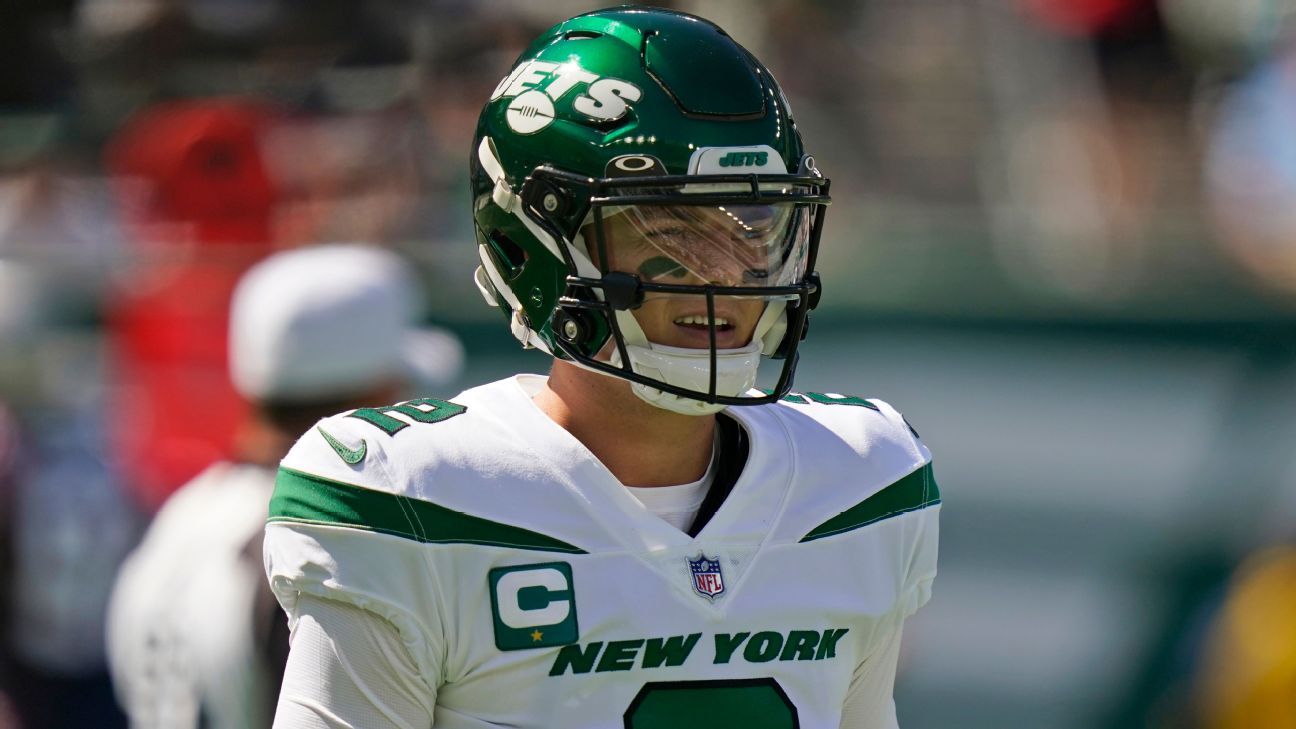 FLORHAM PARK, N.J. — The New York Jets' quarterback carousel spun again Tuesday.
Rookie Zach Wilson, the No. 2 pick, has been sidelined the past four games with a sprained knee but will return Sunday to start against the Houston Texans, a league source confirmed.
Meanwhile, sources told Adam Schefter that quarterback Mike White has tested positive for COVID-19 and that fellow QB Joe Flacco was deemed a close contact. Both were put on the COVID list.
Josh Johnson is being promoted from the practice squad to back up Wilson.
Wilson was cleared after medical evaluations on Monday, and sources said that the status of the other quarterbacks did not figure into the decision to start him.
Wilson will be the third different starter in as many games. Initially, he was replaced by White, who started three games before being benched in favor of Flacco, the starter in Sunday's 24-17 loss to the Miami Dolphins.
When Wilson suffered a second-degree sprain of his right posterior cruciate ligament in Week 7, he was expected to miss two to four weeks because of the injury, according to the Jets.
A lot happened while he was recovering. White, in his first career start, electrified the team and fan base with a 405-yard passing performance in an upset of the Cincinnati Bengals. Coach Robert Saleh sparked speculation by refusing to say Wilson would return to his role once he got healthy.
White lost his touch with a four-interception outing in Week 10, prompting Saleh to make a controversial change for the Miami game. The decision to start Flacco over White was met with sharp criticism, but Flacco did a creditable job in the loss — 291 yards and two touchdowns.
Wilson has practiced the past two weeks on a limited basis, but the organization didn't want to put him on the field until he was 100% healthy.
"We're going to make sure we protect this young man," Saleh said Monday. "When he's fully healthy and he feels like there's no limitations with his ability to play where he's not thinking about the knee, we'll get him back out there."
Flacco, acquired in an Oct. 25 trade with the Eagles, said last week he's unvaccinated. According to NFL protocols, he must test negative for five days before being allowed to return to the facility. He also had to clear a five-day entry period at the time of the trade. It's unclear whether the Jets knew his vaccination status before sending a 2022 sixth-round pick to the Eagles.
White's vaccination status isn't known. If he's vaccinated, he can return after two negative tests at least 24 hours apart. Regardless, the team is planning to use Johnson as their backup on Sunday.
Wilson is 1-5 as the starter, with four touchdown passes, nine interceptions and a 27.0 QBR, which ranks 31st out of 33 qualified passers.
The Athletic first reported the team's return to Wilson.
New Orleans Saints CB Marshon Lattimore sentenced to probation after pleading guilty to misdemeanor; felony gun charge dismissed
METAIRIE, La. — New Orleans Saints cornerback Marshon Lattimore was sentenced to one year of probation last week after a felony gun charge was dismissed and he pled guilty to a misdemeanor charge instead, his attorney confirmed to ESPN.
Lattimore was arrested in March in his hometown of Cleveland, and he was initially charged with a fourth-degree felony for possessing a loaded handgun that was believed to be stolen. That charge was dismissed last week, however. Lattimore's attorney, Marcus Sidoti, said Lattimore did not know the gun had ever been stolen.
Instead, Lattimore pled guilty to the misdemeanor charge of failing to promptly inform officers that he was carrying a concealed handgun when he was a passenger in a car that was stopped for multiple traffic violations. Lattimore had a permit to carry a concealed weapon, but video of the arrest showed that Lattimore did not immediately tell officers he had the gun until they asked.
It's unclear if Lattimore will face any discipline from the NFL. League spokesman Brian McCarthy said, "We continue to monitor all developments in the matter which remains under review."
Lattimore was also ordered to pay a $1,000 fine, Cuyahoga County court records show. The probation supervision is "non-reporting," meaning Lattimore does not have to appear in person.
Lattimore, 25, is a three-time Pro Bowler who was named the NFL's Defensive Rookie of the Year in 2017 after he was drafted with the 11th overall pick out of Ohio State. He agreed to a five-year extension in Week 1 of this season worth between $97.6 million and $100 million, making him one of the league's highest-paid cornerbacks. He was then named the NFC's Defensive Player of the Week for Week 5.