Lawyers for former Los Angeles Angels employee Eric Kay seek to delay upcoming trial
One week before former Los Angeles Angels communications director Eric Kay is scheduled to go on trial in connection with the death of Tyler Skaggs, defense attorneys are seeking to delay proceedings after federal prosecutors said they planned to amend the charges against him.
According to a motion filed Monday, federal prosecutors want to add a charge to Kay's case, saying he distributed the opioid oxycodone, in addition to the charge he's already facing for distributing fentanyl. Both drugs were found in the body of Skaggs, who died in July 2019 while on a team road trip in Southlake, Texas. The trial is scheduled to begin Nov. 8, in U.S. District Court in Fort Worth.
In their motion, defense attorneys say they were notified Sunday that prosecutors intend to get a superseding indictment against Kay this week to add the oxycodone charge. They say that turns their defense on its head, and they're seeking at least a 30-day delay in the trial.
"The legal accusations against Mr. Kay have consistently been that he conspired to possess with intent to deliver fentanyl, not oxycodone, over a more than two year period and that he actually delivered fentanyl to Tyler Skaggs on June 30, 2019," the motion says.
Defense attorneys went on to argue that they built their defense around the idea they would seek to exclude or limit evidence that Kay provided oxycodone to Skaggs and other people, and now will have to prepare for the new allegation.
Michael Molfetta, a lawyer for Kay, declined to comment. A spokesperson for the U.S. Attorney's office in the Northern District in Texas did not respond to a request for comment after hours Monday.
As ESPN reported in 2019, Kay told U.S. Drug Enforcement Administration agents that he regularly provided oxycodone to Skaggs in an arrangement in which Kay would obtain drugs for both of them with Skaggs' money. The government has said Kay was effectively a dealer himself, asking drug suppliers to deliver opioids to Angel Stadium and providing drugs to numerous players.
An autopsy determined that Skaggs asphyxiated on his vomit after ingesting oxycodone, fentanyl and grain alcohol.
New York Mets, infielder Eduardo Escobar agree to 2-year, $20 million deal
The New York Mets are in agreement on a two-year, $20 million contract with free-agent infielder Eduardo Escobar, a source familiar with the situation confirmed to ESPN on Friday.
Escobar, 32, is a versatile switch-hitter who can play second and third base but also played 18 games at first after being traded from the Arizona Diamondbacks to the Milwaukee Brewers last season.
Escobar slashed .253/.314/.472 overall last season, including 28 home runs, but was better after the trade in July. He compiled a .800 OPS for the Brewers, appearing at both first and third base.
The Mets have an opening at third base, but Escobar is likely to move around the diamond as needed. If the team doesn't re-sign second baseman Javier Baez, Escobar could see time at second as well. He has also appeared in 329 career games at shortstop, but his most prominent position is still third base.
Unlike most switch-hitters, Escobar has been better as a right-handed batter than as a lefty. He has hit 30 points higher in his career from the right side of the batter's box. He has also been known as a solid leader and teammate throughout his 11-year career.
His deal with the Mets is pending a physical and was first reported by MLB Network.
Boston Red Sox, RHP Michael Wacha finalizing 1-year deal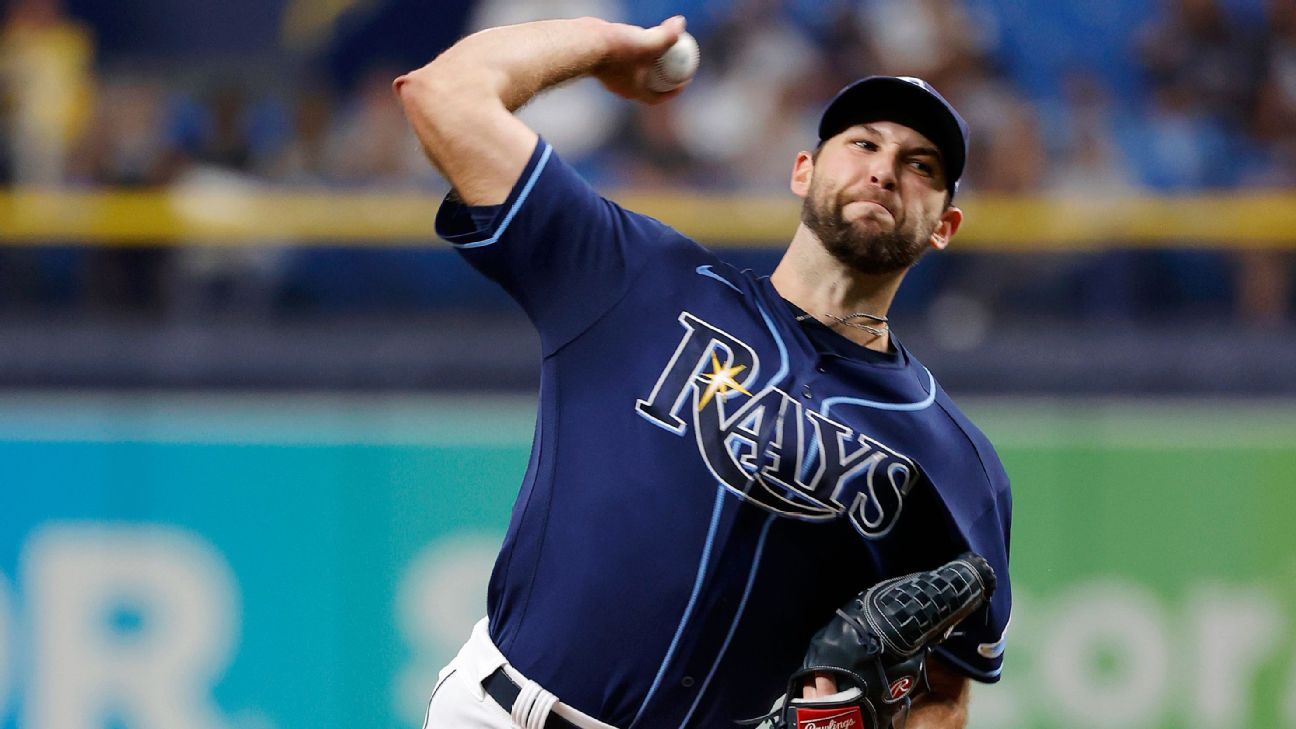 Right-hander Michael Wacha and the Boston Red Sox are finalizing a one-year contract, sources familiar with the deal told ESPN's Jeff Passan on Friday.
Wacha, 30, was solid in a starting role for the Tampa Bay Rays last season and is expected to bring depth to the Red Sox's rotation.
Boston lost lefty starter Eduardo Rodriguez this offseason after he agreed to a five-year deal with the Detroit Tigers.
Wacha went 3-5 with a 5.05 ERA across 124 ⅔ innings in 2021.
The deal is pending a physical.
Pittsburgh Pirates reportedly bringing back Yoshi Tsutsugo on 1-year deal
PITTSBURGH — The Pittsburgh Pirates are bringing back first baseman/outfielder Yoshi Tsutsugo on a one-year deal, $4 million deal, according to multiple reports Wednesday.
The deal is pending a physical.
Tsutsugo, 29, joined the Pirates in August after being released by the Los Angeles Dodgers. He played well over the final six weeks of the season, hitting .268 with eight home runs and 25 RBIs in 43 games while splitting time between first base, left field and right field.
Pittsburgh has a pressing need for a right fielder heading into 2022, though Tsutsugo is limited defensively and had trouble at times adjusting to the 21-foot high Clemente Wall at PNC Park.
Still, the left-handed power he flashed during 144 plate appearances would be welcome over a full 162-game slate for a team that finished last in the majors in home runs by a wide margin.
The well-traveled Tsutsugo was a star in his native Japan, where he hit 205 home runs over the course of a decade before signing with Tampa Bay in December 2019. He hit just .217 over parts of two seasons with the Rays before being traded to the Dodgers in May.
Tsutsugo played 12 games for Los Angeles and was released in August after batting .120. The Pirates, who are in the midst of a top-to-bottom rebuild, scooped him up, and he made an immediate impact. Tsutsugo doubled in his first at-bat with Pittsburgh, collected at least one hit in four of his first five games and proved capable of handling first base.
The Pittsburgh Post-Gazette first reported the agreement Wednesday.
Information from The Associated Press was used in this report.