Indians logo being removed from Progressive Field scoreboard in Cleveland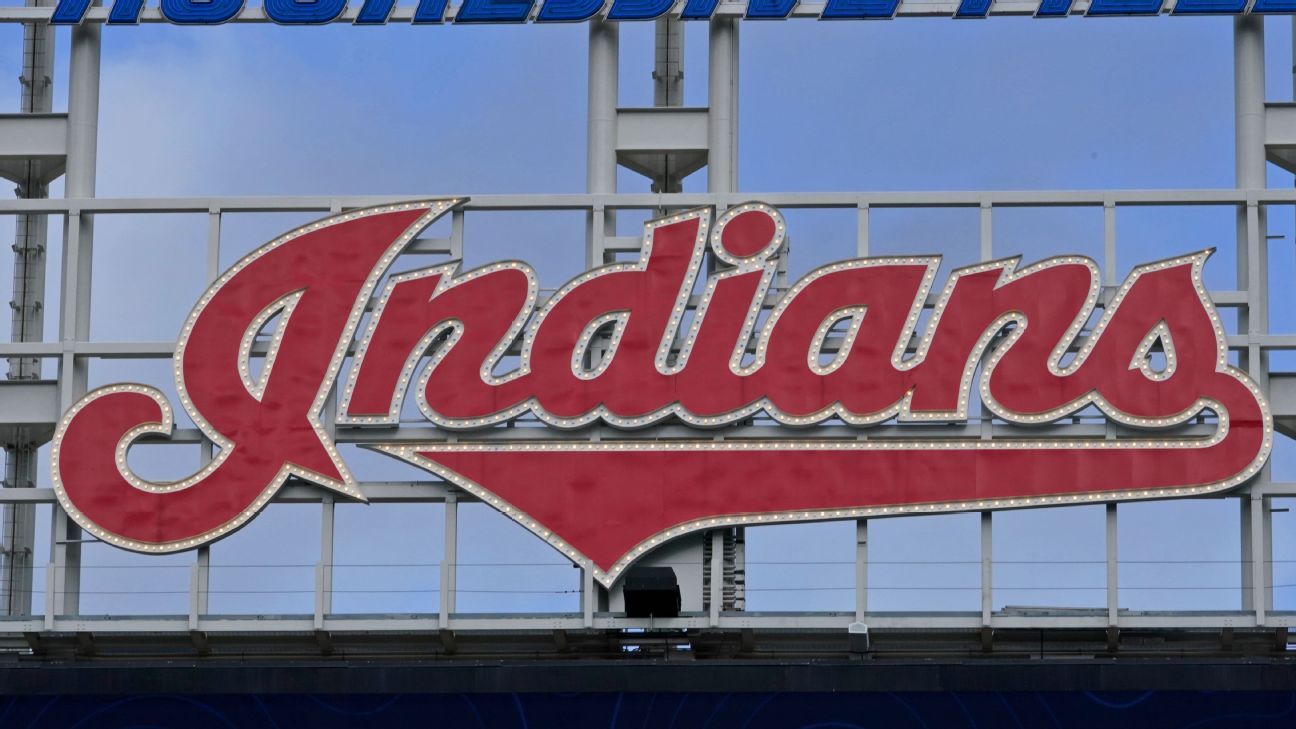 CLEVELAND — The Indians began removing the team's scripted logo atop the giant scoreboard at Progressive Field on Tuesday as they transition their name to the Guardians.
Crews started dismantling the letters, beginning with the "I" on the 80-foot-long sign. It's another step in the offseason change for the Major League Baseball team, which has been called the Indians since 1915.
The removal of the letters is expected to take several days. The sign will be placed in storage while the club evaluates options for a permanent spot for it.
A new "Guardians" sign will replace the old one and be erected before Opening Day 2022.
The American League franchise announced earlier this year it was changing its name in a move prompted by a national reckoning on racist names and symbols.
The team already has removed other signage inside and outside the downtown ballpark. The team's official name switch is expected to take place in a few weeks, when Guardians merchandise will go on sale.
The changeover hit a snag last week when a roller derby team known since 2013 as the Cleveland Guardians sued the baseball team in federal court, alleging the switch infringes on its trademark.
In a statement, the Indians said they don't believe there is a conflict between the parties and they remain confident in their position to move forward with the name change.
Wander Franco finalizes $182 million, 11-year contract in 'great day' for Tampa Bay Rays
ST. PETERSBURG, Fla. — Wander Franco and the Tampa Bay Rays have finalized a $182 million, 11-year contract that includes a club option for the 2033 season.
The shortstop's deal, which could be worth up to $223 million if the club option is exercised and incentives are reached, was announced Saturday.
"This is a great day for Wander and for the Rays, and is evidence of the mutual trust between Wander and our organization," Rays principal owner Stuart Sternberg said in a statement. "We are committed to fielding competitive teams year in and year out, and we all expect that Wander's presence and contributions will play a large part in maintaining our standard of excellence."
Tampa Bay won the AL East in 2021, but was eliminated by Boston in the ALDS.
The contract is the largest financial commitment to a player in the Rays' 24-year history. It's also the biggest deal in major league history for a player with less than a year of major league service time.
Franco is the fifth player with less than a year of big league experience to sign a long-term extension with the team. The others are third baseman Evan Longoria (2008), left-hander Matt Moore (2011), right-hander Chris Archer (2014) and second baseman Brandon Lowe (2019).
"The pace at which Wander has developed speaks to his potential," Rays president of baseball operations Erik Neander said in a statement. "We have seen him do special things on the field, particularly for a player that is only 20 years old. He's an exceptionally driven, budding superstar who can contribute to our success for a long time."
Franco made his major league debut June 22 and hit a three-run homer. He batted .288 with 18 doubles, five triples, seven homers and 39 RBI in 70 games. He finished third in the American League Rookie of the Year voting.
Franco put together a 43-game on-base streak to tie Cincinnati's Frank Robinson (1956) for the longest in major league history among players under 21. He went 7 for 19 (.368) with two homers and four RBI in four postseason games.
Franco would have been eligible for free agency after the 2027 season. He gets a $5 million signing bonus, with $2.5 million payments on Dec. 1 and June 1, 2022.
The yearly salary breakdown is: $1 million in 2022, $2 million in 2023 and 2024, $8 million in 2025, $15 million in 2026, $22 million in 2027 and $25 million in each of the last five seasons. The 2033 club option is $25 million, with a $2 million buyout.
Franco's deal also includes salary escalators if he finishes in the top five in voting for AL MVP. If he is traded before April 2, 2029, Franco receives a $3 million assignment bonus. It drops to $2 million if he is dealt on or after that date.
Hector Neris agrees to 2-year, $17M deal with Houston Astros
The Houston Astros have agreed to a two-year, $17 million deal with right-handed reliever Hector Neris, a source confirmed to ESPN.
Neris, 32, started the 2021 season as the closer for the Phillies but lost the job in June. He finished the season with a 4-7 record with 12 saves and a 3.63 ERA in 74 games.
In parts of eight seasons with the Phillies, Neris was 21-29 with a 3.42 ERA and 84 saves.
NBC Sports Philadelphia first reported the deal.
New York Mets add talent, depth with Starling Marte and more
Black Friday, a great American tradition, is supposed to be about a frenzied, wild-eyed scramble for bargains. And on this particular Black Friday, the Mets were certainly frenzied — we can only imagine what the eyes of Steve Cohen looked like as his club signed three free-agent hitters over the span of a few hours. Whether any of the deals for this trio qualifies as a bargain, though, we'll have to wait and see.
It's been an eventful offseason so far for the Mets, whose initial task after they wrapped up a 77-85 season was to find an executive to oversee all of this. It took them awhile, as they were linked in the rumor mill to everybody from Theo Epstein to Branch Rickey, but they landed on former Angels general manager Billy Eppler.
Meanwhile, as the early free-agent market heated up for starting pitchers, New York saw former rotation members Noah Syndergaard and Steven Matz sign elsewhere and watched from afar as Justin Verlander, Eduardo Rodriguez, Anthony DeSclafani and others came off the market. Then Cohen sounded off about Matz's agent on his always-entertaining Twitter feed.
It has all been, well, kind of frenzied and a little wild-eyed. In other words, the Mets have been in Black Friday mode all along — it just wasn't until the day after Thanksgiving that they finally got some players to show for it.