Cristiano Ronaldo, goals, video, Manchester United, Ole Gunnar Solskjaer, reaction
When it was first announced that Cristiano Ronaldo would be returning to Old Trafford, club great Roy Keane had a clear message.
"He'll bring a winning mentality to the dressing room, he's a fitness freak and I think he's one of the most intelligent players I've seen in my life," he told Sky Sports at the time.
"He's adapted his game and he's a winner."
For all the criticisms of Ronaldo and his role at United, there is no doubting the latter part of that statement has rang true in the early stages of his second stint at the club.
It was Ronaldo to the rescue once again on Wednesday morning as he scored both of Manchester United's goals in a 2-all draw with Atalanta in the Champions League.
Watch the world's best footballers every week with beIN SPORTS on Kayo. LIVE coverage from LaLiga, Bundesliga, Ligue 1, Serie A, Carabao Cup, EFL & SPFL. New to Kayo? Start Your Free Trial >
Wolves do Toffees to climb to 7th | 01:52
The second – a stunning volley in stoppage time – was exactly what we have come to expect from the 36-year-old.
Jadon Sancho and Donny van de Beek both played a key role in the lead-up work to United's second goal but both were injected only in the final five minutes of the game, once again leading to questions of Ole Gunnar Solskjaer's decision-making.
It may not have won United the game this time around but it certainly did soften the pressure on Solskjaer, who has been under intense scrutiny since a 5-0 loss to Liverpool.
Solskjaer's acquisition of Ronaldo has come under the microscope given United's more pressing issues at the back and in the midfield.
But his late heroics against Atalanta were nothing new for Ronaldo, who also stole the show late against the same opponents in a 3-2 win late last month.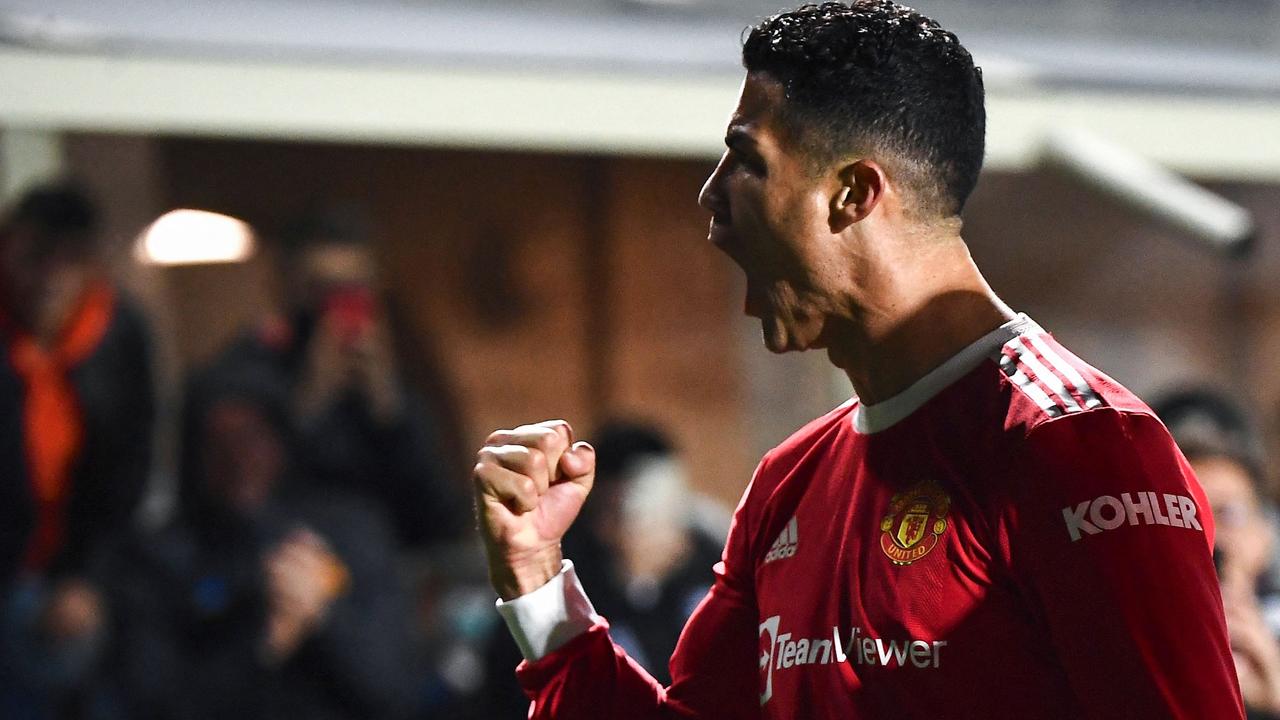 Ronaldo's biggest highlight came a month earlier against Villarreal, when he fired a late match-winner in the 95th minute to seal a 2-1 win.
All up 13 of Ronaldo's 15 goals this season have been either game-tying or go-ahead goals.
"People say he [Cristiano Ronaldo] doesn't do enough on the pitch, but he does the hardest thing: scoring goals," Rio Ferdinand told BT Sport.
"No matter the country, the stadium, the moment, he responds on special occasions."
Speaking to BT Sport post-game, Ronaldo admitted United may have been a "little bit lucky" in the end to escape with the draw.
"But that is football," he added.
"The beginning was tough.
"We knew Atalanta would do a lot of pressure, they have a fantastic coach, when I played at Juventus they were always difficult to play against."
Lionel Messi, Cristiano Ronaldo, voting, past winners, reaction, analysis
Together, Lionel Messi and Cristiano Ronaldo have won 12 of the past 13 editions of the Ballon d'Or.
Messi's triumph at the ceremony on Tuesday morning capped off what is now over a decade of dominance from the superstar pair.
But that dominance finally seems to be coming to an end, with even Messi hinting at as much in his acceptance speech.
Watch the world's best footballers every week with beIN SPORTS on Kayo. LIVE coverage from LaLiga, Bundesliga, Ligue 1, Serie A, Carabao Cup, EFL & SPFL. New to Kayo? Start Your Free Trial >
Kerr finishes third in Ballon D'or | 00:30
"It is incredible to be here again," Messi said, the emphasis here on the word 'again'.
It suggested an element of surprise from the Paris Saint-Germain superstar, which he would go on to address right after.
"Two years ago I thought that it was my last year and now I am here again," he added.
"I am very happy, very excited and wanting to fight for new challenges."
Some might question whether Messi really deserved to win his latest Ballon d'Or prize ahead of other worthy candidates, but the Argentinian has been rewarded for continuing to be so good for so long.
The most turbulent year of Messi's glittering career, in which he was forced to tearfully bid farewell to Barcelona, ends with him — at the age of 34 — claiming a record-extending seventh Ballon d'Or for the best player in the world.
In Germany they thought it had to be Robert Lewandowski's year after he missed out 12 months ago when the 2020 edition was scrapped due to the pandemic.
Karim Benzema might have had plenty of support in Spain for his remarkable performances with Real Madrid, and Jorginho could stake a claim following a year in which he won the Champions League with Chelsea as well as Euro 2020 with Italy.
Yet it is the enduring brilliance of Messi — who won the last award in 2019 — which stays in the minds of the jurors when it comes to voting.
Ronaldo's role sparked HEATED debate | 01:51
That enduring brilliance though has faded at times this year, with his performances at PSG underwhelming.
More significant of course was Messi's role in leading Argentina to their first Copa America triumph since 1993.
He was named player of the tournament, finishing with four goals and five assists to prove his worth once again on the international stage.
Messi's hopes of a record-extending eighth Ballon d'Or will largely depend on Argentina's success at the World Cup.
Otherwise, along with Ronaldo, the pair's reign at the top of football world may be over with a new generation of talent being ushered in.
Although no-one is likely to ever top Messi's incredible seven Ballon d'Or wins, solidifying his spot in the history books.
As for Ronaldo, 2021 saw him finish sixth in voting – the first time since 2010 he had polled outside of the top three.
Unreal action as Sancho and Vardy score | 01:09
It coincides with growing question marks over the 36-year-old striker's role at Manchester United amid the arrival of interim coach Ralf Rangnick.
The Ballon d'Or, instead of holding more widespread significance, has for so long instead come to define Messi and Ronaldo's tussle for the throne.
The voting system was and still is tied up in perception and global appeal.
While Robert Lewandowski may have become the first German-based player to finish in the top two since 1996, the fact the did not win speaks volumes itself.
Messi admitted as much himself.
"It is a huge honour to fight with Robert [Lewandowski]," he said.
"Last year you were the winner and I think France Football should give it to you."
Lewandowski won the Bundesliga and was the European top scorer, while also breaking Gerd Muller's 40-goal German record with 41 goals in 29 games.
Yet it did not happen in the Premier League or La Liga and for many, that was the difference between the Polish superstar and Messi, regardless of whether it is wrong or right.
The hope is that when the time comes, where Ronaldo and Messi no longer solely dominate Ballon d'Or discussions, it will force voters to adopt a more nuanced idea of what it means to be the 'best'.
That time appears to have already come, with Lewandowski widely tipped to take out the top gong ahead of Messi.
That did not happen but his presence in the voting, along with Karim Benzema, Jorginho and N'Golo Kante hinted that times are changing.
Lionel Messi wife, kids photo, Cristiano Ronaldo, Robert Lewandowski
Lionel Messi has won a record-breaking seventh Ballon d'Or award — but his family members were the real winners.
The Argentine footballer was recognised as the greatest footballer on the planet on Tuesday morning in a glamorous, black-tie affair in Paris.
Before even walking into the event, Messi had won in the eyes of the internet when the 34-year-old walked past the throng of cameras with wife Antonella Roccuzzo and their three sons.
A family photo showing Messi dressed in identical outfits to his three children pulled at the internet's heart strings.
Unfortunately, it revealed all too much.
Fans around the world knew instantly Messi had won the award, judging by the family's extravagant entrance.
Voting for the award is one of the closest-kept secrets in sport before the results are announced, but the secret was out before Messi had even sat down.
It is rare that Roccuzzo, a 33-year-old Argentine model, is not the centre of attention when the family makes public appearances.
Roccuzzo and Messi were married in 2017 after going public with their relationship in 2008, although they are thought to have been together for some time before that.
It was their adorable children Ciro, Mateo and Thiago, that stole the show on Tuesday.
The internet could not get enough of it.
Ciro, Mateo and Thiago also produced an adorable moment during the ceremony when their father was again recognised as the world's best footballer.
Their reactions to the announcement were too much.
The only time Messi broke a smile during his acceptance speech was the moment the cameras showed his children on the big screen.
"It is incredible to be here again," Messi said after accepting the award.
"Two years ago I thought that it was my last year and now I am here again. I am very happy, very excited and wanting to fight for new challenges.
"I do not know how long I have left but I hope it will be a long time. I want to thank my teammates from Barcelona and PSG, and especially the Argentina team. I won this award and I had the feeling that I was missing something and this year I was able to achieve it.
"A large part of this trophy is because of what we did in the Copa America, so thanks to my teammates, this is also yours. My wife, my children, my father, my mother are here.
"It is a huge honour to fight with Robert [Lewandowski]. Last year you were the winner and I think France Football should give it to you."
Messi won the last edition of the Ballon d'Or in 2019 before last year's awards were cancelled due to the pandemic. He also won in 2009, 2010, 2011, 2012 and in 2015.
The 34-year-old scored 38 goals in 48 games last season for Barcelona and won the Copa del Rey before captaining Argentina to Copa America glory in July.
That was the first major international title of his glittering career, which had been spent entirely with Barcelona before his tearful departure from the Camp Nou in August and subsequent move to Paris Saint-Germain.
Messi has played just 11 games for PSG so far, scoring four goals, but he was rewarded as much as anything for his continued brilliance down the years.
He has now won the Ballon d'Or twice more than his old rival Cristiano Ronaldo — between them they have won 12 of the last 13 editions with the exception coming in 2018 when Luka Modric claimed the prize.
Prolific Bayern Munich striker Robert Lewandowski finished second and Chelsea and Italy midfielder Jorginho was third in the voting by a jury of journalists from around the world.
Ronaldo, meanwhile, came in sixth.
— with AFP
Man Utd owners Glazers decide stance on making January signings for new boss Ralf Rangnick
MANCHESTER United have appointed Ralf Rangnick on an interim basis.

Source link