Atlanta Braves place IF/OF Ehire Adrianza on postseason paternity list ahead Game 6
HOUSTON — Atlanta Braves infielder/outfielder Ehire Adrianza was placed on the postseason paternity list ahead of World Series Game 6 on Tuesday night and replaced on the active roster by infielder Johan Camargo.
Adrianza is 0-for-2 in the Series, making two pinch-hit appearances. He will be allowed to return should the Series extend to a Game 7.
Camargo was 0-for-4 in the NL Championship Series.
Twins, Buxton find perfect balance in incentive-laden deal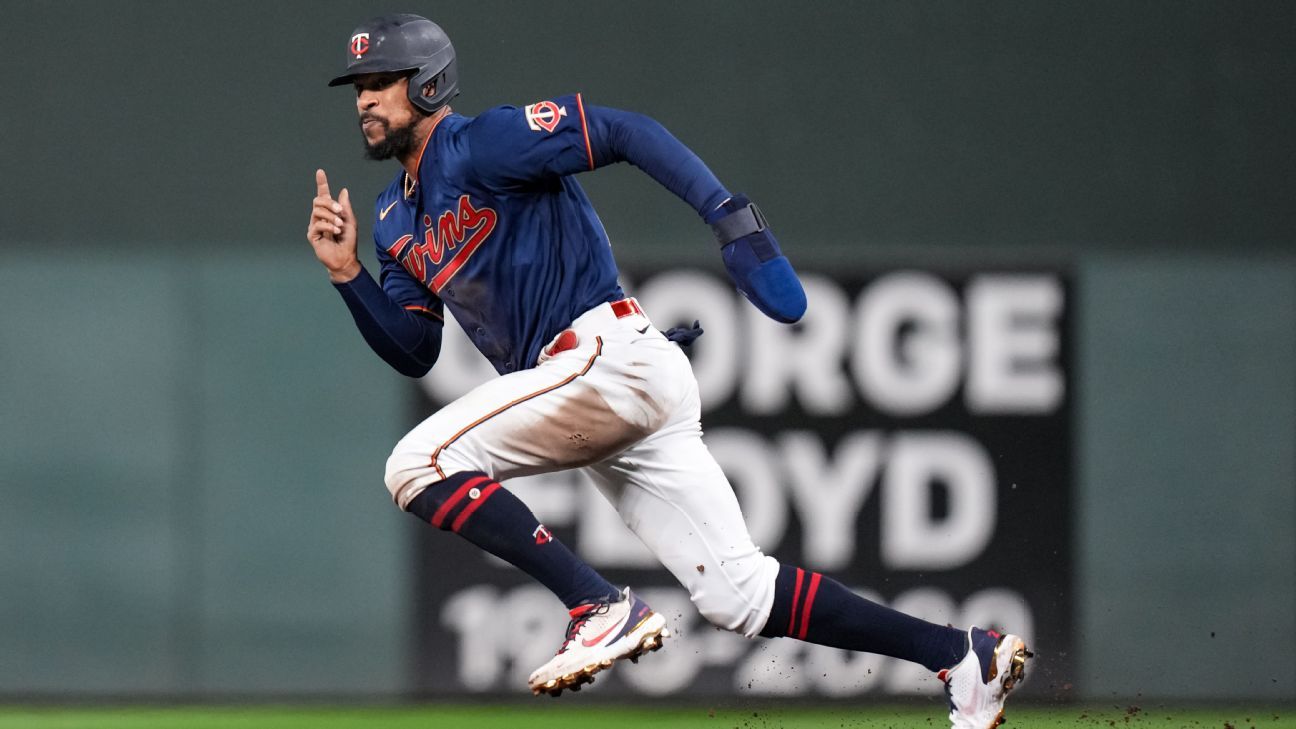 For his first 24 games of 2021, Byron Buxton was the best baseball player on the planet. He hit for average. He hit home runs. He hit doubles. He stole some bases. He played center field like Hermes, only in cleats instead of winged sandals. He hit .370/.408/.772 with nine home runs, 10 doubles and five stolen bases. He led all hitters in slugging percentage and trailed only Mike Trout in OPS.
This was the ceiling we had longed dreamed of for Buxton, who at his best is the most dynamic player in baseball this side of Shohei Ohtani: a combination of power, speed and defense that would make him a modern-day Willie Mays or Ken Griffey Jr.
Of course, it's unfair to compare anybody to those two, and it was unfair to expect Buxton to keep hitting at that level. But sadly, we don't even know how close he would have come, because once again the injury bug wrecked Buxton's season. On May 7, he went on the injured list with a hip strain, suffered while running to first base on a groundout. He returned on June 19, and in his third game back, he suffered a fracture in his left hand when Reds pitcher Tyler Mahle hit him with a 94-mph fastball.
Avisail Garcia, Miami Marlins reach 4-year deal, sources say
Outfielder Avisail Garcia and the Miami Marlins are in agreement on a four-year, $53 million contract, a source told ESPN's Jeff Passan on Sunday.
Garcia, 30, spent the past two seasons with the Milwaukee Brewers. He hit .262 in 2021, with 29 home runs and 86 RBIs — both career highs.
Miami had some money to spend in free agency after going 67-95 this past season, and made an early move with Garcia, one that helps shore up the team's outfield.
CEO Derek Jeter had said he planned to be active this offseason.
"For the first time, really since we've been here as an ownership group, I expect to be pretty active — or I should say, have active conversations. There's two sides to it," he said in Octover.
Marcus Semien, Texas Rangers agree to 7-year deal, sources say
Infielder Marcus Semien and the Texas Rangers are in agreement on a seven-year contract, sources familiar with the deal told ESPN's Jeff Passan on Sunday.
After struggling in the shortened 2020 with the A's, Semien bet on himself last offseason, accepting a one-year offer from the Blue Jays in an attempt to rebuild his value and re-enter free agency. He bet right. Semien moved to second base with Toronto and responded with one of the best power seasons from a second baseman in major league history, hitting .265/.334/.538 with 45 home runs, breaking Brian Dozier's record for home runs by a second baseman.
The move to second base went smoothly as well as Semien won a Gold Glove. He played every game for the second time in three seasons (and has missed just 10 games over the past four) and led the majors with 86 extra-base hits. While he played in the shadow of teammate Vladimir Guerrero Jr. throughout the season, Semien finished second in the AL in Baseball-Reference WAR behind Shohei Ohtani and third in FanGraphs WAR behind Ohtani and Guerrero, then finished third in the MVP, matching his result in 2019, and making him the only player with two top-three MVP finishes in the past three seasons.
Even including 2020, when he hit .223, Semien leads all position players in both bWAR and fWAR since 2019.
In order to cash in on his big season, Semien brought on Scott Boras as his new agent. He's entering his age-31 season after turning 31 in September and reportedly went into free agency seeking a $200 million contract. The last position player that age (or older) to receive that much in free agency was Robinson Cano, who signed a 10-year, $240 million contract with the Mariners prior to the 2014 season.
Semien's approach at the plate was a little different in 2021 than during his 2019 breakout season, when he hit .285/.369/.522 with 33 home runs. He walked more that season, but became more aggressive in 2021, especially on fastballs as 36 of his 45 home runs came on fastballs. That approach did leave him more vulnerable to breaking balls, as he hit .193 against curveballs and sliders compared to .246 in 2019.
One evaluator told ESPN's Buster Olney in October that "I know [Semien's] power numbers jumped [in 2021], but I wouldn't expect that's going to continue. He's not really a home run hitter." Perhaps, but Semien's approach did become more geared to power. He became more adept at pulling the ball in the air – he pulled 39 of his home runs, many of those right down the line — and increased his fly ball rate from 25.5% in 2019 to 36.7%.
Originally drafted by the White Sox out of the University of California, Semien returned to the Bay Area when the A's acquired him in 2015. He famously struggled defensively early that season at shortstop, committing 24 errors by the end of June (he finished the season with 35 errors, the most in a season since 2000). Through work with A's coach Ron Washington, however, Semien became an above-average shortstop, finishing with plus-17 Defensive Runs Saved combined over the 2016-19 seasons.
He was even better at second base, leaving Semien attractive to teams seeking a player at either up-the-middle position, although Semien had stated his preference was to return to shortstop. He also comes with an A+ reputation as a person and teammate, leading one insider to tell Olney, "I would put my head on the pillow every night knowing that the money I spent to sign him is going to be worth it."
ESPN's David Schoenfield contributed to this report.