Replacing injured running back Derrick Henry won't be easy task for Titans – Tennessee Titans Blog
NASHVILLE, Tenn. — The Tennessee Titans' 34-31 victory over the Indianapolis Colts on Sunday gave them a three-game lead in the AFC South and the best record in the conference. According to ESPN's Football Power Index, the Titans had a 97% chance to win the division as of yesterday.
Then the unthinkable happened.
The Titans received news running back Derrick Henry suffered a severe foot injury, according to ESPN's Adam Schefter. Henry is scheduled to get an MRI on Monday. The fear is Henry suffered a Jones fracture and may need season-ending surgery on his right foot.
"There's no player in the league that means more to his football team than Derrick Henry," ESPN NFL analyst Rex Ryan said. "This is the biggest loss you can have. It takes them from being in the one or two best teams in the AFC. They ain't going nowhere without him."
The injury occurred in the first quarter. Team trainers looked at his foot, but Henry came back in and finished with 29 carries for 68 yards.
The Titans pulled off a close win over the Colts despite Henry not having the same explosiveness when carrying the football. That was in large part thanks to A.J. Brown's 10 receptions for 155 yards and a touchdown.
Henry fell short of the 100-yard rushing plateau in the last two Titans victories. But continuing to win won't be easy without Henry, whose 937 rushing yards and 10 touchdowns lead the NFL.
Since 2019, the Titans are 18-3 when Henry rushes for 100 or more yards and 8-10 when he doesn't hit that mark.
Derrick Henry has made up for 79.3% of the teams rushing yards so far this season (937 rush yds). https://t.co/dmJ2NCNegZ pic.twitter.com/x4Pox14cBM

— ESPN Stats & Info (@ESPNStatsInfo) November 1, 2021
Brown has caught 25 of the 29 targets from quarterback Ryan Tannehill over the past three games, resulting in 379 yards and two touchdowns.
The Titans' passing game began to heat up as opposing defenses devoted most of their resources to slowing Henry, which generated a lot of one-on-one coverage against the wide receivers. Tennessee repeatedly got big gains by way of the play-action passing game, which is most effective when Henry is in the backfield because of the threat he presents.
Without that threat, teams will be less likely to stack the box and focus more on stopping the passing game.
The Titans don't have many in-house options after placing 2020 third-round pick Darrynton Evans on injured reserve. Jeremy McNichols has been the primary backup for Henry, but he has only seven carries for 38 yards this season.
Here are some possible options for the Titans:
D'Onta Foreman, free agent
Tennessee worked Foreman out last week according to a team source. Although he isn't anywhere near as explosive, at 6-foot-1, 236 pounds, Foreman has the type of frame that matches the Titans' desire to wear teams out with a pounding rushing attack. Foreman had 22 carries for 95 yards in five games for the Titans last season.
Adrian Peterson
Tennessee signed free-agent running back Adrian Peterson on Monday, according to ESPN's Adam Schefter.
Peterson will initially be on the Titans' practice squad and will eventually land on the 53-man roster. Peterson, 36 years old, finished with 156 carries for 604 yards and 7 touchdowns with the Detroit Lions last season.
The veteran back has 14,820 career rushing yards, which is the fifth most all time. Peterson is only 449 yards behind Barry Sanders for fourth place.
Obviously Peterson doesn't have the same explosiveness that Henry had, but his rushing style fits the physical mindset that Titans coach Mike Vrabel wants his offense to use.
Vrabel hinted at possibly using a committee approach in an attempt to still have an effective rushing attack.
"I'm not ready to commit to anything or a wholesale change," Vrabel said on Monday. "A lot of teams rely on multiple backs to run the football within their same scheme."
New Orleans Saints again to be without RB Alvin Kamara vs. Buffalo Bills
METAIRIE, La. — Running back Alvin Kamara has been ruled out for the third straight week with his knee injury as the New Orleans Saints prepare to host the Buffalo Bills on Thanksgiving night.
Right tackle Ryan Ramczyk (knee) and defensive ends Marcus Davenport (shoulder) and Tanoh Kpassagnon (ankle) were also ruled out for Thursday's game. Running back Mark Ingram II (knee) and left tackle Terron Armstead (knee/shoulder) are listed as questionable after practicing on a limited basis Wednesday.
If Ingram is out or limited, the Saints will obviously be short-handed at running back. Second-year pro Tony Jones Jr., RB/WR Ty Montgomery and backup quarterback Taysom Hill would likely be among those who fill the void.
Kamara is not expected to be sidelined long term, and he was not placed on injured reserve after he first started experiencing knee soreness during the Saints' Week 9 loss to the Atlanta Falcons. The Saints will play another Thursday night game at home against the Dallas Cowboys in Week 13 before having three extra days between games in Week 14.
Kamara has obviously been missed in a depleted Saints offense that has been short on playmakers in the passing game all season. He leads the team with 840 yards from scrimmage, 7 touchdowns and 32 receptions this season.
The Saints (5-5) have battled injuries all season — but especially over the past month (including quarterback Jameis Winston's season-ending ACL tear and receiver Michael Thomas' season-ending setback with an ankle injury). The Saints have hit a three-game losing streak for the first time since 2016.
Green Bay Packers' Aaron Rodgers says his toe is fractured, puts bare foot in front of camera to clear up COVID toe 'disinformation'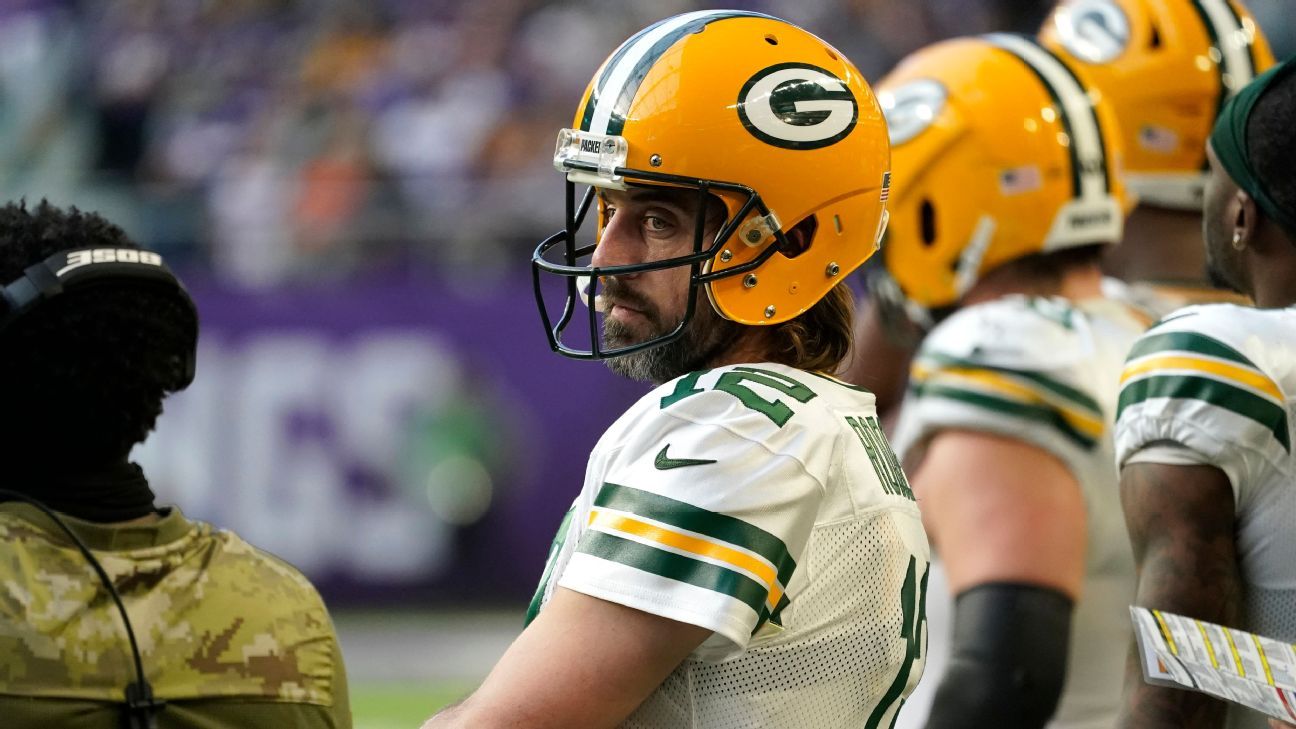 GREEN BAY, Wis. — Aaron Rodgers has a fractured pinkie toe — not "COVID toe" — and the Green Bay Packers quarterback even put his bare foot in front of the camera on Wednesday in an effort to clear up the issue that has bothered him since he returned from his 10-day quarantine earlier this month.
After joking on Tuesday during his weekly appearance on "The Pat McAfee Show" about "COVID toe" — a possible symptom of the virus he tested positive for on Nov. 3 — and following a story in the Wall Street Journal that took those comments as fact, Rodgers revealed Wednesday that he has a fractured toe, one he suffered during workouts at home while preparing to return to the Packers for their Nov. 14 game against the Seattle Seahawks.
"I'm glad you asked just so I could show you the lesions of my foot here, so if I have enough room on this camera, let me see if I can," Rodgers said as he lifted his left foot in front of the camera during his Zoom news conference. "Oh, oh there's no lesions whatsoever. Oh, what a surprise. No, that's actually called disinformation when you perpetuate false information about an individual. I have a fractured toe."
Rodgers said he expected an apology from the newspaper but added that he did "get a kick out of reading that article. That was very, very interesting, but no I had never heard of COVID toe before. Pat made a joke about it on the show, and I mentioned yesterday that it's worse than a turf toe and it must be a bone issue."
Aaron Rodgers was clearly waiting for the COVID-toe question because you can hear him say, "I don't know if I have room to get my toe up there," at the start of his press conference.

Here's his full answer about his fractured toe – with said toe on the screen. pic.twitter.com/hoC2UZTxME

— Rob Demovsky (@RobDemovsky) November 24, 2021
The fractured toe was so problematic in Sunday's 34-31 loss to the Minnesota Vikings that Rodgers actually went into the locker room before the first half ended, leaving Jordan Love to take the final snaps of the second quarter, so he could undergo treatment at halftime. Although he did not elaborate on the treatment, Rodgers was nearly perfect in the second half, leading touchdown drives on all three possessions and throwing just one incompletion — an intentional throwaway — after halftime.
Packers coach Matt LaFleur said Rodgers will follow a similar practice routine as he did last week, when he participated only on Friday and only in a limited capacity, in advance of Sunday's game against the Los Angeles Rams at Lambeau Field. Rodgers did not practice on Wednesday.
"Certainly we'll handle it day by day, but a lot of it's just going to be on how he's feeling," LaFleur said.
Rodgers insisted he would not miss any game action because of the injury but will consider surgery during next week's bye, as long as the procedure does not keep him out of any games.
"There's surgical options, as well, that wouldn't involve missing time, so thankfully, we've got a great foot guy in town — the best in the business, who everybody sends stuff to," Rodgers said, referring to renowned foot specialist Dr. Robert Anderson, who moved his practice to Green Bay. "But I'll definitely look at all options over the bye and decide what would be best to make sure that I get to the finish line."
He said the injury occurred while he worked on his conditioning during his quarantine. He did not know the extent of his injury until he returned to the team the day before the Seahawks game.
"Didn't think it was what it was until I got to the facility on Saturday before the game and got X-rayed when I got cleared when I came back in the facility," Rodgers said. "It's just about pain management."
Miami Dolphins claim RB Phillip Lindsay off waivers
The Miami Dolphins have claimed running back Phillip Lindsay off waivers, the team announced Wednesday.
Lindsay had been waived Tuesday by the Houston Texans.
In Miami, Lindsay joins a backfield that includes starter Myles Gaskin, Patrick Laird and Salvon Ahmed.
Lindsay, who signed a one-year deal worth $3.25 million with $1 million guaranteed and $500,000 in incentives in March, rushed for 130 yards and a touchdown in 50 attempts this season. He also had a touchdown reception.
He was part of the group of veteran running backs whom Texans general manager Nick Caserio signed during the offseason. Houston traded Mark Ingram to the New Orleans Saints last month, leaving running backs David Johnson and Rex Burkhead on the roster. Houston has also added running back Royce Freeman.
The former Pro Bowl running back became available this offseason when the Denver Broncos rescinded the RFA tender they had placed on him that would have allowed them to match any contract but would not have provided the team any compensation if he signed elsewhere.
He rushed for over 1,000 yards in each of his first two seasons with the Broncos and had 2,550 rushing yards in three seasons with Denver. He also rushed for 17 touchdowns.
ESPN's Sarah Barshop contributed to this report.