New York Jets' Mike White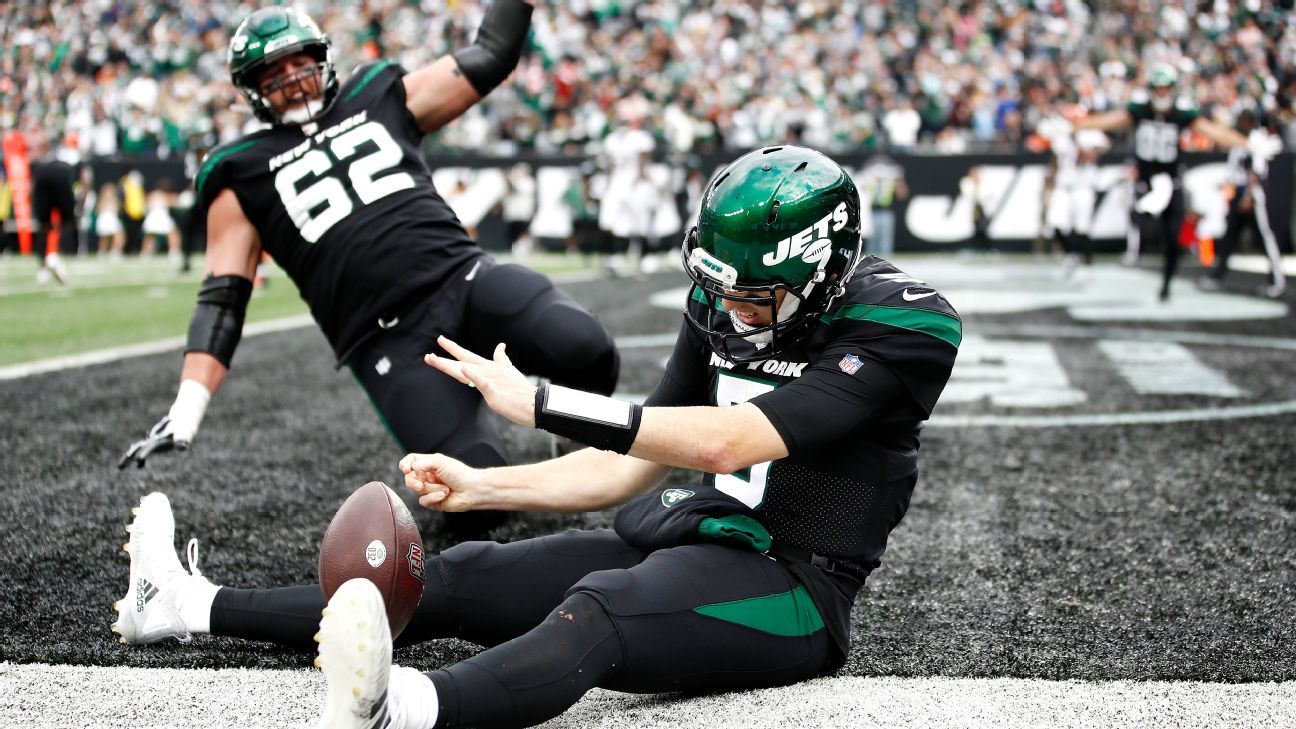 FLORHAM PARK, N.J. — When Mike White came off the field Sunday after his improbable, 405-yard passing performance for the New York Jets, the first person to greet him was Zach Wilson. There was an embrace and, as White discovered later, there were also a lot of excited, in-game text messages from Wilson.
"He honestly might have been more juiced up than me," White said Monday.
Everything is fine in the Jets' universe, but the quarterback situation might get awkward in a week or two, when Wilson is ready to return from his knee injury.
Coach Robert Saleh did nothing to douse a potential controversy, essentially punting when asked if Wilson — the No. 2 overall pick in the 2021 draft — will return to his starting role when healthy.
"If everything goes according to plan and Zach comes back and he's healthy, we'll address it when we cross that bridge," said Saleh, reiterating what he said after the Jets' 34-31 win over the Cincinnati Bengals.
White will start Thursday night against the Indianapolis Colts. If he plays well again, the Jets (2-5) could go into their mini bye with a major quarterback question ahead of their Week 10 game against the Buffalo Bills.
The Jets "feel good" about Wilson's chances of being ready for Buffalo, said Saleh, adding, "At the very, very least, we feel really, really good about his ability to practice [next] week."
Wilson is considered the future of the franchise, but he wasn't playing well before suffering a PCL sprain — a two- to four-week injury. White is a former practice-squad player who delivered one of the best performances in NFL history for a first-time starter. This could get dicey.
"That's for you guys to talk about," Saleh said. "I know exactly how we'll operate. I know exactly what we're looking for. If it's something you want to play with and have fun with, I mean, it doesn't surprise me. But have fun."
For now, it's nothing but positive vibes.
"Zach was awesome," White said. "He gave me this huge hug. I was real nervous that I hurt his knee and banged him up."
White laughed.
"He was texting my phone during the game, like every play, knowing obviously that I wasn't answering," he continued. "He was like, 'Oh, my god, that was awesome.' Then he had this big, long congratulatory text for me and how happy he was. His girlfriend texted my wife. They were unbelievable."
So was White, who became the first player in NFL history to throw for 400 yards and three touchdowns in his first start. Down 31-20, the former Dallas Cowboys draft pick — cut four times by the Jets last season — threw two touchdown passes in the final 4:36 to lift the Jets to one of their most memorable victories in recent memory.
White's phone blew up during and after the game, with more than 300 texts. He celebrated in the stadium parking lot with family and friends, savoring the surreal moment.
"We just kind of looked at each other and started laughing almost, just enjoying it all," said White, who later went out for a quiet dinner with his wife.
Before Sunday, White was a relative unknown. He was on the roster bubble at the start of training camp, but he beat out 2020 draft pick James Morgan for the No. 2 job, convincing the team it didn't need to sign an experienced backup.
Still, the Jets didn't want to take any chances, trading for veteran Joe Flacco after Wilson's injury eight days ago. If White had struggled against the Bengals, they probably would've turned to Flacco on Thursday night.
Not now, not after what happened Sunday. Late in the game, the MetLife Stadium crowd, usually booing the team at that point in the game, chanted his name: "Mike White! Mike White!"
"It was special to watch," defensive tackle Sheldon Rankins said. "Hearing the crowd say his name, I mean, that's something that only we'll never forget, but for a guy like him — first career start, in that environment — that was big for him."
Linebacker C.J. Mosley called it "a moment to remember for him, for the fans and for our football team."
Several players said they weren't surprised by White's performance, claiming he demonstrated skill and poise on the practice field as the scout-team quarterback. Sunday was "a collection of his hard work, his preparation and a young man being ready when his name was called," Mosley said.
New England Patriots throw just three passes, dominate on the ground in win over Buffalo Bills
ORCHARD PARK, N.Y. — Taking the ball out of rookie quarterback Mac Jones' hands in wind gusts over 40 miles per hour, and relying on their running game, the New England Patriots defeated the Buffalo Bills 14-10 at Highmark Stadium on Monday night to enter their bye week as the No. 1 seed in the AFC.
Overall, Jones was just 2-of-3 for 19 yards, while the Patriots ran for 222 yards on 46 carries.
The three passing attempts are the fewest ever in Patriots history, while the two completions match their fewest, according to ESPN Stats & Information research. The three pass attempts were the fewest by any team since the Bills attempted just two in Week 3 of the 1974 season (vs. the New York Jets).
The Patriots' fewest pass attempts in a game was previously five, which came in the 1982 "Snow Plow" game against the Miami Dolphins in Foxborough, Massachusetts – a game played in a driving snowstorm that was scoreless in the fourth quarter when stadium worker Mark Henderson drove a tractor on to the field to clear a spot for the only field goal of the game.
The Patriots improve to 9-4, with the Baltimore Ravens, Tennessee Titans and Kansas City Chiefs all 8-4. The Bills, meanwhile, drop to 7-5 and their margin for error to win the AFC East has been thinned.
Jones threw just one pass in the first half — when the Patriots led 11-7 at the break — and completed it for 12 yards. The pass sailed high in the wind and tight end Jonnu Smith pulled it down.
That was the fewest first-half pass attempts by a team since at least 1978, which is as far back as data is available, according to the Elias Sports Bureau.
The previous record was two, which happened three times, most recently by the Indianapolis Colts in Week 14 of 2017 — also in Buffalo, in snowy conditions.
Overall, Jones' only other completion was a screen pass in the fourth quarter.
The only other games in Patriots history in which they completed just two passes came in December of 1982, and November of 1969 — both against the Miami Dolphins.
Their one passing first down tied for the second fewest in franchise history, and was their fewest since Dec. 4, 1983. The Pittsburgh Steelers were the last team in the NFL that won a game with one or fewer passing first downs, doing so in 2010 with Dennis Dixon as their quarterback.
Potential No. 1 pick Kayvon Thibodeaux to declare for NFL draft, skip Oregon Ducks' bowl game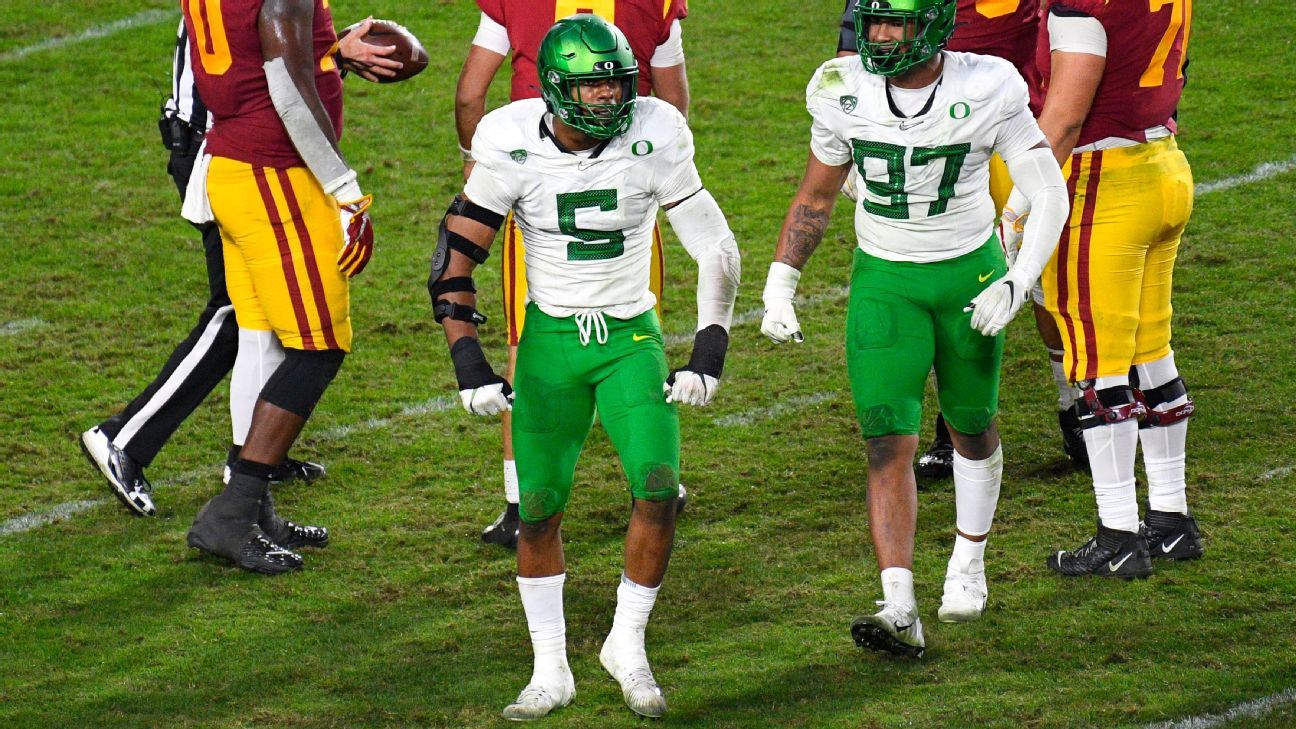 Star Oregon defensive end Kayvon Thibodeaux is declaring for the NFL draft, sources told ESPN's Adam Schefter on Monday.
Thibodeaux will not play in the Ducks' bowl game, a matchup against No. 16 Oklahoma in the Valero Alamo Bowl on Dec. 29, and instead will start preparing for the draft, sources said.
ESPN's Mel Kiper Jr. has Thibodeaux rated No. 1 overall in his latest Big Board. Fellow ESPN draft analyst Todd McShay has him as the No. 2-rated prospect in this year's draft class.
The 6-foot-5 Thibodeaux was the Pac-12 Defensive Freshman of the Year in 2019 and a first-team All-Pac-12 selection last year after arriving at Oregon as the No. 1-ranked player in the class of 2019. He played 10 games this season — an ankle injury slowed him up early — and finished with seven sacks and 49 total tackles.
Thibodeaux was also at the forefront of players' ability to capitalize on their name, image and likeness. He signed a handful of deals, including one with Ebay, another with United Airlines and a six-figure memorabilia deal. He also released an NFT in partnership with Nike founder Phil Knight and sneaker designer Tinker Hatfield that sold for $100 per unit. In September, he launched his own cryptocurrency called $JREAM.
Thibodeaux's early exit came on the same day Mario Cristobal left Oregon to take the head-coaching position at Miami.
Information from ESPN's Paolo Uggetti was used in this report.
New York Giants QB Daniel Jones (neck) unlikely to play vs. Los Angeles Chargers, sources say
EAST RUTHERFORD, N.J. — After further visits with team doctors and specialists to have his neck injury evaluated, New York Giants quarterback Daniel Jones is unlikely to play Sunday vs. the Los Angeles Chargers, sources told ESPN's Adam Schefter.
Jones missed Sunday's loss to the Miami Dolphins. He was injured the previous week in a win over the Philadelphia Eagles. The Giants (4-8) remain hopeful he won't miss much more time and will return this season.
Mike Glennon started in Jones' place on Sunday, but was diagnosed with a concussion after the contest. That puts newly acquired quarterback Jake Fromm potentially in line to start against the Chargers. It only adds to questions about whether Jones has done enough in his first three professional seasons to convince the Giants — and potentially a new general manager — that he is a true franchise quarterback they should build around.
Fromm, a University of Georgia standout, was signed off the Buffalo Bills' practice squad last week. He has never played in an NFL game and could be making his first start 11 days after joining the team.
"It's the beauty of the NFL. It's next man up. Jake is getting his opportunity," said Giants left tackle Andrew Thomas, who was also his teammate at Georgia. "I'm excited for him to get his chance. But like I said, next man up, and we're doing everything to help him."
The Giants also have former Michigan State quarterback Brian Lewerke on their practice squad. He seems to have been immediately jumped by Fromm on the depth chart.
Judge said that Fromm would be next in line this week at practice with Jones and Glennon sidelined. The Giants might still add additional contingencies.
"We're talking internally about a lot of options personnel-wise to see what we can do and build in depth for a multitude of reasons," coach Joe Judge said.
Judge said after the game in Miami that Glennon would remain the starter if healthy while Jones remained sidelined. But Glennon's status is in doubt and might not be decided until late this week.
He's currently in the concussion protocol.
"The optimistic view would be to have [Glennon] ready for the game on Sunday," Judge said during a Monday afternoon conference call from Arizona, where the Giants are practicing this week.
New York is also dealing with COVID-19 issues. Offensive lineman Wes Martin and quarterbacks coach Jerry Schuplinski tested positive on Monday, per Judge.
Martin was placed on the reserve/COVID-19 list on Monday afternoon. Schuplinski was involved in meetings virtually throughout the day as the Giants try to get Fromm coached up quickly for a potential start.
Having Fromm start would provide some limitations.
"For a guy who has only been in your system for a couple days, you have to go ahead and select more of a menu what he can operate with in a game," Judge said. "That is not always based on what he's capable of with his ability, it's just based on being new in a scheme and system and what he's comfortable going out there and playing aggressively and making the right decisions within."
Fromm has crammed hard since joining the Giants. He stayed after practice on Friday last week and did extra work with Jones there to provide input.
The fifth-round pick by the Buffalo Bills last year has made a positive first impression.
"He's an intelligent guy. He's demonstrated that already," Judge said. "He has very good poise out there and he has a very good presence. Once thing that is very impressive about this guy is you talk to former teammates of his, like we did before he got in here, most of those Georgia guys, and every single one lit up and said we'd absolutely love to have that guy on the team."
The bar won't be especially high. The Giants failed to score a touchdown on Sunday in Miami. They have one touchdown in the two games since offensive coordinator Jason Garrett was fired.
Glennon went 23-of-44 for 187 yards with an interception against the Dolphins.
Jones has completed 64.3% of his passes for 2,428 yards with 10 touchdowns and seven interceptions this season.