In appreciation of the pitcher at-bat, good (Zack Greinke!), bad or ugly (A.J. Minter)
ATLANTA — Astros reliever Kendall Graveman walked to the batter's box in the ninth inning of Game 5 of the World Series, blithely unaware of the significance of what was about to take place. Equally unaware, Braves pitcher Drew Smyly looked down at Graveman from the mound. History doesn't just announce itself, after all, and in this case that was fortuitous; otherwise these two men, now tethered for posterity, would surely have been paralyzed by the enormity of the moment.
Major League Baseball has given every indication that it will go to a universal designated hitter for the 2022 season, ending the American League's 48-year reign as its sole proprietor. And if pitchers' at-bats end, this is how they left us: Graveman, all geared up with nowhere to go. As he neared home plate from the on-deck circle, Graveman was met with Braves catcher Travis d'Arnaud giving him "the big eyes," as Graveman put it. D'Arnaud didn't expect to see Graveman, who pitched the final two innings of Houston's 9-5 win, in this position.
Again: You don't choose history; it chooses you.
"I was like, 'This is weird,'" Graveman said.
Graveman was under strict orders: Don't swing. He was game for the charade, though, choosing one of Alex Bregman's bats, a pair of Bregman's gloves and fellow pitcher Jake Odorizzi's helmet. (Cooperstown undoubtedly will be in touch.) "And they threw an elbow guard on me," he said, presumably to account for a potential inability to bail fast enough if Smyly buzzed him.
Occupying the right-handed side of the batter's box, he dug in a little, feet slightly more than shoulder width apart, and took a couple of half-hearted practice swings. This was his seventh career plate appearance, but he'd seen enough of them in his seven big league seasons to know what it's supposed to look like. He cocked the bat over his shoulder, those red gloves gleaming beneath the stadium lights, and proceeded to not swing.
He did his job for six pitches, the first two strikes, the next three balls, the sixth and final one an 87 mph cutter 2 or 3 inches above the bottom of the zone, center cut. It is perhaps fitting that the final at-bat by a pitcher not named Shohei Ohtani took place only because the rules require someone to stand up there, and even more fitting that it was as useless as someone performing magic tricks on the radio.
"It was unique because they told me, 'Don't swing,'" Graveman said. "In that moment, part of me was like, man — as a competitor, I want to swing. But I cannot in this moment tweak an oblique or something. I haven't swung a bat in years. The child in me enjoyed holding the bat and standing up there. There was about 49 percent of me that really wanted to swing at a pitch. But, really — what good was it going to do in that moment?"
It's a safe assumption that no matter what pitcher-hitting provision the new collective bargaining agreement contains, this was Graveman's final at-bat. In the glow of the moment, he was able to reminisce about his first: "In the four hole in Yankee Stadium because we had two people get hurt and we had to kill the DH. And then potentially my last at bat in the big leagues was in a World Series game. Two at bats bookended in my career."
The epic Graveman-Smyly confrontation saved us from the prospect of the fourth-inning hostility between A.J. Minter and Jose Urquidy notching itself into the historical record. That one took place with one out and d'Arnaud — the Zelig of this historical chronicle — at first base. Urquidy threw a pitch and Minter, a left-handed hitter, tried to bunt it. Try is probably unfair, because Minter did bunt it: straight up into the air, where it hung out until landing in Astros catcher Martin Maldonado mitt.
And while Graveman clearly stole the spotlight, Zack Greinke is at least a footnote to the final weekend of the hitting pitcher. In Saturday's Game 4, he had the final (probably) hit by a pitcher batting as a pitcher (again, not named Shohei Ohtani). He hit a hard ground ball that evaded the outstretched glove of a diving Ozzie Albies behind second base. The ball rolled into center field, where it was picked up by Kyle Tucker and tossed back to second base.
Greinke was also the final (most likely) practitioner of the fabled jacket ceremony. He stood at first and waited as the bat boy sprinted from the third-base dugout to present him with the Jacket for Running, which Greinke ditched after he reached second base with two outs, a practical move intended to reduce the coefficient of drag if he were called upon to score from second. (He wasn't.)
Greinke, just to show off, followed that performance with a pinch-hit single in the fourth inning of Game 4. He smoked a one-hop seed into right field for which — because he was not serving as the pitcher — he was not awarded the Jacket for Running.
And if this truly is the end, a cherished baseball subculture will die along with it. There were decades of batting practice bets, surprise homers, false bravado, outright lies about hitting prowess.
And the bunts. Never forget the bunts we had along the way.
All those pitchers spending all that time in the batter's box served a larger purpose, one that will be hard to replace. They came to the plate every second or third inning, geared up or not, and reminded us just how damned hard it is to hit big league pitching. Most of them — not all, but most — were baseball's version of the NFL kicker forced into trying to make a tackle: totally out of their element, game for the challenge. These brave men — remarkable athletes who probably batted fourth for real and raked their way through high school — injected a dose of sober reality into the game for those of us who might venture into thinking anything is possible.
But all of that serves as rank disrespect for Graveman's moment. When it was all over, when the history was made and the retelling could commence, Graveman accepted plate umpire Ted Barrett's judgment without complaint. He peeled off Bregman's gloves, returned Bregman's bat to the rack, removed Odorizzi's helmet and unstrapped the orphan elbow guard. He could feel the personal gratification that comes with completing the task set out for him, knowing that once that feeling dissipated, he could head back to the mound — the job he was hired to do — and ask himself why it took so long for everyone to realize this whole thing was a bad idea.
Daisuke Matsuzaka ends 23-year career, surprised by Ichiro Suzuki in ceremony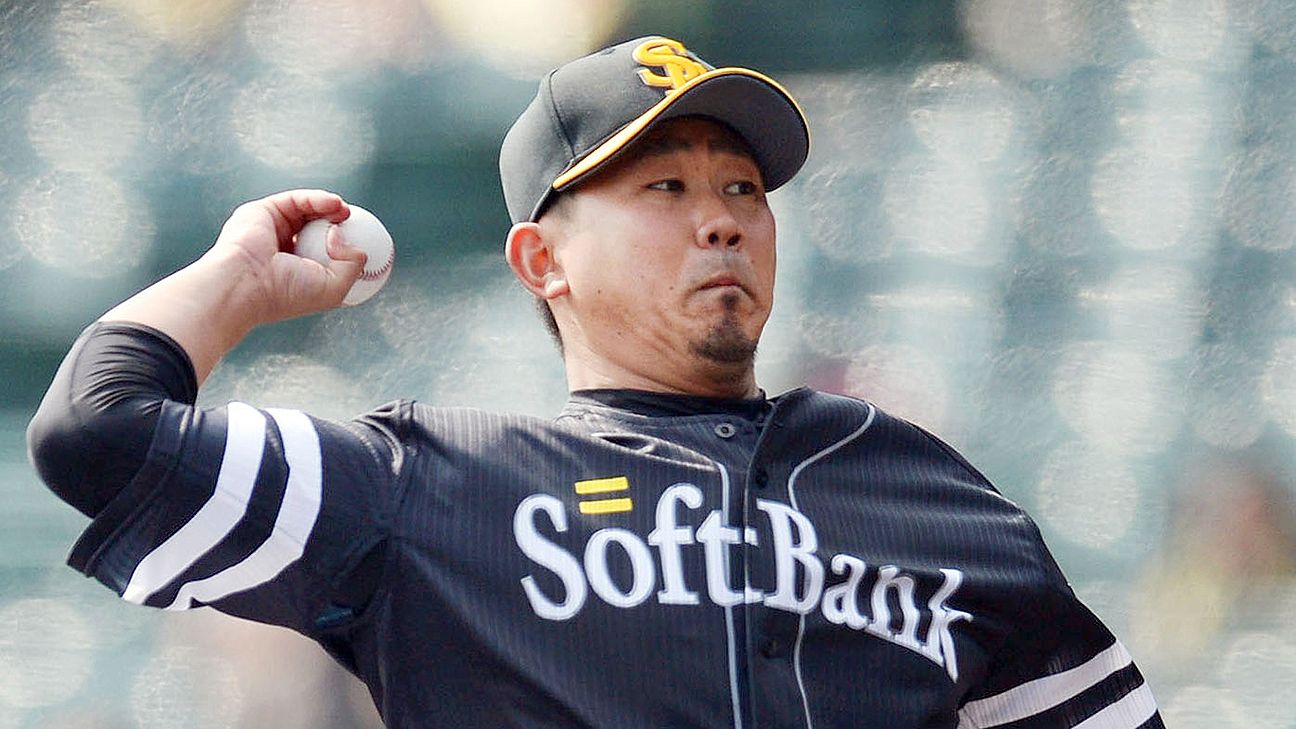 Daisuke Matsuzaka brought his 23-year professional baseball career to a close Saturday in a ceremony that included a surprise appearance by Ichiro Suzuki.
Matsuzaka, who faced only one batter this season for the Saitama Seibu Lions — issuing a walk in an October appearance — told fans at Seibu's MetLife Dome that he was happy to leave the sport on his terms.
"I'm content that I was able to keep playing baseball until I could no longer throw normally in the end," Matsuzaka said, according to Kyodo News.
A video from Suzuki was played, ending with the longtime Seattle Mariners outfielder surprising Matsuzaka on the field and giving him a flower bouquet.
"I hadn't imagined this. It was crazy," Matsuzaka said, according to Kyodo News. "At first I was able to hold up, and then the tears came and I was done for.
"I was surprised and just overjoyed that, at the end, Ichiro-san came to see me. I'm happy I was able to come so far."
Suzuki and Matsuzaka faced each other both in Japan and Major League Baseball over their careers. They were also teammates for Japan's World Baseball Classic titles in 2006 and 2009.
Matsuzaka, 41, was 56-43 with a 4.45 ERA in 132 career MLB starts with the Boston Red Sox and New York Mets from 2007 to 2014. He won a World Series title in his rookie season with the Red Sox in 2017.
He started and ended his career with the Lions, pitching for them from 1999 to 2006 and the past two seasons. He also played for the Fukuoka SoftBank Hawks and Chunichi Dragons after returning to Japan in 2015.
Atlanta Braves shortstop Dansby Swanson and USWNT soccer player Mallory Pugh announce their engagement
Atlanta Braves shortstop Dansby Swanson earned a ring last month. U.S. women's national team forward Mallory Pugh got one this month.
The World Series champion and the World Cup winner announced their engagement on Instagram Thursday night. The two have dated since 2017.
The couple met through Swanson's former teammate Jace Peterson, now with the Milwaukee Brewers, who is married to Pugh's sister.
Pugh plays with the Chicago Red Stars of the NWSL and has been with the U.S. national team since 2016. She played in the 2016 Summer Olympics and the 2019 World Cup, scoring a goal against Thailand.
Swanson made his major league debut with the Braves in 2016. This season, he hit .248 with 27 home runs and 88 RBIs.
The couple is just the latest power couple with connections to the U.S. team. They join Megan Rapinoe and her partner, WNBA star Sue Bird, and Julie Ertz, who is married to Arizona Cardinals tight end Zach Ertz.
Time to put Minnie Minoso in Cooperstown (finally) and more on this weekend's Baseball Hall of Fame vote
As much as it might feel like it, the baseball world has not completely shut down. While the thrilling rush of free-agent signings and trades from the past few days will cease for now because of the lockout, there is a lot of baseball business still to be conducted.
One of the more important items comes this Sunday, when the biggest void in the membership of the Baseball of Hall Fame can be filled: The omission of White Sox legend Saturnino Orestes Armas (Arrieta) Minoso, remembered by history as Minnie.
Minnie Minoso is one of 20 greats who will be under consideration at the winter meetings this weekend for induction to the Hall of Fame. And, yes, the winter meetings will go on even without the presence of Major League Baseball. The minor league portion of the meetings will still take place, and those appointed to consider the Hall's two era-committee ballots will convene, as scheduled.
The ballots are as follows:
• The Early Baseball committee (covers the beginning of time to 1950) will consider Bill Dahlen, John Donaldson, Bud Fowler, Vic Harris, Grant "Home Run" Johnson, Lefty O'Doul, Buck O'Neil, Dick "Cannonball" Redding, Allie Reynolds and George "Tubby" Scales.
• The Golden Days committee (covers 1950 to 1969) will consider Dick Allen, Ken Boyer, Gil Hodges, Jim Kaat, Roger Maris, Minoso, Danny Murtaugh, Tony Oliva, Billy Pierce and Maury Wills.
This is a big weekend for the Hall, which is hoping that 2022 will bring with it the full Hall of Fame induction experience, including the annual Parade of Legends, the induction ceremony itself and the scores of fans who make their way to Cooperstown, New York, each July. After the festivities were canceled because of the pandemic in 2020, 2021 saw a scaled-down version in September in which Derek Jeter, Larry Walker, Ted Simmons and the late Marvin Miller were inducted without parades and with smaller crowds than otherwise would have flocked to upstate New York, particularly for Jeter.
The thing is, Induction Weekend is a heck of a lot more fun — and a bigger draw — when there are actual inductees. And there is no guarantee that this year's BBWAA ballot will produce any new Hall of Famers.
Sadly, of this group of 20, the only candidates still living are Kaat, Oliva and Wills, so obviously it would be great for one or all of that trio to get in. We'll get to that, but for now I want to really focus on Minoso, the most egregious omission in the Hall's plaque room, at least among those not still on the BBWAA ballot.