From wide-eyed rookie to Super Bowl MVP, Von Miller an all-time member of the Denver Broncos – Denver Broncos Blog
ENGLEWOOD, Colo. — On July 26, 2011, a bespectacled 22-year-old with an ever-present smile arrived to the Denver Broncos' suburban complex for the first time. The NFL's lockout, which had canceled any offseason work, had just ended.
Von Miller, the No. 2 overall pick in the draft that April, scanned the freshly mowed fields around him and said:
"It's all so surreal. Just getting on that plane this morning and coming out here was so surreal. Just seeing the lockout get lifted was surreal … Actually being on a pro team, this is all I wanted to do all my life. This is my dream, and to actually be able to live it, I really can't explain it."
On Monday, just a day before the NFL's trade deadline, Miller's time in Denver ran out. He's heading to the Los Angeles Rams for two draft picks (second- and third-rounders in next April's draft). It's a move the Broncos and general manager George Paton needed to make with Miller's contract running out after the season.
The departure of great players almost always comes unexpectedly. Broncos Hall of Fame quarterback John Elway was the rarest of players, but his career path was perhaps even rarer in the modern era. Elway walked off the field after his last snap having won a second consecutive Super Bowl. Miller won't get that luxury in Denver.
Miller joins an NFC contender in full-blown mortgage-the-future mode to win now — a group that includes a three-time Defensive Player of the Year in Aaron Donald.
But when the dust settles, Miller's spot in Broncos' lore should be secure, as should some space in the team's Ring of Fame when the time comes. Miller is the best homegrown Bronco since Elway called it a playing career in 1998.
"When I said, 'Broncos for life,' I meant that — it will always be in my heart," Miller said as he left the team's facility Monday. "It was an honor and privilege to play here — John Elway picked me and it was life-changing."
After former Broncos owner Pat Bowlen convinced Elway to return to the team as its top football executive, Miller was Elway's first draft pick — second overall in 2011, just after the Carolina Panthers selected quarterback Cam Newton No. 1. Miller played 142 regular-season games for the Broncos, had 110.5 sacks, eight Pro Bowl selections, seven All-Pro selections — three on the first team — and one historical MVP performance in Super Bowl 50.
Miller said on his first day he wanted to wear No. 58 because he was a big fan of Hall of Fame pass-rusher Derrick Thomas and that he hoped to "get some inspiration from that." He then proceeded to wear it like no other in team history, and Miller belongs in the same paragraph as Thomas in league history.
Miller's Canton case will be discussed years from now, but since sacks became an official statistic in 1982, the club of players with at least 100 career sacks and a Super Bowl MVP award has only two members in it — Miller and Hall of Famer Richard Dent.
Since the confetti rained down after the 2015 season, Miller has become frustrated at times with the Broncos' failure to find the postseason. After a loss to the Chiefs in 2019 in Kansas City, Missouri, he said, "It just defeats my soul."
• Is Giants' Gettleman on the hot seat?
• Can Mathieu's passion fuel Chiefs run?
• Rush leads Dallas to win as fill-in for Dak
• Eagles' Johnson opens up about anxiety
• NFL Week 8 takeaways
"This team they're going to start winning soon, got a lot of great players, lot of great coaches here, staff is amazing," Miller said Monday. "[I] wanted to be part of it to fix it."
He missed the 2020 season with an injury — the first time he had missed more than two games in any season with an injury. His only other extended time away from the field was a six-game suspension to open the 2013 season for a violation of the league's substance abuse policy.
Miller said during 2020's training camp that the suspension was a watershed moment in his career, and in many ways, in his life. It "forced me to really look at myself and think about who I wanted to be, what kind of player I wanted to become and that I would never forget that. I had to get right, be right and as long as I play in this league, that's going to be my approach."
This year, even this past week, he had promised to push the Broncos back to the playoffs "while my key card still works." He has been far more introspective this season, as he often discussed his desire to find "peace" with the future of his football career, even as he often would still say, "I can still beat ass."
The sack dances, the smile, the growing pains on and off the field, the thousands of glasses he put on the eyes of children who needed them through his foundation, the jerseys that have flown off the shelves with his name across the back and the one gleaming silver trophy he put in the case he walked by on the way to his car Monday will be his legacy.
"Always have Super Bowl 50, seeing the pictures when I was walking out made me tear up," Miller said. "We always got Super Bowl 50, always got Broncos Country and got to keep going."
How Tua Tagovailoa's improvement has helped fuel Dolphins' win streak – Miami Dolphins Blog
MIAMI — Tua Tagovailoa's pocket collapsed before any of his receivers' routes could fully develop.
The Miami Dolphins quarterback executed a play-action fake against the New York Jets in Week 11, but quickly found Jets defensive end John Franklin-Myers giving chase. It was a familiar sight for Tagovailoa; Miami's offensive line ranks dead last in the NFL in pass block win rate — it's part of the reason the Dolphins have run play-action on a league-high 45% of plays since Week 10.
But also considering his familiarity with facing pressure, Tagovailoa knew how to evade it. He stepped up in the pocket and hurled a pass that traveled 44.5 air yards to wide-open receiver Mack Hollins, who had slipped past a busted coverage for a 64-yard touchdown.
It's a microcosm of Tagovailoa's maturation in his second NFL season.
"I would say I learned a lot more being able to play and then also being on the sideline," Tagovailoa said. "Understanding a little more of the protections, understanding where guys need to be within their route distribution and then also for myself, stepping up in the pocket, maneuvering my way throughout the pocket and then finding the open guys."
Miami is on a four-game winning streak, in large part due to a defense that ranks second in the NFL in expected points added over the past four weeks. But Tagovailoa has done his part after a rough start to his season.
He was knocked out of the Dolphins' game against Buffalo in Week 2 with fractured ribs, missing the team's next three games. He also missed the game against the Houston Texans in Week 9 with the fractured finger on his throwing hand, which kept him out the following week against Baltimore until he entered the game in the second half in relief of an injured Jacoby Brissett.
Tagovailoa threw for 158 yards in the second half against the Ravens and scored the game-sealing TD on a 1-yard dive.
The good vibes from that win have continued. Over the past two games, he has completed a league-leading 84.4% of his 64 passes with three touchdowns and one interception. On Sunday, he picked apart the NFL's best pass defense in a 33-10 win against the Carolina Panthers, completing 27 of 31 passes for 230 yards and a touchdown. That came after a similar performance against the Jets — 27-of-33 for 273 yards, with two touchdowns and an interception.
"He's getting better every time he steps out on the field. I think he made a lot of good decisions today," Dolphins coach Brian Flores said after the Jets game. "I thought we moved the ball pretty efficiently, especially in the second half. … Tua is leading the way."
Factoring in Miami's struggles in pass protection, Tagovailoa has had to get the ball out at the third-fastest rate in the NFL — 2.53 seconds, trailing only Tom Brady and Ben Roethlisberger. He's been excellent when he's been able to make quick throws, throwing for six touchdowns and no interceptions when getting the ball out within 2.5 seconds, according to ESPN Stats & Info.
And although Tagovailoa's 5.25 air yards per attempt since Week 10 ranks last in the NFL among qualified passers, his playmakers have averaged 6.1 yards after the catch in that same span — the seventh-highest mark in the league.
Jaylen Waddle is very fast. @D1__JW #FinsUp

📺: #CARvsMIA on FOX
📱: NFL app pic.twitter.com/YhEGbZo5eM

— NFL (@NFL) November 28, 2021
Rookie receiver Jaylen Waddle, Tagovailoa's former teammate at Alabama and his go-to receiver, has 17 receptions on 19 targets over the past two games for 202 yards (11.9 per catch) and a touchdown.
On Sunday, Tagovailoa found him over the middle on a second-quarter throw against the Panthers. Because Tagovailoa hit him in stride, Waddle turned a 20-yard catch into a 57-yarder that put Miami at the Panthers' 14-yard line and led to a rushing TD for running back Myles Gaskin four plays later.
The four-game winning streak has put the Dolphins (5-7) back in the AFC playoff discussion, and their next two games are at home — on Sunday (1 p.m. ET, Fox) against the New York Giants (4-7) and Dec. 19 against the New York Jets (3-8). The defense has clearly carried the Dolphins during this stretch, allowing 11.5 points per game. But the efforts on that side of the ball would be for naught if the offense didn't hold up its end — it's the complementary football for which every team longs.
"We look like the team that we kind of wanted to be at the beginning of this year," Tagovailoa said after Sunday's win. "You know, it looked like a lot of guys went out there confident knowing what to expect offensively, defensively, and in the kicking game. I would say this is the best that we've played complementary football yet, but there's still some plays that were left out there on the field that we can fix."
Russell Wilson's misfires most striking among Seahawks' offensive woes – Seattle Seahawks Blog
SEATTLE — Inside a quiet and sullen visitors' locker room Monday night, after the Seattle Seahawks' playoff hopes all but died with their 17-15 loss to the Washington Football Team, quarterback Russell Wilson was among the players who spoke up.
As coach Pete Carroll described it on 710 ESPN Seattle, Wilson held himself accountable with a brief and heartfelt message to teammates.
"He just said he's got to play better to them and he told them … 'I've got to be better,'" Carroll said. "Guys know. They don't have to say a lot. It's not a lot of words. It's just the sincerity and the care that he brought to it."
The list of reasons why the Seahawks lost Monday night go well beyond a few more errant throws from Wilson. His recent struggles don't solely explain why their offense has only scored 28 points during a three-game losing streak that has coincided with his return from finger surgery, nor why they continue to be the NFL's worst team at converting on third down.
Their pass-protection has been spotty and they haven't mounted a consistent running game — or, as was the case against Washington, any running game — without running back Chris Carson.
But those have been issues in the past.
• Cowboys' Parsons hungry to be great
• Saints have dilemma with QB future
• Improving Tua gives Dolphins boost
• Misfiring Wilson alarming for Seahawks
• Wellness center helps players recover
Wilson's accuracy hasn't.
Yet one of the NFL's most pinpoint passers has been missing throws that he rarely, if ever, missed before suffering a finger injury in Week 5 that required surgery and sidelined him for a month.
"I think we saw Russ make some incredible plays and throws and then some throws that are really routine for him not be completed," Carroll said Tuesday on his radio show while reiterating that nothing has looked amiss with Wilson in practice. "He missed the first third-down play when the ball took off on him and there was a couple other ones on third-down situations where really we didn't need to do anything different. We just needed to throw and catch it."
That first third-down throw Monday night went well over tight end Gerald Everett's head in the flat. Wilson sailed a similar throw to Everett later in the first half and missed him again on his other head-scratching misfire. That one was on a third-and-4 play in the third quarter, when a stationary Everett was open over the middle at the line to gain but had no chance to catch a short throw that was off to the right.
According to ESPN Stats & Information research, Wilson has the highest off-target rate (23.7%) among all qualified quarterbacks since his return in Week 10. That metric measures the percentage of incompletions (excluding throwaways and spikes) that were uncatchable. Wilson had the 10th-lowest off-target rate (14.4%) from Weeks 1-9.
Seventeen of his 22 off-target incompletions since week 10 have been overthrown, tied with Trevor Lawrence for the most overthrows in the NFL in this span. Wilson had 15 overthrows in his first five games of the season.
In illustrating how perplexing Wilson's misses have been, Carroll noted on his radio show that he's had his typically-excellent touch on deep throws — like the two he hit to receiver Tyler Lockett on Monday night — and that the issue has seemed to be when he's had to drive the ball on a line. Then again, his first touchdown pass against Washington was short laser to Everett in the tightest of windows. His 32-yard TD pass to receiver Freddie Swain in the closing seconds, which completed a 96-yard drive that gave Seattle hope of overtime, was also on a rope.
After reviewing the Washington game with Wilson, Carroll felt his misfires were the result of trying to put too much heat on shorter throws.
"There's just a few plays in there, really on the shorter passing game that he just really tried to drill the football and maybe threw it a little too hard, threw it harder than normal trying to make sure the ball was there and crisp and all of that," Carroll said Wednesday. "The balls down the field, he threw the ball really well. On the move, really well. But we weren't as sharp as we need to be … It's easily corrected. Easily corrected. He feels great. He does not feel like he's burdened by the surgery from the past and all that. He's ready to go."
Pass-protection was also a factor against Washington, with Wilson airmailing one deep throw to receiver DK Metcalf off his back foot as right guard Gabe Jackson was being driven back into him. A third-and-10 play late in the game had no chance when Wilson was immediately pressured and sacked on a four-man rush.
"We need to protect better," Carroll told 710 ESPN Seattle. "We need to keep guys out of his chops — [they were] right in front of him a couple times; we got knocked back — so that he has the room to throw."
The Seahawks rank 12th in ESPN's Pass Block Win Rate this season (61.4%). They've been sixth (65.8%) in the three games since Wilson's return but ranked 25th for Week 12 (56%).
Asked about Everett's postgame remark that the Seahawks have "struggled in protection and the whole league knows that," Wilson said "it's not the O-line's fault." He also reiterated that his finger "is not the issue."
"I think today I missed a couple," Wilson said on Monday. "There's one that I threw really high because I was getting knocked back … Earlier on I think, [I needed to] adjust my eyes a little bit. It wasn't like I didn't feel confident with it … You're battling every day just to find a way to make plays and do what we need to do. I've been practicing my butt off every day and we've been practicing great. I know that sometimes you shoot and it doesn't go in. So I'm going to keep shooting."
What's behind Cowboys rookie Micah Parsons' surge? 'I'm hungry within myself to be great' – Dallas Cowboys Blog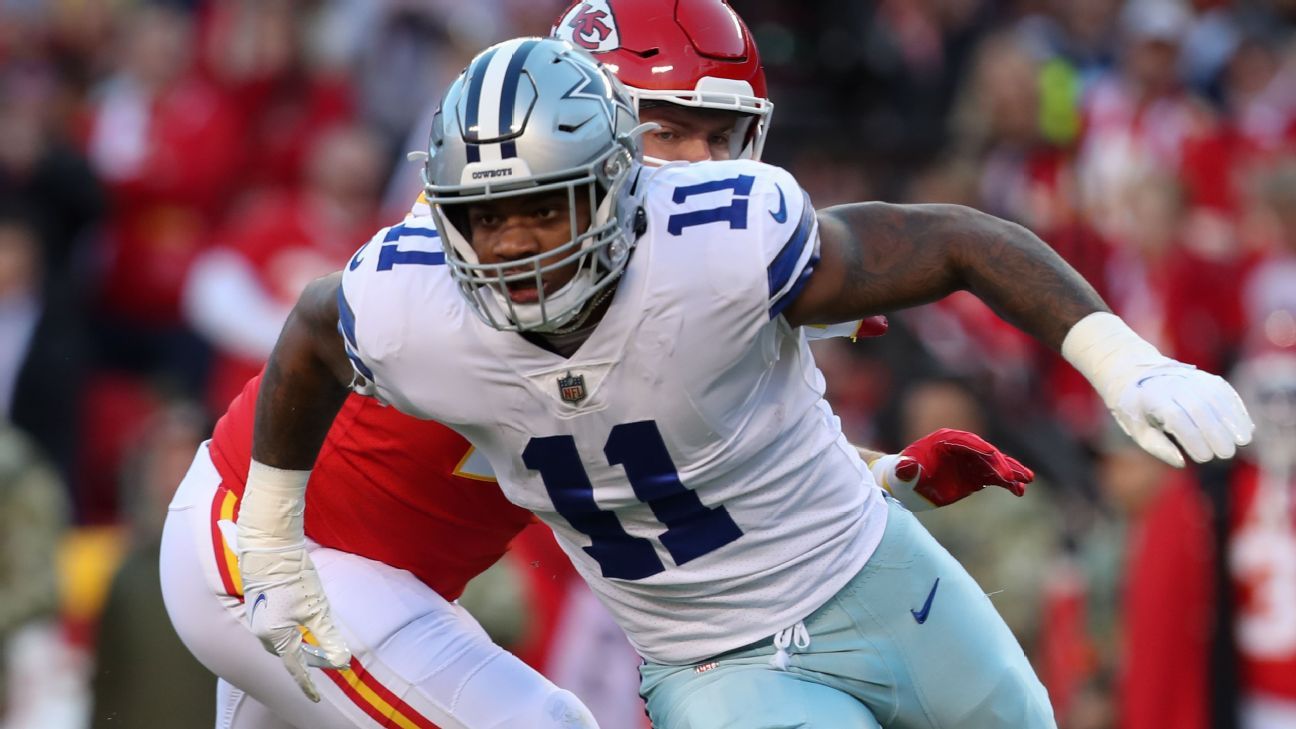 FRISCO, Texas — The match between Micah Parsons and the Dallas Cowboys has been just about perfect so far.
The rookie linebacker (or defensive end, depending on the moment) loves the spotlight and few teams in the NFL gain more attention than the Cowboys, good or bad.
On Thursday night at the Caesars Superdome against the New Orleans Saints (8:20 p.m. ET, Fox/NFL Network), the bright lights will find Parsons.
"I mean, let the eyes be on me," Parsons said. "It ain't going to change my preparation, ain't going to change nothing I did because I was already ready for the moment. Some people are born for it. I believe I was born for it and I just got to play like that."
Playing for the Cowboys can be overwhelming because of the attention. On and off the field, every move is dissected. Some players can deal with the pressure. Others wilt with sensitivity. Parsons, who was the No. 12 overall pick in the 2021 draft, has flourished.
Coach Mike McCarthy said the club has a character breakdown in scouting reports to ascertain whether draftees can handle the rigors of playing for the Cowboys.
"It's very different working for the Dallas Cowboys," said McCarthy, who has been with the Green Bay Packers, San Francisco 49ers, the Saints and the Kansas City Chiefs in his NFL career. "It's a spotlight like none other."
Parsons is not just a product of the hype that can turn some Cowboys into household names before they ever truly accomplish anything. His production, especially since the bye week (36 tackles, 6.5 sacks, 2 forced fumbles in the last five games), comes after adding more to his preparation after what he believed were too many subpar moments.
The morning of the first practice following the Oct. 24 bye, defensive coordinator Dan Quinn walked into The Star — the Cowboys' headquarters and practice facility — about 6 a.m. He saw Parsons, who would normally get there about 7 a.m., right behind him.
"I said, 'What do we got going on here?'" Quinn said. "He said, 'I'm changing some things.'"
Parsons used the extra time to get more treatment, study opponents more and work out.
"I didn't think I had to change something. I had to find something all by myself," Parsons said. "That's something I had to do on my own. Nobody forced me to do it. I had to go do it because I challenge myself every week to go out there and be great and find a way to impact the game, whether that's at end or linebacker. And I feel like it shouldn't matter where I'm at. I've got to find a way to make the money, you know what I mean? And help my team win. So I'm hungry within myself to be great."
The results have been noticeable.
In the first game after the bye against the Minnesota Vikings, he had four tackles for loss, a season high. A week later in a loss to the Denver Broncos, he had seven tackles and 2.5 sacks. He had another sack and another tackle for loss against the Atlanta Falcons.
He had two more sacks and a forced fumble against the Chiefs. According to ESPN Stats & Information data, he finished with 12 pressures, tied for the most of any player of the past five seasons, tying Nick Bosa and J.J. Watt, who had similar 12-pressure games in 2019.
In the overtime against the Las Vegas Raiders on Thanksgiving, he had a tackle for loss and a sack in consecutive plays, but a pass interference penalty on third-and-18 kept the Raiders' game-winning drive alive.
"Micah's continued to make big plays for us in big time moments," Quinn said. "And so we count on him for that."
"I feel like I should shine in that moment," Parsons said. "I wanted to be in that moment. I wanted to make the play. I wanted that on my back. I ain't want to shy from it. Those are the moments I live for because those are the moments you remember forever."
Parsons has 67 tackles and 9.0 sacks and is on pace for 103.5 tackles and 14 sacks. While he will play a 17-game season, the last player to hit both marks in a season was Buffalo Bills Hall of Famer Bruce Smith in 1993. Parsons is the 12th rookie since 1999 to have at least nine sacks and 15 tackles for loss in a season and the only rookie defender with more through 11 games was Von Miller, who had 10.5 sacks and 16 tackles for loss in 2011 for Denver.
"What jumps out to me is his hand usage, very developed as far as his technique, using countermoves to win and then you see his high-level traits," said former NFL safety Matt Bowen, who is an analyst on ESPN's NFL Matchup show. "A lot of guys have high-level traits. They're explosive, but they can't get home to the quarterback because they can't create that separation. With Micah Parsons, you see that and then you go to his high-level traits. His ability to bend is ridiculous. He has the short-area speed, which is much more important than long speed for pass-rushers. And then when he closes, you're done."
Big time. @MicahhParsons11 sets the @DallasCowboys rookie sack record!

📺: #LVvsDAL on CBS
📱: NFL app pic.twitter.com/2nuc6yuDt2

— NFL (@NFL) November 26, 2021
Parsons' 9.0 sacks are a team rookie record, breaking the mark held by DeMarcus Ware in 2005 but equal to Willie Townes (1966) and Harvey Martin (1973) before sacks became an official stat in 1982. Parsons' 15 tackles for loss are the most by a Dallas defender since Sean Lee had 13 in 2017. His 6.5 sacks in the month of November are tied for the second-most in a single-month in team history. Ware had seven in October 2011.
"He jumps off the tape at you," Saints coach Sean Payton said. "I think more recently at the end position, he's impressive when he rushes. Obviously when he plays at linebacker the same way. I think when he gets on the tackles though and is rushing, he's a handful. You see in different games where he's playing at different spots. Obviously he's fit into their system well."
Parsons is the only player to rank in the top 15 in pass rush win rate and run stop win rate this year, among 109 players with at least 100 pass rushes and 100 run stop plays, according to ESPN Metrics/NFL Next Gen Stats.
Defensive Rookie of the Year seems assured at the moment. What about Defensive Player of the Year? New York Giants Hall of Famer Lawrence Taylor (1981) is the only rookie to win the award.
Some of that will depend on if the Cowboys can get out of their current funk having lost three of four. Some of it will depend on how the rest of the current candidates, like the Los Angeles Rams' Aaron Donald, Cleveland Browns' Myles Garrett, New England Patriots' Matthew Judon and, potentially, Cowboys teammate Trevon Diggs, who leads the NFL in interceptions, fare in the final six weeks.
Most of it will depend on how Parsons performs, especially as the games get bigger.
"I think he can because of the production," Bowen said. "And what you are seeing on top of that now, if [you] had a discussion with someone and asked, 'Who's the best edge rusher?' and a lot of people will say Myles Garrett and I'd agree with that. But if you take Myles Garrett out, is Micah Parsons next? I think that's a valid argument."
After the Saints' game, the Cowboys have one more prime-time game, Dec. 26 against the Washington Football Team. A week later, they play the NFC-leading Arizona Cardinals in a game that could determine playoff seeding.
As the games get more important, more attention will be paid to Parsons. That's fine with him.
"At the end of the day, it's just football," Parsons said. "It's something I've been doing my whole life and people have been watching me play football my whole life. It's just a few extra eyes."