New York Jets' historically bad offense raises heat on rookie coordinator – New York Jets Blog
FLORHAM PARK, N.J. — A look at what's happening around the New York Jets:
1. Mike drop? Say this for offensive coordinator Mike LaFleur: The man doesn't pass the buck. He always takes accountability for the offensive struggles, which is admirable, but there could come a point where that's not good enough.
If there's no improvement, it could put coach Robert Saleh in an uncomfortable spot. He doesn't want to change coordinators — the two are close friends, and he has great respect for LaFleur — but the public pressure, and perhaps pressure from within the organization, would create intense scrutiny if this continues to the end of the season.
The Jets aren't just bad, they're historically bad.
If they don't score a first-quarter point Sunday against the Cincinnati Bengals (1 p.m. ET, CBS), they will become the first team since the 1991 Green Bay Packers to go scoreless in its first seven opening quarters of the season, according to ESPN Stats & Information. Only five teams since the 1970 merger have done it, including the Packers.
Chew on this:
The Jets are averaging 3.3 points and 87.5 total yards in first halves, both of which are dead last in the league since 2000, when ESPN started tracking data. Let's put it another way: Ranking all the teams over those 22 seasons, the Jets are 702nd out of 702 in both categories.
Their full-game stats aren't much better. You can use the rookie-quarterback factor as a reason, but let's be real: A bunch of those 702 teams played with rookies less talented than Zach Wilson.
LaFleur gets criticized for his playcalling, but that's not the main issue. It's about teaching and messaging, giving the players a plan that can be executed. Week after week, they make basic communication and technique errors.
"I'm always looking internally and I'm challenging our position coaches to do the same," LaFleur said. "What is not getting across?"
LaFleur is confident they will get it turned around, and that the Jets will be "a tough offense to stop" by the end of the year. If not, his boss will be under pressure.
2. Sideline classroom: Wilson (sprained knee) might not appreciate it now, but he will definitely benefit from watching for a few weeks. This will afford him a chance to see how another quarterback runs the offense. Quite frankly, he could use a lesson in how to play "boring" football (Saleh's word).
Mike White, who gets the start after replacing Wilson last week, doesn't mind throwing checkdown passes. He completed 12 passes to running backs in two-plus quarters; Wilson has only 19 in five-plus games. Maybe some of that mindset will rub off on their highly touted rookie.
3. Let's make a deal: The focus is on wide receivers Jamison Crowder and Denzel Mims and safety Marcus Maye as Tuesday's NFL trading deadline approaches.
Crowder and Maye are on expiring contracts, which makes them more likely to be dealt. They can live without Crowder, who could be replaced in the slot by Elijah Moore. They're open to dealing Maye, a source said, but potential suitors want the Jets to eat some of his salary — and that could be a holdup. His pending DUI charges probably won't impact his trade value since any league discipline wouldn't come down until 2022. The Jets are said to be looking for a second- or third-round pick, but that will be a tough get.
"If it's something that's going to help us, awesome," Saleh said. "But I also know we're not looking (to have) a fire sale, either."
4. Subliminal message: Saleh, certainly aware of the mounting frustration among fans, made a subtle plea for patience.
Recalling a 41-17 win over the Bengals in 2019, when he was the San Francisco 49ers' defensive coordinator, Saleh said Cincinnati is "really the epitome of what a lot of teams strive to be. … We just absolutely beat the brakes off them in Year 1 of their system. They've done a really nice job building it and bringing in the right guys and really keeping everything together and playing together."
Can the Jets follow the Bengals' script? Sure, but only if Wilson makes a giant leap in Year 2.
5. Groundhog Day: A quarterback change. An untested backup in the lineup. An injury to linebacker C.J. Mosley. A midseason vote of confidence by the owner. A post-bye disaster.
These are the 2021 Jets — a repeat of the 2019 Jets.
Their miserable start is eerily similar to the miserable start in 2019, when the coach was Adam Gase. The years change, the coaches change, but some things stay the same.
In 2019, they went from Sam Darnold (mononucleosis) to Trevor Siemian (briefly) to Luke Falk at quarterback. With Wilson injured, the role of Falk is being played by White, who makes his first NFL start.
In 2019, acting owner Christopher Johnson — only nine games into Gase's tenure — felt the need to publicly pledge his support for Gase. On Tuesday, the real owner, Woody Johnson, did the same for Saleh after six games.
In 2019, they suffered a 31-6 loss to the Philadelphia Eagles after the bye. This time, it was a 54-13 defeat to the New England Patriots.
In 2019, they were 1-5 with a point differential of minus-93. Now they're 1-5 with a minus-95.
Call it deja boo.
6. Replacement follies: The Jets haven't had much luck when having to start their backup quarterback. In fact, they've lost 14 straight games. The last backup to win a game was Bryce Petty on Dec. 11, 2016 at the 49ers.
Since then, the records of their backups are: Petty 0-4, Josh McCown 0-3, Siemian 0-1, Falk 0-2 and Joe Flacco 0-4.
White is the next man up — or down, if history repeats.
7. Flak for Flacco: As I've said many times, the Jets should've signed an experienced backup in the preseason or earlier. They didn't, which gives the Flacco trade a desperation feel. But really all they did was secure some low-cost quarterback insurance. They won't miss the sixth-round pick. Heck, general manager Joe Douglas might replace the pick with another deal over the next two days.
What this comes down to is White. If he performs competently, the backup-quarterback hysteria will die down. If he's Falk 2.0, it's fair to criticize Douglas, Saleh and LaFleur, who has a big say in offensive personnel.
8. Angry D: This was a tense, emotional week for the defense, which got thoroughly humiliated last week in New England. Coordinator Jeff Ulbrich used words like "anger," "embarrassment" and "inexcusable" to describe the mood. The discourse between coaches and players was brutally honest. The players spoke among themselves, trying to hash out some of the issues.
"We know that performance can't happen again," defensive end John Franklin-Myers said. "As a defensive line, we take accountability for it. It starts with us. That just can't happen again."
Saleh made his bones in the league as a defensive mastermind, a coach who could adjust amid injuries and adversity. Well, now is the time to live up to that reputation, especially with the Bengals' Joe Burrow–Ja'Marr Chase air show in town.
9. Did you know? The Jets have the slowest team in the league, according to a study by ESPN's Jeremy Fowler and Brian Burke. Specifically, they rank 31st on offense (the running backs bring down the number) and 28th on defense. The defensive ranking caught my eye, considering how many young players they have.
10. The last word: "Everybody came in Monday, we swallowed our pride and we watched the film. We saw the good, the bad and the ugly. Unfortunately, there was a lot of ugly on the film." — Mosley on the 54-13 New England loss
Potential No. 1 pick Kayvon Thibodeaux to declare for NFL draft, skip Oregon Ducks' bowl game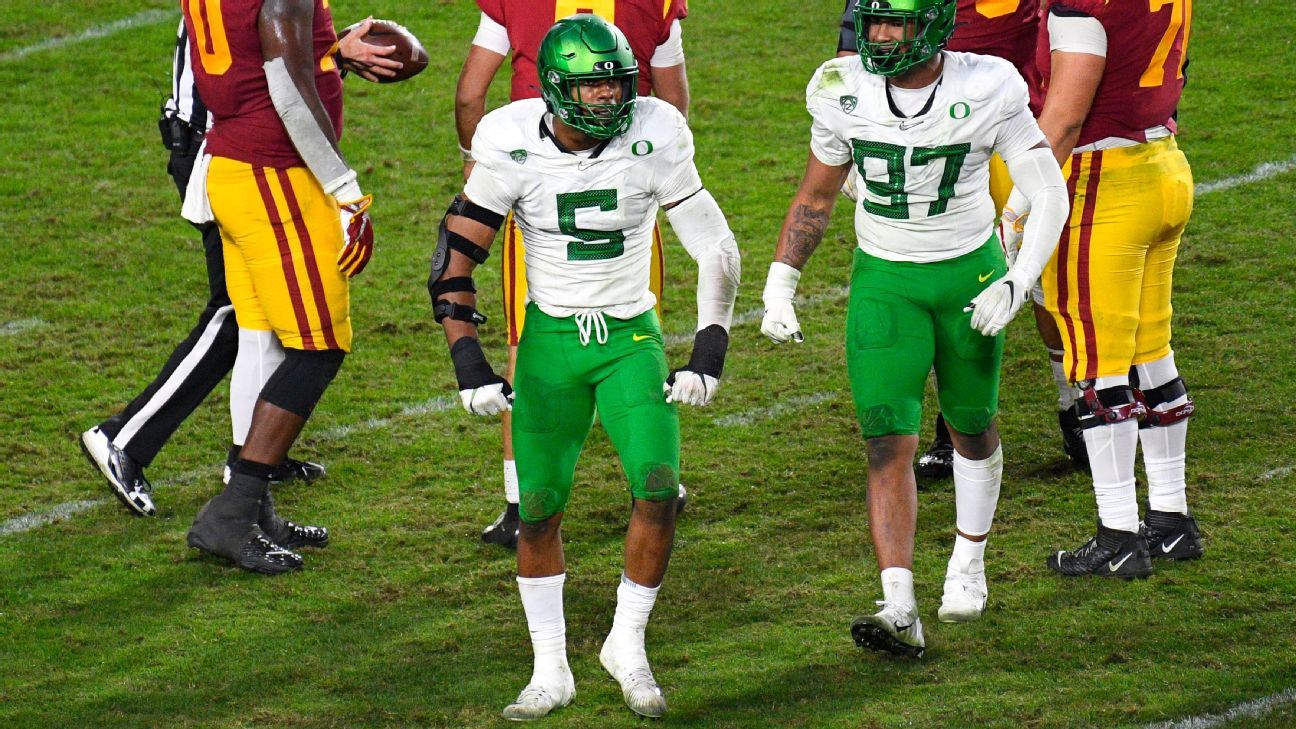 Star Oregon defensive end Kayvon Thibodeaux is declaring for the NFL draft, sources told ESPN's Adam Schefter on Monday.
Thibodeaux will not play in the Ducks' bowl game, a matchup against No. 16 Oklahoma in the Valero Alamo Bowl on Dec. 29, and instead will start preparing for the draft, sources said.
ESPN's Mel Kiper Jr. has Thibodeaux rated No. 1 overall in his latest Big Board. Fellow ESPN draft analyst Todd McShay has him as the No. 2-rated prospect in this year's draft class.
The 6-foot-5 Thibodeaux was the Pac-12 Defensive Freshman of the Year in 2019 and a first-team All-Pac-12 selection last year after arriving at Oregon as the No. 1-ranked player in the class of 2019. He played 10 games this season — an ankle injury slowed him up early — and finished with seven sacks and 49 total tackles.
Thibodeaux was also at the forefront of players' ability to capitalize on their name, image and likeness. He signed a handful of deals, including one with Ebay, another with United Airlines and a six-figure memorabilia deal. He also released an NFT in partnership with Nike founder Phil Knight and sneaker designer Tinker Hatfield that sold for $100 per unit. In September, he launched his own cryptocurrency called $JREAM.
Thibodeaux's early exit came on the same day Mario Cristobal left Oregon to take the head-coaching position at Miami.
Information from ESPN's Paolo Uggetti was used in this report.
New York Giants QB Daniel Jones (neck) unlikely to play vs. Los Angeles Chargers, sources say
EAST RUTHERFORD, N.J. — After further visits with team doctors and specialists to have his neck injury evaluated, New York Giants quarterback Daniel Jones is unlikely to play Sunday vs. the Los Angeles Chargers, sources told ESPN's Adam Schefter.
Jones missed Sunday's loss to the Miami Dolphins. He was injured the previous week in a win over the Philadelphia Eagles. The Giants (4-8) remain hopeful he won't miss much more time and will return this season.
Mike Glennon started in Jones' place on Sunday, but was diagnosed with a concussion after the contest. That puts newly acquired quarterback Jake Fromm potentially in line to start against the Chargers. It only adds to questions about whether Jones has done enough in his first three professional seasons to convince the Giants — and potentially a new general manager — that he is a true franchise quarterback they should build around.
Fromm, a University of Georgia standout, was signed off the Buffalo Bills' practice squad last week. He has never played in an NFL game and could be making his first start 11 days after joining the team.
"It's the beauty of the NFL. It's next man up. Jake is getting his opportunity," said Giants left tackle Andrew Thomas, who was also his teammate at Georgia. "I'm excited for him to get his chance. But like I said, next man up, and we're doing everything to help him."
The Giants also have former Michigan State quarterback Brian Lewerke on their practice squad. He seems to have been immediately jumped by Fromm on the depth chart.
Judge said that Fromm would be next in line this week at practice with Jones and Glennon sidelined. The Giants might still add additional contingencies.
"We're talking internally about a lot of options personnel-wise to see what we can do and build in depth for a multitude of reasons," coach Joe Judge said.
Judge said after the game in Miami that Glennon would remain the starter if healthy while Jones remained sidelined. But Glennon's status is in doubt and might not be decided until late this week.
He's currently in the concussion protocol.
"The optimistic view would be to have [Glennon] ready for the game on Sunday," Judge said during a Monday afternoon conference call from Arizona, where the Giants are practicing this week.
New York is also dealing with COVID-19 issues. Offensive lineman Wes Martin and quarterbacks coach Jerry Schuplinski tested positive on Monday, per Judge.
Martin was placed on the reserve/COVID-19 list on Monday afternoon. Schuplinski was involved in meetings virtually throughout the day as the Giants try to get Fromm coached up quickly for a potential start.
Having Fromm start would provide some limitations.
"For a guy who has only been in your system for a couple days, you have to go ahead and select more of a menu what he can operate with in a game," Judge said. "That is not always based on what he's capable of with his ability, it's just based on being new in a scheme and system and what he's comfortable going out there and playing aggressively and making the right decisions within."
Fromm has crammed hard since joining the Giants. He stayed after practice on Friday last week and did extra work with Jones there to provide input.
The fifth-round pick by the Buffalo Bills last year has made a positive first impression.
"He's an intelligent guy. He's demonstrated that already," Judge said. "He has very good poise out there and he has a very good presence. Once thing that is very impressive about this guy is you talk to former teammates of his, like we did before he got in here, most of those Georgia guys, and every single one lit up and said we'd absolutely love to have that guy on the team."
The bar won't be especially high. The Giants failed to score a touchdown on Sunday in Miami. They have one touchdown in the two games since offensive coordinator Jason Garrett was fired.
Glennon went 23-of-44 for 187 yards with an interception against the Dolphins.
Jones has completed 64.3% of his passes for 2,428 yards with 10 touchdowns and seven interceptions this season.
New Orleans Saints WR Deonte Harris suspended three games; DE Cameron Jordan put on COVID-19 list
METAIRIE, La. — The hits keep coming for one of the NFL's most depleted rosters.
New Orleans Saints receiver/kick returner Deonte Harris was officially suspended three games Monday for a summer DUI arrest after his appeal was unsuccessful. And defensive end Cameron Jordan was placed on the reserve/COVID-19 list — putting one of the NFL's longest iron man streaks in serious jeopardy.
Jordan has played in 172 consecutive regular-season games — the longest active streak of any nonspecialist in the NFL. He will need two negative tests 24 hours apart to be able to return in time for Sunday's game at the New York Jets. Ironically, Saints linebacker Demario Davis would replace Jordan atop that list if he can't play. Davis has played in 156 consecutive games.
Jordan, 32, has never missed a game since being drafted in the first round in 2011. He has four sacks this season and 98.5 in his career.
The Saints (5-7) are already thin at defensive end, with fellow starter Marcus Davenport having missed the past two games with a shoulder injury and veteran backup Tanoh Kpassagnon having been placed on injured reserve last week.
Their offense has also been seriously banged up during their current five-game losing streak — though they are hoping to get at least some from the group of running back Alvin Kamara and offensive tackles Terron Armstead and Ryan Ramczyk back from knee injuries this week.
Quarterback Taysom Hill will also be playing through the pain of a mallet finger injury in his right throwing hand and a partially torn plantar fascia in his foot.
The 24-year-old Harris, a third-year pro who has taken on a bigger role on offense this year, leads the Saints with 523 receiving yards and has three long touchdowns on 31 catches.
Harris' DUI case was resolved earlier in November when he was sentenced to one year of supervised probation. Maryland court records show that Harris pleaded not guilty but agreed to the statement of facts in the police report. According to that police report, which was obtained by NOLA.com, Harris registered a blood alcohol content of 0.246% after driving more than 20 miles per hour over the speed limit and swerving across three lanes of traffic on the interstate at 1:30 a.m.