Houston Texans set to keep Deshaun Watson past NFL trade deadline, sources say
The Houston Texans are prepared to keep Deshaun Watson past Tuesday's NFL trade deadline, league sources told ESPN.
Although many in the Texans organization want to turn the page and move on from Watson as soon as possible, Houston is ready to reopen trade discussions centered around the quarterback in the offseason, according to league sources.
Texans general manager Nick Caserio has been unwavering in his stance and determination to get full value for Watson and, to date, has been unwilling to trade him for anything less than what he believes Watson is worth.
Texans owner Cal McNair privately has told people that he would like the organization to trade Watson before Tuesday's 4 p.m. ET deadline but is leaving the decision to Caserio.
The Texans and Miami Dolphins have had trade discussions at various points, and Miami has been in the driver's seat with Watson's desire to play, most of all, for Miami, according to sources.
But the Dolphins also prefer that Watson's legal issues be resolved before making a deal. Watson is facing 22 civil lawsuits alleging sexual harassment and inappropriate conduct and 10 criminal complaints, though no charges have been filed and the quarterback has denied the accusations.
NFL commissioner Roger Goodell said this past Tuesday that the league doesn't yet have enough information about the lawsuits to make a decision on potential discipline, and that the information they do have is not enough to place Watson on the commissioner's exempt list.
Watson's uncertain future has impacted the Texans' trade discussions with other teams, most notably the Dolphins.
The Dolphins are the only team that Watson is known to have waived his no-trade clause for, according to sources. Watson has not done the same for the Carolina Panthers or any other team, sources told ESPN.
But the Panthers have been linked to Watson since last offseason, and some even have speculated on what a proposed package for the three-time Pro Bowl quarterback would look like.
Panthers head coach Matt Rhule and general manager Scott Fitterer each called Christian McCaffrey on Friday night to tell him that, regardless of trade rumors including the star running back, they never discussed or even considered trading him to Houston for Watson.
Talks between the Texans and Panthers never escalated because Watson did not agree to waive his no-trade clause for Carolina, which therefore was never was in position to evaluate potential trade scenarios the way the organization wanted. The Panthers, with the history that former owner Jerry Richardson had involving harassment, were unwilling to make a trade until they could be entirely comfortable with it.
The Dolphins appear to be the one team that could attempt to put together a trade before Tuesday's deadline, but there isn't much hope of a deal being completed as of Sunday morning. There are compensation issues, legal issues and too much uncertainty for those involved in the talks to feel confident that a deal will materialize in the next three days, according to sources.
Dolphins head coach Brian Flores has openly stated that Tua Tagovailoa is Miami's starting quarterback and, barring injury, is expected to be for the remainder of the season.
Philadelphia Eagles QB Jalen Hurts (ankle) a game-time decision vs. New York Jets, sources say
PHILADELPHIA — The Philadelphia Eagles want to see how quarterback Jalen Hurts' injured ankle is feeling before making a final decision about his status for Sunday's game against the New York Jets, sources told ESPN's Adam Schefter on Saturday.
If Hurts is unable to go, Gardner Minshew would make his first start for Philadelphia since being acquired in a trade from the Jacksonville Jaguars in August.
Minshew got the lions' share of snaps during practice on Thursday and Friday.
Hurts sprained his ankle in the second half against the New York Giants when he was stepped on. He finished the game but was limping noticeably at times.
Earlier this week, Hurts declared that he would be "ready to go" for the Jets game.
"You guys obviously know I'm dealing with a little something, but it's business as usual," he said.
Hurts is expected to remain the Eagles starter regardless of how Minshew plays. He has completed 60.1% of his passes through 12 games for 2,435 yards with 13 touchdowns and eight interceptions while racking up 695 yards and eight touchdowns on the ground. Hurts is coming off arguably his worst start as a pro, throwing a career-high three interceptions in a 13-7 loss to the Giants.
The Eagles acquired Minshew for a conditional 2022 sixth-round pick in late August. He has appeared in one game this season, going 2-for-2 for 11 yards in the closing minutes of a blowout win over the Detroit Lions. Minshew, 25, started 24 games over two seasons in Jacksonville, completing 62.9% of his throws for 5,530 yards with 37 touchdowns and 11 interceptions.
"I feel confident with either guy — either of the guys if they have to go play the way they prepared all week and went about their business," Eagles coach Nick Sirianni said earlier this week.
Las Vegas Raiders rule TE Darren Waller out vs. Washington
HENDERSON, Nev. — Las Vegas Raiders Pro Bowl tight end Darren Waller has been downgraded to out for Sunday's home game against the Washington Football Team after being listed as doubtful on Friday.
Waller, who set a franchise record with 107 catches last season, suffered injuries to his back and left knee in Las Vegas' 36-33 overtime win at the Dallas Cowboys on Thanksgiving and missed the second half of that game. He did not practice this week. His 53 catches for 643 yards rank second on the Raiders and his two TD catches are tied for third.
It will be the second game Waller will miss this season as an ankle injury kept him out of the Raiders' Week 7 win against the Philadelphia Eagles. In that game, tight end Foster Moreau stepped up with six catches for 60 yards with an 18-yard touchdown.
"We've kind of gone through this twice," Raiders interim coach Rich Bisaccia said Friday, before Waller was ruled out. "We've gone through it when we didn't have him for a game and certainly Foster stepped up in the plan that [offensive coordinator] Greg [Olson] had put together.
"And then we lost Darren in the second quarter last week and we were still productive as the game went on and Greg made some really good adjustments that way as well, personnel-wise, in the things that we did. So, again, we are prepared to do that if we have to this week."
A fourth-round pick of the Raiders in 2019 out of LSU who missed three games of his rookie season because of a torn ACL, Moreau has 10 touchdown catches in 40 career games. He has 12 catches for 135 yards and three TDs this season.
Moreau said he relished the opportunity to step in for Waller and also was asked about the coaching change at his alma mater. After a pair of lengthy pregnant pauses, Moreau said, "My mom always said, If you don't have anything nice to say, you should probably just keep it to yourself. Yeah, I don't know anything about Brian Kelly, truthfully, I know he's a family-oriented man and I'm excited for the opportunity he has.
"Fit's always important. Chemistry's always important. The more you can be around people, the more you can understand where they come from. Obviously, Coach O [Ed Orgeron] knew just about every inch of Louisiana and anything in that soil and that was very meaningful to the state, obviously to the university, and he was not only an incredible coach but ambassador for football in southeast Louisiana."
Surging Miami Dolphins activate OL Michael Deiter, WR DeVante Parker from injured reserve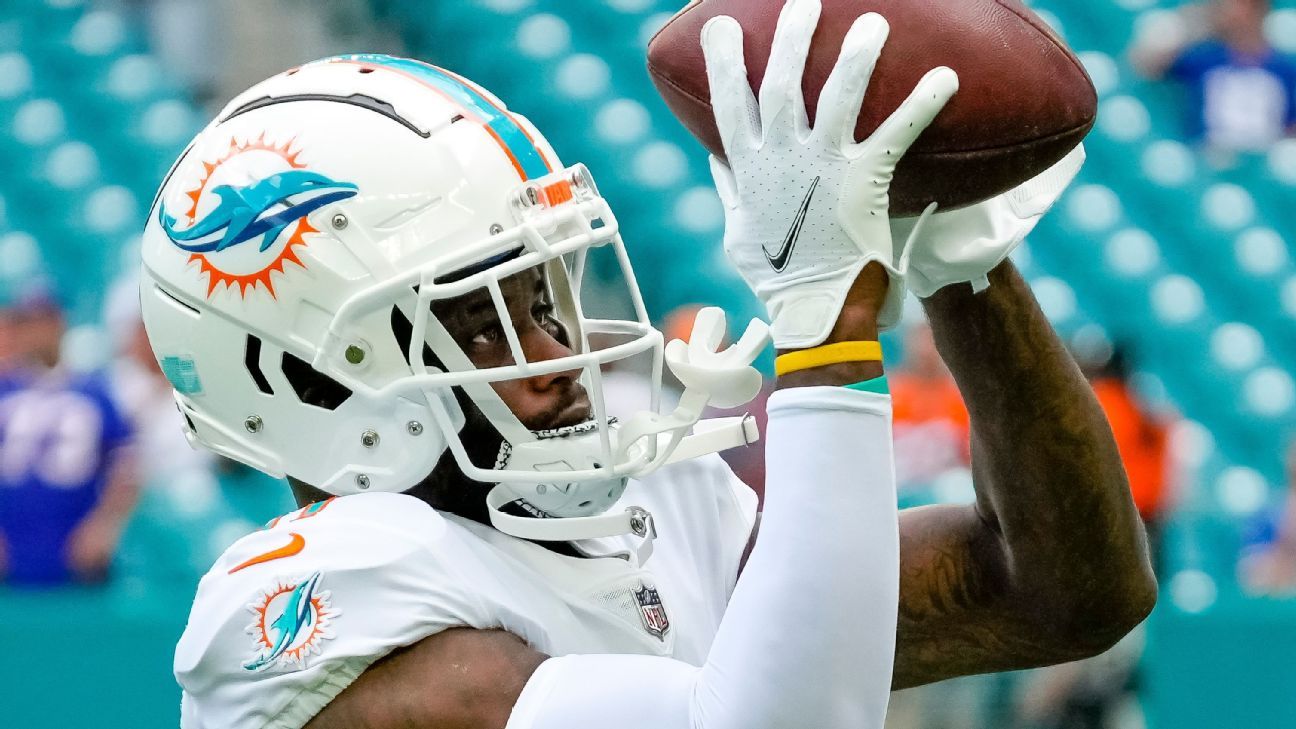 MIAMI — The Dolphins activated center Michael Deiter and wide receiver DeVante Parker from injured reserve Saturday, clearing the way for both players to return from a multiweek absence.
Both starters to begin the season, Deiter played in Miami's first three games of the season before being placed on injured reserve in Week 4 with a foot injury. The former third-round pick spent last season at guard before winning the starting center competition during training camp in 2021.
The Dolphins, who have won four in a row after an uneven start, have used a combination of Greg Mancz and Austin Reiter at center in his stead, but his presence has been missed: Miami is currently last in the NFL in pass block win rate.
Parker was the Dolphins' primary receiver before hamstring and shoulder injuries sidelined him prior to the team's game in Week 9. He's missed seven of Miami's 12 games this season but was able to return to practice this week.
"He's looked pretty good in practice," quarterback Tua Tagovailoa said Wednesday. "To me, it didn't look like he was limited in any of the reps, so that's very encouraging to see."
In corresponding moves before their game Sunday against the New York Giants, the Dolphins waived center Cameron Tom and activated safety Sheldrick Redwine from the practice squad.