Seattle Seahawks pass-rusher Darrell Taylor to play vs. Jaguars two weeks after scary injury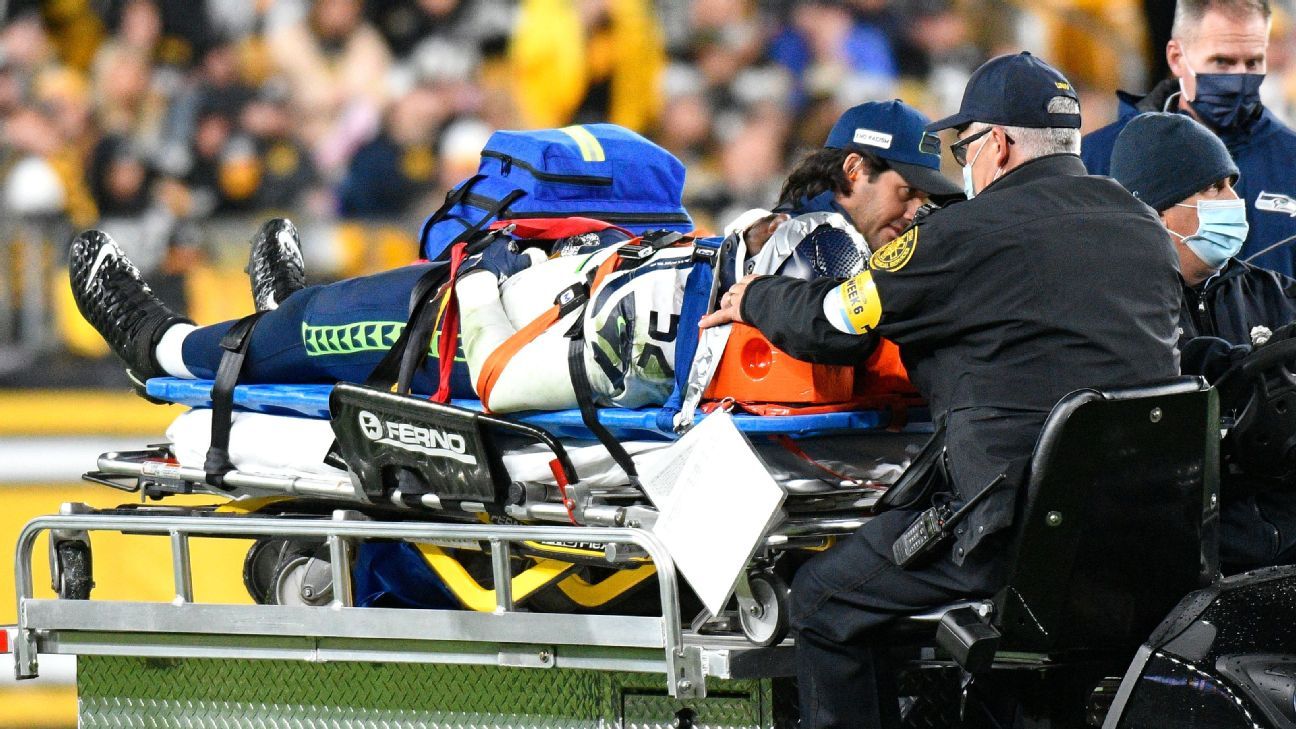 RENTON, Wash. — Darrell Taylor is expected to play Sunday against the Jacksonville Jaguars, two weeks after the Seattle Seahawks' leading pass-rusher suffered a scary-looking neck injury.
Coach Pete Carroll thought Taylor would make it back for Monday night's game against the New Orleans Saints, but his neck was still sore pregame, leading to his de-activation. He was a full participant in all three of Seattle's practices this week and wasn't listed on the practice report after Wednesday.
"He's really excited to play and had really an upbeat week," Carroll said Friday. "He knows that he missed out last time and he wants to make up for it. So I just want him to play good and get a lot of plays, but it's great to have him back."
Taylor, who leads the Seahawks with four sacks despite missing one game, was stretchered off the field in Week 6 at Pittsburgh, with his facemask removed and his neck immobilized. Carroll later said Taylor was pleading with medical staff to let him walk off the field and that he came away from the incident with nothing more than a stiff neck.
General manager John Schneider said on his 710 ESPN Seattle pregame radio hit Monday night that Taylor suffered no structural damage.
The Seahawks (2-5) list running back Alex Collins (groin), left tackle Duane Brown (illness) and left guard Damien Lewis (shoulder) as questionable, but Carroll sounded optimistic on all three starters playing against Jacksonville.
Collins, who has started the last three games in place of the injured Chris Carson, was listed as limited Wednesday and Friday and was a non-participant Thursday.
"Alex worked today," Carroll said. "He looked pretty good. I think we've got him as questionable, but he looks like he's going to make it through. He actually said that he felt as good yesterday as he did last week when he played, so he should be OK."
Lewis practiced all three days this week after not playing against the Saints.
"He's going to still be questionable just because we've got to make sure on game day, but other than that, he looks like he's playing," Carroll said. "He's saying he's going, so it's a good sign."
Brown didn't practice all week, getting a veteran rest day Wednesday before being listed as a non-participant the next two days with a non-COVID illness. Carroll said he "should be fine but he's just feeling lousy."
Quarterback Russell Wilson has yet to have the pin removed from his surgically-repaired right middle finger, and Carroll said he doesn't know when that will happen. Sunday's game will be the third that Wilson has missed, meaning he'll be eligible to come off injured reserve when the Seahawks play at Green Bay on Nov. 14 following next week's bye.
"He's pretty positive," Carroll said. "He's feeling really good. His finger looks great. He got all the stitches out and all that kind of stuff. He looks great, so he's making all of the strides that he should be making way ahead of schedule at this point. So we'll see what that means."
Carroll had an ominous-sounding answer when asked if he's at all concerned that Carson won't return this season from the neck injury that has kept him out of the last three games. Carson is on IR and is still dealing with too much discomfort to return to practice.
"He's got to make a turn here to show us that he's feeling better and good enough to really go for it," Carroll said. "He hasn't been able to come out to practice yet … I'm really keeping my fingers crossed for him that he gets a chance to get back and play. He's working out hard but he's not ready to practice football yet."
Carroll expects rookie receiver Dee Eskridge to be ready to play after the bye, barring any setbacks. Seattle's second-round pick hasn't played since suffering a concussion in the opener. He recently made a second trip to a specialist in Florida, where he worked on the visual issues he's experienced since his concussion.
The Seahawks have lost three straight games for the first time since 2011, which was also the last time they were three games under .500.
Curley Culp, Hall of Fame nose tackle for Kansas City Chiefs, Houston Oilers, dies at 75
KANSAS CITY, Mo. — Hall of Fame defensive lineman Curley Culp, who helped the Kansas City Chiefs win their first Super Bowl during a 14-year NFL career, died Saturday of complications from pancreatic cancer. He was 75.
Culp announced this month that he had been diagnosed with stage 4 cancer. His wife, Collette Bloom Culp, announced "on behalf of our family and with a broken heart" the five-time All-Pro's death.
"The entire Pro Football Hall of Fame family mourns the passing of Curley Culp. He was a wonderful man of great integrity who respected the game of football and how it applied to everyday life," Hall of Fame president Jim Porter said. "Curley's humility and grace were always apparent."
Culp was considered one of the strongest players in the NFL during his playing career, though his position on the interior of the defensive line meant his play often went unnoticed. He was chosen to participate in six Pro Bowls, and he was second to Steelers cornerback Mel Blount for AP Defensive Player of the Year after the 1975 season.
It wasn't until long after his playing days — Culp retired in 1981 — that he was inducted into the Hall of Fame. But after his enshrinement in 2013, Culp proudly wore the golden jacket of a Hall of Famer seemingly everywhere he went.
"Our team certainly lost a great one today," Tennessee Titans controlling owner Amy Adams Strunk said in a statement. "Curley was a game changer for our defense when he came to us in the trade with the Chiefs and was pivotal to our success during the Luv Ya Blue days. He rightfully earned a place in the Pro Football Hall of Fame and I was fortunate to spend some quality time with Curley and his wife Collette when we hosted the Oilers reunion this past September.
"They also brought two of their young grandchildren for that weekend and Curley's love for those two was very obvious. He will forever be remembered as a ferocious nose tackle as a player and a Hall of Fame gentleman off the field."
Culp learned to use his speed and leverage while at Arizona State. He was an All-American in football for the Sun Devils and, standing 6 feet and weighing about 265 pounds, won the heavyweight national championship in wrestling.
The Denver Broncos selected Culp in the second round of the 1968 draft with the idea of turning him into an offensive guard. But when it became clear that wasn't going to work, they traded him to the Chiefs, where Hank Stram plugged him into the middle of a defensive line that ultimately would take Kansas City all the way to the Super Bowl.
"I guess I proved them wrong," Culp told The Associated Press in a 2013 phone interview. "A little fireplug, that's me."
Culp was part of a defense that included fellow Hall of Famers Emmitt Thomas, Willie Lanier, Bobby Bell and Buck Buchanan. And in the fourth Super Bowl, that group shut down the Vikings' vaunted run game in a 23-7 victory. Primarily a defensive tackle, Culp made the move to nose tackle during that Super Bowl win as the team successfully experimented with the 3-4 defense, which was relatively new to the NFL at the time.
"Curley represented the franchise with honor and respect both on and off the field," Chiefs chairman Clark Hunt, whose father Lamar Hunt founded the team, said in a statement Saturday. "He was known as a fierce competitor and a difference maker who commanded a great deal of respect. His legacy will forever be remembered by Chiefs Kingdom. Our prayers are with his family at this time."
Hall of Fame quarterback Len Dawson recalled Culp as "a tremendous athlete," while Thomas called him "ornery as hell."
Culp was traded to the Oilers in 1974, and he had arguably his best season the next year, thriving in Bum Phillips' 3-4 scheme. Culp was released by the Oilers during the 1980 season and was picked up by the Detroit Lions. He finished out the 1980 season with the Lions before retiring after the 1981 season.
He would often show up for Chiefs games in later years, and he stayed in touch with many of his old teammates. He was inducted into the team's Hall of Fame in 2008, less than two years after Lamar Hunt's death.
Funeral arrangements were not immediately available.
Information from The Associated Press was used in this report.
Tampa Bay Buccaneers left guard Ali Marpet (abdomen) downgraded to out vs. Indianapolis Colts
INDIANAPOLIS — The Tampa Bay Buccaneers will be without starting left guard and arguably one of their best offensive linemen, Ali Marpet, when they face the Indianapolis Colts Sunday, the team announced.
Marpet, who sustained an abdominal injury in the second quarter of Monday night's game against the New York Giants, was downgraded to out Saturday prior to the team's departure for Indianapolis.
He was initially going to be a game-time decision, but was listed on Friday's injury report as doubtful.
Marpet was replaced in the game by Aaron Stinnie, who filled in for Alex Cappa last year during the playoffs when Cappa suffered a broken leg in the wild-card game at Washington.
In 51 snaps against the Giants, Stinnie surrendered one sack, and last year, he surrendered only one sack in the postseason — in the NFC Championship game against Kenny Clark.
Marpet's 74.6% run block win rate is the highest of any offensive lineman on the team, as is his 92.5% pass blocking win rate.
The Colts, meanwhile, have given up 19.5 points per game over the last six games — eighth-best in the league.
Short-handed Pittsburgh Steelers will take on Cincinnati Bengals without cornerback Joe Haden
PITTSBURGH — The Pittsburgh Steelers placed two players on the injured reserve list Saturday, and downgraded another to out for Sunday's game against the Cincinnati Bengals.
The Steelers ruled out cornerback Joe Haden, downgraded from questionable with a mid-foot sprain, and they put tight end Eric Ebron and center/guard J.C. Hassenauer on IR.
Ebron injured a knee last week against the Los Angeles Chargers, apparently during his fourth-quarter touchdown. He is expected to miss extended time with surgery, a source told ESPN's Jeremy Fowler earlier this week.
Ebron was a co-starter along with rookie tight end Pat Freiermuth. He has had a reduced role this season with just 12 catches for 84 yards and a receiving touchdown as well as a rushing TD.
Hassenauer, who was starting in place of guard Kevin Dotson, injured a pectoral muscle early in the loss to the Chargers. Tackle Joe Haeg replaced Hassenauer a week ago, but the Steelers are likely to turn to B.J. Finney, a veteran interior offensive lineman, to replace him in the long term.
With both Dotson and Hassenauer now on IR, the Steelers signed practice squad offensive lineman John Leglue to the active roster.
The team also elevated defensive lineman Daniel Archibong and wide receiver Anthony Miller ahead of Sunday's game, and signed kicker Sam Sloman to the practice squad.