DeShaun Watson's legal issues, no-trade clause uncertainty caused Panthers to back off trade pursuit, sources say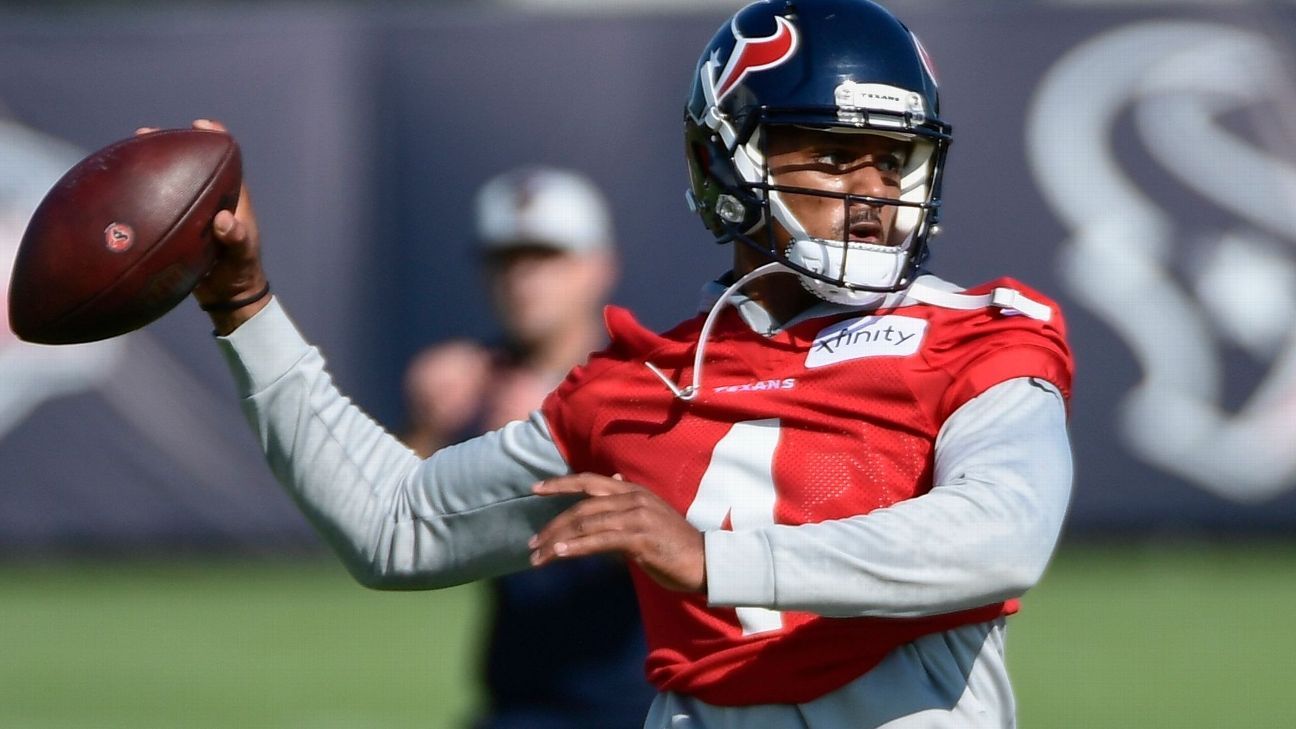 The Carolina Panthers had no further interest in trading for Deshaun Watson due to lack of clarity with his legal situation and Watson's plans with his no-trade clause, sources told ESPN's Jeremy Fowler.
Watson is facing 22 lawsuits alleging sexual assault and inappropriate behavior and has not played a down for the Texans this season. He has a no-trade clause in his contract, which he's willing to waive for the Dolphins.
The Panthers, who explored a potential Watson deal dating back to the offseason, got indications that Watson would be interested in playing for them but hadn't received that commitment in writing — a customary step for a no-trade clause — as of this week.
"(The Panthers) felt he would have come to Carolina, but (that) he wanted Miami first," a source told ESPN.
Sources told ESPN that Carolina didn't want to wait any longer to conduct their own research into Watson's legal issues, whether or not Watson was gong to waive the clause eventually. That research would have taken several days, most likely. Now, as a source added, it's probably too late.
NFL commissioner Roger Goodell said Tuesday at the fall owners meetings the there wasn't enough information about the allegations against Watson to put him on the commissioner's exempt list. So Watson currently is eligible to play if traded.
The Dolphins have been considered the strongest contender for Watson. The expectation league-wide is the Texans are asking for at least three first-round picks and possibly other players. It's unclear which teams are willing to pay that price before Tuesday.
Dolphins rookie Jaylen Waddle establishing himself as a No. 1 receiver – Miami Dolphins Blog
MIAMI — Jaylen Waddle was the last Miami Dolphins player to enter the news conference room Sunday after the team's 33-10 romp against the Carolina Panthers. He was fresh off a nine-catch, 137-yard performance — and he was dressed like it.
Waddle wore a black-and-white checkered hoodie with a red shirt underneath, white designer jeans with red splatter on them and a spotless pair of Nike Air Force 1 shoes. He even kept his black Ray-Ban sunglasses perched atop his nose; when you play like that, you can wear whatever you want.
The Dolphins rookie has cemented himself as the team's No. 1 wide receiver during its current four-game winning streak, compiling 346 yards and a touchdown on 29 catches. He has 77 catches for 759 yards and four touchdowns, and is one of seven players in the NFL with more than 100 targets. He is on pace for 109 receptions, which would surpass the only other rookie in league history with 100 or more catches — Anquan Boldin — who had 101 in 2003 with the Arizona Cardinals.
"Preparation, practice," Dolphins coach Brian Flores said of Waddle's emergence. "I think we worked at it and worked at it and worked at it, and we've been able to string some good weeks together from a practice standpoint, and you're seeing that show up in the game."
Jaylen Waddle dressed like WR1 today pic.twitter.com/DX4pS3lkA7

— Marcel Louis-Jacques (@Marcel_LJ) November 28, 2021
Miami traded up to draft him at No. 6 overall in this year's draft, in an effort to rekindle some of the chemistry that made Waddle and Dolphins quarterback Tua Tagovailoa a potent tandem at Alabama. While the early results were promising — Waddle was the team's leading receiver entering Week 12 — Sunday's victory felt like an official arrival, of sorts.
And it surprisingly came against the NFL's best pass defense.
The Panthers had allowed 174.2 passing yards per game entering Week 12, playing more man coverage than all but three teams in the NFL. Tagovailoa picked them apart underneath, completing 23 of 24 passes of 10 or fewer air yards for 141 of his 230 total passing yards Sunday.
The second-year passer said it was Carolina's coverage tendencies that made his efficient day possible.
"They played a lot of man, and when they did play zone, we tried to take advantage of in-cuts, crossers, things like that, so it's really what we expected, and what they showed us out there," he said.
The chemistry between Tagovailoa and Waddle has been striking.
Since Tagovailoa's return from injured reserve in Week 6, Waddle is the NFL's third-most targeted receiver and leads the league in receptions with 50. His 528 receiving yards in that span trail only Los Angeles Rams receiver Cooper Kupp's 618.
"Jaylen has just been in the right place at the right time," Tagovailoa said. "There's times where he gets covered and he is still open, so you take a look at one of the third downs that we had. I think it was 26. Donte Jackson covering him. It was really good coverage. [Jaylen] still got open."
Tagovailoa is hesitant to attribute their effectiveness to their time together at Alabama — that was two years ago, after all. But their experience in college laid a foundation to make them successful at this level.
Waddle said Tagovailoa has grown as a player, which has inspired him to try to do the same each week. Initially known as a field-stretching vertical threat coming out of college, Waddle has worked to sharpen his entire route tree during this recent stretch.
"I work extremely hard not to just be known as a speed guy or a vertical threat. I'm just going to continue to try to go out there every week and show I can actually run routes and do things that people don't expect me to do."
The rookie has also broken out a new touchdown celebration during this win streak, in which he pins his arms to his sides, palms outstretched, and waddles like a penguin.
He said he used to be laughed at for it, particularly by Dolphins defensive tackle Christian Wilkins, who now does it with him.
Maybe those who thought Miami made a mistake by drafting Waddle instead of fellow receivers Ja'Marr Chase (Cincinnati Bengals) or DeVonta Smith (Philadelphia Eagles) can take a page from Wilkins' book and hop on board, as well.
Dallas Cowboys haven't asked me to sit vs. New Orleans Saints
FRISCO, Texas — Dallas Cowboys running back Ezekiel Elliott does not want to take a game off despite a bruised right knee.
"No one's came to me and asked me to rest," Elliott said Sunday as the Cowboys opened up preparation for Thursday's game against the New Orleans Saints.
If they do, Elliott said he would listen.
"I've just got to go with what they believe is best for the team," he said.
Elliott said he has been dealing with the injury since banging it in the Oct. 3 win against the Carolina Panthers.
A day after the Thanksgiving Day loss to the Las Vegas Raiders, coach Mike McCarthy expressed concern for Elliott's health after Elliott had just 25 yards on nine carries. The running back has not topped 51 yards in his last four games, the lowest-output of his career.
"It's that time of year," McCarthy said. "Zeke's running style is ferocious. He gives a pounding and he takes some hits. We need to evaluate that and this week we'll see what the preparation looks like for him."
A source told ESPN the Cowboys will consider providing Elliott some time off to heal, including the possibility of holding him out of Thursday's game. The source does not believe placing Elliott on injured reserve is a consideration at this time. That would require him Elliott to miss at least three games.
The Cowboys have scaled back Elliott's snaps in the last four games to help manage the injury. He has played 164 of 280 offensive snaps (58.5%) after playing in 379 of 451 snaps (84%) in the first seven games of the season.
Elliott has missed just one game in his career because of injury (calf strain last December vs. the San Francisco 49ers). He was held out of the season finales in 2016 and '18 because the Cowboys' playoff position was set, and he was suspended for six games in 2017.
"He's the ultimate competitor," right guard Zack Martin said. "We see it on a day in, day out basis and I think everyone is seeing it. He takes great pride in being there for his teammates and doing whatever he can in his power to help this team win. For me, he's one of the top competitors I've been around, and he's going to keep doing that."
Follow live: Lamar returns for Ravens in AFC North showdown vs. Browns