Dallas Cowboys OT La'el Collins does not regret fighting costly five-game suspension
FRISCO, Texas — Dallas Cowboys tackle La'el Collins does not regret fighting a suspension for violating the NFL's substance-abuse policy that cost him roughly $2 million, five games and, at least temporarily, his starting position.
"Just for me, personally, I felt like I had to, just because it was kinda unfair, being a guy that didn't fail any drug tests last year," Collins said. "The bigger picture was, I didn't feel like I did anything wrong. I missed a few tests here and there, but to everything that came along with that, I just felt like it wasn't fair. But it is what it is now. I felt like I had a good case. But, it didn't shake out that way. At the end of the day, I fought for what I believed in and the pieces fell where they fell. But just looking forward to getting back and playing football and being a good teammate and helping the guys wherever I can."
Collins took his case to the court system but a federal judge upheld the NFL's penalty. The initial suspension was knocked down to two games, but based on a number of missed tests and an accusation of bribing the drug tester, the league suspended him for five games.
"All I will say about that is I have no reason to bribe a drug collector. Never have, never will," Collins said. "It was nothing like that. It started off as a joke among a few guys and went the wrong way. Like I said, there was nothing in my system that would have led me to try to get out of testing. I knew I was getting tested randomly. I was being tested a lot, 10-plus times a month sometimes. There was no way getting around that and still isn't. It is what it is."
Terence Steele took over for Collins after the season opener and will remain in the spot for Sunday's game against the Minnesota Vikings. Coach Mike McCarthy has credited Steele's level of play in the Cowboys' five-game win streak and believes in offensive line continuity.
Collins took turns at tackle and left guard during practice this week. He started at left guard in 2015 and 2016 but has played exclusively right tackle since. He will be active in a backup role Sunday. Had Collins accepted the two-game penalty, it's likely he would have returned as a starter.
"I'm a team player. I'm all about the team," Collins said. "In a way, I felt like I did everything I could to avoid any suspension or anything. That was my whole intention on fighting it. Sometimes, things just don't work out the way you want them to. But you can't control that. What I did in the meantime was work out, focus on my craft and help the guys how I could and when I could. I'm proud of them. I'm proud of the way Terence is playing. He's playing his ass off. He shows up to work like a pro every day."
Dallas Cowboys haven't asked me to sit vs. New Orleans Saints
FRISCO, Texas — Dallas Cowboys running back Ezekiel Elliott does not want to take a game off despite a bruised right knee.
"No one's came to me and asked me to rest," Elliott said Sunday as the Cowboys opened up preparation for Thursday's game against the New Orleans Saints.
If they do, Elliott said he would listen.
"I've just got to go with what they believe is best for the team," he said.
Elliott said he has been dealing with the injury since banging it in the Oct. 3 win against the Carolina Panthers.
A day after the Thanksgiving Day loss to the Las Vegas Raiders, coach Mike McCarthy expressed concern for Elliott's health after Elliott had just 25 yards on nine carries. The running back has not topped 51 yards in his last four games, the lowest-output of his career.
"It's that time of year," McCarthy said. "Zeke's running style is ferocious. He gives a pounding and he takes some hits. We need to evaluate that and this week we'll see what the preparation looks like for him."
A source told ESPN the Cowboys will consider providing Elliott some time off to heal, including the possibility of holding him out of Thursday's game. The source does not believe placing Elliott on injured reserve is a consideration at this time. That would require him Elliott to miss at least three games.
The Cowboys have scaled back Elliott's snaps in the last four games to help manage the injury. He has played 164 of 280 offensive snaps (58.5%) after playing in 379 of 451 snaps (84%) in the first seven games of the season.
Elliott has missed just one game in his career because of injury (calf strain last December vs. the San Francisco 49ers). He was held out of the season finales in 2016 and '18 because the Cowboys' playoff position was set, and he was suspended for six games in 2017.
"He's the ultimate competitor," right guard Zack Martin said. "We see it on a day in, day out basis and I think everyone is seeing it. He takes great pride in being there for his teammates and doing whatever he can in his power to help this team win. For me, he's one of the top competitors I've been around, and he's going to keep doing that."
Follow live: Lamar returns for Ravens in AFC North showdown vs. Browns
Groin injury ends Randall Cobb's most productive day since his return to Green Bay Packers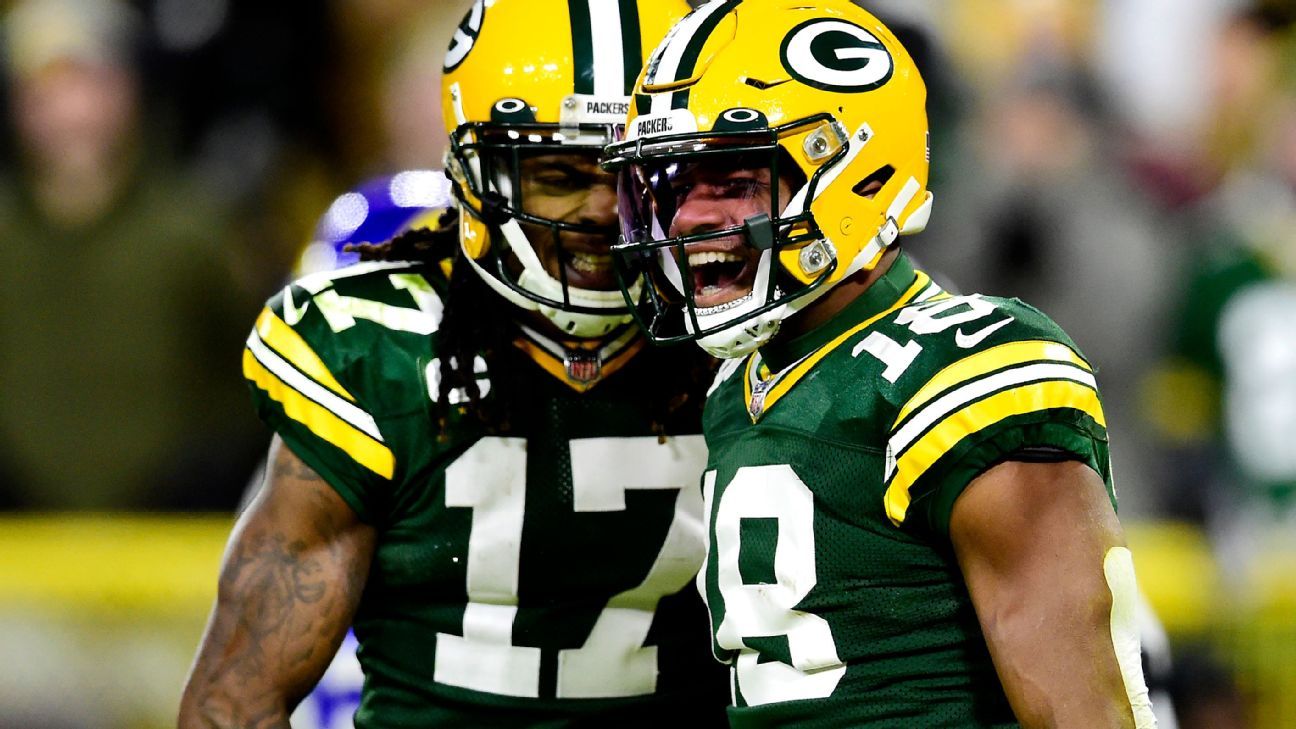 GREEN BAY, Wis. — Randall Cobb's most productive day since his return to the Green Bay Packers this season ended at halftime of Sunday's game against the Los Angeles Rams.
Cobb was ruled out at the start of the second half because of a groin injury.
He set a season high for receiving yards in the first half with 95 on four catches, including a 7-yard touchdown that was his fifth score of the season. Previously on that drive, Cobb had a 43-yard reception to move the Packers into the red zone. It was not immediately clear when Cobb suffered the injury. He muffed a punt in the second quarter but stayed in the game.
The Packers traded for Cobb this past summer at the request of quarterback Aaron Rodgers. Cobb played for the Packers from 2011 to 2018. They let him go in free agency, and he spent one season each with the Cowboys and Texans.
The Packers finally had their full complement of receivers back with the return of Allen Lazard from a shoulder injury. It lasted for one half.
Cobb's previous best game came in Week 4, when he caught six passes for 69 yards and two touchdowns.