Christian Eriksen banned from playing football following Euro 2020 collapse Inter Milan, Serie A
Danish football star Christian Eriksen won't be allowed to return for his title-winning Inter Milan this season after health rules effectively banned him from playing in Italy.
The football world was stunned when the midfielder suffered an on-field cardiac arrest and collapsed during Denmark's opening Euro 2020 match against Finland in June.
Watch the world's best footballers every week with beIN SPORTS on Kayo. LIVE coverage from LaLiga, Bundesliga, Ligue 1, Serie A, Carabao Cup, EFL & SPFL. New to Kayo? Start Your Free Trial >
It was just before halftime that Eriksen fell face first to the ground, sparking horrific scenes on the field, in the stands and in loungerooms across the world.
Teammates formed a shield around Eriksen as medics performed CPR on the pitch – several of the athletes were spotted in tears while others prayed.
Following 10 minutes of medical attention on the pitch, the 29-year-old was stretchered out of the venue and taken to hospital.
As messages of support flooded in from players from all over the world, Eriksen issued a defiant statement as he began his recovery: "I won't give up".
The Danish team doctor who attended to Eriksen revealed his pulse stopped following his harrowing collapse and said "he was gone", as medical experts raised doubts over whether he would be able to play football again.
Six days after collapsing, Eriksen was released from hospital following surgery to have an implantable cardioverter defibrillator (ICD) device fitted — a type of pacemaker that can prevent fatal cardiac arrests by discharging a jolt to restore a regular heart rhythm.
However, there is a blanket rule in Italy that bans elite athletes if they have suffered cardiac arrests and are at increased risk.
Francesco Braconaro, a member of the Italian Football Federation's Technical Scientific committee, first said in August Eriksen would not be allowed to play in Italy unless his ICD device was removed.
Inter Milan has now said it is open to letting Eriksen leave the Serie A champions in an attempt to continue his career in a country that would allow him to play.
"With reference to the registration rights of the player Eriksen, it should be noted that following a serious injury which occurred during the European Championship in June 2021, the player has been temporarily inhibited by the Italian medical authority from sporting activity in the current season," Inter Milan said in a statement.
"Although the current conditions of the player don't meet the requirements of achieving sporting fitness in Italy, the same could instead be achieved in other countries where the player could resume competitive activity."
Any return to playing professional football would be a remarkable feat given Eriksen narrowly avoided death only a few months ago.
There is a possibility he could play in the English Premier League, which would assess any players with history of cardiac arrests on a case-by-case basis.
A precedent does exist for a player who suffered a cardiac arrest to return to top-flight football.
Dutch defender Daley Blind was fitted with an ICD and has continued playing for Ajax in the Netherlands' top-tier league after being diagnosed with heart inflammation.
Eriksen started his career at Ajax before moving to Tottenham Hotspur in the EPL, where he enjoyed a successful seven-year stint.
EPL news 2021, Manchester United next manager latest, Mauricio Pochettino, Erik ten Hag, contenders, Ole Gunnar Solskjaer sacked
Now the dust has settled on the end of Ole Gunnar Solskjaer's reign as Manchester United manager, the attention is turning to who will be the man to fill his shoes.
From Manchester United's statement about Solskjaer's departure, they are actually in the market for two managers: one interim manager to take over from Michael Carrick – who is manager in the interim of that search – and one to take over permanently at the end of the season.
The name at the top of the list, as it has been every time United have considered replacing Solskjaer over the last three years is Mauricio Pochettino.
The former Spurs boss is currently having headaches over how to get the best out of Lionel Messi, Kylian Mbappe and Neymar at Paris Saint-Germain but is reportedly "open" to taking over at Manchester United.
Despite being 11 points clear at the top of Ligue 1, Pochettino is under pressure to deliver the Champions League title considering the embarrassment of attacking riches currently at his disposal.
Watch the world's best footballers every week with beIN SPORTS on Kayo. LIVE coverage from LaLiga, Bundesliga, Ligue 1, Serie A, Carabao Cup, EFL & SPFL. New to Kayo? Start Your Free Trial >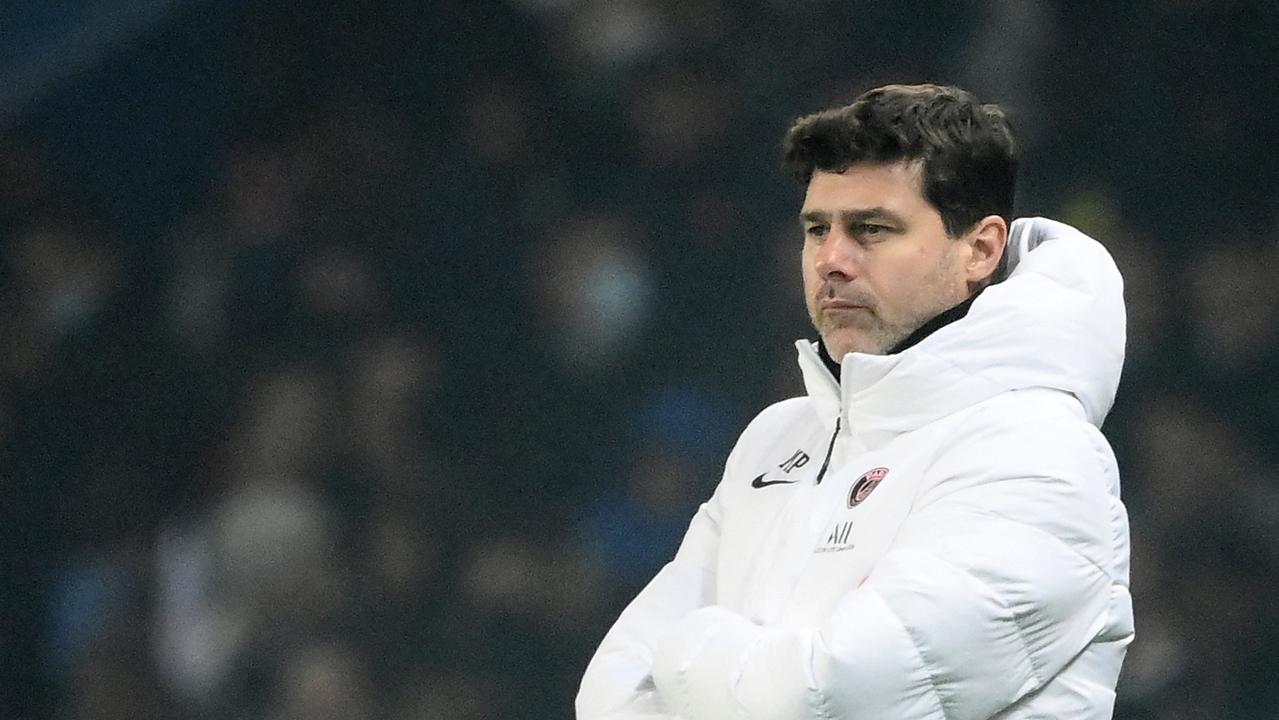 He does have a contract that runs until 2023 but it remains to be seen if the club will stick with him if he fails to win Europe's elite competition.
According to The Telegraph, Pochettino is known to favour long-term projects and would surely be given a five-year deal at Manchester United, rather than the short-term deal he current is being paid on.
"I think Mauricio Pochettino – although he'd never say it – would leave to come to Man Utd on a five-year deal tomorrow," ex-Manchester United captain Gary Neville told Sky Sports. "He'd look at that group of players, he'd look at the club and he'd realise he'd probably be able to achieve more than he wants at Manchester United in terms of a project.
"At PSG you are on a season by season, 'you've got to win the Champions League or you're out', type of model.
"I don't think that suits Pochettino. I think he would absolutely come to Manchester United on a five-year deal, with backing behind him."
However, according to The Independent, Manchester United actually have a chance to sign Pochettino now and avoid the need to hire an interim manager, rather than waiting until the end of the season for him.
United have twice botched the opportunity to hire Pochettino and The Independent reports that the 49-year-old does not want to risk waiting until the end of the season and seeing a third opportunity pass him by.
Pochettino's family still live in London and the Premier League represents a sense of "home, comfort and belonging" for him, the report adds, which hasn't been replicated in France.
There has also been nine games in Ligue 1 disrupted by fan violence so far this season, making the job that bit more taxing for the Argentine than what it should be.
Heat on Solskjaer as Watford pump United | 01:35
While Pochettino will neither court an exit from Paris, and the club wouldn't encourage him to leave, it would allow them to appoint Zinedine Zidane, of whom they are huge admirers of. Zidane has already reportedly distanced himself from taking the United job.
The second name on Manchester United's list is the highly-rated Ajax manager Erik ten Hag and will be the man they go for should Pochettino prove unavailable, according to Sky Sports News.
They report that Ten Hag would "100 per cent be interested" in the role and like Pochettino will only have one year remaining on his Ajax deal come the end of the season.
Brendan Rodgers is another name in contention but he has already made it clear that he would not leave Leicester City mid-season, while Laurent Blanc has been mentioned as someone who could take over until the end of the season, although he would want more than just an interim role, reports The Athletic. Blanc spent two seasons playing for Manchester United so knows the club, but is currently coaching in Qatar and would likely cost a significant amount to get out of his contract.
Another name reported is Ralf Rangnick, the highly-rated head of sports and Lokomotiv Moscow and the man considered the godfather of the pressing game which has revolutionised football over the last decade. However, he is said to have distanced himself from the role.
Ole no longer at the United wheel | 00:41
Julen Lopetgui was also proposed by super-agent Jorge Mendes, after his big-name client Cristiano Ronaldo lost faith in Solskjaer's ability to guide Manchester United to a trophy, The Athletic added.
However, the most left-field option who has so far raised his hand is former United captain Steve Bruce, who was recently sacked by Newcastle United. The Athletic reports that he would be very keen on the role and "believes he could help stabilise the dressing room".
Incidentally, Wayne Rooney has also ruled himself out of taking the job until the end of the season.
There are a lot of names being thrown about by various media outlets and while it may seem inaccurate, it is more a true sense of how truly unprepared Manchester United were for this sacking.
Chief executive Ed Woodward, who resigned in April and is due to leave in the coming weeks is now expected to stay on to oversee the recruitment process, if you wanted even more of an idea of how ill-prepared the club is for this task.
It could roll on and on.
Man Utd could have perfect Paul Pogba replacement if Mauricio Pochettino joins
Mauricio Pochettino could have a ready made replacement for Paul Pogba of appointed by Manchester United

Source link
Ole Gunner Solskjaer sacking, Cristiano Ronaldo, real problems for Manchester United, Ed Woodward
Manchester United have finally bitten the bullet and sacked Ole Gunnar Solskjaer, but the move appears unlikely to address the deeper eight-year malaise at the club that dominated English football for two decades.
Since Alex Ferguson ended his 26-year reign at Old Trafford with a 13th Premier League title in 2013, four coaches have come and gone without a serious title challenge between them.
David Moyes, Louis van Gaal, Jose Mourinho and Solskjaer brought vastly different attributes and levels of experience to the job.
Van Gaal and Mourinho were proven winners, Moyes was handpicked by Ferguson as a worthy successor and Solskjaer was cherished as a club icon who scored the winning goal in the 1999 Champions League final.
But what they have all had in common is an inability to turn United's dysfunctional off-field structure into sustained success.
"This is the third time in the last eight years that a manager has been given a long-term contract or an extension and lost their job within a few months," said former United captain Gary Neville. "The planning hasn't been great.
Watch the world's best footballers every week with beIN SPORTS on Kayo. LIVE coverage from LaLiga, Bundesliga, Ligue 1, Serie A, Carabao Cup, EFL & SPFL. New to Kayo? Start Your Free Trial >
UK VIEW: Ole was 'doomed' from the start. But it's clear who's really to blame
INSIDE STORY: How the wheels finally fell off for Ole at Utd
City and Spurs claim victories | 01:55
"I don't want to stick the knife in today to the club, the club's owners, the club's hierarchy but you have to ask serious questions. I've had enough of it."
In confirming Solskjaer's sacking, United also stated their intention to appoint an interim manager until the end of the season rather than seeking a permanent appointment straight away.
That has led to more criticism of the club's owners, the Glazer family, and outgoing executive vice-chairman Ed Woodward for seemingly giving up on a season that still has six months left to run.
Although realistically out of the Premier League title race, 12 points behind leaders Chelsea, who United face on Sunday, there remains plenty to play for.
Victory against Villarreal in caretaker boss Michael Carrick's first game in charge on Tuesday would secure a place in the Champions League last 16.
A spot in the Premier League top four is also attainable and the FA Cup offers the chance to end a barren run stretching back to 2017 without a trophy.
Comparisons have been made to Chelsea's swift response to a similar slide under a former club legend in January.
A day after Frank Lampard was sacked, Thomas Tuchel was installed as the Blues' new boss and went on to win the Champions League four months later.
Conte's Spurs comeback to down Leeds | 01:34
Woodward has been a consistent focus of criticism for the club's fans since 2013, when he stepped into the shoes of former CEO David Gill, who achieved so much working in tandem with Ferguson.
Following the failed European Super League (ESL) project in April, Woodward announced his intention to step down at the end of the year.
But Sky Sports reported on Monday that he could delay his departure to play a role in the appointment of the new manager.
Woodward's commercial expertise — keeping sponsorship money rolling in despite dwindling results on the pitch — has maintained his status as a confidant of the Glazers, their man on the ground in England.
The American owners have been unpopular ever since they saddled the club with huge debts to fund their takeover in 2005.
The ESL episode reignited that fury, with fans storming onto the Old Trafford pitch at a time they were still shut out due to coronavirus restrictions and getting a match against Liverpool postponed in May.
Heavy investment in the most recent transfer window appeased supporters, with Cristiano Ronaldo returning to the club following the signings of forward Jadon Sancho and defender Raphael Varane.
But the fanfare surrounding Ronaldo has only emphasised the impression that United prioritise commercial contracts and clicks over a functioning football team.
The 36-year-old has delivered some dramatic moments to keep United alive in the Champions League.
But his presence derailed Solskjaer's long-term project to build a youthful side that thrived on the counter-attack, with Sancho struggling to make an impression and other forwards shunted to the periphery.
He may be gone, but there is no guarantee United's problems will not linger for his successor.