Report — Roger Goodell was paid nearly $128M after navigating league through labor peace, media deals in last two years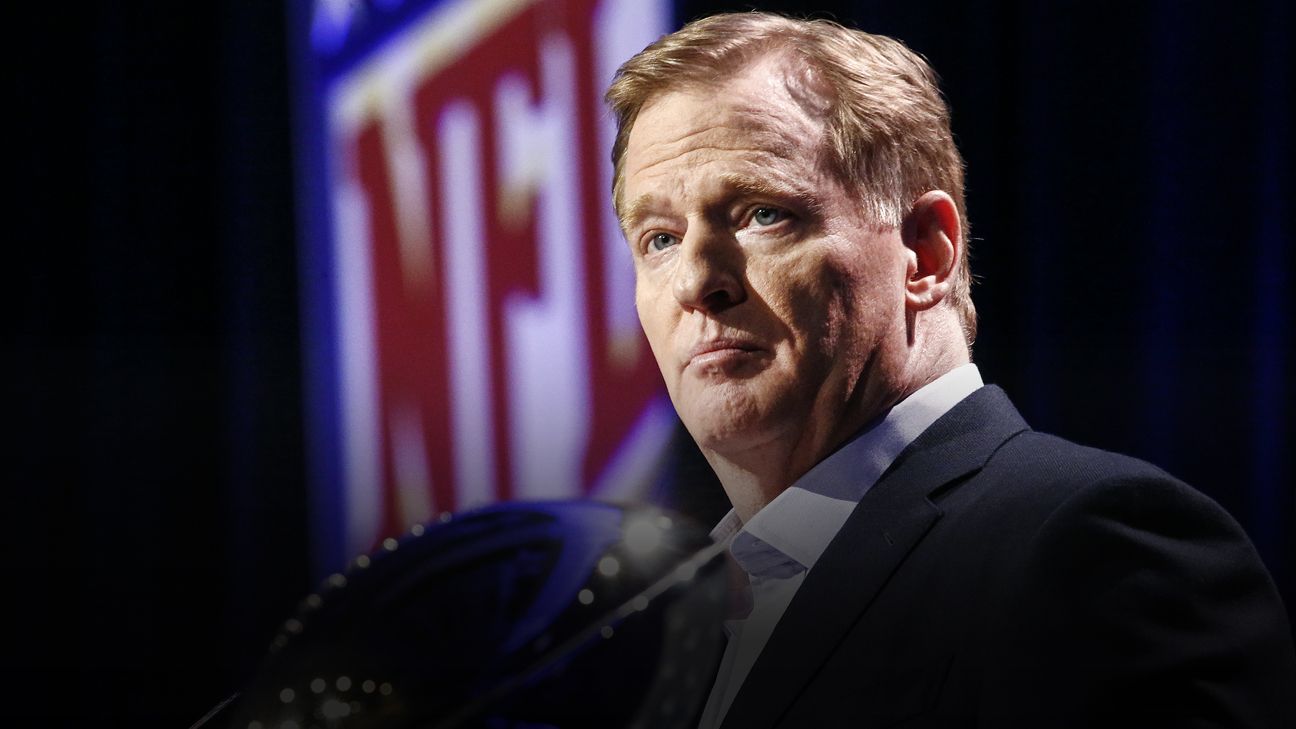 NFL commissioner Roger Goodell made a total of nearly $128 million via a combination of salary, bonuses and other benefits over the past two fiscal years, The New York Times reported Thursday night.
According to the newspaper, the total was divulged at the just-concluded owners meetings this week in New York City.
Citing four unnamed sources who attended the meetings, the Times reported that Goodell's significant pay during fiscal years 2019-20 and 2020-21 was about 90% based on bonuses and due to the work he led in helping iron out a new labor deal and a massive media rights package.
In March 2020, by a close 1019-959 vote, NFL players approved a new collective bargaining agreement with league owners that ensures labor peace through at least 2030 and also cleared the way for a 17-game schedule, which went into effect this season.
In March of this year, the league announced a new set of national television deals, keeping games on ESPN/ABC, Fox, CBS, NBC, Amazon and NFL Network through the 2033 season for reportedly more than $100 billion.
Goodell was elected NFL commissioner in 2006 as Paul Tagliabue's replacement. He signed a five-year extension in 2017.
Last year, he voluntarily requested to the league's compensation committee that his salary be reduced to zero due to the coronavirus pandemic, according to an email obtained by ESPN at the time. That request was accepted.
Goodell met with the media Tuesday in New York, where he doubled down on the league's decision not to make public the results of its investigation into the workplace culture at the Washington Football Team, saying the anonymity of the people who cooperated with the investigation was too high a priority to allow the NFL to do so. A day later, the attorneys for some former WFT employees rejected his reasoning for not making the investigation into the organization public, saying in a letter that their clients wanted anonymity but also a written report.
The NFL paid Goodell nearly $32 million in fiscal year 2015, the last year for which public records exist.
The league declined comment to the Times on its report of his latest payments.
Los Angeles Chargers put leading WR Keenan Allen on reserve/COVID-19 list
Los Angeles Chargers leading receiver Keenan Allen was placed on the reserve/COVID-19 list on Monday, putting his availability for Sunday's game against the New York Giants in doubt.
Allen was one of 11 players placed on the reserve/COVID-19 list by teams on Monday. All were the result of positive tests, ESPN's Adam Schefter reports.
Allen, who has been selected to the Pro Bowl each of the past four seasons, leads the Chargers with 929 receiving yards this season and has four touchdown receptions.
If Allen is vaccinated, he will need two negative tests 24 hours apart and be asymptomatic for 48 hours before he can return. If he is unvaccinated, Allen will have to stay away from the team for a minimum of 10 days.
The Chargers improved to 7-5 with their 41-22 victory over the Cincinnati Bengals, a game in which Allen had two touchdown receptions.
Los Angeles is currently in second place in the AFC West standings.
Cleveland Browns star defensive end Bill Glass dead at 86
CLEVELAND — Bill Glass, a four-time Pro Bowl defensive end with Cleveland and member of the Browns' 1964 NFL championship team, has died. He was 86.
The Browns said Glass died Sunday night surrounded by family at his home in Waxahachie, Texas. The cause of death was not immediately known.
Glass spent seven seasons with the Browns, who acquired him from the Detroit Lions as part of the trade involving quarterback Milt Plum.
An All-American offensive guard at Baylor, Glass switched to defense when he began his pro career in 1957 with the Saskatchewan Roughriders of the Canadian Football League. A year later he joined the Lions, who had drafted him with the No. 12 overall pick.
Glass spent four seasons with Detroit before going to Cleveland, where he became a star. He was credited with 16½ sacks in 1965, back when they were not recognized as an official stat by the league.
Glass finished with 87½ sacks, getting 77½ in his seven seasons with the Browns. He retired after the 1968 season and was inducted into the Browns Legends program in 2007.
After he retired, Glass, who was born in Texarkana, Texas, started his own ministry, Bill Glass Behind the Walls, working extensively with helping reform prisoners.
Baltimore Ravens lose star CB Marlon Humphrey for rest of season because of torn pectoral muscle
OWINGS MILLS, Md. — Pro Bowl cornerback Marlon Humphrey was diagnosed with a season-ending, right pectoral muscle tear on Monday, perhaps the biggest loss in a season filled with injuries for the Baltimore Ravens.
Humphrey, 25, became the seventh starter (and third in the secondary) to get sidelined for the season for the Ravens (8-4), who cling to first place in the AFC North by one game. He was injured in Sunday's 20-19 loss in Pittsburgh to the Steelers when he tried to tackle Diontae Johnson before the wide receiver scored the go-ahead touchdown late in the fourth quarter.
The loss of Humphrey is not only the latest blow, but perhaps also the most devastating one. A two-time Pro Bowl cornerback, Humphrey is the Ravens' most talented defender, who can match up against the opposition's top wide receiver and rip the ball away with his physical play. Since being the No. 16 overall pick in 2017, he is one of two NFL players with at least 50 passes broken up and 10 forced fumbles (safety Logan Ryan is the other).
Injuries have depleted a Baltimore team that has reached the playoffs the past three seasons. After Humphrey is placed on injured reserve, the Ravens will have $44.3 million of their salary cap on IR — which accounts for 25% of their cap.
Three of Baltimore's players with the five biggest cap hits — offensive tackle Ronnie Stanley ($10.042 million), cornerback Marcus Peters ($9.968 million) and Humphrey ($8.44 million) — have suffered season-ending injuries. Overall, the Ravens have lost 11 players who will make more than $800,000 this season.
Baltimore has placed at least one player on injured reserve in four of the past five weeks. The Ravens' total number of players on injured reserve will increase to 17 when Humphrey is added.
"I mean, we've got a lot of injuries, so we've been dealing with stress all season, and we've still been able to overcome it," Ravens nose tackle Brandon Williams said after Sunday's game. "So, that's what we plan on doing. It's a 'next man up' mentality, so the show must go on. We pray that Marlon [Humphrey] makes it back. We pray that everybody who is down right now gets healed up, but we still have games to play. Next week, we have the [Cleveland] Browns, so we have to focus on that."
With Humphrey out, the Ravens are expected to start Chris Westry in his spot, if he's healthy. Westry was inactive Sunday with a thigh injury. Last week, all five cornerbacks on the 53-man roster missed at least one practice because of an injury or illness.
Through 11 games, the Ravens have lost three starters to season-ending injuries in the secondary: Humphrey, Peters (torn ACL) and safety DeShon Elliott (torn biceps). Strong safety Chuck Clark is the only remaining starter in the secondary from the beginning of the season.
Baltimore is allowing 272.4 yards passing (second-worst in the NFL). The Ravens finish the season against three top-10 rated quarterbacks in Aaron Rodgers, Matthew Stafford and Joe Burrow.