Antonio Brown again ruled out for Tampa Bay Buccaneers
TAMPA, Fla. — The Buccaneers may get a few key players back Sunday when they travel to New Orleans to face the New Orleans Saints, but they won't have wide receiver Antonio Brown, who was again ruled out Friday by coach Bruce Arians.
Brown is suffering from an ankle injury and did not practice all week. He also missed last week's game vs. Chicago.
On a positive note for the Buccaneers, there's the possibility that the defending Super Bowl champions could get some of their top guys back. Arians on Friday said tight end Rob Gronkowski (cracked ribs), inside linebacker Lavonte David (low ankle sprain) and cornerback Richard Sherman (hamstring strain) all have "a chance" to play Sunday.
"Only guy out is Antonio Brown," Arians said.
Cornerback Dee Delaney, who suffered an ankle injury against the Bears and has served as Sherman's replacement, is also a possibility to play Sunday, Arians said.
The Bucs are currently 6-1 — one of five one-loss teams in the NFC — and sitting atop the NFC South heading into Sunday's division showdown vs. the Saints (4-2).
NFL Thanksgiving Day fantasy football inactives watch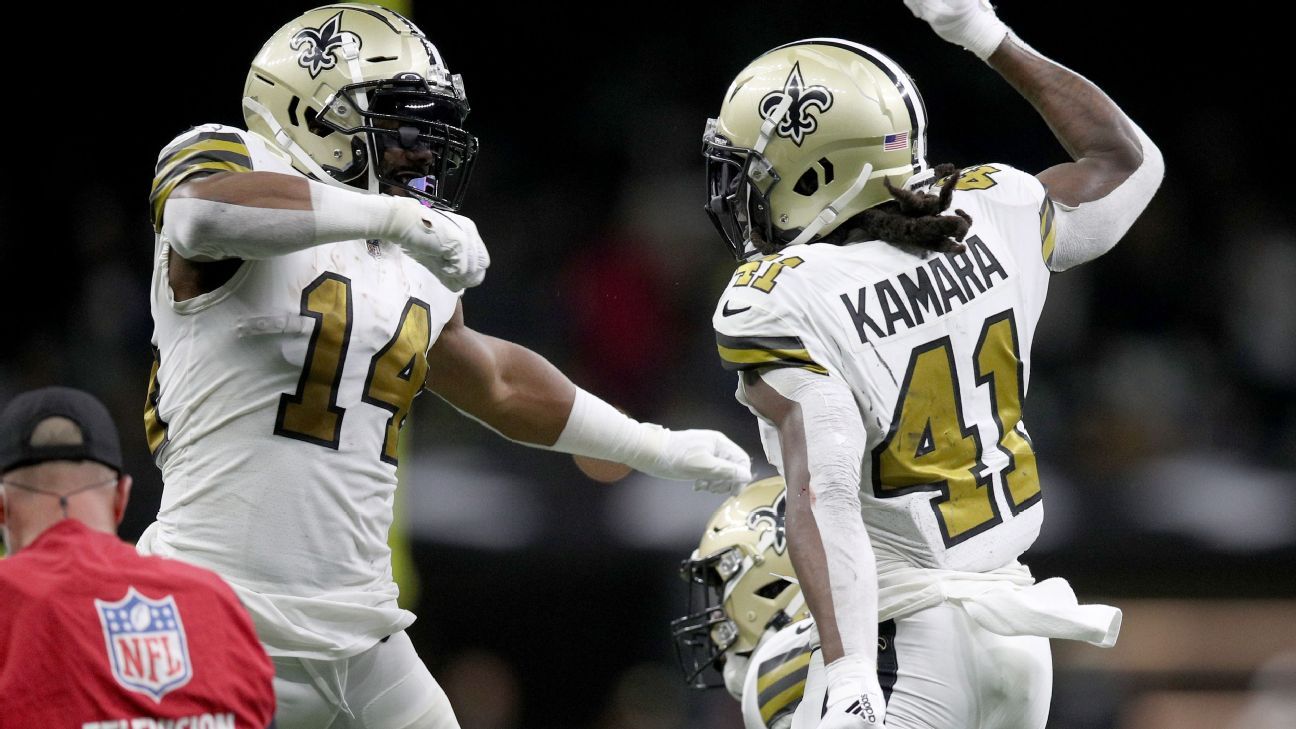 Who should you start? Who should you sit? To help you set your fantasy football lineups and to avoid starting a player who won't be playing, we'll post fantasy-relevant updates and analysis here as NFL teams release their official inactives lists, typically about 90 minutes before kickoff. Any rankings cited in this column come from our ESPN Fantasy staff ranks.
Official inactives should begin coming in approximately 90 minutes prior to the scheduled kickoff time.
Refresh often for the latest information.
---
Justin Fields, QB, CHI: Ribs — OUT
Impact: Andy Dalton will start with Nick Foles as his backup.
Allen Robinson II, WR, CHI: Hamstring — Doubtful
Impact: He hasn't practiced this week, so odds are against a Thursday start.
Marquise Goodwin, WR, CHI: Shoulder — Questionable
Impact: If he plays, expect Goodwin to start alongside Darnell Mooney.
Akiem Hicks, DT, CHI: Ankle — OUT
Eddie Jackson, S, CHI: Hamstring — Questionable
Tashaun Gipson Sr., S, CHI: Chest — Questionable
Jared Goff, QB, DET: Oblique — Questionable
Impact: He's a game-time call, although leaning towards yes. Just leave him out of fantasy lineups and watch the parade in peace.
Jermar Jefferson, RB, DET: Ankle — Questionable
Impact: It's looking like he will play, but isn't worth the fantasy gamble.
Michael Brockers, DE, DET: Knee — Questionable
Trey Flowers, LB, DET: Knee — OUT
---
Amari Cooper, WR, DAL: COVID-19 — OUT
Impact: Michael Gallup and Cedrick Wilson get a chance to bask in the spotlight of a nationwide audience.
CeeDee Lamb, WR, DAL: Concussion — Questionable
Impact: Dallas expects Lamb to clear the league's protocol in time to play.
---
Alvin Kamara, RB, NO: Knee — OUT
Impact: The lack of practice in this short week was never a good sign.
Mark Ingram II, RB, NO: Knee — Questionable
Impact: Tony Jones Jr. could be pressed into a full workload.
Adam Trautman, TE, NO: Knee — OUT/IR
Impact: Nick Vannett to take over No. 1 TE duties for the Saints.
Marcus Davenport, DE, NO: Shoulder — OUT
New Orleans Saints' Alvin Kamara, Cameron Jordan help surprise shoppers by picking up grocery tab
NEW ORLEANS — Saints players Alvin Kamara and Cameron Jordan surprised shoppers with a Thanksgiving grocery giveaway on Wednesday night.
Kamara and Jordan joined New Orleans restaurateur/entrepreneur Larry Morrow, car dealership owner Matt Bowers and social media personality Supa Cent to pay the bills for everyone in the Save A Lot supermarket, mingle with fans — and even bag some groceries. The final tally came to about $21,000.
Saints RB @A_kamara6 and @larry_morrow bagging groceries and DE @camjordan94 mingling with fans as they joined @Matthew_Bowers_ and @WuzzamSupa to surprise shoppers at a local Save a Lot store to pay their bills before Thanksgiving. pic.twitter.com/2lDmAJMix8

— Mike Triplett (@MikeTriplett) November 25, 2021
"We're blessed, so just being able to be a blessing is huge for us," Kamara said. "Everybody here is definitely fortunate. This is something so simple, yet so meaningful."
Kamara and Morrow had teamed up for Thanksgiving turkey giveaways in past years, though the tradition was interrupted by COVID-19 in 2020. This year they opted to start a new holiday tradition.
Minnesota Vikings DE Everson Griffen leaves home, getting care
EAGAN, Minn. — The Minnesota Vikings released a statement Wednesday afternoon saying the team has been notified by law enforcement agencies that defensive end Everson Griffen came out of his home "without incident and is now getting the care that he needs," hours after the 33-year-old made a series of disturbing Instagram posts early Wednesday morning claiming that someone was in his home trying to kill him.
"We are thankful to the Hennepin County Sheriff's Office, the Carver County Sheriff's Office, the Minnetrista Police Department and the Orono Police Department for their quick response and dedication to ensuring the situation ended peacefully," the Vikings' statement read. "Our focus remains on Everson's health and safety and providing the proper resources for him and his family."
A statement from the Minnetrista Public Safety Department said that Griffen left the residence "without incident" around 2:30 p.m. ET and was taken by ambulance to a health care facility. The statement added that the case remains under investigation.
"We got him the necessary help that he needs and [he's] in the care of medical professionals," Vikings general manager Rick Spielman said. He added that the team has an emergency action plan that was activated once the club was notified.
Earlier Wednesday, the Minnetrista Public Safety Department said in a news release that Griffen called 911 after 3 a.m. Wednesday from his residence and said someone was inside his home while requesting assistance from authorities. Griffen told the 911 dispatcher that he fired a weapon but that no one was injured.
According to the news release, law enforcement and Vikings team psychologists were in communication with Griffen since approximately 7 a.m. but Griffen had refused to come out of his residence for hours, well into the middle of the afternoon. Police said they could not find an intruder at Griffen's residence.
Early Wednesday morning, Griffen made several Instagram posts, all of which have been deleted, including a video that showed the defensive end inside his home with a pistol, which he said belongs to him.
"I'm in my house. N—– trying to pop me," Griffen said in the video. "I've still got clips left. This is my gun, .45 Wilson Combat, registered to me. I bought all my bullets around town. Dalvin Cook helped me purchase this gun. It all belongs to me, and they are registered to me. I know exactly where I bought them. I've got the card I have them on. I have everything."
Cook told Twin Cities media members Wednesday that he did not know why he was referenced in Griffen's video but that he called and texted the defensive end to check in on him earlier in the day. Griffen, according to Cook, did not answer.
"Since I got here, he was one of the older guys that took me under his wings and taught me, 'This is what you don't do, this is how you do it, this is how you take care of your body,'" Cook said. "Just how to be a pro. Appreciate him for that, for the little things he did. Since he got back, our relationship has gotten stronger. He's been trying to win games. We've been on the same mission, all of us, just trying to win games, trying to get better, trying to lead this team in the right way. So we are definitely close. That's my brother. I just want him to be OK. In his mind, make sure his family is OK. I just want what's best for Everson overall."
In an Instagram story, Griffen wrote, "I need help people trying to kill me. At my own house," and he posted screenshots of an alleged text conversation with his agent, Brian Murphy of Athletes First, in which he requested help from 911.
Griffen was alone inside his home according to authorities.
Vikings coach Mike Zimmer said when asked that he was unsure whether Griffen was safe. As far as the defensive end's status for Minnesota's Week 12 game at San Francisco, Zimmer also said he was not sure.
"No, that's really not our concern right now," Zimmer said. "It's really about him."
In his first stint with the Vikings, Griffen took a monthlong hiatus during the 2018 season to focus on his health and well-being after the team ordered him to undergo a mental health evaluation and after two incidents involving police authorities led to him being hospitalized. He said in April 2019 that he had had a "rough year" relating to his mental health.
Zimmer said that he addressed the team Wednesday morning.
"We're only concerned about his well-being," Zimmer said. "He's been with us for a long time. Good guy. Works hard."