Atlanta Braves' Game 2 starter Max Fried says he's 'not against' pitching Game 5 on short rest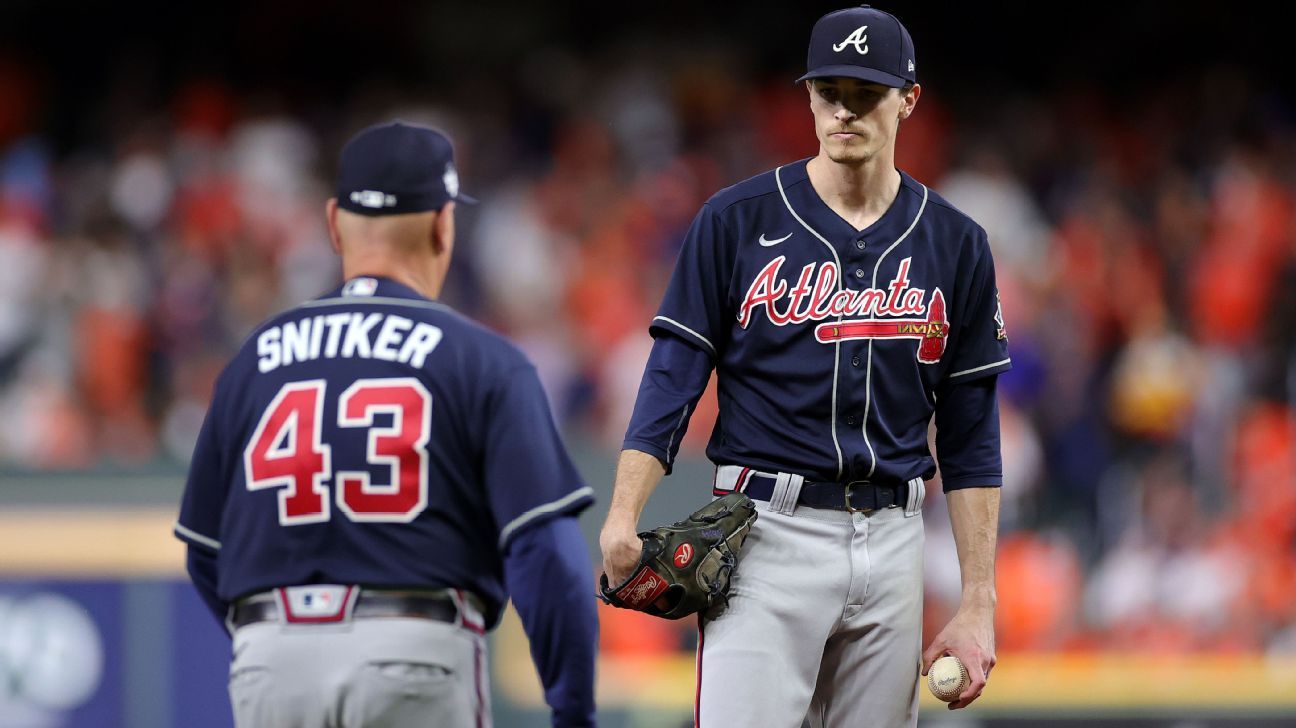 HOUSTON — The sudden loss of Charlie Morton continues to hang over these Atlanta Braves, so prevalent that it lingers even over games he wouldn't have started. And so on Wednesday night, moments after a 7-2 loss to the Houston Astros in Game 2 of the World Series, Max Fried was asked about the possibility of coming back on short rest to pitch in Sunday's Game 5 — the start Morton would have made if not for the fractured fibula he suffered on a comebacker in Game 1.
"We'll see how I feel over the next couple days," Fried said, "but not against it."
Fried put the Braves in a 5-1 hole after a second inning in which he allowed five singles, three of which were not hit particularly hard. He was dealt his third consecutive loss of this postseason, a stretch in which he has allowed 17 runs over the course of 14 2/3 innings. But his outing was considered a positive one for a simple reason: He pitched through the fifth inning.
The Braves' bullpen was especially taxed during Tuesday's Game 1 victory, forced to pick up 5 2/3 innings after Morton's early exit. An off day follows on Thursday, but the Braves face the likelihood of two bullpen games during what remains of this series — in Saturday's Game 4 and then probably again in Sunday's Game 5, unless Fried comes back on short rest for the first time in his career. When Wednesday's second inning ended, Fried had already thrown 43 pitches. But he retired nine consecutive batters from the start of the third until the end of the fifth, came back out for the sixth and ultimately kept Braves manager Brian Snitker from deploying any of his high-leverage relievers.
"That's terrific for him to be able to get into the sixth there, especially after they were able to score the runs they did," Braves catcher Travis d'Arnaud said. "It gave our bullpen the rest they needed."
Dylan Lee, a 27-year-old journeyman who has made three big league appearances in his career, followed by recording the first two outs in the sixth inning. And Kyle Wright, who made just two major league starts this season, struck out the side in the bottom of the eighth, displaying an active sinker and a biting curveball in the process. Both are largely unknown relievers who pitched in low-leverage situations, but both provided encouraging outings for a team that might be forced to trust them later.
"The bullpen's going to play a big part, obviously, in what we've got going on because we lost a huge starter," said Snitker, who will start Ian Anderson in Friday's Game 3. "We're going to have probably two games in a row that we're going to pitch 18 innings out of that bullpen."
The first two games from Houston marked the sixth time in World Series history that the two teams began by trading wins of at least four runs. Four of the previous five series ultimately lasted seven games. After earning the split on Wednesday, the Astros became the first team to win a World Series game in its home park in 1,097 days. It's a number skewed by the neutral-site postseason that was staged amid the COVID-19 pandemic last year. But teams had lost 10 consecutive home World Series games heading into Wednesday, accounting for the longest streak of all time.
The Braves seemingly left satisfied.
They won a game on the road, and now they'll return to Truist Park in Atlanta, where they boast a five-game winning streak this postseason.
"Braves Country is real," Snitker said. "That's why I think it was so important to split here."
MLB Players Association to make counteroffer to league in Monday meeting
The Major League Baseball Players Association plans to make an in-person labor proposal to the league on Monday, sources told ESPN, countering MLB's offer last week that did little to loosen the gridlock that has gripped the sport after the league locked out the players Dec. 2.
Should the players' offer do little to advance the negotiations that thus far haven't yielded any substantive progress, the scheduled start to spring training in mid-February will grow that much unlikelier. And the longer discussions on a new collective-bargaining agreement last, the more they jeopardize Opening Day on March 31.
The gap between the players and league remains significant, with the union seeking major financial gains in a number of areas and owners trying to hold firm with what they currently pay in salaries. Other issues players have said remain a priority include anti-tanking measures and fixing service-time manipulation.
Any concessions players make in their offer could provide a roadmap to the negotiations. Before implementing the lockout, the league asked the union to drop three areas of discussion: earlier free agency for players, salary arbitration after two years instead of three and changes to the revenue-sharing plan. The union did not agree to the condition when presented with it Dec. 1, and the league left the bargaining table, locking out the players hours later.
Forty-three days later, the league returned to the union with an offer that included paying players with two to three years of service based on a formula, slight modifications to the draft lottery it previously had proposed and a mechanism that would reward teams with draft picks when top prospects who started on opening day rosters win awards.
The proposal did little to entice players, who after losing financial ground during the previous labor agreement want to make gains this time around.
News of the MLBPA's expected counterproposal was first reported by The Associated Press
Robot umpires at home plate moving up to Triple-A for 2022, one step away from major league baseball
NEW YORK — Robot umpires have been given a promotion and will be just one step from the major leagues this season. Major League Baseball is expanding its automated strike zone experiment to Triple-A, the highest level of the minor leagues.
MLB's website posted a hiring notice seeking seasonal employees to operate the Automated Ball-Strike system. MLB said it is recruiting employees to operate the system for the Albuquerque Isotopes, Charlotte Knights, El Paso Chihuahuas, Las Vegas Aviators, Oklahoma City Dodgers, Reno Aces, Round Rock Express, Sacramento River Cats, Salt Lake Bees, Sugar Land Skeeters and Tacoma Rainiers.
The independent Atlantic League became the first American professional league to let a computer call balls and strikes at its All-Star Game in July 2019 and experimented with ABS during the second half of that season. The system also was used in the Arizona Fall League for top prospects in 2019, drawing complaints of its calls on breaking balls.
There were no minor leagues in 2020 because of the pandemic, and robot umps were used last season in eight of nine ballparks at the Low-A Southeast League.
The Major League Baseball Umpires Association agreed in its labor contract that started in 2020 to cooperate and assist if commissioner Rob Manfred decides to use the system at the major league level.
"It's hard to handicap if, when or how it might be employed at the major league level, because it is a pretty substantial difference from the way the game is called today," Chris Marinak, MLB's chief operations and strategy officer, said last March.
MLB said the robot umpires will be used at some spring training ballparks in Florida, will remain at Low A Southeast and could be used at non-MLB venues.
Tampa Bay Rays say split-season plan with Montreal rejected by MLB
ST. PETERSBURG, Fla. — The Tampa Bay Rays' proposed plan to split the season between Florida and Montreal has been rejected by Major League Baseball.
Rays principal owner Stuart Sternberg announced the news on Thursday.
"Today's news is flat-out deflating," Sternberg said.
The idea of playing in both the Tampa Bay area and Montreal has been discussed over the past several years after attempts to build a new full-time ballpark locally failed.
Montreal had a big league team from 1969, when the expansion Expos began play, through 2004. The Expos moved to Washington and became the Nationals for the 2005 season.
The Rays' lease at Tropicana Field in St. Petersburg, Florida, where the team has played since its inaugural season in 1998, expires after the 2027 season.
Since Sternberg took control in October 2005, the once-struggling franchise has been a success on the field but not at the box office.
Despite reaching the World Series in 2008 and 2020, the Rays have annually ranked near the bottom in attendance. The Rays averaged about 9,500 for home games last season, 28th in the majors and ahead of only Miami and Oakland.
St. Petersburg mayor Ken Welch feels a new stadium in his city remains a possibility. Governmental officials have been working on a redevelopment plan for the Tropicana Field site.
"We are working with our county partners and city council to put together the best plan possible, which will work in conjunction with my planned evolution of the Tropicana Field master development proposals," Welch said in a statement. "With this collaborative approach, I am confident we can partner with the Tampa Bay Rays to create a new and iconic full-time home for Major League Baseball in St. Petersburg while also achieving historic equitable economic growth."
Sternberg said the team will definitely explore options in the Tampa Bay area.