Seahawks unable to capture customary late-game magic with Geno Smith – Seattle Seahawks Blog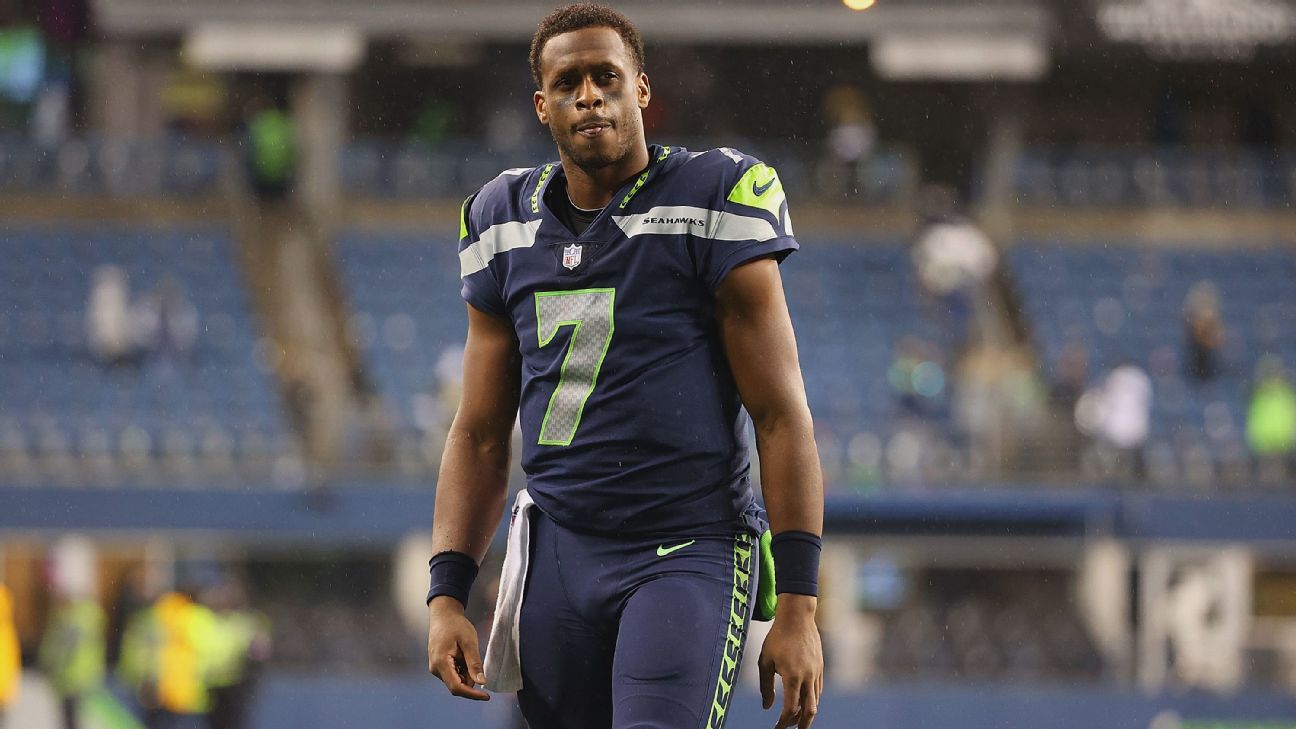 SEATTLE — No Russell Wilson, no late-game magic.
That was the story for the Seattle Seahawks when backup quarterback Geno Smith took over late against the Los Angeles Rams after Wilson injured a finger in their Week 5 game and again in both of Smith's starts since — last week against the Pittsburgh Steelers and Monday night against the New Orleans Saints.
Three straight losses have served as the wrong kind of reminder that over the past 10 seasons, arguably no quarterback has been as good as Wilson with the game on the line.
"He's a special guy," said linebacker Bobby Wagner (who entered the NFL with Wilson in 2012) after Seattle's 13-10 loss to New Orleans. "Whenever we give him the ball back with some time left on the clock, you know something is going to happen. For me, I don't need to be reminded. I know what he's capable of doing, but I also know that Geno is capable of executing and I have faith in him."
But so far, Smith and the offense haven't executed at the end.
In all three games, the Seahawks had a chance to tie or take the lead in the final three minutes of regulation or in overtime.
• Gauging NFC Super Bowl contenders
• No late-game magic with Geno Smith
• Jets GM always looking to deal
• Broncos need honest look at problems
• Jags getting little from rookie class
After taking over with 2:09 left in a 23-17 game against the Rams, Smith was intercepted on their first play when his intended target, Tyler Lockett, fell down. Los Angeles iced it with a field goal three plays later.
The Seahawks needed any kind of score to win in sudden death when they got the ball back midway through overtime against the Steelers, only to turn it over deep in their territory when Smith lost a fumble while scrambling on the first play. That set up Pittsburgh for a chip-shot field goal to win it.
They trailed by three points Monday night when they took over with 1:56 left. Smith went 0-for-2 and was sacked twice, allowing New Orleans to take over on downs and kneel out the clock.
"Those are crucial moments and we had chances to really ice the game," Smith said. "And so we've got to really put that in our mindset just, like, 'Hey, man, we've got to be closers and finishers.' And that's something we can really work on."
Monday night's loss dropped the Seahawks to 2-5, marking their first time since 2011 that they've been three games under .500. That was Carroll's second season in Seattle and the season before Wilson was drafted. He was asked how much of their recent finishing issues are a function of not having Wilson.
"I've been here a long time," he said. "And if we didn't have Russell, I probably wouldn't have been here a long time. Because think of all the magic that he's created in the years. He's got numbers and stats, and fourth-quarter thises and thats, and all of that stuff. One of the winningest quarterbacks in the history of the NFL. And it will be really fun when he comes back and plays football again for us this year. And we owe a tremendous amount. You can see how hard it is. I mean, all of these games — the Rams game … the Steelers, and this one.
"Russell's a factor. He's a fantastic positive factor and always has been. That's his time. That's when he shines. We miss him. In the meantime, we're going to keep fighting and clawing and doing everything we can."
Including postseason, Wilson has led 35 game-winning drives in the fourth quarter or overtime. That's more than any quarterback in the NFL since he entered the league in 2012.
And like Wilson didn't do any of that single-handedly, Smith has hardly been the sole reason for the Seahawks' late shortcomings.
He threw a touchdown pass that capped a 98-yard touchdown drive against the Rams and gave Seattle life in the fourth quarter before his tough-luck interception.
Against the Saints, the Seahawks would have gotten their offense the ball back with six minutes left in a tie game had Marquise Blair not been called for roughing on a third-down sack. Al Woods then jumped offsides on what was about to be a 41-yard field-goal try. That gave the Saints a fresh set of downs and got them eight yards closer on their game-winning kick.
Carroll has said he's sticking with Smith for Sunday's game against the Jacksonville Jaguars. Wilson will then be eligible to come off injured reserve, meaning he could return to face the Green Bay Packers at Lambeau Field in Week 10 following Seattle's bye, provided his surgically-repaired finger is ready by then.
"I would love to have had Russ just finish these last three games," Carroll told 710 ESPN Seattle on Tuesday on his weekly radio show. "Just give me him in the fourth quarter and let him see what he can do. That's the magic that we've watched and that's what this program and our fans have counted on, myself included. We've all counted on that to happen. So now we have to help Geno get in that opportunity and come through with it and then we start building from there, and this is a great week to do that."
Los Angeles Rams left tackle Andrew Whitworth, safety Taylor Rapp to miss Sunday's game vs. Tampa Bay Buccaneers
The Los Angeles Rams are ruling out left tackle Andrew Whitworth and safety Taylor Rapp for Sunday's divisional-round game against the Tampa Bay Buccaneers, coach Sean McVay said Friday.
Whitworth hurt his right knee on the opening play of the Rams' 34-11 wild-card win over the Arizona Cardinals on Monday night. He played 30 of the team's 60 offensive snaps before Joe Noteboom replaced him for the remainder of the game. McVay said earlier in the week that Whitworth was dealing with swelling in his knee and ankle and that his status for Sunday was in question.
The 40-year-old Whitworth ranked third during the regular season in ESPN's pass block win rate among offensive tackles.
Rapp missed the Arizona game with a concussion he suffered in the regular-season finale. McVay said he's yet to clear the final stage of the NFL's concussion protocol.
"I know the one thing for Taylor is he's doing everything in his power to get back and be out there with his guys," McVay said. "He's a great, tough competitor. But these are things that we know how serious they can be. I do feel like hopefully after next week we'll get some positive news if we are able to continue our season and maybe he returns next week."
Rapp's concussion and the season-ending ankle injury that fellow starting safety Jordan Fuller suffered in Week 18 prompted the Rams to bring 37-year-old Eric Weddle out of his two-year retirement last week. The six-time Pro Bowler played 19 of 56 defensive snaps while Nick Scott and Terrell Burgess took over the starting spots. It was Weddle's first game in 750 days.
He would have played more had the game been closer, per McVay.
"He felt good," McVay said. "What a great communicator, great energy. He just brought such a positive aura, energy to our building. I know how much respect he already has from the guys. I thought it was great having Eric around. What I also thought was great was to see the way that Terrell Burgess and Nick Scott played. Both those guys did an excellent job. So I think the depth of our secondary was really challenged, but the guys showed why they've done a good job and they were ready when their number was called. And this week will be no different with Taylor being out again."
Linebacker Troy Reeder showed up on the Rams' injury report this week but will play Sunday, per McVay.
He said none of the four players the team designated to return to practice from injured reserve this week will play Sunday, though it's "a likely possibility" that one of them, linebacker Ernest Jones, would be available next week if the Rams advance to the NFC Championship Game.
McVay said the team is taking it day-to-day with the other three — cornerback Robert Rochell, running back Darrell Henderson Jr. and defensive lineman Sebastian Joseph-Day – and that it made sense to start their 21-day window to be activated to the 53-man roster whether they're able to return before the end of the Rams' season or not.
Despite midweek arrest, Kansas City Chiefs LB Willie Gay will play Sunday, Andy Reid says
KANSAS CITY, Mo. – Kansas City Chiefs linebacker Willie Gay will play in Sunday's AFC divisional-round playoff game against the Buffalo Bills, coach Andy Reid said.
Gay pleaded not guilty on Thursday in Johnson County, Kansas, District Court to a misdemeanor charge of criminal property damage of less than $1,000. He had been arrested Wednesday night in Overland Park, Kansas, and spent the night in county jail.
Gay returned to practice Friday after an absence on Thursday. Reid did not specify his reasons for allowing Gay to play against the Bills.
"I decided he would play," Reid said. "I'm not going to get into the conversations [with Gay]. I decided that after hearing just some of the information there."
According to the police report, $225 worth of property was damaged at an apartment in Overland Park. Items damaged were a vacuum cleaner, a cellphone screen protector, a humidifier and a wall and door frame.
The mother of Gay's 3-month-old son has requested a civil protection order, which means Gay is not allowed to have contact with either of them until the case is heard by a civil judge.
Gay is scheduled to return to court on March 2.
Gay, the Chiefs' second-round draft pick in 2020, started 11 games this season plus the Chiefs' wild-card round playoff win last weekend against the Pittsburgh Steelers. He has two interceptions and 0.5 sacks.
Dallas Cowboys owner Jerry Jones says 'pet peeve' is fixing problems after season is over
FRISCO, Texas — Asked if he has made a decision on Mike McCarthy's future as Dallas Cowboys head coach, owner and general manager Jerry Jones deferred while speaking to 105.3 The Fan in Dallas on Friday.
"I'm not going to get into any conversations that I've had with anybody relative to anything to do with the staff," Jones said. "I understand the interest in it, but there's nothing compelling me. I've got everyone under contract that I want to have under contract. And so that's where we are."
On Wednesday, McCarthy said he had "very positive" conversations with Jones and is going through the evaluation process after the team's disappointing wild-card loss to the San Francisco 49ers.
Cowboys executive vice president Stephen Jones, when asked Monday if McCarthy would return for a third season, said "absolutely" and "very confident."
Jerry Jones' displeasure with how the season ended, however, came through during Friday's interview.
"If I thought changing out men at any level, that would improve us, I'd change it out," Jones said.
He added: "I'm very, very frustrated and upset. You can call it COVID, you can call it anything, but we have used up some very talented players over the last few years."
McCarthy on Wednesday said penalties are the biggest issue that the Cowboys have to clear up. The team led the NFL in penalties in the regular season and was flagged 14 times for 89 yards against San Francisco.
"Now let me be real clear, one of the pet peeves I have is that I don't like this, 'Well, we've got to work on this in the offseason. We've got to work on this.' I don't go for that," Jones said Friday, without specifying McCarthy's evaluation of the team's penalty problem. "I want those things recognized and addressed after we play Tampa after the first game or after we play the sixth game. I don't want to wait until we're sitting here with no season left to address these things we're doing or not doing.
"So all of that is in the mix here and a part of what I do. … The ultimate decision on these coaches and anywhere around here is one that I have to make, so the guy that you're the toughest on should be the one in the mirror. He's the one that has the ultimate responsibility, and consequently, I get to operate at that guy's timeline."
Coordinators Dan Quinn and Kellen Moore have had interviews with multiple teams regarding head-coaching vacancies this week.
"The team and their functions got us in a position healthy, in a position to win a Super Bowl. And, so, I'm very guarded about throwing all of that down the drain because we didn't win one of the steps in the playoffs getting to the Super Bowl," Jones said when asked about the coordinators' performances during the regular season. "So, to answer your question, I take into consideration a lot about how well we did this year in the regular season and what it meant and what the record meant. So, I will. And, so, yes, I thought we did a really, a really good job of getting to the playoffs.
"Still, I can't get over what we did in the playoffs."