MLB World Series 2021 — Braves turn on power, Charlie Morton breaks his leg and other big moments in Game 1 win over Astros
The big story of Game 1 of the World Series was Atlanta Braves pitcher Charlie Morton's fractured fibula that knocked him out in the third inning and the rest of the contest against the Houston Astros. The top highlight of the game might be the Braves' ace striking out Jose Altuve looking at a wicked 2-2 curveball, but completing his delivery in pain and leaving the game. The Braves won 6-2.
In the other dugout, the story was the quick exit of Astros starter Framber Valdez, lasting just two-plus innings and allowing five runs and eight hits — the majority of those rockets of 100-plus mph, including home runs to Jorge Soler and Adam Duvall into the Crawford Boxes in left field.
But the biggest big story was the performance of the Atlanta bullpen, allowing just two runs to the potent Astros lineup over the final 6.2 innings. A.J. Minter and Tyler Matzek, coming off their dominating performances in the NLCS, did each allow run, but they also combined to pitch four innings. These are two lefties that have proven they can get more than two or three outs and the takeaway seems clear: If the Astros are going to win this, they're probably going to have to beat Minter or Matzek at some point. Minter did throw 43 pitches, so Brian Snitker would probably like to stay away from him in Game 2. Matzek threw 20 and he's told Snitker he can pitch every day, so his rubber arm should be available for Wednesday. Luke Jackson, coming off a rough NLCS, got five big outs between the two lefties, which should be a massive boost to his confidence.
Another thing to watch is the baserunning. We saw Dansby Swanson tag up from third and score on a shallow fly ball to right field and we saw Yuli Gurriel stumble on a slide while failing to stretch a single into a double. Let's see how team speed factors into the rest of this series. The Astros are a bad baserunning team, or at least a slow one. The Braves took the "extra" base 44% of the time in the regular season, fourth in the majors, while the Astros took it 36% of the time, which tied them with the Yankees and a couple of other teams for 25th through 28th best.
How important is Game 2, with Max Fried starting against Jose Urquidy? The road team has won the first two games of the World Series 14 times – and went on to win 11 times. The Astros will obviously need more from their right-handed batters against the lefty Fried: Jose Altuve, Alex Bregman and Carlos Correa went a combined 0-for-12 with one walk.–David Schoenfield
Here are some noteworthy plays and moments from Game 1 of the World Series:
Both teams score in the eighth
The Braves pad their lead to 6-1 in the eighth on Freddie Freeman's sacrifice fly to shallow right field – and frankly, no way should Dansby Swanson have been able to score on that play. Kyle Tucker's throw was weak and up the line and Jason Castro couldn't quite apply the tag. You can credit Braves' third-base coach Ron Washington with another aggressive send like in the NLCS – something to keep an eye on the rest of the series.
"I. WAS. RUNNING!" –@LieutenantDans7 #BattleATL pic.twitter.com/mKXEneQ1tw

— Atlanta Braves (@Braves) October 27, 2021
After a Yordan Alvarez triple, Carlos Correa grounded to second — allowing the ALCS MVP to score. Yuli Gurriel looked to get in scoring position, but Eddie Rosario's rocket arm prevented a safe slide at second base.
Eddie Rosario's terrific October continues. #WorldSeries pic.twitter.com/Z6jFMQWgoo

— MLB (@MLB) October 27, 2021
Atlanta continues without its ace
Morton struck out Jose Altuve looking on a 2-2 curveball leading off the bottom of the third inning but grimaced as he completed his delivery and had to come out of the game. He grabbed his right ankle as he signaled to the dugout, and ESPN's Alden Gonzalez reports Morton appeared to injure his right ankle while delivering a pitch to Astros left fielder Michael Brantley, then limped off the field after being checked on by the Braves' trainer.
The Braves now report that Morton will miss the rest of the World Series with a right fibula fracture. The Braves already left starter Huascar Ynoa off the World Series roster with shoulder inflammation and he's ineligible to be added to the roster. They did add Kyle Wright to the roster and he had a 3.02 ERA in Triple-A (but just two starts in the majors). If the idea was to tag-team him with Drew Smyly in Game 4, the Braves may now need to hold Wright back as a Game 5 starter/long reliever. Either way, between this game and then whatever happens in Games 4 and 5, it looks like the Atlanta bullpen is going to have to carry an extra big workload this series, putting pressure on Max Fried and Ian Anderson to go a little deeper in Games 2 and 3 — and keep in mind that Brian Snitker has had a quick hook for Anderson in the postseason.
The Atlanta bullpen will now need to close out this game without their ace. Lefty pitcher A.J. Minter is the first one out of the pen, and he's been outstanding this postseason, with just two hits allowed over 7⅓ scoreless innings. He did go two innings twice in the NLCS and had a three-inning outing in last year's NLCS, so he's capable of going multiple innings, but Snitker is likely going to have to go deeper into his pen than he would have liked in this game. Fellow lefties Tyler Matzek and Will Smith have also been outstanding in the playoffs, but Luke Jackson had a couple shaky outings against the Dodgers and he might have to get some big outs.
Charlie Morton has a broken right fibula and will miss the remainder of the World Series, according to the Braves.

— Jeff Passan (@JeffPassan) October 27, 2021
Charlie Morton threw 10 pitches on a broken leg, sat down for a half-inning, threw six more pitches, the last two of which were a 96-mph fastball and 80-mph curveball to strike out Jose Altuve.

So, yeah, Charlie Morton threw 16 pitches pushing off the mound with a broken leg.

— Jeff Passan (@JeffPassan) October 27, 2021
Braves stays hot in the third
Adam Duvall sends Valdez to an early shower with a two-run laser of a home run into left field for a 5-0 Braves lead in the top of the third. It traveled just 387 feet, but its exit velocity clocked at 111.7 mph.
DuvALL of that one!

It's all Braves in Game 1. pic.twitter.com/o3O4V1FJC4

— MLB (@MLB) October 27, 2021
That was eight hits off Valdez in just two-plus innings, and the Braves have already racked up six batted balls hit at 100-plus mph (and are the first team to score in each of the first three innings of Game 1 of the World Series). This is what can happen to Valdez if he's not getting low strike calls on his sinker, and he wasn't getting them from home-plate umpire Chris Conroy. It can quickly turn into batting practice.
Beginning with a bang
The World Series began with a big bang off the bat of Braves designated hitter Jorge Soler when he smacked a 2-0 sinker from Valdez into the Crawford Boxes in left field. Some history here: Soler is the first player to lead off the top of the first inning with a home run — and he did it against a pitcher who is tough to go yard on, as Valdez allowed a 70% groundball rate in the regular season, best among starters in the majors. Austin Riley later doubled in Ozzie Albies, who had reached on an infield single and stole second, for the quick 2-0 lead. Riley's double came on a 3-0 count, so Valdez's inability to get ahead hurt him early.
Leading into the game, the pundits and analysts wondered if Snitker should have left Rosario in the leadoff spot, where he had thrived in winning MVP honors in the NLCS. But with the ability to add Soler to the lineup in the DH role, Snitker went with the platoon matchup and hit Soler leadoff, where he had thrived in September, and moved Rosario back down to the fifth spot. This will also make it harder for Dusty Baker to use one of left-handed relievers later in the game against Freddie Freeman, as Freeman has Soler in front of him instead of Rosario, and the switch-hitting Albies (who crushes lefties) behind him. — David Schoenfield
Did we mention @solerpower12 is back?#BattleATL pic.twitter.com/WCITYISjr0

— Atlanta Braves (@Braves) October 27, 2021
.@austinriley1308 checking in!#BattleATL pic.twitter.com/4hiljopb8J

— Atlanta Braves (@Braves) October 27, 2021
Braves' starter Morton managed to get out of a bases-loaded situation in the bottom half of the inning.
Arrivals
Whole squad ready.#ForTheH pic.twitter.com/f1T4Lk3p56

— Houston Astros (@astros) October 26, 2021
A most Atlanta pregame meal
Waffle House is a big deal in the South. Smothered, covered, chunked and capped. Or, smothered, covered, chunked and peppered. If you know, you know. Its headquarters is in Norcross, Georgia, outside Atlanta, and Waffle House was there to hype up the Braves.
Braves pitcher Tucker Davidson, who is not on the postseason roster, saluted his team with a hearty Waffle House spread.
Congratulations to the 2021 National League Champions – @Braves! Time to Scatter, Smother & Cover® at the World Series!

— Waffle House (@WaffleHouse) October 25, 2021
Now we go @WaffleHouse #BattleATL pic.twitter.com/VSZtXbeYUp

— Tucker Davidson (@tucktuck6) October 26, 2021
Local teams are ready
It all starts today.

Good luck to the @astros in the #WorldSeries #ForTheH pic.twitter.com/YHYb0UHimR

— Houston Football (@UHCougarFB) October 26, 2021
Let's get it, @astros 😤

Best of luck to our neighbors in the #WorldSeries !#ForTheH 🤝 #HoldItDown pic.twitter.com/UP7LVH8bvH

— Houston Dynamo FC (@HoustonDynamo) October 26, 2021
🗣 HERE WE GO HOUSTON

Good luck in Game 1 of the World Series tonight, @astros! ⚾️#FortheH x #HoldItDown pic.twitter.com/ZVtgii21Z1

— Houston Dash (@HoustonDash) October 26, 2021
It's GAAAAMMMEEE DAAAAAYYY!!! Let's Go @Braves! 🏀🐝#BattleATL | #WorldSeries pic.twitter.com/wEGGufi2dc

— Georgia Tech Women's Basketball (@GTWBB) October 26, 2021
Waking up knowing the @Braves play in the #WorldSeries today‼️ pic.twitter.com/A1Kh4N7Sgq

— Atlanta Hawks (@ATLHawks) October 26, 2021
If Barry Bonds isn't a Hall of Famer by the end of the day, it's a failure by the Hall of Fame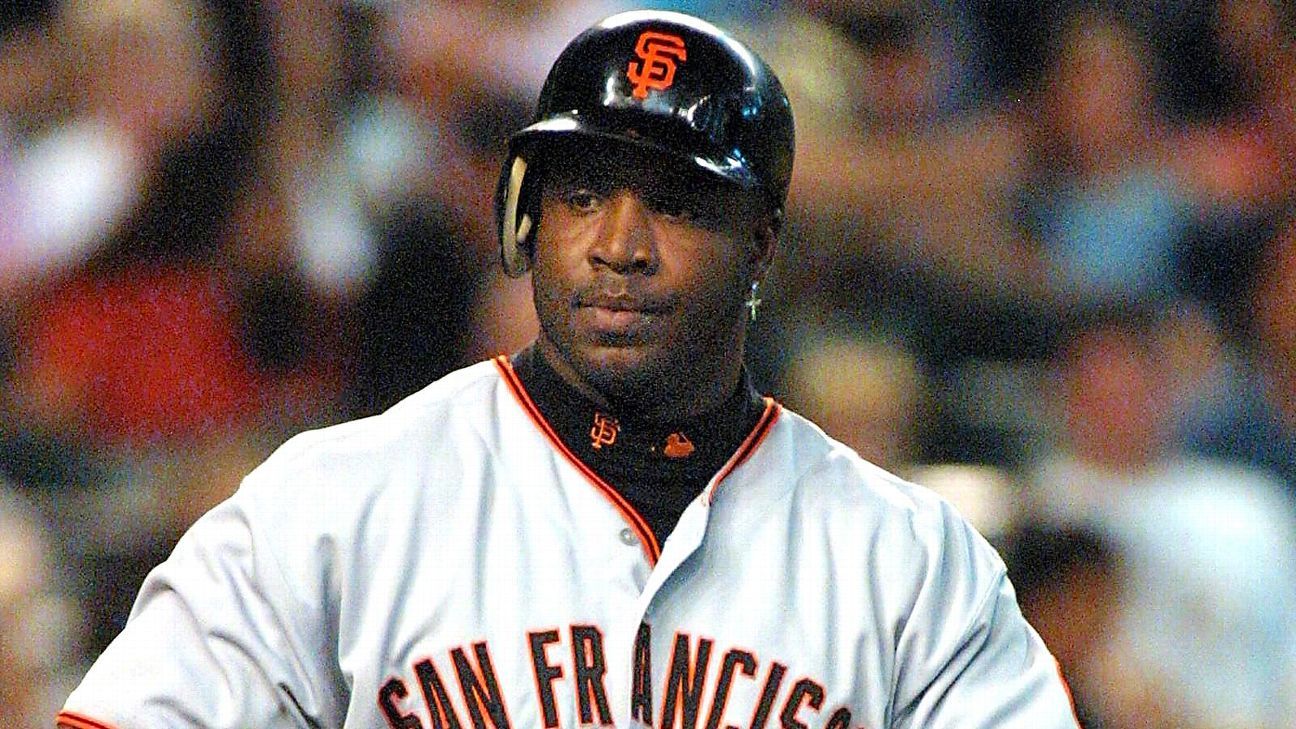 At the entrance to the National Baseball Hall of Fame's plaque gallery, a sign hangs to help guide museumgoers through what they're about to see. The first paragraph talks about how players are in the Hall for "their accomplishments in the game." The next paragraph says other areas of the museum "address the totality of their careers." The final paragraph ties it all together: "The National Baseball Hall of Fame and Museum's mission is to Preserve History, which is what we seek to do throughout the Museum."
If indeed that is the Hall's mission, today is nothing less than an abject failure. Barry Bonds, arguably the greatest hitter in baseball history, inarguably worthy of induction, will almost certainly not reach the 75% threshold for induction in his final year on the writers' ballot. For the past nine years, at least one-third of the baseball writers who adjudicate such matters have found Bonds' use of performance-enhancing drugs to be disqualifying, and the revelation of Tuesday's vote is not expected to render any different judgment. He's not the only one, but Bonds' rejection, in particular, epitomizes how all these decades later, baseball is still bungling the PED issue, valuing a lazy, ahistorical moral referendum over the preservation of history.
It's difficult to pinpoint what's most frustrating. Perhaps it's that there already are players in the Hall accused of using PEDs. Or that the commissioner whose tenure encompassed the entirety of the steroid era, Bud Selig, is himself enshrined. Or that generations of players before Bonds, including manifold Hall of Famers, popped amphetamines as part of their pregame routine. Or that others honored with bronze renderings include multiple racists, domestic abusers and even a player who last year resigned from the Hall's board of directors after a woman levied credible sexual misconduct allegations.
Really, maybe it's just as simple as the guy with the most home runs ever should be in the museum that exists to tell baseball's story.
The campaign against Bonds has spanned decades, involving malfunctions of fairness and logic across multiple cohorts.
It starts with Major League Baseball and the blind eye that Selig, his office and the game's stewards turned toward PEDs. From there came the duplicity of riding the steroid wave to new stadiums and bigger TV deals and exponential revenue growth while villainizing the very people who fueled it. Mark McGwire and Sammy Sosa and everyone else hauled before Congress made for great scapegoats, but the treatment of Bonds by the league has extended well beyond that. Selig fumed that Bonds was breaking the home run record of the eminent Henry Aaron, all but affixing an asterisk next to Bonds' final total of 762 and single-season record 73. Following the 2007 season, when Bonds, at age 43, remained one of the best hitters on the planet, not a single team offered him a contract. Even though an arbitrator ruled it wasn't collusion, it clearly was something: Baseball telling Bonds he wasn't welcome.
The message traveled to Cooperstown, where that same year, McGwire's candidacy forced the Hall of Fame to reckon with the question that would dominate the next 15 years: Will voters honor PED users? Among the writers who decide such things, there was confusion. What did the Hall want? Though the institution never lobbies for or against players, it could have offered some sort of guidance on players who had used PEDs. Did the so-called "character clause" — which tells Hall voters to consider a player's "character" as one of the six attributes when considering worthiness — apply to the use of PEDs? Or should writers take into account that these players existed in an environment where cheating was extremely prevalent?
It was a moment at which the Hall could have embraced and taken the right stand — that as ugly as this history is, not telling its full story would amount to whitewashing this seminal moment in the game. Instead, the Hall absconded from its leadership duties — and punted. "We are telling the story of the steroid era just the way we tell the story of any era in baseball, and we tell the story in its simple truth," said Jane Forbes Clark, the longtime chairman of the Hall, a decade later, in 2017. "And that's how the museum is going to deal with it."
The simple truth is that Barry Bonds is the story of the steroid era. He is a player whose physical gifts knew no limits — and whose desire for something beyond greatness took him to a place he never needed to go. His greed mirrored the league's: the ceaseless pursuit of bigger, better, more. This is the history that demands to be told, and there is no better place to tell it than in the plaque room at the Hall of Fame.
There should be no running from it, no denying it — not if you're a museum. Yet the closest thing writers who wanted some clarity on how to handle PED users have ever gotten from the Hall came in a November 2017 email written by Joe Morgan and blasted out to voters by the Hall. "The Hall of Fame Is Special" read the subject line, and from there, Morgan vomited out more than 1,000 words of anti-PED propaganda. "Steroid users don't belong here," Morgan wrote, even though he knew they were there already.
Six years before that, when Bonds was drawing in 36.2% of the vote, Clark had said: "I think the writers are doing a very good job." By the time of Morgan's email, that number had jumped to 53.8%, and the threat of him and Roger Clemens making the Hall was starting to feel like maybe it could happen.
The Baseball Writers' Association of America ensured that it won't on its watch. Even as support jumped to 61.8% in 2021, nearly two in five writers who cast their ballots looked at Bonds not as the most fearsome hitter any of them had ever seen but as the league and Hall presented him: a big, anthropomorphized needle filled with icky yuck-yuck juice.
We should be able to acknowledge that Bonds is a cheater, bemoan his actions and argue persuasively that he belongs in Cooperstown anyway. Even those who take the Hall of Fame seriously enough that they believe by excluding Bonds they're protecting it are obligated to acknowledge that history, the museum's mission, can be complicated and disappointing and sad.
Messing with history is a dangerous game, especially coming from a group entrusted with writing it. But that's what the BBWAA will do if it fails to elect Bonds today, and it will pass the onus on to … the Hall. In December, it will convene its Today's Game era committee, which is tasked with voting on anyone who played from 1988 to 2017 and was overlooked by the writers. This group of 16 electors, comprising Hall of Famers, executives and media members, voted for Selig to be inducted in 2017 and two years later selected Harold Baines, who did not have Hall of Fame numbers but did have enough friends on the committee to wind up in Cooperstown.
Bonds should be on the ballot, though if Morgan's letter is any indication, his candidacy is dead on arrival. Getting 12 of 16 votes from era committees is difficult enough without being a cause célèbre. His name will remain on the ballot — and his fate in the hands of the Today's Game committee — ad infinitum.
We can spend all the time in the world wishing it were less complicated, straightforward, black and white, a hero's journey. That doesn't always happen. All these decades later, Shoeless Joe Jackson and Pete Rose remain pariahs; and with Bonds, Clemens and Curt Schilling, the Hall is uninviting three more — the former two for using PEDs, the latter for saying heinous things.
Unlike Jackson and Rose, Bonds is not banned. Those who see this whole process and find it abhorrent can continue to stump for Bonds, to suggest that perhaps it isn't in the best interest of the museum that exists to tell baseball history to essentially ignore someone so imperative to its mission. After all this time, Clark was right: The simple truth is evident.
The National Baseball Hall of Fame needs to induct Barry Bonds. There are so many simple solutions, ones that would satisfy the Hall's stated mission and recognize that it's possible to celebrate the player Bonds was while bemoaning the choices he made. All it takes is the right words on the plaque. And since the Hall won't do it this year, it seemed like the proper time to take a crack.
BARRY LAMAR BONDS
Pittsburgh N.L., San Francisco N.L., 1986-2007
Baseball's home run king, with 762, won seven MVP awards and walked more than any player in history. With fearsome left-handed swing, set single-season home run record with 73 and redefined hitting for a generation. Use of performance-enhancing drugs muddled accomplishments and epitomized MLB's steroid era. Hero and villain simultaneously, possessed uncommon power-speed combination made even better by eye that helped lead N.L. in on-base percentage 10 times.
That is Barry Bonds, and that is how you Preserve History.
MLB, players association plan to meet again Tuesday after sides make progress, sources say
Major League Baseball and the MLB Players Association plan to meet again Tuesday after a Monday bargaining session led to the first sliver of progress between the sides since the league locked the players out Dec. 2, sources told ESPN on Monday.
In the face-to-face meeting that lasted about two hours, the union offered a broad proposal in which it dropped its request for age-based free agency and significantly cut the amount of revenue sharing it asked the league to funnel away from small-market teams, according to sources.
The day before the lockout, MLB had asked the union to remove three items from its list of desires: changing the six-year reserve period before free agency, lowering arbitration eligibility to two years and adjusting revenue sharing. When the MLBPA declined to do so, negotiations ended and the league implemented the lockout, the sport's first work stoppage in more than a quarter century.
During Monday's meeting, the union rejected three MLB proposals from the first post-lockout meeting between the sides 11 days ago, sources said. MLB offered a formula-based salary system for players between two and three years of service time, a draft-pick reward for success by players who started on opening day rosters and a slight tweak to a three-team draft lottery.
The players remained steadfast in a number of their positions Monday, sources said, including raising the minimum salary from $570,500 a year to $775,000, bumping the competitive-balance-tax threshold from $210 million to $245 million and an eight-team draft lottery.
Dropping the request for age-based free agency, which would make some players eligible for free agency before the current six-year standard, helped set the stage for Tuesday's meeting. The union also cut its request for the league to lessen the transfer revenue from $100 million to $30 million, according to sources.
The small meeting of four people from each party included MLB's Dan Halem and the MLBPA's Bruce Meyer, the lead negotiators, as well longtime reliever and union leader Andrew Miller as well as Colorado Rockies owner Dick Monfort, who is head of the league's labor relations committee.
Time is quickly becoming a factor in the negotiations, with spring training set to start in mid-February. While a delay of spring training is unlikely to significantly change the trajectory of talks, the specter of losing regular-season games — which begin March 31 — is expected to play a factor.
New York Mets GM says his team had an understanding with the New York Yankees on hiring of Eric Chavez as hitting coach
NEW YORK — Mets general manager Billy Eppler said he spoke to Yankees general manager Brian Cashman well before hiring away Eric Chávez as the team's hitting coach and that both sides had an understanding that Chávez might end up in Queens.
Chávez, 44, was hired by the Yankees in November as one of two assistants to new hitting coach Dillon Lawson — and projected to take on a role beyond his title. A few weeks later, the Mets hired the 17-year big leaguer to be their primary hitting coach.
Eppler said Monday that he was in contact with Cashman before the Yankees hired Chávez, and that the Bronx Bombers knew Chávez might not end up in pinstripes if he was offered a greater role on the Mets' staff.
"I had an understanding that if the lead role opened here, and he won the day, that he would get their blessing," Eppler said. "And so, that's ultimately what happened."
The Mets announced their full coaching staff on Friday: Glenn Sherlock as bench coach, Wayne Kirby as first-base coach, Joey Cora as third-base coach, and Craig Bjornson as bullpen coach. Pitching coach Jeremy Hefner is the lone holdover from Luis Rojas' 2021 staff, and Jeremy Barnes was promoted from director of player initiatives to assistant hitting coach.
Eppler said the team prioritized mindset and approach at hitting coach, and that Chávez — a career .268 hitter with 260 home runs — will focus more on game-planning than mechanics. Barnes will take more responsibility for fine-tuning the players' swings.
"That kind of steered us in the direction of some experience living and dying in the batter's box, for lack of a better term," Eppler said of Chávez. "That's how we ultimately landed on Eric, was just that ability to put together a plan for attacking a pitcher."
Manager Buck Showalter and Sherlock first worked together in 1989, when Sherlock was a player-coach under Showalter at Double-A Albany. Sherlock, 61, was on the Mets' staff from 2017-19, holding spots as the third-base coach, first-base coach and catching instructor. He worked for Pittsburgh the past two years as its game-planning coach and catching instructor.
Sherlock will work with the Mets' catchers, among other responsibilities.
"You bring up Glenn's name, he's just solid," Showalter said.
Eppler has been on the job just over two months and has already overseen the hiring of the coaching staff and an aggressive free-agent splurge — $254.5 million spent on ace Max Scherzer, infielder Eduardo Escobar, and outfielders Starling Marte and Mark Canha.
With the coaching staff set and a freeze on 40-man roster moves in place until baseball's labor lockout ends, Eppler said he plans to take deeper dives with other departments next.
"It's time for me to really connect with player development, with amateur scouting, with pro scouting, with amateur international scouting with analytics, performance science," he said. "The general front office and within baseball operations, the baseball systems grew. There's a lot of ideas people have and there's a lot of initiatives we want to implement as we move forward."