Braves' tomahawk chop gesture a matter for Atlanta's Native American community, commissioner Rob Manfred says
HOUSTON — Major League Baseball commissioner Rob Manfred is deferring to the Native American community in and around Atlanta on whether it's appropriate for the Braves to be encouraging the tomahawk chop gesture when the World Series is there for Games 3-5 this weekend.
"It's important to understand we have 30 markets around the country," Manfred said before Game 1 between the Braves and Astros on Tuesday evening. "They're not all the same. The Braves have done a phenomenal job with the Native American community."
Manfred said the Native American community in the Atlanta region "is wholly supportive of the Braves program, including the chop. For me, that's the end of the story."
However, opinions on the gesture have varied over the years within Native American communities, including some with ties to the region. The National Council of American Indians has called for the franchise to drop the chop as well as the team nickname.
The issues have taken on greater relevance this year as the Cleveland organization changed its longtime nickname from the Indians to the Guardians. Manfred's answer on a possible nickname change for Atlanta was the same as it was for the chop: This is a local issue.
"Each market is different," he reiterated. "Way before this became an issue, Atlanta cultivated a relationship with the Native American community which was very helpful in terms of making decisions like the two that have been raised."
MLB players union head Tony Clark said he is interested in having a conversation about anything in baseball that impacts social issues. This is one of them.
"An issue that yields or excites the kind of commentary that you're seeing in Atlanta is worthy of some dialogue," Clark said. "I know that there are certain things that as a Black man resonate with me, and we'll assume that there are instances that resonate with others as well. And to the extent that that's one of them, then it's worthy of some dialogue."
Manfred was asked whether his opinion might change if Native American communities outside of the Atlanta market took issue with the gesture.
"We don't market our game on a nationwide basis," Manfred said. "Ours is an everyday game. You have to sell tickets every single day to fans in that market. And there are all sorts of differences among the clubs, among the regions as to how the game is marketed."
In 2019, St. Louis Cardinals pitcher Ryan Helsley, a member of the Cherokee nation, complained about the chop while his team was taking on the Braves in the playoffs.
Atlanta took measures to reduce encouragement of it but has since reinstated it. It has been prevalent during the Braves' home games this postseason.
Atlanta will host the middle games of the World Series just months after Manfred moved the All-Star Game from there to Denver due to voting rights issues in Georgia. He was worried some players might protest playing in the game, sources said at the time. The commissioner was asked Tuesday whether it's getting harder for sports to stay out of political issues.
"Harder than it used to be," he said. "We have always tried to be apolitical. There was a notable exception this year. Our desire is to try and avoid another exception to that general rule.
"We have a fan base that is diverse with different points of view. We'd like to keep the focus on the field."
Another pregame topic was the upcoming end to the current collective bargaining agreement between the league and the players union. It is set to expire on Dec. 1. If a new deal isn't reached, there's a chance the owners will lock out the players.
"It's our No. 1 priority," Manfred said. "The win in collective bargaining is you make an agreement."
Most of the important financial issues haven't been decided on, according to sources close the negotiations, but both sides are putting up a front of optimism with five weeks to go.
"We have, at this point, taken advantage of the days that we had at the All-Star Game, and we anticipate taking advantage of the days that we have leading up to and through the expiration," Clark said.
Manfred added: "The most important point is I know our clubs are 100 percent committed to the idea that they want an agreement by Dec. 1."
Potential on-field rule changes will be a topic of discussion during CBA negotiations as well. The length of a game — up about three minutes this year to 3:10 — is foremost on the commissioner's mind. A pitch clock, which is being tested at other levels of baseball, is becoming a real possibility.
"There's going to come a point in time where the pressure to make change is going to be sufficient," Manfred said. "I prefer to do it by reaching an agreement with the players."
Information from The Associated Press was used in this report.
Sports world reacts to Boston Red Sox legend David Ortiz making Baseball Hall of Fame
Longtime Boston Red Sox designated hitter David Ortiz has been elected to the Baseball Hall of Fame for the Class of 2022.
Ortiz, nicknamed "Big Papi," was the only eligible candidate to receive at least 75% of votes from the Baseball Writers' Association of America.
Initially signed by the Seattle Mariners in 1992, Ortiz made his MLB debut for the Minnesota Twins in 1997. However, his legacy is tied to his time in Boston, where he spent 14 seasons.
In 2004, he played a large role in Boston securing its first World Series title since 1918, a run that included coming back from a 3-0 deficit against divisional rival New York Yankees to win the American League Championship Series. His résumé with the Red Sox includes being a 10-time All Star and a three-time World Series champion, along with earning World Series MVP honors in 2013.
Several figures in the sports world congratulated him for earning the call to Cooperstown in his first year of eligibility.
Cooperstown is calling! pic.twitter.com/de1K5bHxlZ

— Red Sox (@RedSox) January 25, 2022
Congratulations on a wonderful career and being elected to the Baseball Hall of Fame, David Ortiz! pic.twitter.com/R4HAmb5pIm

— Minnesota Twins (@Twins) January 25, 2022
Greatness.

Congratulations, @davidortiz! pic.twitter.com/FoyjSjnI0L

— New England Patriots (@Patriots) January 25, 2022
Congratulations Big Papi! Welcome to Cooperstown! It's an honor to have been your teammate and to be your brother! I'm so proud of you!

Felicidades Big Papi! Bienvenido a Cooperstown! Es un honor haber sido tu compañero de equipo y ser tu hermano. Felicidades compa! Que orgullo! pic.twitter.com/KrbD0IZrRR

— Pedro Martinez (@45PedroMartinez) January 26, 2022
Congratulations my brother! Fruits of your labor and this is well deserved.
Felicidades mi hermano @davidortiz Tu arduo trabajo rindió frutos y esto es muy merecido. https://t.co/s8tRV6qWam

— Nelson Cruz (@ncboomstick23) January 26, 2022
🇩🇴🇩🇴🇩🇴 @davidortiz https://t.co/2OHK2EEkOi

— Karl-Anthony Towns (@KarlTowns) January 26, 2022
Every year the conversation revolves around who didn't get in. Like all star voting, who got cheated. I say it every year and especially this year, focus on who did get in. @davidortiz deserved a 1st ballot induction! Congratulations my friend you earned it! #bigpapiHoF

— Curt Schilling (@gehrig38) January 25, 2022
This year's announcement also came with its share of controversy, as Barry Bonds and Roger Clemens were shut out from making the Hall of Fame. They were both in their 10th year of eligibility, which is the final year for Baseball Writers' Association of America balloting.
That decision had people ranging from San Francisco Giants pitcher Alex Wood to Kansas City Chiefs quarterback Patrick Mahomes questioning the outcome.
You can't tell the story of baseball without David Ortiz. Congrats to him. But if he can get into the HOF on the first try with a positive test on his resume then how in gods name does Bonds and Clemens not get in? The system is now officially broken in my eyes.

— Alex Wood (@Awood45) January 25, 2022
Smh….🤦🏽‍♂️ https://t.co/6ZSyhiGjfj

— Patrick Mahomes II (@PatrickMahomes) January 25, 2022
— SFGiants (@SFGiants) January 25, 2022
Stop this.
Put Barry Bonds in the Hall..

— 🏁 Jamal Crawford (@JCrossover) January 25, 2022
What's the reasoning in why Barry Bonds isn't in the HOF? Really need it broken down to me

— Isaiah Thomas (@isaiahthomas) January 25, 2022
🤦🏽‍♂️ https://t.co/9kj29ZlFBu

— Karl-Anthony Towns (@KarlTowns) January 26, 2022
Baseball didn't lose today, the great fans did. Not having Generational players like Clemens and Bonds in Cooperstown is a joke.

— Rob Dibble (@robdibble49) January 25, 2022
I went to a camp in San Francisco as a child and took swings in front of Barry Bonds. He said I kind of had an uppercut like him. If that's not HoF-worthy I don't know what is.

— Ty Kelly (@tykelly11) January 26, 2022
Clemens acknowledged the support he received following the announcement.
Thank y'all for the great responses! Much appreciated. Not sure if I did the thread right 🤦‍♂️ so here's a screenshot pic.twitter.com/oSGIniv1Bm

— Roger Clemens (@rogerclemens) January 25, 2022
David Ortiz gets in, who else got good (or bad) news?
The votes have been tallied and tabulated, and the Baseball Hall of Fame has a new class of one. Boston Red Sox legend David Ortiz was inducted in his first year with 77.9% of the vote, with Barry Bonds, Roger Clemens and Curt Schilling all failing to make the 75% cutoff point in their final year of eligibility.
What does this result mean for the Hall of Fame? Bradford Doolittle, Alden Gonzalez, Tim Keown and Buster Olney are here to break it down.
What do you make of David Ortiz getting into the Hall of Fame after his first year on the ballot?
Doolittle: I probably would have voted for Ortiz. While 500-plus homers is no longer an automatic ticket, his 541 dingers are a strong avatar for the duration of his excellence. His career WAR lags because of his lack of positional value, but that's an ephemeral thing so abstract that I would hate to make that argument to Ortiz (or anyone else) in person. His job wasn't to generate positional value but to create runs, and only 34 players have ever created more. Every one of those 34 is either in the Hall, will be in the Hall or would be if not for non-playing factors. The designated hitter has been an actual job in baseball for nearly 50 years, and "Big Papi" did it better than just about anyone. This is even before you get into his postseason record; he's the all-time leader in postseason win probability added. It's clearly a Hall of Fame résumé. Apparently enough voters agreed with that to get him in, and the fact that a lot of them really like Ortiz certainly didn't hurt his cause.
Gonzalez: Ortiz's early entry is indicative of how sometimes — even in an era consumed by numbers — the eye test and mere common sense should have a say in these evaluations. Ortiz was only a DH, his career WAR surpassed by 243 others throughout history (including 65 retired, eligible players who are not in the Hall of Fame). And yet Ortiz always felt like a Hall of Famer. What he meant to such a storied franchise, how he continually came through on the grandest stage, the way he helped define his era — Ortiz was so clearly That Guy. Add the 541 home runs, the .931 OPS and the 1,832 runs created, and it's obvious Ortiz put together a Hall of Fame career, even if it might get a little muddled with a positive test in the anonymous survey testing that took place 19 years ago. It should be this simple for — ahem — other candidates. And it shouldn't require congeniality.
Keown: I'll preface this by saying David Ortiz had a no-doubt, first-ballot Hall of Fame career, but this vote at this time is a big win for the power of personality. Ortiz's affability and post-retirement broadcasting gig helped pave the way for a first-ballot election. Given his link to PEDs and the general stingy nature of the current group of voters, it would have been a safer bet to assume that he would have to wait at least a year — if only on principle — to gain election.
Olney: He deserved it as one of the best postseason performers ever and as one of the most dominant hitters of his era. But the logic pretzels created by some of the writers in order to justify voting for Ortiz while not voting for others who have had reported links to PEDs were, well, amusing. Ortiz should have been a first-ballot, slam-dunk entrant into the Hall, but it seems apparent that his popularity and likability were difference-making.
Other than Ortiz, who is the biggest winner from this year's voting results?
Doolittle: Scott Rolen added enough support that he looks like a shoo-in, perhaps as soon as next year. So I'd give him the biggest winner nod for those under the threshold, just ahead of Andruw Jones and Todd Helton.
Gonzalez: I would lump Scott Rolen, Todd Helton and Andruw Jones all in together, because all three of them technically could — and, in my opinion, should — get in next year, with Barry Bonds, Roger Clemens, Curt Schilling and Sammy Sosa all coming off the ballot. Rolen (ranked 10th in career WAR among third basemen), Helton (2,519 hits and a .316 career batting average) and Jones (10 Gold Gloves, 434 home runs) each have at least five years remaining on the ballot and have made steady enough progress to make one believe they'll get in eventually.
Keown: It feels like any of the players in the 60% range with eligibility remaining — Todd Helton and Scott Rolen, primarily — will get a boost from the players who fall off the ballot this year. Historically, players who return to the ballot as the top vote-getters see their careers undergo a reconsideration that almost always works in their favor (Mike Mussina and Jack Morris, to name two). Without Barry Bonds, Roger Clemens and Curt Schilling taking up three spots on the majority of the ballots, Rolen and Helton are in a good place going forward.
Olney: Scott Rolen took a big jump forward in his voting percentage, in his fifth year of eligibility, making enough progress that it's apparent he will gain election some day
Who is the biggest loser from this year's voting results?
Doolittle: Gotta be Schilling. To drop so far from 71% in your next-to-last year on the ballot was both stunning and predictable, given the context.
Gonzalez: Omar Vizquel, who went from 49.1% of the vote last year — his fourth time on the ballot — to 23.9% this year. In December of 2020, after several ballots had already been completed, Vizquel's estranged wife detailed allegations to The Athletic about Vizquel physically abusing her, claims that Vizquel firmly denied. Eight months later came a civil action alleging Vizquel sexually harassed a batboy while he was managing the Chicago White Sox's Double-A affiliate, prompting the White Sox to formally terminate their relationship with Vizquel. His case isn't about inflated statistics or hateful comments, but of disturbing off-the-field behavior. He was looked at as a borderline Hall of Famer before all this became public, and it's clear now that the BBWAA will never enshrine him.
Keown: Alex Rodriguez, unsurprisingly, is primed to take over the role vacated by Bonds and Clemens. He will be the guy with the historic career who watches his vote totals inch up year after year as younger and more forgiving voters enter the process, but in the end, given the precedent set by Bonds and Clemens, he will be yet another victim of his own hubris. Had either of them made it in, Rodriguez would be deemed the biggest winner from this year's results.
Olney: The writers who chose to not vote for Barry Bonds and Roger Clemens for the Hall. Years from now, as the steroid era is increasingly viewed through a broader context, the selective rejection of two of the most accomplished players of all time — while other users have been honored — is going to look like silly, absurdly selective justice.
Barry Bonds, Roger Clemens and Curt Schilling are now off the ballot. Do you think they will eventually get in through the Hall of Fame's Today's Game committee — and, if so, when?
Doolittle: Yes, eventually. Bonds and Clemens might not live to see it happen, though. But time will soften the lens through which future committee members view their mitigating factors, to the point that it will seem absurd that players with those numbers should be absent from Cooperstown. I also strongly feel that the way PEDs will be looked at in the future will be very different from the way they are today. As for Schilling, it's hard to say without really knowing what his relationship is with former players and others in the game who make up the majority of those committees. I have to assume that relationship is better than what it is with most of the media.
Gonzalez: Brad, I'm almost certain you're right about that last point. The Today's Game committee is made up of 16 members — a mix of living Hall of Famers, executives and historians, with the voting body changing each time — and meets two out of every five years, with the next meeting coming in December 2022 and the one thereafter occurring in December 2024. Bonds, Clemens and Schilling can technically be considered in perpetuity; their chances would ultimately hinge on who makes up the voting body in a given year. But if there's one group that has been more stringent with PED users than BBWAA members, it's former players who stayed clean. In other words, I don't see Bonds or Clemens getting in any time soon.
Keown: The Today's Game committee, which is really Yesterday's Game committee, has historically taken up the causes of players whose contributions exceed their statistics. It tends to give greater weight to such factors as clubhouse presence and perceived clutch performances to offset statistical shortfalls. The PED era will change all of that; committee members will have the opportunity to look beyond those beloved intangibles and judge the players on their merits. All three will eventually make it, but it will feel somewhat bittersweet.
Olney: It's apparent that Bonds and Clemens will be inducted eventually through the vote of a special committee, because, over time, the general perspective of a lot of the living Hall of Famers has changed as some former players have died and that body evolves. They could be honored together, and their speeches will be must-watch.
Curt Schilling also will be inducted, some day. His performance during his career merits election.
What does just one player getting voted in a year after nobody got in say about the current state of the Hall of Fame voting process?
Doolittle: It needs to evolve. I still feel like we need more voters – writers, broadcasters, historians, analysts. Just more viewpoints. I also favor the idea put forth by Derrick Goold of the St. Louis Post-Dispatch, which is to simply take a yes/no count for each player on the ballot. If the player gets 75% in the yes category, he's in. For one thing, it would prevent future backlogs, where voters have to figure out how to use their 10 slots if they think there are more than 10 Hall-worthy candidates.
Gonzalez: That the BBWAA is twisting itself in knots trying to measure morality on an issue it can't come close to fully comprehending. Many have made the point that there are probably PED users presently in the Hall of Fame, and it is a wholly valid one. Deciphering who used what and how it impacted their careers in an era when the sport failed to properly police the issue is a flawed process that has produced a litany of inconsistencies. Players should be judged within the circumstances of their era. The BBWAA at large has not done that.
Keown: That it is arbitrary and doesn't always make sense, even when the voters get it right. This year's ballot was filled with Hall of Fame careers, but most were compiled during the height of the PED era. At this point, it's clear that a large chunk of that era will go unrecognized — or at least un-enshrined — in the Hall of Fame. It's been my contention that players who are deemed eligible to be on the ballot, PED stain or not, should be judged solely by their performance on the field. In other words, the writers should stop being baseball's morality police — and, please, stop engaging in the cap-size/muscle mass guessing game — and let the game deal with its history. There are undoubtedly steroid users who have avoided detection and speculation well enough to gain entry to the Hall, and the idea that an entire era can be policed retroactively and speculatively doesn't feel sustainable.
Olney: This reflects continued confusion among the writers about how to handle the steroid-era candidates. Barry Bonds and Roger Clemens may go off the ballot next year, but Manny Ramirez, Alex Rodriguez and others linked to PEDs will remain for years to come – and year after year after year, the writers will effectively define the theoretical morality of the Hall, rather than simply report on it. It's not a comfortable place for any journalist to be.
Which one player's vote total is most surprising to you?
Doolittle: It's at the back end of the ballot, where Joe Nathan got little support. I've written about how deserving I see Billy Wagner as a candidate, mostly because if we are going to put relievers in the Hall of Fame (we have and we do) then I don't see how he's not above the line of a Hall-worthy reliever. I have focused on Wagner because he's already in his seventh year on the ballot. Nathan was in his first, so you would have hoped there would be plenty of time to make his case. Most of the arguments you can make about Wagner you can make about Nathan. I feel like voters just overlooked Wagner completely.
Gonzalez: Alex Rodriguez. If one would have made the case that the BBWAA has softened on PED users, A-Rod can now be presented as a counter. When Roger Clemens and Barry Bonds debuted on the ballot in 2013, they received 37.6% and 36.2% support, respectively. Rodriguez (34.3%) got even less than that nine years later, even though his career stats were almost as cartoonish.
Keown: Let's go with two: Curt Schilling and Jeff Kent: When Schilling informed the world he no longer wished to be considered, I expected his totals to crater, and he still got a majority of the votes. Kent is an odd case: During his career, I never thought I was watching a Hall of Fame player, but his achievements — most homers by anyone at his position, an MVP, nearly 2,500 hits — are the type that usually draw more than 30% of the vote. The difference in vote totals between Scott Rolen and Kent seems outsized compared to their respective careers.
Olney: The low vote total for Sammy Sosa. No one should be naive about what happened during the steroid era, and how many players used, but it is really interesting that the writers applied a very, very different standard to Sosa — who was never suspended for PED use — than other players who have already been inducted.
Based on this year's results, do you think anyone will get in on next year's ballot?
Doolittle: Scott Rolen has a good shot. After that, we'll see. Andruw Jones and Todd Helton will get a lot of scrutiny from analysts in the build up to the vote, and it will be very interesting to see how much of a 2017 Astros penalty Carlos Beltran will have to pay in his first year on the ballot.
Gonzalez: Carlos Beltran has a legitimate shot, but his involvement now means we will replace parsing the use of steroids with parsing the prevalence of sign stealing. Yaaay. The fact Scott Rolen, Todd Helton and Andruw Jones don't have any of the aforementioned baggage makes me wonder if all three might actually get in next year. The last time the BBWAA voted three non-first-timers into the Hall at once was 1984, so it's probably a long shot.
Keown: The Rolen train has been steadily accelerating over the past few years, and I think it's fair to expect it to reach its destination next year. It feels like Helton – and possibly Andruw Jones, the best player of the three – is on the same trajectory, but he'll have to wait at least another year for the momentum to build to 75 percent.
Olney: Scott Rolen and Andruw Jones – who have the clear support of the analytic community – may be making speeches in Cooperstown next year.
Former Boston Red Sox slugger David Ortiz lone inductee into Baseball Hall of Fame as Barry Bonds, Roger Clemens miss again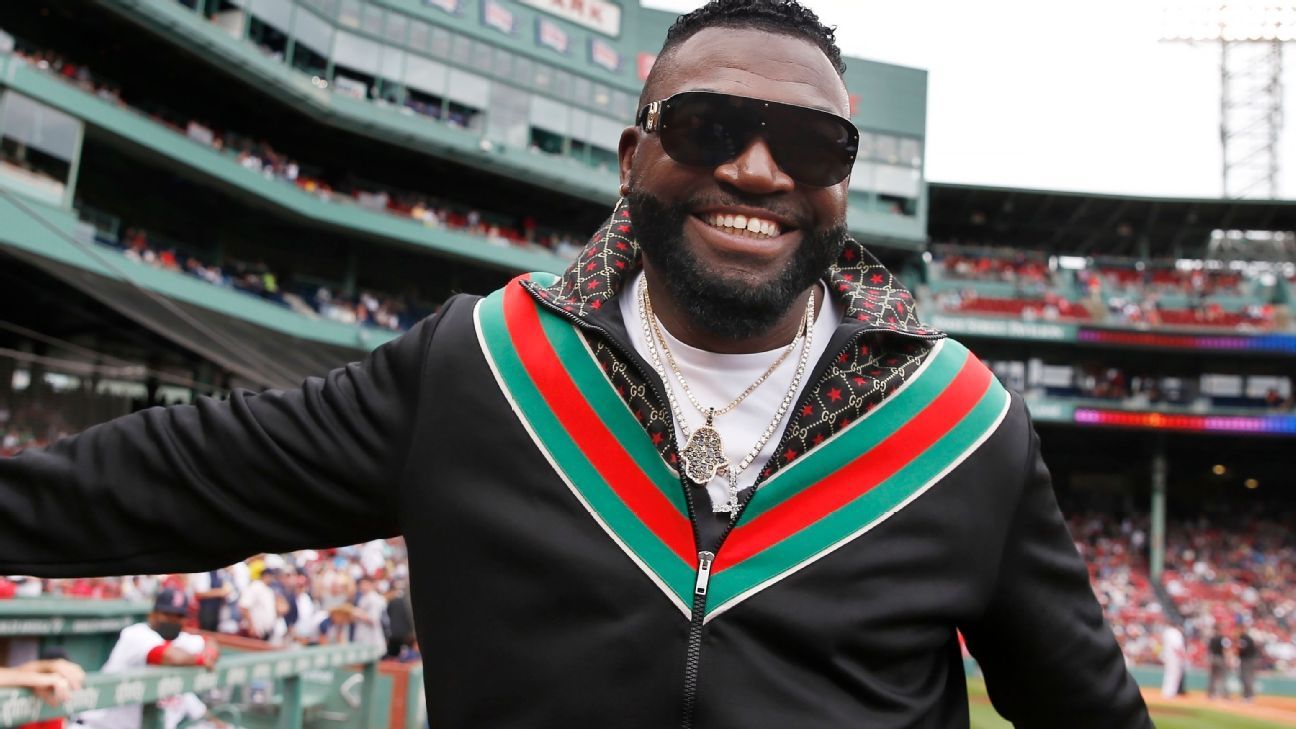 With the process still tainted by the steroid era, David Ortiz was the lone player to gain induction to the Baseball Hall of Fame this year, while players like Barry Bonds and Roger Clemens were shut out.
"Big Papi" was the only player to clear the 75 percent threshold for induction, according to results of this year's voting by the Baseball Writers' Association of America. Ortiz was named on 307 ballots (77.9 percent) in his first year of eligibility.
"I am truly honored and blessed by my selection to the Hall of Fame — the highest honor that any baseball player can reach in their lifetime," Ortiz said in a statement released by the Boston Red Sox. "I am grateful to the baseball writers who considered my career in its totality, not just on the statistics."
Bonds, baseball's all-time home run leader (66 percent), 354-game winner Roger Clemens (65.2 percent), 600-homer-club member Sammy Sosa (18.5 percent) and longtime ace pitcher Curt Schilling (58.6 percent) were in their 10th and final year of eligibility in the annual BBWAA balloting.
Bonds, Sosa and Clemens have gone from posters on fans walls to the poster boys for the performance-enhancing drug era. From court dramas to testimony in front of Congress, their PED histories have been well documented. Based on their baseball contributions, they are sure-fire first-ballot Hall of Famers, but voters prefer that they remain in the PED shadows.
Ortiz is a different story, despite his own PED suspicions. A 2009 New York Times story reported that Ortiz was among 104 players who tested positive for performance-enhancing substances during a round of tests conducted in 2003. Those results were supposed to remain confidential and were done to see if the league had reached a threshold to conduct regular testing.
Ortiz has long denied that he used banned substances, and in 2016, commissioner Rob Manfred said the tests in question were inconclusive because "it was hard to distinguish between certain substances that were legal, available over the counter, and not banned under our program."
Manfred added that during subsequent testing Ortiz "has never been a positive at any point under our program."
As for the last-chance candidates, Sosa's support never approached the threshold for election, but the cases of Bonds and Clemens were more divisive among the selectors. Both climbed over the 50 percent mark in 2017 only to see their support plateau in recent seasons.
"My family and I put the Hall of Fame in the rear view mirror 10 years ago. I didn't play baseball to get into the Hall of Fame. I played to make a generational difference in the lives of my family, then focus on winning championships while giving back to my community and the fans as well," Clemens said in a statement. "It was my passion. I gave it all I had, the right way, for my family and for the fans who supported me. I am grateful for that support."
The case of Schilling was an outlier in the history of the voting, as most candidates who have reached the 70 percent mark in the voting have eventually been elected. Schilling's on-field case is strong, with 216 career wins and three World Series titles, and his percentage climbed above 70 percent in the balloting in both 2020 and 2021.
However, a history of incendiary comments and social media posts appear to have been Schilling's undoing. Those included a since-deleted 2016 tweet in which Schilling appeared to endorse the lynching of journalists. After he fell short last year, Schilling released a statement asking to be removed from the ballot.
The Hall decided against removing Schilling, but nevertheless his support waned in his final season of eligibility, as he dropped to fifth overall in the final tally.
The hotly debated cases for Bonds, Clemens, Sosa and Schilling will move to a new arena: the Hall of Fame's Today's Game era committee, The Hall's era committees are comprised of players, executives and media who are charged with evaluating overlooked candidates. The Today's Game committee is next scheduled to convene during the 2022 winter meetings in a few months.
Among first-time eligibles on this year's ballot, All-Star infielder Alex Rodriguez received just 34.3 percent of the vote despite a dazzling career that saw him finish with 696 home runs and 2,086 RBI, totals which both rank fourth all-time in their respective categories. Rodriguez was suspended for the entire 2014 season for violating baseball's policy against performance-enhancing drugs.
Phillies shortstop Jimmy Rollins (9.4 percent) was the only other first-time eligible beyond Ortiz and Rodriguez to draw enough support to remain on the ballot.
Longtime third baseman Scott Rolen finished with 63.2 percent, which was fourth overall in the final rundown. Rolen's support has steadily increased in recent years, putting him in an excellent position to be selected perhaps as soon as the next cycle of balloting. Others who received at least 50 percent support included first baseman Todd Helton (52 percent) and closer Billy Wagner (51 percent).
Ortiz, widely known for his gregarious personality and endearing nickname, became the second career designated hitter to be selected via the writers' balloting. Seattle Mariner great Edgar Martinez became the first when he was elected in 2019. A member of three World Series-winning teams in Boston, Ortiz hit 541 career home runs and added 17 more while putting together a celebrated postseason resume.
"For a young boy from Santo Domingo, I always dreamed of playing professional baseball," Ortiz said through the Red Sox. "Thanks to the encouragement of my father, Leo, and my mother, Angela Rosa, I knew from my earliest days at Estudia Espaillat High School in the Dominican Republic that I had the opportunity to pursue my dream of playing in the big leagues."
Ortiz will become the second Hall of Famer from 2004 Red Sox, who famously broke Boston's 86-year championship drought by winning that season's World Series, joining pitcher Pedro Martinez.
"We broke the curse and then got two more championships before I retired in 2016," Ortiz said in the statement. "What a sweet and beautiful journey it has been."
Ortiz will enter the Hall during the induction ceremony at the Clark Sports Center in Cooperstown, N.Y., on July 24. He will join six players selected by a pair of era committees last month, including Brooklyn Dodgers great Gil Hodges, Twins slugger Tony Oliva, longtime White Sox star Minnie Minoso, pitcher Jim Kaat, Black baseball pioneer Bud Fowler and Negro League legend and ambassador Buck O'Neil. All but Ortiz, Kaat and Oliva will be honored posthumously.
In addition, late broadcaster Jack Graney will be honored as the Ford C. Frick award winner for excellence in broadcasting, while ESPN's Tim Kurkjian will be recognized as this year's winner of the BBWAA Career Excellence Award for meritorious contributions to baseball writing.
With Ortiz standing as the lone winner from this year' BBWAA balloting, the writers have now elected just one player total over the last two cycles. The sudden drought comes on the heels of a fertile period for inductees, which saw the writers select 22 players during the period from 2014 to 2020.