Rams QB Matthew Stafford throws for 3 TDs in win over former Lions team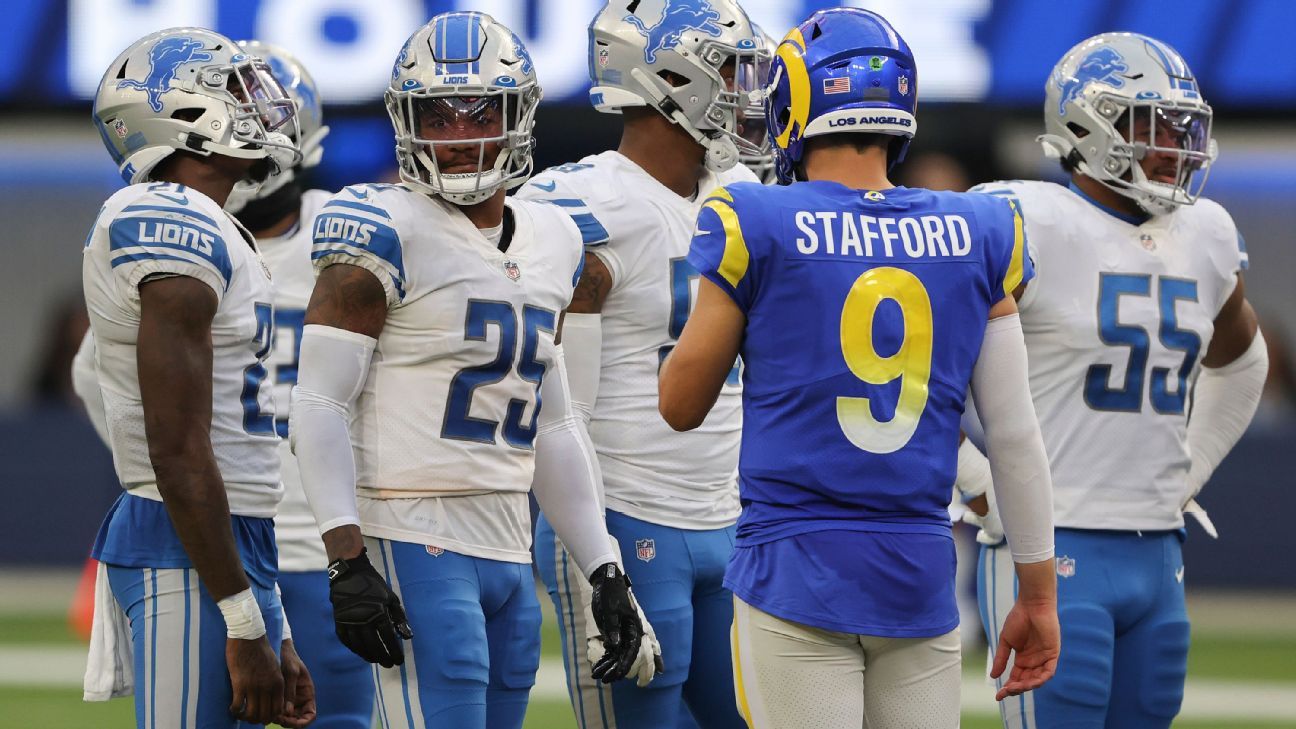 INGLEWOOD, Calif. – Matthew Stafford has known since the NFL schedule was released more than five months ago that a matchup against the Detroit Lions, his former team of 12 seasons, loomed. However, the Los Angeles Rams quarterback said it wasn't something he focused much attention on.
However, on Sunday, after the Rams defeated the Lions 28-17, Stafford expressed relief that he could finally put the reunion behind him.
"Am I happy it's over with? Yeah," said Stafford, who requested a trade from Lions ownership after last season. "Got a lot of great friends, got a lot of people I care about that are on that team or from that city and just glad to have this one over with. Can put the storylines away and just go out and play football the rest of the year and just enjoy it."
Rams coach Sean McVay and Goff can also move on from the saga that has surrounded their relationship following last January's blockbuster trade that brought Stafford to L.A. and sent Goff, two first-round picks and a third-round pick to Detroit.
After shaking hands with Lions coach Dan Campbell postgame, McVay searched among a crowd of players before he finally tracked down Goff, his quarterback of four seasons, and the two embraced.
McVay initially declined to share what was said, but eventually relented. "I said, 'Great job, I'll touch base with you a little bit later on.'"
Goff sidestepped a similar question posed about his interaction with McVay and responded more generally about seeing former teammates.
"Just a lot of guys saying good job and me echoing that to them," Goff said. "That's pretty typical of postgame, just 'good job' and 'appreciate it.' That was pretty much it."
The Rams played a tribute video for Goff ahead of kickoff, thanking the former No. 1 overall pick for his five seasons in Los Angeles that included two division titles, an NFC championship and a Super Bowl appearance.
With the victory, the Rams improved to 6-1 and the Lions fell to 0-7 to remain the only winless team in the NFL.
The day began on somewhat emotional terms for Stafford, as the often stoic quarterback described arriving at SoFi Stadium amid a scene of Detroit fans wearing his No. 9 Lions jersey.
"It was humbling. It was really nice to see," Stafford said. "Thought to myself that was pretty cool, I really appreciate it. I've said it a bunch of times and I truly mean it: I loved my time there."
Lions owner Sheila Ford Hamp was among the Detroit personnel Stafford greeted before the game.
Rams and Lions fans, of which there were many among the announced crowd of more than 70,540, erupted into cheers in the second quarter when Stafford completed a 2-yard pass to receiver Cooper Kupp and the stadium announcer congratulated Stafford on completing his 300th career touchdown pass.
Stafford becomes the 13th quarterback in NFL history to reach the milestone, while being the fourth youngest at the time behind Peyton Manning, Dan Marino and Brett Favre. Stafford also tied John Elway for the 12th-most touchdown passes in NFL history.
"It means a little bit," Stafford said, smirking, when asked what it meant to be in the same realm as Elway. "I grew up watching John and it was huge. I wore No. 7 in high school and college because of John and was a huge fan of the way he played the game, the way he threw the ball, all of that. It's pretty cool, I'm sure I'll appreciate it more when I'm done playing, but along the way it's nice to get that done with a win."
Despite watching the majority of the first quarter from the sideline after a series of special teams gaffes, Stafford finished 28-of-41 passing for 334 yards and three touchdowns.
The Lions closed as 16.5-point underdogs entering the game, but kept it surprisingly competitive behind three special teams plays — including a recovered onside kick and two fake punts that led to conversions. In fact, the Lions went into the fourth quarter with a 19-17 lead and were in position for a go-ahead touchdown with 5:03 to play until defensive lineman Aaron Donald hit Goff as he launched a pass into the end zone that cornerback Jalen Ramsey picked off. The Rams kicked a field goal on the ensuing possession to secure the win.
Detroit failed to score on five red zone trips. Goff finished 22-of-36 passing for 268 yards and a touchdown with two interceptions.
The Lions have dropped two games this season on last-second, 50-plus-yard field goals and have now lost despite playing close with a Super Bowl-hopeful Rams team on the road.
Goff said their record doesn't reflect their effort.
"We're a lot better than our record shows. Ultimately in this league that doesn't matter," Goff said. "It really doesn't. I can say that as long as I want, but until we win some games, we can't really prove it."
Kansas City Chiefs fans, in nod to Bills Mafia, donate $255,017 to Buffalo children's hospital
BUFFALO, N.Y. — Just days ago, the Kansas City Chiefs handed the Buffalo Bills one of the most heartbreaking losses in franchise history.
Chiefs fans, inspired by the fundraising spirit of Bills Mafia, have decided to turn their team's big overtime win Sunday into a positive for the Buffalo community, raising $255,017 for Oishei Children's Hospital in Buffalo as of late Wednesday afternoon, per the hospital.
Beginning Tuesday, donations in increments of $13 began being sent to the hospital from Chiefs fans in honor of the 13 seconds it took for the Kansas City offense to drive down the field to tie the divisional-round playoff game at the end of regulation. The Chiefs went on to win 42-36 on the first drive of overtime.
The original idea from a Chiefs Kingdom Facebook group was to donate in $13 increments to quarterback Patrick Mahomes' charitable organization, the 15 and the Mahomies Foundation. That changed when Chiefs fans heard more about the Bills fans' tradition of giving back to other teams; they instead direct their efforts to their opponent's charity of choice.
The Oishei Children's Hospital became closely connected with Bills quarterback Josh Allen after fans donated in $17 increments, totaling $1.1 million, in honor of Allen's grandmother, Patricia Allen, who died last year. There is now a Patricia Allen Pediatric Recovery Wing in the hospital and the Patricia Allen Fund to benefit the critical care team and provide support for equipment, training, education and programs.
One of the most noteworthy examples of the Bills fans' tradition came in 2017 when Cincinnati Bengals quarterback Andy Dalton and wide receiver Tyler Boyd connected for a game-winning touchdown over the Baltimore Ravens that led to the Bills clinching a playoff berth for the first time in 17 years.
In $17 increments, fans raised $442,000 for the Andy & Jordan Dalton Foundation. This year, Bills fans have led donation efforts in honor of cornerback Tre'Davious White tearing an ACL, giving back to the Food Bank of Northwest Louisiana in his hometown, among others.
Last year, Bills fans donated to Ravens quarterback Lamar Jackson's foundation after a playoff win over the Ravens.
While 13 seconds likely will never again have a positive association in Buffalo, fan bases turning a tough ending into a positive for a different community is an uplifting tradition.
Cleveland Browns QB Baker Mayfield taking break from 'all social media for foreseeable future'
CLEVELAND — As he recovers from shoulder surgery, Cleveland Browns quarterback Baker Mayfield plans to rest his thumbs as well.
Mayfield said he's going to take a break from "all social media for the foreseeable future."
Ironically, the polarizing QB went on his Instagram page Wednesday to announce his hiatus from tweeting and posting.
"Gotta do what's best to focus on me, my family and loved ones," Mayfield wrote. "Appreciate all the support. Time to get right."
Mayfield concluded his message by also including a contact for anyone making business or marketing inquiries.
Mayfield recently concluded a dreadful, injury-filled fourth season with the Browns, who were among the NFL's most disappointing teams. Cleveland went 8-9, missed the playoffs and dealt with drama, much of it involving Mayfield.
Late in the season, Mayfield went on Twitter to dispel a story about issues between him and coach Kevin Stefanski. He called the report "clickbait" and added that "many other Cleveland local media continue to be drama stirring reporters with no sources or facts."
Mayfield's wife, Emily, also used her Twitter platform to claim he received death threats. Mayfield downplayed those and described his attackers and critics on social media as "keyboard warriors."
The 26-year-old Mayfield injured his left, non-throwing shoulder in Week 2 while trying to make a tackle and struggled all season. He recently underwent surgery in Los Angeles for a torn labrum and is expected to need more than four months to recover.
The team said he should begin light throwing in April.
Following the season, both Stefanski and Browns general manager Andrew Berry publicly supported Mayfield by saying they believe he will bounce back next season as their starter. However, it's likely the team will at least explore other options at quarterback during this offseason.
Mayfield is under contract next season for $18.9 million after the team exercised his fifth-year option.
Baltimore Ravens targeting Michigan Wolverines' Mike Macdonald to be new DC
The defensive coordinator who keyed Michigan's dramatic turnaround in 2021 is on the cusp of heading back to the NFL.
The Baltimore Ravens have targeted Michigan defensive coordinator Mike Macdonald, a former Ravens assistant, to be John Harbaugh's next defensive coordinator, sources told ESPN.
A deal is expected to be finalized in the upcoming days, according to sources. Macdonald has been replaced on the road recruiting by a graduate assistant coach, Dylan Roney, in preparation for his departure.
The Detroit Free Press first reported that the Ravens were targeting Macdonald.
This comes after Macdonald stabilized a defense that keyed a one-year turnaround for Jim Harbaugh at Michigan, as the Wolverines went from 2-4 in 2020 to the College Football Playoff and a 12-2 record this past season.
Michigan's scoring defense under Macdonald improved from No. 95 in 2020 with 34.5 points per game to No. 8 with 17.4 ppg. Michigan went on to beat Ohio State for the first time since 2011 and win the Big Ten for the first time since 2004.
Macdonald's hire at Michigan proved to be one of the most impactful in all of college football last season. His schemes helped eliminate Michigan's propensity to give up big plays under former defensive coordinator Don Brown. Under Macdonald, the Wolverines yielded 100 yards less per game in 2021, an average of 330.8 after giving up 434.3 the prior season.
Macdonald also helped launch the Heisman candidacy of defensive end Aidan Hutchinson, who finished as a finalist for the award after finishing with 14 sacks and two forced fumbles.
Macdonald, 34, would become the youngest defensive coordinator in the Ravens' 26-year history. Before leaving for Michigan last year, Macdonald spent seven years in Baltimore (2014-20), joining the Ravens in 2014 as an intern. He was Baltimore's inside linebackers coach for three seasons (2018-20) and was considered the heir apparent for the Ravens defensive coordinator position before leaving for Michigan.
The Ravens fired Don "Wink" Martindale on Friday after the sides were unable to agree on a contract extension through 2023, a source said. Under Martindale, the Baltimore defense ranked in the top 10 in three of four seasons.
Macdonald would take over a Ravens defense that finished No. 25 in the NFL last season. That was Baltimore's worst defensive ranking since it was 25th in 1997.
In 2018, Macdonald interviewed for the Ravens defensive coordinator position that eventually went to Martindale. Now, four years later, it appears Macdonald will get his chance to step into that role.