No Russell Wilson, bad defense and 2-4 start — Seattle Seahawks coach Pete Carroll faces toughest challenge
RENTON, Wash. — Matt Hasselbeck remembers seeing it everywhere, hearing it everywhere: seven and nine.
It was the end of the 2010 regular season, coach Pete Carroll's first with the Seattle Seahawks and Hasselbeck's last as Seahawks quarterback. They had just beaten the St. Louis Rams in Week 17 to claim the NFC West title and become the first team in the Super Bowl era to win its division with a sub.-500 record.
To the dismay of many NFL observers, that meant a first-round meeting with the New Orleans Saints, who had earned a wild-card bid at 11-5 after winning the Super Bowl the previous season. Talking heads groaned that a 7-9 team didn't deserve to win its division, let alone host a playoff game.
What's more: the Saints had beaten the Seahawks by two touchdowns in New Orleans two months earlier.
"So we knew how good they were," Hasselbeck, now an analyst at ESPN, recalled this week. "They were really good, and we knew we were 7-9."
Until Carroll got them to believe they weren't.
"Seven and nine was everywhere and Pete's slogan was, 'We are not 7-9. We are zero and zero. And guess what everyone else is? Zero and zero,'" said Hasselbeck, who will be inducted into the Seahawks' Ring of Honor when they host New Orleans on Monday night (8:15 p.m. ET, ESPN) as 4.5-point underdogs.
"Whether we were naïve to believe it or not, we thought we were zero and zero. We were not 7-9. We were zero and zero, just like everyone else. We believed it. We were in. He had us so focused on it. Maybe we were suckers, but we loved it. We were in on it."
Eleven years after his team pulled off one of the greatest playoff upsets in NFL history, Carroll has another improbable task in front of him. The Seahawks are 2-4, 4½ games behind the division-leading Arizona Cardinals and 3½ behind the second-place Los Angeles Rams. They have a suspect defense and a backup quarterback in Geno Smith for at least two more games, while Russell Wilson recovers from finger surgery.
Carroll has faced his share of difficult coaching challenges in Seattle: rebuilding on-the-fly in 2010, avoiding the pitfalls that can follow a Super Bowl win, managing the fallout of their devastating Super Bowl loss to the New England Patriots, moving on from the Legion of Boom in 2017 and 2018 and turning around a historically bad defense in 2020.
What makes this obstacle different from most of those: Carroll doesn't have Wilson.
"It's a challenge," he said. "I've got to lead the charge, and I'm going to kick ass on that."
'It's a very similar feeling'
Carroll's unwavering optimism, even in the face of dire situations, is rooted in regular assurances he used to get from his mother. Rita Carroll's oft-repeated line to her children was that "something good is about to happen."
Linebacker Bobby Wagner believes something good is about to happen.
Seattle's defensive captain is one of three players — Wilson and wide receiver Tyler Lockett are the others — left over from the 2015 Seahawks' team that started 2-4. It finished 10-6, earned a wild-card bid and advanced to the divisional round after Minnesota Vikings kicker Blair Walsh missed a chip-shot field goal in sub-zero Minneapolis.
"I remember everybody on the outside saying our season was over and saying that we had no chance of being good," Wagner recalled of that 2-4 start. "And I remember us just locking in and focusing. It's a very similar feeling. I feel like when you watch the games and watch some of the things that we've done, I feel like we're very close and I feel like it's not like we're not getting better.
"I'm very confident in the guys that we have. I'm confident that we're just a couple plays away, just a couple minor tweaks away from being a team that I know we can be. So we've just got to lock in. There's no more room really for error for us to … figure these things out."
That 2015 team had the Legion of Boom leading the league's top-ranked scoring defense. And it had Wilson, the quarterback who's led more game-winning drives in the fourth quarter or overtime than anyone since 2012, the guy who has masked so many of his team's flaws in its post-Super Bowl years, the primary reason why you can never count the Seahawks out.
This team has a defense that showed improvement last week in an overtime loss to the Pittsburgh Steelers but has mostly underperformed while allowing the most yards in the NFL through six games. It has a good backup in Smith, who filled the role of game manager well while rallying Seattle from a 14-0 deficit before losing a fumble in OT.
It's Smith's job for at least two more games, when Wilson will be eligible to come off injured reserve. Carroll has given no timetable on his quarterback's return, saying if it's physically possible for Wilson to play in Week 10 at Green Bay following Seattle's bye, he will.
"I definitely feel like we understand what's at stake," Wagner said. "It's important for guys like myself, Russell to make sure the young guys understand that we have been in this position before. Just because we started 2-4, it doesn't mean that has defined our season. The season is very long. I'm confident that after these two games, the bye week, we'll be sitting in a very good position."
'How do we fix this?'
Carroll, who turned 70 last month, is under contract through 2025 after signing an extension last season. Hasselbeck believes that's an important distinction from the dynamic that struggling teams often face.
"Usually in a situation where you're on the quote-unquote hot seat or you're having one of those terrible years, people are all concerned about their own jobs and it's more about covering your own butt for your own job than it is about getting it fixed for real," he said. "I think the nice thing if you're rooting for Seattle is there's job security in a big way there. There's no question about … that kind of thing. So the focus will be on how do we fix this? Similar to last year when everyone was losing their minds on talk radio."
Hasselbeck was referencing their defensive turnaround, when they went from setting records for futility early to allowing the fewest points in the NFL over the last seven weeks.
"Pete didn't really flinch," Hasselbeck said. "He just got it fixed basically."
Now, the issues are on both sides of the ball. The NFC West is stacked. Wilson is sidelined. And the stakes are raised given the uncertainty about Wilson's future in Seattle beyond 2021.
Carroll and the Seahawks need something good to happen in a hurry.
He pointed to how his players rallied in Pittsburgh as evidence of how they'll handle such an unfamiliar challenge.
"There's no choice," he said after the Steelers' loss. "Fortunately, we come back on Monday night. We get an extra day. But there are no options. We've got to come back and freaking battle. That's how we do it."
How Lee Evans moved past his devastating failed catch 10 years ago – Baltimore Ravens Blog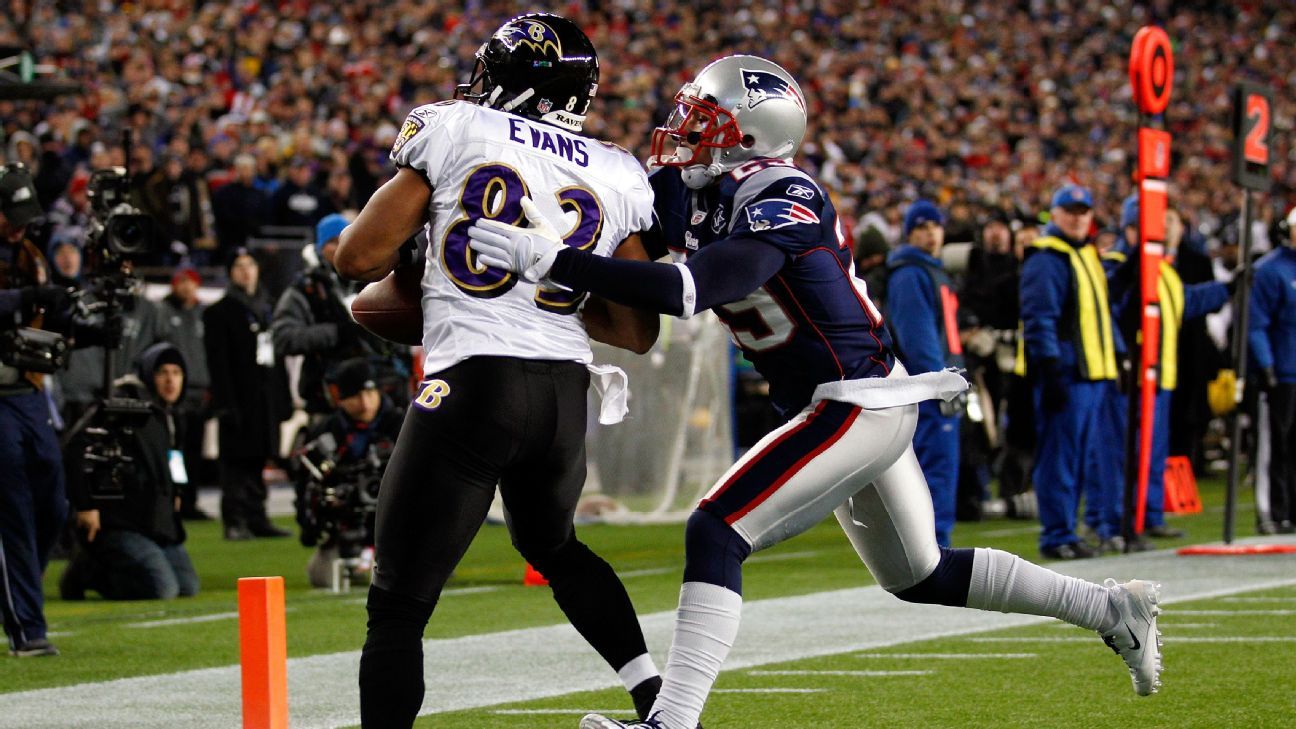 Lee Evans has long moved on from one of the biggest playoff gaffes in NFL history, although the former Baltimore Ravens wide receiver hasn't moved far from Baltimore.
Evans, 40, lives a one-hour drive away in Northern Virginia, where he is busy investing in real estate and coaching his 13-year-old son in football, basketball and baseball. As a coach, one of the lessons Evans teaches comes from the lowest point of his eight-year NFL career.
"It's not necessarily about what happens to you, it's how you react to it," Evans said. "I think the biggest thing, when you're talking to kids, is letting them know that it's OK to fail, and you're going to fail. It's going to happen. So if you can't rebound from it, you probably won't go very far in anything."
It was 10 years ago on Saturday — Jan. 22, 2012 — when Evans failed to hold onto a potential winning touchdown catch in the waning seconds of the AFC Championship Game and cost the Ravens a trip to the Super Bowl. The 23-20 loss to the New England Patriots was sealed when Billy Cundiff's 32-yard field goal attempt sailed wide left with 15 seconds left.
He has second-guessed what he could've done better to not let cornerback Sterling Moore slap the ball away from his grasp in the end zone, but Evans doesn't obsess. He's not haunted by the fact that the final pass thrown to him resulted in this dreadful moment in Foxborough, Massachusetts.
• Full bracket, schedule and format »
• First look at the divisional round »
• Wild-card weekend overreactions »
• See more playoff content »
"I feel like I could have been stronger with the catch, but yeah, for a DB, that's what they want to do," Evans said. "They want to get their hands on the ball and knock it out. And he did a good job of doing that."
Evans still loves football. He took his son to last Saturday's playoff game in Buffalo. Lee Evans IV is a Buffalo Bills fan because he was born in Buffalo, where his father caught 377 passes from 2004 to 2010.
The elder Evans still loves the Ravens. He has attended one game at M&T Bank Stadium a few years ago, and he believes his youngest son, 3-year-old Lyndon, will grow up to be a Ravens fan.
He still loves visiting Baltimore. He lived in the city a year after being cut by the Ravens, and he's been making frequent trips there recently to look at real estate properties.
Every now and then, Evans does get recognized.
"There hasn't been any type of issue," he said. "It was all in good support."
Evans has always been grateful for the support he received from his teammates after the game, even to this day. He recently reconnected with Hall of Fame middle linebacker Ray Lewis through a mutual friend.
"He put us on a text, and my heart just smiled," Lewis said. "I said it then: 'One guy does not win or lose a game, a team wins and loses games, right?' And yeah, one moment that it didn't go the way he would've wanted it to go, that it is what it is. But as a brother, I loved him more. I love him more now."
A decade ago, Evans stopped Lewis as he was boarding the bus outside Gillette Stadium. Evans knew the 36-year-old linebacker might never get a chance at getting to the Super Bowl again, and he wanted to apologize. But Lewis stopped him.
"People say it all the time, 'Oh, he should have made that catch,'" Lewis said. "I know a lot of tackles I should have made. I know a lot of things we should have done. He was one of the reasons why we was in the AFC Championship. Let's make that loud and clear. And so as a brother, I'm proud of him. I'm proud of him that he's kept himself together and he's living a really good life."
After that game, Evans asked someone from public relations to get him a picture of his failed catch. He wanted it to serve as a constant reminder to keep pushing. For a while, the photo hung on a wall in his home.
That pic captured Evans' final NFL game. After getting cut by Baltimore, he signed with the Jacksonville Jaguars, but he was released early in training camp.
Many of Evans' teammates with the Ravens received a second chance, and they capitalized on it. Baltimore exacted some revenge in winning in New England in the AFC Championship Game the following season and then beat the San Francisco 49ers in the Super Bowl.
Evans was cheering the Ravens along the way.
"I knew who that team was and the potential that it had," Evans said. "So whether I'm on that team or not, seeing what it was made up of, it was great to see them get over that hump. I was really, really happy for those guys because it was a special group of guys, for sure."
Evans heard that the failed catch was talked about in Tom Brady's "Man in the Arena" series on ESPN, and he plans on watching it. He can't remember the last time he thought about the play before this.
"It's not really on my mind a whole lot," Evans said. "I mean, obviously when you go to games and you're watching football and you see things happen, you think back to when you played. But it's not really something that I think about constantly or dwell on."
NFL divisional round – Could cold be a factor for San Francisco 49ers vs. Green Bay Packers playoff game?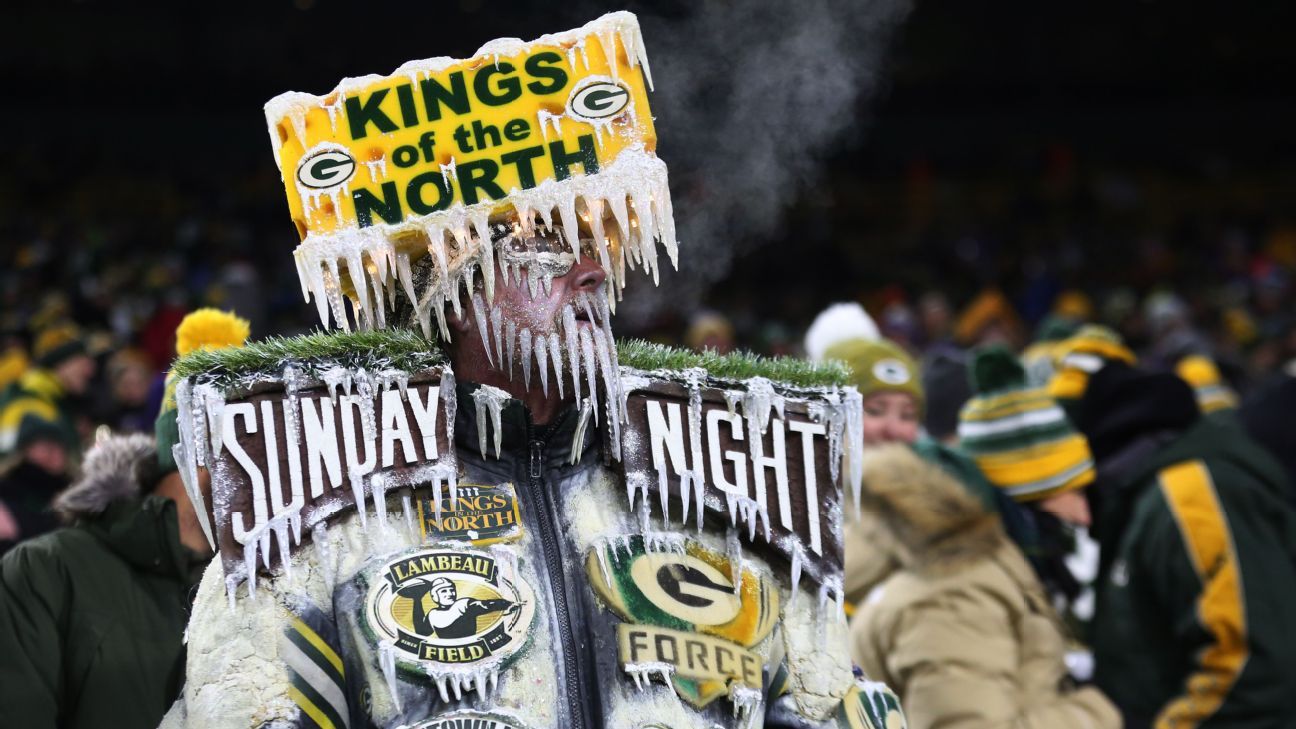 GREEN BAY, Wis. — For much of their storied history, the Green Bay Packers were unbeatable at home in the postseason.
The Packers, buoyed by the minuscule temperatures of the "frozen tundra," won each of their first 13 playoff games at Lambeau Field. Some of that mystique has worn off since the Packers suffered their first home playoff loss to the Atlanta Falcons in 2003, as they have gone 7-6 since the undefeated start.
Green Bay's next chance to win a home playoff game comes Saturday night in the NFC divisional round when quarterback Jimmy Garoppolo and the San Francisco 49ers visit Lambeau for the first time in the postseason since Jan. 5, 2014.
Whether weather really matters in a game such as this was a popular topic this week as the Niners prepared for the Packers. That was especially true for Garoppolo, who, according to ESPN Stats & Information research, has not thrown a pass in an NFL game with kickoff temperatures below 40 degrees.
By kickoff Saturday night (8:15 p.m. ET), the temperature, according to weather.com, is expected to be around 10 degrees and dropping through the evening, though it's not likely to make the top 10 list of the coldest games. For point of reference, the last time the 49ers played a playoff game in Green Bay, the kickoff temperature was 5 degrees.
Since 2014, 101 quarterbacks have started a game with kickoff temperatures below 40 degrees, which means this will be Garoppolo's first, at least in the NFL. Not that he's too concerned about it.
"I've lived in it my whole life, so there's just different ways [to get ready for it]," Garoppolo said. "I think people who have grown up in it and played in it for a long time, there's ways to prepare for it, things that you kind of know going into it. I think our team, we have a good mindset going into this thing and we know what it's going to be like on Saturday, so it'll be a hell of an atmosphere."
Before Saturday, the closest Garoppolo has come to throwing a pass in what is loosely defined as a "cold weather" NFL game was during his time as the backup to Tom Brady with the New England Patriots. The Patriots had 13 games with a kickoff temperature below 40 degrees during his tenure, but he played only three snaps in those games, all of which were kneel-downs.
Despite that, Garoppolo is no stranger to playing football in cold weather. He grew up in Arlington Heights, Illinois, just three hours from Green Bay, and spent his high school and college (Eastern Illinois University) careers regularly playing in the cold. Most recently, that included a pair of FCS playoff games in 2013 that had an average low of 8 degrees on those days. Garoppolo threw for 561 yards, five touchdowns and an interception in those contests combined.
On the other side, Packers QB Aaron Rodgers is 34-12 since 2014 in games played below 40 degrees. His playoff record for such games is 4-1.
Of more importance for Garoppolo is how the weather affects his injured right (throwing) thumb and shoulder. He has a torn ligament in the thumb and a sprained shoulder. The cold combined with those two injuries could affect Garoppolo's ability to grip the ball and will be worth watching when he takes hits.
Garoppolo suffered the shoulder injury last week against the Dallas Cowboys and said it had an impact on every throw he made after it happened, not unlike the searing pain he feels in his thumb after any throw.
"It's a shoulder injury, so any type of throw you're going to feel it and it's going to change things," Garoppolo said. "It's just similar to when I was first dealing with the thumb, my body's just learning and I have to adapt to it."
As for the rest of the 49ers, the thought of cold weather doesn't seem to faze them much. Coach Kyle Shanahan acknowledged that he doesn't "do well" in cold but said it's up to individual players on how to handle it themselves, whether that means wearing long sleeves, long underwear or whatever else is available to try to keep warm.
"The weather is cold out there, but that's no reason to affect a game," Shanahan said. "Wind is a much bigger factor. Rain is a bigger factor."
Tight end George Kittle harked back to 2013, when he was at Iowa and the Hawkeyes played Michigan on a day that was minus-28 degrees with the wind chill.
Kittle offered some tips on how best to handle it all.
"My key to staying warm is just to play, play a lot of snaps and so you keep your blood going," Kittle said. "The heated seats and the heaters on the sideline are probably really nice. But hey, it's football, you can't really use the cold as an excuse."
Will Pete Carroll go past comfort zone for Seahawks' new d-coordinator – Seattle Seahawks Blog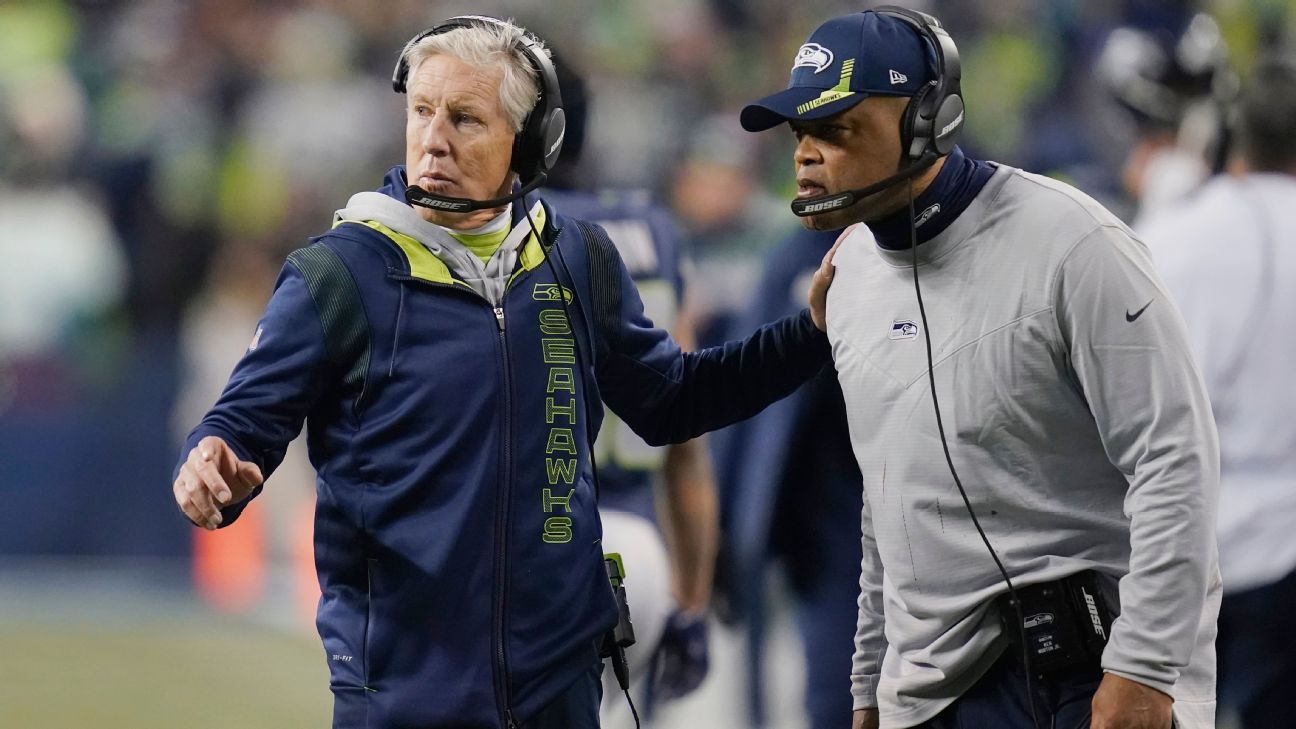 SEATTLE — On a personal level, the decision to fire defensive coordinator Ken Norton Jr. had to be brutal for Pete Carroll.
The Seattle Seahawks coach is known for loyalty to his assistants and has long had a particular affinity for Norton, once calling him one of the favorite people he's worked with during his coaching career. The two go back to the mid-90s, when Norton was an All-Pro linebacker for the San Francisco 49ers while Carroll was their defensive coordinator. Norton worked under Carroll for 15 of the past 18 seasons dating back to their time at USC.
In that sense, Seattle firing Norton this week, along with defensive passing-game coordinator Andre Curtis, was mildly surprising.
In every other sense, it was not.
The Seahawks' defense was good at times during Norton's four-year tenure. But two of the best stretches followed awful starts to each of the past two seasons, when Seattle allowed yards at historic rates early before turning things around. It was not consistently great over any of those four seasons, never ranking inside the top 10 in points allowed or top 15 in yards allowed.
In fairness to Norton, he didn't have the same level of talent that predecessors Kris Richard, Dan Quinn and Gus Bradley did during the Legion of Boom days. And while Seattle's defense was part of the problem in 2021, especially early, it's hard to argue it was the biggest reason they finished 7-10 and missed the playoffs for only the second time in the past 10 seasons.
• Is Mahomes-Allen the next big rivalry?
• Kupp credits wife for inspiration
• Inside Brady's playoff touch
• Bengals' offense a Titans concern
• Rebuilding the Jets
No one expected status quo after a season in which the Seahawks suffered their most losses in more than a decade.
Now the search is underway for their fifth defensive coordinator of Carroll's tenure.
A source told ESPN's Jeremy Fowler that they've requested an interview with Denver Broncos DC Ed Donatell. The other reported candidates are Seahawks defensive line coach/assistant head coach Clint Hurtt (per The Seattle Times), Chicago Bears DC Sean Desai (per The Athletic) and Joe Whitt Jr. (per the NFL Network), the Dallas Cowboys' defensive passing game coordinator and secondary coach.
Before a look at each candidate, here are three questions worth considering:
What role did Jody Allen have in the Norton and Curtis decisions? Their firings came days after Carroll and general manager John Schneider met with Allen, who's been the team's de facto owner since her brother Paul Allen passed away in 2018. It's believed that the major shakeup to Carroll's staff following the 2017 season was largely at Paul Allen's behest. It's fair to wonder what influence Jody Allen had on these changes.
How appealing is the Seahawks' DC job? It depends on the coach. Anyone that Carroll hires would be running Carroll's defense for the most part. A more established coordinator who's had success running his own scheme would presumably be disinclined to adopt someone else's. To some candidates, though, the Seattle job would carry plenty of appeal. There are the usual questions about which free agents (Quandre Diggs, D.J. Reed, Al Woods) and under-contract players (Bobby Wagner) will be back.
But between what they already have, who they'll re-sign and who they may add in free agency with their ample cap space, there should be enough talent to make it far from a rebuilding effort. And it may be equally attractive to prospective DCs that the Seahawks have a quarterback and offense that should be able to do their part, assuming Russell Wilson isn't traded.
What schematic changes might Carroll have in mind? Long gone are the days when the Seahawks would run pretty much the same defense, knowing they were good enough to execute even if opposing offenses knew what was coming. They've done things differently in recent seasons. In 2019, it was an unusually heavy dose of base personnel. In 2021, they frequently used what was essentially a five-man defensive line. They also played more man later in the year, according to Reed, which helped curb all the yards they were allowing in soft zones early on.
Point being: Carroll has been adapting his defense. Whatever changes he makes will likely be geared towards generating more pressure and turnovers. They were tied for 22nd in sacks last year and 25th in takeaways.
Here's a look at the four reported candidates:
Ed Donatell. The 64-year-old Donatell has a long history with Carroll that began in 1983 at University of the Pacific. They also spent four seasons together (1990-94) with the Jets. Donatell coached defensive backs in both of those stops, which has been his primary position group throughout his coaching career. He worked closely with Broncos DBs during his three seasons in Denver, where he ran coach Vic Fangio's defense.
The Broncos allowed the third-fewest points of any team in 2021. That seems indicative of strong coaching when you consider the personnel challenges they dealt with between the Von Miller trade, Bradley Chubb only playing seven games and numerous injuries to their inside linebackers.
Clint Hurtt. The only in-house candidate of the four, the 43-year-old Hurtt has spent the past five seasons on Carroll's staff. He previously coached outside linebackers with Chicago. As disappointing as the Seahawks' pass rush was in 2021, their defense was strong at stopping the run, allowing the second-fewest yards per carry in the NFL.
Could the Seahawks go with a dual-coordinator role in which Hurtt is in charge of their run defense while someone else handles the pass defense? They had that arrangement on offense during their Super Bowl years between Darrell Bevell and Tom Cable. Per Fowler, Hurtt is also in the mix for the DC job at the University of Miami, his alma mater.
Joe Whitt Jr. The 43-year-old Whitt doesn't have history with Carroll but did spend parts of the past two seasons working under Carroll disciple Dan Quinn. Whitt was the Atlanta Falcons' defensive passing game coordinator and secondary coach in 2020, Quinn's last year as Falcons head coach. Whitt followed Quinn to Dallas last offseason after Quinn was named the Cowboys' DC. Quinn coordinated Carroll's defense in 2013 and '14 and has continued to run a similar scheme, which provides some built-in familiarity with Whitt. Carroll has to like what Dallas did this past season in leading the NFL in interceptions and takeaways.
Sean Desai. He also has no direct experience with Carroll, having worked in the college ranks before he began his nine-year run with the Bears in 2013. He is coming off his first season as a defensive coordinator at any level. The 38-year-old Desai was Chicago's safeties coach for two seasons (2019-20) before they elevated him to DC last year. The Bears ranked 22nd in points allowed last season and sixth in yards allowed.
According to the team's website, Desai is the NFL's first Indian-American coordinator. He earned his doctorate in educational administration in 2018 from Temple, where he served as an adjunct professor in 2009 and '10.