NFL Week 7 – Tom Brady's milestone, Derrick Henry's passing, Daniel Jones' hands and more you might have missed
Who had "Daniel Jones makes ridiculous one-handed catch" on their Week 7 bingo card? How about "Tampa Bay Buccaneers official barters with fan to retrieve Tom Brady's 600th career TD ball that Mike Evans accidentally gave away?"
It seems equally unlikely that anyone had "Derrick Henry throws touchdown pass." That's because the latest NFL Sunday was chock-full of unexpected moments.
In case you were too busy coming to grips with the fact that Joe Burrow, Ja'Marr Chase and the Cincinnati Bengals handed the Baltimore Ravens a 24-point loss — and secured a 5-2 start to the season — to focus on the guy wearing a swim cap and goggles in Levi's Stadium, we've got you covered with all the wild, unforeseen and head-scratching moments you might have missed:
---
Daniel Jones shows off the hands …
Odell Beckham Jr., is that you? If Sunday proved anything, it's that we have been underestimating Jones' skill set. The New York Giants' quarterback got up — and back — to make this grab:
DJ with the ONE HANDED CATCH 🤯

📺: @NFLonFOX & Giants App pic.twitter.com/6ZJtqdVIEZ

— New York Giants (@Giants) October 24, 2021
The OBJ comparisons rolled in immediately. Because if you're on the Giants (or any team, for that matter) and you make a one-handed catch, you're compared to OBJ. We don't make the rules.
Daniel Jones did his best OBJ impersonation 😂 pic.twitter.com/gja13hTtl4

— ESPN (@espn) October 24, 2021
New York defeated the Carolina Panthers 25-3, clearly proving that Jones needs targets every week.
---
King Henry does it all …
Henry saw Danny Dimes' catch and raised him a touchdown pass. It's also possible King Henry heard the argument that running backs don't win NFL MVP, so he decided to show off his arm.
Either way, the NFL's rushing leader finishing a drive out of the wildcat with a 5-yard touchdown to tight end MyCole Pruitt for the 7-0 lead was impressive, and it helped the Tennessee Titans to a huge 27-3 win over the Kansas City Chiefs.
WILDKING 👑 #NationalTightEndsDay

📺: Watch #KCvsTEN on @NFLonCBS pic.twitter.com/v9BsiL7jbG

— Tennessee Titans (@Titans) October 24, 2021
It was Henry's second career passing touchdown. He connected with wide receiver Corey Davis on a similarly designed play in the Titans' 28-12 win over the Baltimore Ravens in a 2019 divisional playoff game.
Get you an RB who can do both.
---
#NationalTightEndsDay …
This is a thing? Apparently we weren't the only ones who felt blindsided by the holiday, as Panthers great and retired tight end Greg Olson made it clear at the end of this video that #NationalTightEndsDay wasn't observed when he was playing:
Still can't get over @gregolsen88 at the end 😂 #NationalTightEndsDay pic.twitter.com/DzbZwa7JjR

— NFL (@NFL) October 25, 2021
Call it coincidence, but several TEs including C.J. Uzomah, Zach Ertz, Hunter Henry, Mo Alie-Cox and Mike Gesicki had touchdowns to celebrate the occasion.
Good for tight ends. Demand your respect (and jersey sales).
---
Big day for Brady & Co. …
It doesn't get much cooler than owning the title of "only QB to throw for 600 touchdowns in NFL history."
But if you can't be Brady, being the proud owner of his 600th touchdown ball is assuredly the next best thing — not only for the artifact's historical significance but the financial boost selling it would presumably provide.
Thanks to Evans, one lucky fan was briefly in that position. That is until a Tampa Bay official came to ask for the ball back.
The fan who got Tom Brady's 600th TD ball ended up giving it back to the Bucs 😅

(via @NFLonCBS)pic.twitter.com/6rQxooCRjR

— SportsCenter (@SportsCenter) October 24, 2021
Evans, who gave the ball away without realizing its significance in the moment, took to Twitter after the game to apologize to his "big bro" Brady and express his relief that the ball had been returned to its rightful owner.
Sorry big bro glad that priceless legendary item was retrieved 🙏🏽🐐 https://t.co/IapscE2mBs

— Mike Evans (@MikeEvans13_) October 25, 2021
In other Bucs news, Tampa Bay's defense brought out the "row your boat" celebration after forcing a turnover on Chicago Bears rookie QB Justin Fields. Then they did it again … and again.
Fields became the first Bears player to fumble three times in a half since Jay Cutler in 2010, according to ESPN Stats & Information.
Row, row, row your boat 🚣

📺: #CHIvsTB on CBS
🎉: @BudLight #BudLightCelly pic.twitter.com/Y0Rnl8LlJN

— Tampa Bay Buccaneers (@Buccaneers) October 24, 2021
The most impressive part of the celebration has to be the turnout … there were 13 people in that boat.
---
Wild weather in Santa Clara …
The conditions were expected to be less than ideal for the Sunday Night Football showdown between the Indianapolis Colts and the San Francisco 49ers, and mother nature delivered on that promise.
There was rain. There was wind. There was more rain and wind.
It looked a lot like this:
BREAKING: It is raining. Pretty hard. #INDvsSF pic.twitter.com/uIGkyKxE5G

— NFL (@NFL) October 25, 2021
While players were struggling to control the football, at least one fan looked completely at ease braving the elements. That's because he showed up to the stadium with a swim cap and goggles.
He came prepared 😂 pic.twitter.com/BXGLcgKBqF

— NFL (@NFL) October 25, 2021
You could say he fully understood the assignment.
---
Rodgers isn't here for the hotel …
Aaron Rodgers has never been one to shy away from speaking his mind, and Sunday was no exception.
After the Green Bay Packers beat the Washington Football Team, Rodgers shared that he had woken up with a sore back that morning. As he was shouting out members of the Packers training staff for helping him get right for the game, he also made sure to remind us of his qualms with the precedent that players must stay in a hotel the night before home games.
Aaron Rodgers said he woke up this morning with his back tight — as he's said before, he's not a fan of staying in a hotel the night before a home game — and credited athletic trainer Nate Weir and chiropractor Mike Zoelle for getting him right before the game.

— Rob Demovsky (@RobDemovsky) October 24, 2021
"My back was a little stiff Saturday, and maybe you guys know this or don't know this, but there's an antiquated procedural thing in our league where the most important night of sleep, we stay at a hotel, and I don't want to blame it on the hotel — it's a nice hotel — but my bed at the house that I'm sleeping in every other night of my time here in Green Bay would probably be a little bit of a better option, I think, and that's just my opinion," Rodgers said when asked to elaborate.
Rodgers completed 27 of 35 passes for 274 yards with three touchdowns and no interceptions in the Packers' sixth straight win. Imagine what he would do if he got to sleep in his own bed.
Buffalo Bills make playoff history with 7 touchdown drives in blowout win vs. New England Patriots
ORCHARD PARK, N.Y. — The Buffalo Bills didn't just beat the New England Patriots. They made a statement to the entire NFL.
The Bills dominated the teams' third meeting in 41 days, winning 47-17 at home to move on to the Divisional round of the playoffs. Buffalo scored a touchdown on all seven of their possessions, becoming the first team in the Super Bowl era to score a TD on each of their first seven drives of a playoff game, according to the Elias Sports Bureau.
With the win, the Bills have beaten the Patriots twice by double-digits in a single season (33-21 in Week 16), becoming the first team to do so since Bill Belichick became head coach.
Dating back to that game in Week 16, the Bills' last 13 drives against the Patriots have yielded 11 scores (10 touchdowns and one field goal). During that stretch, the only thing that stopped the Buffalo offense was the clock.
Not only did the offense put up an impressive performance, but the Bills continued to show improvements in areas that have caused issues throughout the season. The running game was effective and the offensive line that has had a rollercoaster year set the tempo.
But the most impressive part of the game for the Bills was the performance of quarterback Josh Allen. Coming into the game, one of the big questions was if Allen could step up in freezing temperatures. He did far more than that with temperatures below 10 degrees throughout the game, putting together one of the best performances of his career.
Allen continued his stellar performance against the Patriots from a few weeks prior, completing 21/25 passes (84%) for 308 yards and five touchdowns, in addition to six carries for 66 yards. It is the highest completion percentage in a playoff game with 25 or more attempts since Aaron Rodgers in the 2010 Divisional Playoffs (86.1%)
He became the third player in the Super Bowl era with at least 150 pass yards and 50 rush yards in a single half of a playoff game, per Elias, and joined Drew Brees (2009) and Russell Wilson (2020) as the only quarterbacks to throw for five touchdowns against a Belichick-coached team.
Allen's performance included two touchdown passes to tight end Dawson Knox and one to wide receiver Emmanuel Sanders. The score was Sanders' first touchdown in the postseason, coming in his 14th career playoff game with his fifth different team.
Allen's fifth touchdown was a one-yard throw to reserve offensive lineman Tommy Doyle. All five of his touchdown throws came in play-action, the most by any player in a regular-season or playoff game since 2006 when ESPN began tracking play-action. He has gone four straight games without being sacked.
Running back Devin Singletary ran for two touchdowns behind an offensive line that dominated the line of scrimmage throughout the game.
The defense limited rookie quarterback Mac Jones throughout the game, including forcing two interceptions.
The Bills will now head to the Divisional round of the playoffs for a second straight season with a perfect record in home playoff games under McDermott. With a Chiefs win on Sunday night, the Bills would head to Kansas City, the site of last year's AFC Championship loss.
Buffalo is 0-3 in road playoff games since McDermott became head coach (0-3). With a Pittsburgh Steelers win, the Bills would host the Cincinnati Bengals next week.
Derek Carr, Maxx Crosby want Rich Bisaccia back as Las Vegas Raiders' head coach
CINCINNATI — Raiders quarterback Derek Carr and Pro Bowl defensive end Maxx Crosby both heartily endorsed Rich Bisaccia retaining the head-coaching job permanently following Las Vegas' season-ending 26-19 loss to the Cincinnati Bengals in the opening round of the playoffs on Saturday night.
Bisaccia was promoted from special teams coordinator to interim head coach following Jon Gruden's resignation on Oct. 11.
"I think we can all think that he's the right guy," Carr said of Bisaccia. "He's proven that people listen to him. Our team listens to him. And I love him so much, I'm thankful for him. All those things will be decisions that I don't make; I don't get to make. I just play quarterback … but with everything that went on, if you really look at what happened, all the pieces missing, everything that changed, yeah, he held it together."
Carr referenced the Raiders losing starting guards Richie Incognito and Denzelle Good to injury in the preseason and opener, respectively. He also talked about receiver Henry Ruggs III being cut following his involvement in a high-speed car crash that left a woman dead. Carr also cited Pro Bowl tight end Darren Waller missing five games down the stretch; Pro Bowl running back Josh Jacobs being dinged up and unavailable at times; and losing versatile running back Kenyan Drake to a knee injury in Week 13.
"You go on and on and on and on, and that's just offense," said Carr, who had driven the Raiders to the Bengals' 9-yard line before being intercepted at the 2-yard line on fourth-and-goal with 12 seconds to play Saturday night. "The fact that that staff kept everything together and kept us competitive and kept us finding ways to win football games, I think that's what our organization is about, right? So, we'll see what happens. We know what we want to have happen. But, again, we're Raiders. We're going to play football, but we just hope it, obviously, we hope it's for somebody special."
Carr also said he would stay out of direct conversations when it came to his future with the team. He has one year remaining on the five-year, $125 million extension he signed in 2017.
He said his agent and the Raiders have a good relationship.
"Lord knows there's been a lot of things to communicate about, right?" Carr said. "When the time comes, I never want a face-to-face. I'm going to play quarterback, but my message will be talked about.
"I'm not going to go to dinner and say, 'We have to do something.' I'm not that guy. I'll let my voice be heard, but in a different way."
Crosby, who was just named second-team All-Pro, called Bisaccia a "great leader" for the Raiders.
"If it was up to me, I think everyone in the world knows what my decision would be," said Crosby, who had a sack among his six tackles on Saturday. "I love Rich. You know, I'm biased, obviously, but he's, he's a great coach … he came in and got us to 10 wins. We came on the road, on a short week, and gave Cincinnati everything they could handle.
"One of the best people I know. One of the most honest dudes I know. And I'll go to bat for him any day of the week. I love that dude to death. He knows that. I appreciate everything he's brought to the table. I hope we keep doing it."
Raiders owner Mark Davis has remained silent on the team's head-coaching search, as well as on the futures of Carr and general manager Mike Mayock.
Bisaccia, meanwhile, laughed when asked if he thought about being elevated to the full-time job.
"I'm just thinking about those guys in that locker room that played the game with their heart and soul out there like that," he said, "and had a chance to win at the end."
Bengals win first playoff game in 31 years, set the table for a run at AFC title – Cincinnati Bengals Blog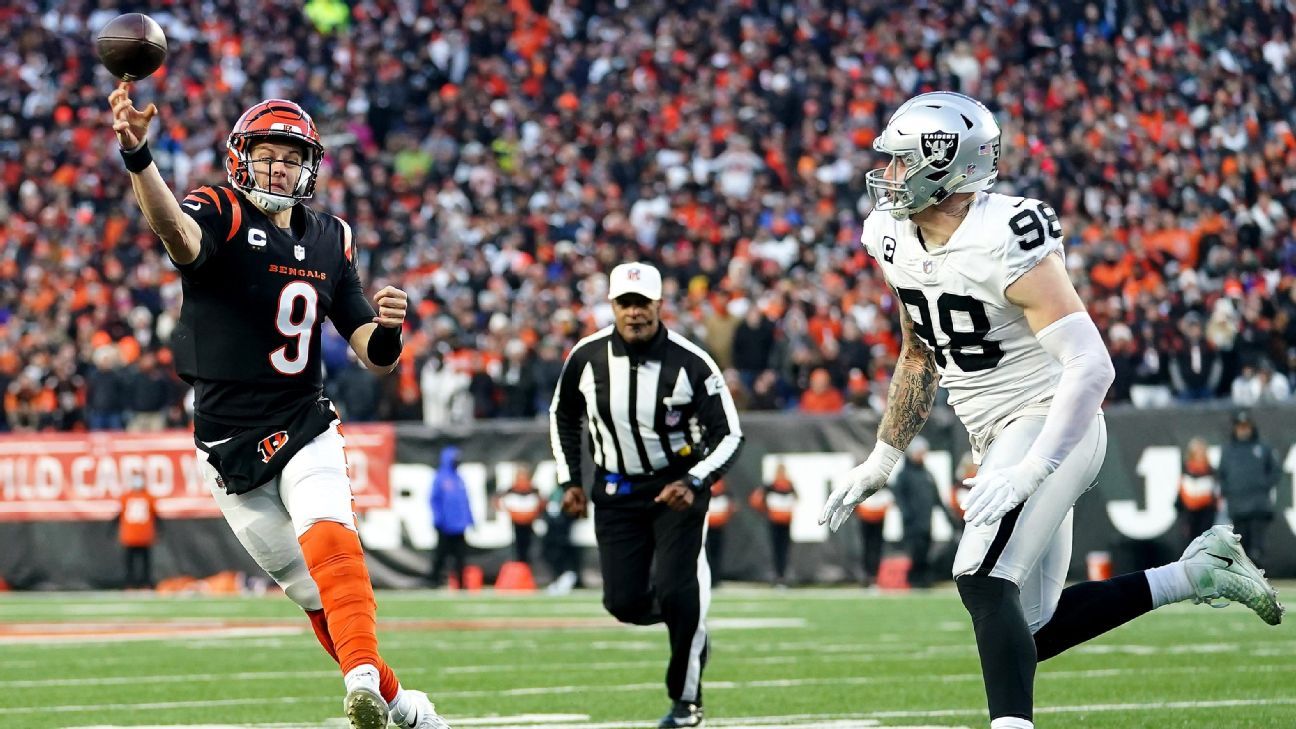 CINCINNATI — Send those text messages. The Cincinnati Bengals have finally won a playoff game.
Cincinnati defeated the Las Vegas Raiders 26-19 at Paul Brown Stadium in an AFC wild-card game on Saturday. It was Cincinnati's first playoff victory in 31 years, since before cell phones were capable of sending texts, as memes on the internet reminded folks in the days preceding the game.
But the win wasn't just about ending the longest playoff win drought in the NFL. It was about the first step in making a run at the AFC title.
Over the course of the season, Cincinnati went from the projected cellar dweller in the AFC North to division champs, ending a six-year stretch without a playoff appearance. That journey included an overtime loss to the Green Bay Packers, one of the top teams in the NFL, and a Week 17 win over the Kansas City Chiefs, the AFC representatives in last year's Super Bowl.
• Full bracket, schedule and format »
• Previewing the NFL playoff field »
• Busting myths for the 14 teams »
• See more playoff content »
Those performances indicated Cincinnati wasn't just a team that could win a playoff game. They showed the Bengals can hang with the best in the NFL.
For the second time this season, the Bengals needed to hang tough against the Raiders in order to pick up a win. The first came on Week 11 and set the tone for the second half of Cincinnati's season.
The second victory was much more significant. It gave the city of Cincinnati something it hasn't experienced in decades and set the table for the Bengals to have a truly special postseason.
"We expect to beat everybody that we play, not just hang with them," Bengals quarterback Joe Burrow said after the game.
Burrow added: "I mean, it's exciting. But this is expected. This isn't like the icing on top of the cake or anything. This is the cake. So we're moving on."
Describe the game in two words: Curse ending. The Bengals ended the fabled "Curse of Bo Jackson" — the former Raiders running back's final NFL game in January 1991 that also ended Cincinnati's last playoff run that featured a win.
"I'm just really, really happy for the city of Cincinnati and that they get a chance to enjoy this," Bengals coach Zac Taylor said. "And now, just exhale and enjoy the ride we have. Because we're not done yet."
Pivotal play: On third-and-four at the end of the first half, Bengals quarterback Burrow scrambled and found Tyler Boyd for a 10-yard touchdown pass to give Cincinnati a 20-6 lead. Initially, it appeared Burrow was going to go out of bounds. A referee even blew an errant whistle. But the play continued and Cincinnati got a key red-zone touchdown.
QB breakdown: Burrow was efficient in his playoff debut. After throwing for 148 yards earlier in the season against the Raiders, Burrow finished Saturday's win completing 24-of-34 passes for 244 yards, two touchdowns and no interceptions.