Martin Brundle interview with Megan Thee Stallion at US Grand Prix video, legend responds
Formula 1 icon Martin Brundle has given US rap artist Megan Thee Stallion a less than subtle wake up call following their viral incident at the United States Grand Prix on Monday.
The Sky Sports F1 guru has told the 26-year-old to "learn some manners" after the pair brushed shoulders in an awkward moment that played out on live TV to an audience of millions around the world.
Brundle was snubbed not once but twice as he strolled along the grid during the pre-race preparations — with tennis legend Serena Williams also giving him the cold shoulder.
Stream Every Practice, Qualifier & Race of the 2021 FIA Formula One World Championship™ Live & On-Demand on Kayo. New to Kayo? Start Your Free Trial >
The popular commentator was conducting his traditional grid walk segment where he walks along the starting grid speaking to the VIPs and celebrities given the honour of standing with the cars, officials and drivers in the final minutes before the start of the race at the Circuit of the Americas in Austin, Texas.
She was attending the event to make a promotional appearance and was seen posing for photos before and after her moment with Brundle.
The 62-year-old has been snubbed plenty of times previously in Grands Prix all over the world — but the absolute disdain showed by her handlers has turned the incident into one of the biggest talking points to emerge from the race — which was won by Red Bull's Max Verstappen.
Brundle responded on Tuesday morning with a message posted on Twitter.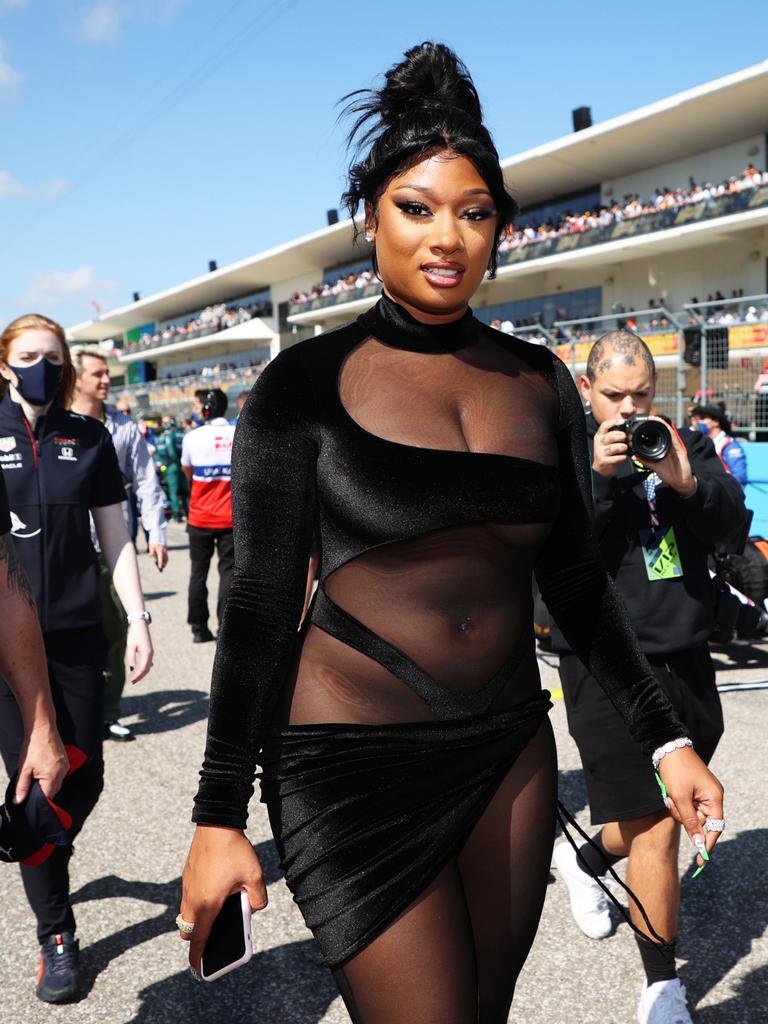 "I have felt under pressure on the grid before but by people called Senna, Prost, Schumacher, Mansell, Piquet and so on," he wrote of his interviews with the legends of motorsport.
"Bodyguards visiting the grid for the first time don't bother me, everyone's got a job to do, but they could maybe learn some manners and respect on our patch."
Brundle's attempt to speak to The Stallion was an asbsolute disaster as he struggled to find a way past a security guard pushing through the crowd ahead of her.
When he did get to speak to the social media sensation it got even more awkward when she shut down his light-hearted question before an apparent member of her staff barged through between the pair and gently pushed Brundle aside.
The man seen in the video has since become a popular topic on social media with some wondering what Jedward and Draco Malfoy were doing on Thee Stallion's security detail.
"That's a very big bloke in front of her," Brundle said when he first spotted her on the grid.
"Megan, Martin Brundle from British television, how are you?
"Megan Thee Stallion, you're a freestyle rapper."
It started awkward.
Then it got more awkward.
Then it was excruciating.
Brundle posed an odd question to the musician: "You're a freestyle rapper, have you got any rap for us today on Formula 1?"
Megan laughed before responding: "I have no rap today, I'm sorry."
Keen to continue the conversation, Brundle asked: "Who are you supporting in the race?"
Before the rapper had a chance to answer the blonde handler walked through and refused to let Brundle entertain another question.
Brundle stuck up for himself and told the man: "I can do that, because I did."
As Megan and her posse continued their walk along the track, Brundle mused: "OK, she seemed very happy to talk, didn't she? That's very nice of her and I appreciate that."
F1 presenter Will Buxton — who also features as a commentator on Netflix's hit Drive to Survive series — has also posted on Twitter to stick up for Brundle.
"The F1 grid walk is the highest live TV pressure I've ever experienced," he wrote on Twitter.
"You're briefed beforehand if celebs don't want to be interviewed. With the others you can only try. I've been pied. We all have. Usually nicely and with an apology. The others, it only reflects badly on them."
Unfortunately for Brundle, that wasn't his only awkward celebrity encounter of the day.
The 62-year-old continued making his way down the track and found two sporting legends deep in conversation.
"Let's wander down here, we've got (golfer) Rory McIlroy and (tennis star) Serena Williams," Brundle said.
"Venus (Williams) wasn't that keen to talk to me five years ago, I don't know if I'll get a double fault or an ace."
Brundle stood a metre away from the duo and waited awkwardly for the athletes to finish their chat.
But as soon as Williams began to move away, Brundle saw an opportunity and asked: "Serena, may I have a chat?
"Serena, are you good for a chat? Martin Brundle, British TV."
Williams didn't stop, shrugging at Brundle as if to say, "Sorry, but I've got somewhere else to be".
Evaluating how the exchange went, Brundle admitted: "It's a double fault, it's a double fault."
Verstappen won the race by just 1.3 seconds, holding Hamilton off in a thrilling finish, while Aussie Daniel Ricciardo finished fifth after being accused of a "dirty" act by Carlos Sainz with 13 laps remaining.
— with Alexander Conrad
Daniel Ricciardo features in song on Triple J's Hottest 100, reaction, Gang of Youths
Daniel Ricciardo is a man of culture.
The Australian Formula One driver has many interests outside of motorsport, including wine and fashion. And now he has officially hit the big time as a (budding) musician, making one of the most sought-after lists in Aussie pop culture.
Stream the Kayo Mini replay of the F1 World Championship finale FREE on Kayo Freebies. No credit card required. Join Kayo Freebies now & start streaming in minutes.
As hipsters across Australia gathered around their portable speakers on Saturday for Triple J's Hottest 100, they might have missed Ricciardo's cameo in one of the songs.
In a strange twist, the 32-year-old made his Hottest 100 debut, having played "percussion" on Gang of Youths' song The Man Himself.
The track, from Gang of Youths' third studio album Angel in Realtime, came in at number 57 on the list, and features Ricciardo playing some very basic drum beats in the background.
He even features on the song's credits, although it must be said the band's drummer Donnie Borzestowski did the heavy lifting as the proper percussionist.
The Australian band released The Man Himself in October last year and shared a clip on social media of Ricciardo playing the drums in their studio.
On the band's Instagram post listing Ricciardo in the credits, the McLaren driver commented: "This makes me happy".
Ricciardo is an avid listener of music and often shared videos of himself singing along to tunes while driving (in normal life, not during races). He is also an ambassador for the headphones brand Beats by Dre.
The West Australian also isn't afraid to try his hand at strumming a few tunes on the acoustic guitar.
As for the rest of the Hottest 100, The Wiggles took out top spot for their cover of Tame Impala's song Elepant.
Olivia Rodrigo, Lizzo and Cardi B also featured alongside some Triple J favourites including Gang of Youths, Tame Impala and ARIA winner Genesis Owusu.
Hopefully Ricciardo can take the momentum from featuring in the Hottest 100 to help him finish higher on another list of sorts — the F1 grid in the 2022 season.
Australian F1 Grand Prix organisers won't allow Covid vaccine exemptions, Albert Park circuit Melbourne, vaccine rules for F1 drivers
Organisers of the Australian Formula One Grand Prix have confirmed there will be a "zero tolerance" approach on vaccine exemptions, making it mandatory for all participants to be vaccinated.
Australian F1 Grand Prix chief executive Andrew Westacott said the conditions for the event were clear — all drivers, pit crew, staff and spectators have to be fully vaccinated to be involved in the race.
Stream the Kayo Mini replay of the F1 World Championship finale FREE on Kayo Freebies. No credit card required. Join Kayo Freebies now & start streaming in minutes.
"The rules are simple to get into the country and the rules are simple to operate in Formula One," he said.
"To come into the event you'll be 100 per cent vaccinated and there won't be an exemption sought for anyone from anyone."
The Grand Prix's hard line policy means there will be no repeat of the Novak Djokovic exemption saga that overshadowed the lead-up to the Australian Open.
"Our arrangements have been in place well before the recent goings-on at the Australian Open," Westacott said.
"These rules are understood by Formula One, they're understood by the FIA, they're going to be written into the sporting regulations and I'm very confident that (it) is just going to be a rite of passage to come into the country.
"There's zero tolerance. Whether you're Lewis Hamilton or Valentino Rossi in MotoGP, if you test positive, you don't race that weekend."
The entire F1 grid is believed to be fully vaccinated, and several leading drivers including Daniel Ricciardo have voiced their support for vaccines.
On top of the drivers, fans and all staff in the paddock will have to be vaccinated to attend the Grand Prix in Melbourne on April 10.
Aussie motorsport fans have been starved of a local F1 race. This year's edition will be the first Australian Grand Prix since 2019 after the 2020 and 2021 races were cancelled due to the pandemic.
But the organisers have declared it will be a case of third time lucky and there is no chance of it being cancelled this year.
"I'll go on record and say zero chance of cancellation," Westacott said.
The Albert Park circuit in Melbourne has undergone a revamp, with the track resurfaced for the first time in 25 years.
The freshen-up is expected to cut lap times by five seconds, while the widening of several turns is expected to create more overtaking opportunities.
"The widening of five other turns, particularly the increase of speed at Turn 6 where they're going to go from about 90 km/h to 150 km/h, that really does set it up for speeds in excess of 330 k /h around Lakeside (Drive), pulling four and a half Gs," Westacott said.
The Australian Grand Prix is the third race of the F1 season and will run from April 8-10.
McLaren boss Zak Brown 'wouldn't be shocked' if Lewis Hamilton quits before 2022 season
McLaren CEO Zak Brown says he "wouldn't be shocked" if Lewis Hamilton chose to quit Formula One before the start of the 2022 season.
The seven-time world champion has kept his cards close to his chest since he missed out on last year's title to Max Verstappen, who overtook him on the last lap of the Abu Dhabi Grand Prix in controversial circumstances.
Stream the Kayo Mini replay of the F1 World Championship finale FREE on Kayo Freebies. No credit card required. Join Kayo Freebies now & start streaming in minutes.
Speculation has been rife about Hamilton's future after he was beaten to the world championship for the first time since 2016.
The 36-year-old and Mercedes team principal Toto Wolff snubbed the end-of-season F1 gala, even though they were required to attend.
Hamilton, who is contracted with Mercedes to the end of 2023, is yet to publicly confirm whether he will race on this year, but Wolff is hopeful his charge will return to the grid.
Brown, who is the boss of Daniel Ricciardo and Lando Norris, said he wouldn't be surprised if Hamilton called it quits and walked away from F1.
"I wouldn't be shocked if he stopped, so I don't think anyone should take for granted he's coming back," he said.
"My personal opinion is he's going to (continue racing), but I don't think we should discount or not recognise his frustration and his anger.
"Maybe he hasn't made a decision and maybe what he's doing is taking time to make that decision to make sure, because once that decision is made, that decision is made.
"So, I don't think we should rule it out or make light of it. I just personally think he still has a burning desire to race and that will ultimately drive his decision."
Ultimately Brown believes Hamilton will continue to race in F1, driven by the desire to win a record-breaking eighth world championship.
"I think he'll be back," he said.
"He's a racing driver. I think he's at the top of his game.
"I'm sure he's very angry, but I think race car drivers want to race and I think he's a fighter, and he'll want to come back and try to win an eighth championship.
"I don't think he's ready to retire; this is my own personal opinion, I've not talked to him, because once you hang it up, you hang it up.
"I guess you could come back as some have done, but I don't think he's ready to hang it up and I don't think he's going to let an incident put him into retirement."
Brown's comments come after former F1 chief executive Bernie Ecclestone predicted Hamilton will retire before the 2022 season, which begins with the Bahrain Grand Prix on March 20.
The Brit reportedly also reportedly ignored messages from newly-elected FIA president Mahamaaed Ben Sulayem as time ticks on towards the start of the 2022 season.
Hamilton is expected to attend the virtual launch of Mercedes' 2022 car on February 18.
Meanwhile, the fallout from the dramatic season finale in Abu Dhabi has continued.
The FIA, F1's governing body, will reveal the results of their investigation into the Abu Dhabi Grand Prix on March 18, just two days before the season gets underway in Bahrain.
There have been calls for the FIA to sack Australian race director Michael Masi, after he came under fire for his use of the safety car in the dying stages of the race.
Many F1 fans criticised Masi for his decision to move only the lapped cars between Hamilton and Verstappen to set up a final lap shootout between the two rivals.
Verstappen, on fresh tyres, overtook Hamilton to win the world title.