Hall of Famer Ken Griffey Jr. assumes "dream come true" ownership stake in Seattle Mariners group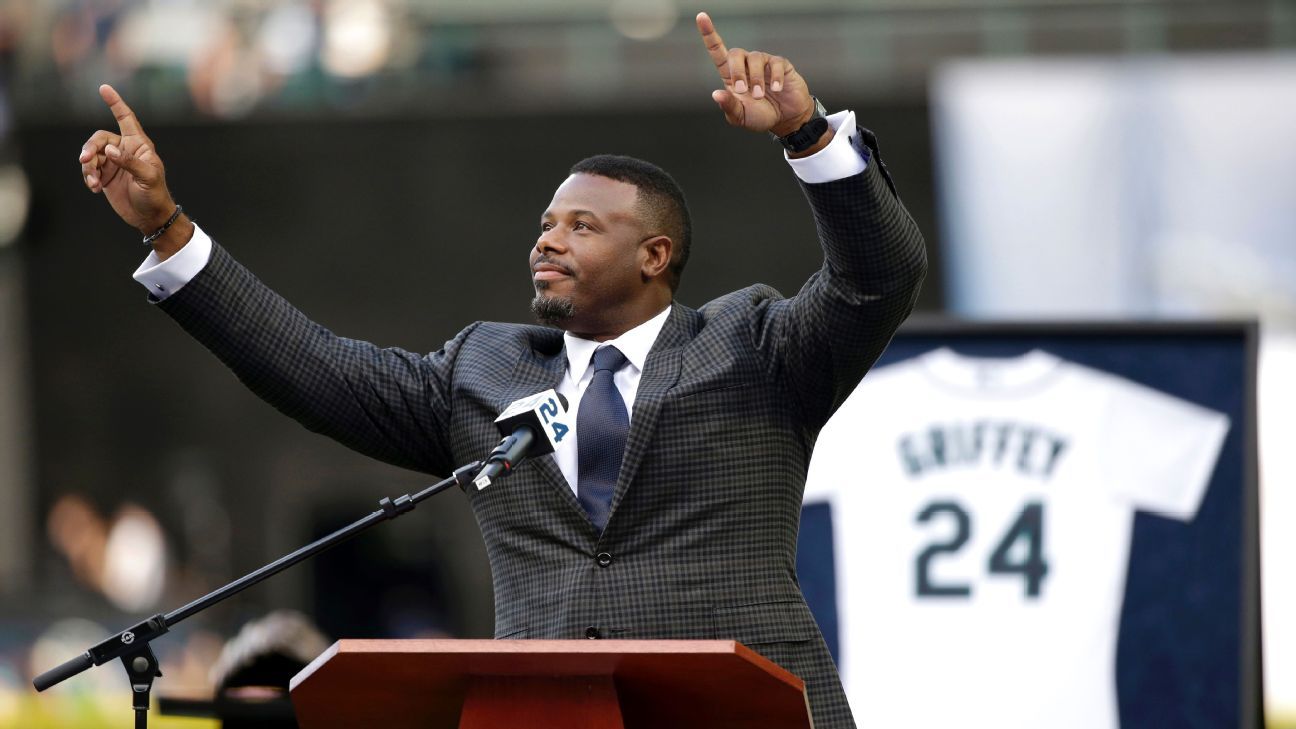 SEATTLE — Hall of Famer Ken Griffey Jr. is investing in the Seattle Mariners in a way he never has before.
He'll be part of the ownership going forward.
The Mariners announced Monday that their most famous former player has also become the first one to purchase a stake in the ballclub.
"On behalf of all of the partners, I want to welcome Ken," Mariners chairman John Stanton said in a statement. "Ken has been an icon of our franchise, on and off the field, for over three decades and we are thrilled that he is joining us as a partner. His knowledge of the game, love of the Mariner fans, his experiences as a player, his passion for community service and his desire to help grow our sport will be a welcome, and invaluable, additional voice."
Griffey was the No. 1 overall pick in the amateur draft by the Mariners in 1987. Less than two years later, he made his major league debut and quickly grew into one of the best players of his generation with that familiar "S" on his hat — whether it was turned forward or backward.
Griffey, 51, spent his first 11 seasons with the Mariners, helping them to a pair of AL West titles, and was the 1997 AL MVP. He engineered a trade to Cincinnati following the 1999 season but made his way back to Seattle for the conclusion of his career in 2009 and part of the 2010 season before retiring at age 40.
The return to Seattle rekindled his relationship with the franchise. He's become an ambassador for the team in various settings, with an official title of special consultant to the franchise. He was inducted into the team's Hall of Fame in 2013 and into the Baseball Hall of Fame in 2016.
Griffey was also named a senior adviser to commissioner Rob Manfred earlier this year.
"As I said in my Hall of Fame speech, I'm very proud to be a Seattle Mariner," Griffey said. "I'm excited for this incredible opportunity to join John and the rest of the Mariners Partnership Group. This is a dream come true because of the relationship I've always had with the team, its fans, and the city of Seattle. I view this as another way to continue to give back to an organization and community that has always supported me, and my family. I'm looking forward to continuing to contribute to this organization's success in any way possible."
Robot umpires at home plate moving up to Triple-A for 2022, one step away from major league baseball
NEW YORK — Robot umpires have been given a promotion and will be just one step from the major leagues this season. Major League Baseball is expanding its automated strike zone experiment to Triple-A, the highest level of the minor leagues.
MLB's website posted a hiring notice seeking seasonal employees to operate the Automated Ball-Strike system. MLB said it is recruiting employees to operate the system for the Albuquerque Isotopes, Charlotte Knights, El Paso Chihuahuas, Las Vegas Aviators, Oklahoma City Dodgers, Reno Aces, Round Rock Express, Sacramento River Cats, Salt Lake Bees, Sugar Land Skeeters and Tacoma Rainiers.
The independent Atlantic League became the first American professional league to let a computer call balls and strikes at its All-Star Game in July 2019 and experimented with ABS during the second half of that season. The system also was used in the Arizona Fall League for top prospects in 2019, drawing complaints of its calls on breaking balls.
There were no minor leagues in 2020 because of the pandemic, and robot umps were used last season in eight of nine ballparks at the Low-A Southeast League.
The Major League Baseball Umpires Association agreed in its labor contract that started in 2020 to cooperate and assist if commissioner Rob Manfred decides to use the system at the major league level.
"It's hard to handicap if, when or how it might be employed at the major league level, because it is a pretty substantial difference from the way the game is called today," Chris Marinak, MLB's chief operations and strategy officer, said last March.
MLB said the robot umpires will be used at some spring training ballparks in Florida, will remain at Low A Southeast and could be used at non-MLB venues.
Tampa Bay Rays say split-season plan with Montreal rejected by MLB
ST. PETERSBURG, Fla. — The Tampa Bay Rays' proposed plan to split the season between Florida and Montreal has been rejected by Major League Baseball.
Rays principal owner Stuart Sternberg announced the news on Thursday.
"Today's news is flat-out deflating," Sternberg said.
The idea of playing in both the Tampa Bay area and Montreal has been discussed over the past several years after attempts to build a new full-time ballpark locally failed.
Montreal had a big league team from 1969, when the expansion Expos began play, through 2004. The Expos moved to Washington and became the Nationals for the 2005 season.
The Rays' lease at Tropicana Field in St. Petersburg, Florida, where the team has played since its inaugural season in 1998, expires after the 2027 season.
Since Sternberg took control in October 2005, the once-struggling franchise has been a success on the field but not at the box office.
Despite reaching the World Series in 2008 and 2020, the Rays have annually ranked near the bottom in attendance. The Rays averaged about 9,500 for home games last season, 28th in the majors and ahead of only Miami and Oakland.
St. Petersburg mayor Ken Welch feels a new stadium in his city remains a possibility. Governmental officials have been working on a redevelopment plan for the Tropicana Field site.
"We are working with our county partners and city council to put together the best plan possible, which will work in conjunction with my planned evolution of the Tropicana Field master development proposals," Welch said in a statement. "With this collaborative approach, I am confident we can partner with the Tampa Bay Rays to create a new and iconic full-time home for Major League Baseball in St. Petersburg while also achieving historic equitable economic growth."
Sternberg said the team will definitely explore options in the Tampa Bay area.
One fun fact you (probably) did not know for all 30 MLB teams

From telling team numbers to surprising player stats, we find what you might have missed about your favorite squad.

Source link