NFL Week 7 fantasy football inactives watch
Who should you start? Who should you sit? To help you set your fantasy football lineups and to avoid starting a player who won't be in the lineup, we'll post fantasy-relevant updates and analysis here as NFL teams release their official inactives lists, typically about 90 minutes before kickoff. Any rankings cited in this column come from our ESPN Fantasy staff ranks.
Official Sunday inactives should begin coming in approximately 90 minutes prior to the scheduled kickoff time, including around 11:30 a.m. ET for the early games and 2:30 p.m. ET for the late games.
Refresh often for the latest information.
---
1 p.m. ET games
Offense
Latavius Murray, RB, BAL: Ankle — OUT
Impact: Devonta Freeman is expected to start, with Le'Veon Bell backing up.
Sammy Watkins, WR, BAL: Thigh — OUT
Impact: Rashod Bateman will get another chance to impress.
Terrace Marshall Jr., WR, CAR: Concussion — OUT
Impact: Shi Smith should see a few routes and potentially even more …
Alex Erickson, WR, CAR: Concussion — Questionable
Impact: He could be a deep-league flex candidate, assuming he is healthy enough to play.
Tyreek Hill, WR, KC: Quad — Questionable
Impact: Practiced on Friday and is on course to play.
DeVante Parker, WR, MIA: Shoulder — Questionable
Impact: If Parker can finally get back on the field, Jaylen Waddle's value would take a hit.
Preston Williams, WR, MIA: Groin — Questionable
Impact: Limited in practice all week. Don't expect much here.
Brandon Bolden, RB, NE: Thigh — Questionable
Impact: Rhamondre Stevenson's touch count is likely to rise a bit.
Nick Folk, K, NE: Knee — Questionable
Impact: Limited in early-week practice, but still on track to start.
Saquon Barkley, RB, NYG: Ankle — OUT
Impact: Devontae Booker once again will try and scrape together fantasy value in a depleted Giants offense.
Kenny Golladay, WR, NYG: Knee — OUT
Impact: Dante Pettis could be pressed into starting action.
Kadarius Toney, WR, NYG: Ankle — OUT
Impact: Collin Johnson might get a chance to see a few looks.
Sterling Shepard, WR, NYG: Hamstring — Questionable
Impact: Suffered a late-week setback and may be a game-time call.
John Ross III, WR, NYG: Hamstring — Questionable
Impact: Limited late in week. Basically, the healthiest Giants WR gets to play.
Darius Slayton, WR, NYG: Hamstring — Questionable
Impact: Very minimal practice this week. He's earned that questionable tag.
Evan Engram, TE, NYG: Calf — Questionable
Impact: Downgraded late in week. Kaden Smith/Kyle Rudolph may be better bets.
Tevin Coleman, RB, NYJ: Hamstring — Questionable
Impact: Michael Carter may get a chance to step up.
Tyler Kroft, TE, NYJ: Back — OUT
Impact: Ryan Griffin gets another start.
Julio Jones, WR, TEN: Hamstring — Questionable
Impact: Looking very likely to suit up for this one.
Antonio Gibson, RB, WAS: Shin — Questionable
Impact: Gibson says he's confident that he will play.
Curtis Samuel, WR, WAS: Groin — OUT
Impact: Fortunately for Washington, Terry McLaurin is healthy.
Cam Sims, WR, WAS: Hamstring — OUT
Impact: Adam Humphries and Dyami Brown are both strong plays.
Defense
Patrick Queen, LB, BAL: Thigh — Questionable
Shaq Thompson, LB, CAR: Foot — OUT
Preston Smith, LB, GB: Oblique — Questionable
Kevin King, CB, GB: Shoulder — Questionable
Darnell Savage, S, GB: Concussion — Questionable
Chris Jones, DT, KC: Wrist — Questionable
Anthony Hitchens, LB, KC: Triceps — OUT
Charvarius Ward, CB, KC: Quad — Questionable
Byron Jones, CB, MIA: Achilles — Questionable
Xavien Howard, CB, MIA: Shoulder — Questionable
Deatrich Wise Jr., DE, NE: Knee — Questionable
Davon Godchaux, DT, NE: Finger — Questionable
Dont'a Hightower, LB, NE: Elbow — Questionable
Kyle Van Noy, LB, NE: Groin — Questionable
Adrian Phillips, S, NE: Back — Questionable
Jalen Mills, CB, NE: Hamstring — Questionable
C.J. Mosley, LB, NYJ: Hamstring — Doubtful
Bud Dupree, LB, TEN: Knee — Questionable
William Jackson III, CB, WAS: Knee — Questionable
---
4 p.m. ET games
Offense
Darrell Daniels, TE, ARI: Hamstring — OUT
Impact: Zach Ertz is here and finally eligible to play for the Cardinals.
Allen Robinson II, WR, CHI: Ankle — Questionable
Impact: Odds are good that Robinson will be able to play.
Damien Williams, RB, CHI: COVID-19 — Cleared
Impact: He's back in the Bears backfield, but may now split carries with Khalil Herbert.
Jimmy Graham, TE, CHI: COVID-19 — OUT
Impact: Cole Kmet gets another chance to have greater fantasy impact.
D'Andre Swift, RB, DET: Groin — Questionable
Impact: Expectations are high for Swift to suit up.
T.J. Hockenson, TE, DET: Knee — Questionable
Impact: Practiced more as the week went on, which is always a good sign.
Chris Conley, WR, HOU: Neck — Questionable
Impact: If Danny Amendola is active that could be a sign that Conley's not 100%.
Nico Collins, WR, HOU: Foot — Questionable
Impact: Davion Davis could see an increase in targets if Collins can't play.
Sony Michel, RB, LAR: Shoulder — Questionable
Impact: He should play, but the workload split with Darrell Henderson Jr. is anyone's guess.
Darren Waller, TE, LV: Ankle — Questionable
Impact: A weekend add to the injury report is never a good sign. Have another TE option from the late slate at your disposal, just in case.
Antonio Brown, WR, TB: Ankle — OUT
Impact: Mike Evans and Chris Godwin both have a lot more fantasy appeal.
O.J. Howard, TE, TB: Ankle — Questionable
Impact: Practiced in full on Friday, which points towards a possible Sunday start.
Rob Gronkowski, TE, TB: Ribs — OUT
Impact: Cameron Brate will see a lot of snaps, and possibly more if Howard sits.
Defense
Rashard Lawrence, DT, ARI: Calf — OUT
Zach Allen, DT, ARI: COVID-19 — OUT
Chandler Jones, LB, ARI: COVID-19 — OUT
Akiem Hicks, DE, CHI: Groin — Questionable
Bilal Nichols, DT, CHI: Knee — Questionable
Khalil Mack, LB, CHI: Foot — Questionable
Tashaun Gipson Sr., S, CHI: Hip — OUT
Trey Flowers, DE, DET: Knee — Questionable
Anthony Harris, S, PHI: Groin — Questionable
Jason Pierre-Paul, DE, TB: Shoulder — Questionable
Lavonte David, LB, TB: Ankle — OUT
---
Sunday night game
Jordan Wilkins, RB, IND: Illness — OUT
Impact: Jonathan Taylor already was in line for RB1 value.
T.Y. Hilton, WR, IND: Quad — OUT
Impact: Michael Pittman Jr. and Zach Pascal likely to get the most WR looks with Parris Campbell on IR.
Julian Blackmon, S, IND: Achilles — OUT
Trey Lance, QB, SF: Knee — OUT
Impact: Jimmy Garoppolo has been cleared to start, perhaps in the nick of time.
Javon Kinlaw, DT, SF: Knee — OUT
Marcell Harris, S, SF: Thumb — Questionable
Buffalo Bills make playoff history with 7 touchdown drives in blowout win vs. New England Patriots
ORCHARD PARK, N.Y. — The Buffalo Bills didn't just beat the New England Patriots. They made a statement to the entire NFL.
The Bills dominated the teams' third meeting in 41 days, winning 47-17 at home to move on to the Divisional round of the playoffs. Buffalo scored a touchdown on all seven of their possessions, becoming the first team in the Super Bowl era to score a TD on each of their first seven drives of a playoff game, according to the Elias Sports Bureau.
With the win, the Bills have beaten the Patriots twice by double-digits in a single season (33-21 in Week 16), becoming the first team to do so since Bill Belichick became head coach.
Dating back to that game in Week 16, the Bills' last 13 drives against the Patriots have yielded 11 scores (10 touchdowns and one field goal). During that stretch, the only thing that stopped the Buffalo offense was the clock.
Not only did the offense put up an impressive performance, but the Bills continued to show improvements in areas that have caused issues throughout the season. The running game was effective and the offensive line that has had a rollercoaster year set the tempo.
But the most impressive part of the game for the Bills was the performance of quarterback Josh Allen. Coming into the game, one of the big questions was if Allen could step up in freezing temperatures. He did far more than that with temperatures below 10 degrees throughout the game, putting together one of the best performances of his career.
Allen continued his stellar performance against the Patriots from a few weeks prior, completing 21/25 passes (84%) for 308 yards and five touchdowns, in addition to six carries for 66 yards. It is the highest completion percentage in a playoff game with 25 or more attempts since Aaron Rodgers in the 2010 Divisional Playoffs (86.1%)
He became the third player in the Super Bowl era with at least 150 pass yards and 50 rush yards in a single half of a playoff game, per Elias, and joined Drew Brees (2009) and Russell Wilson (2020) as the only quarterbacks to throw for five touchdowns against a Belichick-coached team.
Allen's performance included two touchdown passes to tight end Dawson Knox and one to wide receiver Emmanuel Sanders. The score was Sanders' first touchdown in the postseason, coming in his 14th career playoff game with his fifth different team.
Allen's fifth touchdown was a one-yard throw to reserve offensive lineman Tommy Doyle. All five of his touchdown throws came in play-action, the most by any player in a regular-season or playoff game since 2006 when ESPN began tracking play-action. He has gone four straight games without being sacked.
Running back Devin Singletary ran for two touchdowns behind an offensive line that dominated the line of scrimmage throughout the game.
The defense limited rookie quarterback Mac Jones throughout the game, including forcing two interceptions.
The Bills will now head to the Divisional round of the playoffs for a second straight season with a perfect record in home playoff games under McDermott. With a Chiefs win on Sunday night, the Bills would head to Kansas City, the site of last year's AFC Championship loss.
Buffalo is 0-3 in road playoff games since McDermott became head coach (0-3). With a Pittsburgh Steelers win, the Bills would host the Cincinnati Bengals next week.
Derek Carr, Maxx Crosby want Rich Bisaccia back as Las Vegas Raiders' head coach
CINCINNATI — Raiders quarterback Derek Carr and Pro Bowl defensive end Maxx Crosby both heartily endorsed Rich Bisaccia retaining the head-coaching job permanently following Las Vegas' season-ending 26-19 loss to the Cincinnati Bengals in the opening round of the playoffs on Saturday night.
Bisaccia was promoted from special teams coordinator to interim head coach following Jon Gruden's resignation on Oct. 11.
"I think we can all think that he's the right guy," Carr said of Bisaccia. "He's proven that people listen to him. Our team listens to him. And I love him so much, I'm thankful for him. All those things will be decisions that I don't make; I don't get to make. I just play quarterback … but with everything that went on, if you really look at what happened, all the pieces missing, everything that changed, yeah, he held it together."
Carr referenced the Raiders losing starting guards Richie Incognito and Denzelle Good to injury in the preseason and opener, respectively. He also talked about receiver Henry Ruggs III being cut following his involvement in a high-speed car crash that left a woman dead. Carr also cited Pro Bowl tight end Darren Waller missing five games down the stretch; Pro Bowl running back Josh Jacobs being dinged up and unavailable at times; and losing versatile running back Kenyan Drake to a knee injury in Week 13.
"You go on and on and on and on, and that's just offense," said Carr, who had driven the Raiders to the Bengals' 9-yard line before being intercepted at the 2-yard line on fourth-and-goal with 12 seconds to play Saturday night. "The fact that that staff kept everything together and kept us competitive and kept us finding ways to win football games, I think that's what our organization is about, right? So, we'll see what happens. We know what we want to have happen. But, again, we're Raiders. We're going to play football, but we just hope it, obviously, we hope it's for somebody special."
Carr also said he would stay out of direct conversations when it came to his future with the team. He has one year remaining on the five-year, $125 million extension he signed in 2017.
He said his agent and the Raiders have a good relationship.
"Lord knows there's been a lot of things to communicate about, right?" Carr said. "When the time comes, I never want a face-to-face. I'm going to play quarterback, but my message will be talked about.
"I'm not going to go to dinner and say, 'We have to do something.' I'm not that guy. I'll let my voice be heard, but in a different way."
Crosby, who was just named second-team All-Pro, called Bisaccia a "great leader" for the Raiders.
"If it was up to me, I think everyone in the world knows what my decision would be," said Crosby, who had a sack among his six tackles on Saturday. "I love Rich. You know, I'm biased, obviously, but he's, he's a great coach … he came in and got us to 10 wins. We came on the road, on a short week, and gave Cincinnati everything they could handle.
"One of the best people I know. One of the most honest dudes I know. And I'll go to bat for him any day of the week. I love that dude to death. He knows that. I appreciate everything he's brought to the table. I hope we keep doing it."
Raiders owner Mark Davis has remained silent on the team's head-coaching search, as well as on the futures of Carr and general manager Mike Mayock.
Bisaccia, meanwhile, laughed when asked if he thought about being elevated to the full-time job.
"I'm just thinking about those guys in that locker room that played the game with their heart and soul out there like that," he said, "and had a chance to win at the end."
Bengals win first playoff game in 31 years, set the table for a run at AFC title – Cincinnati Bengals Blog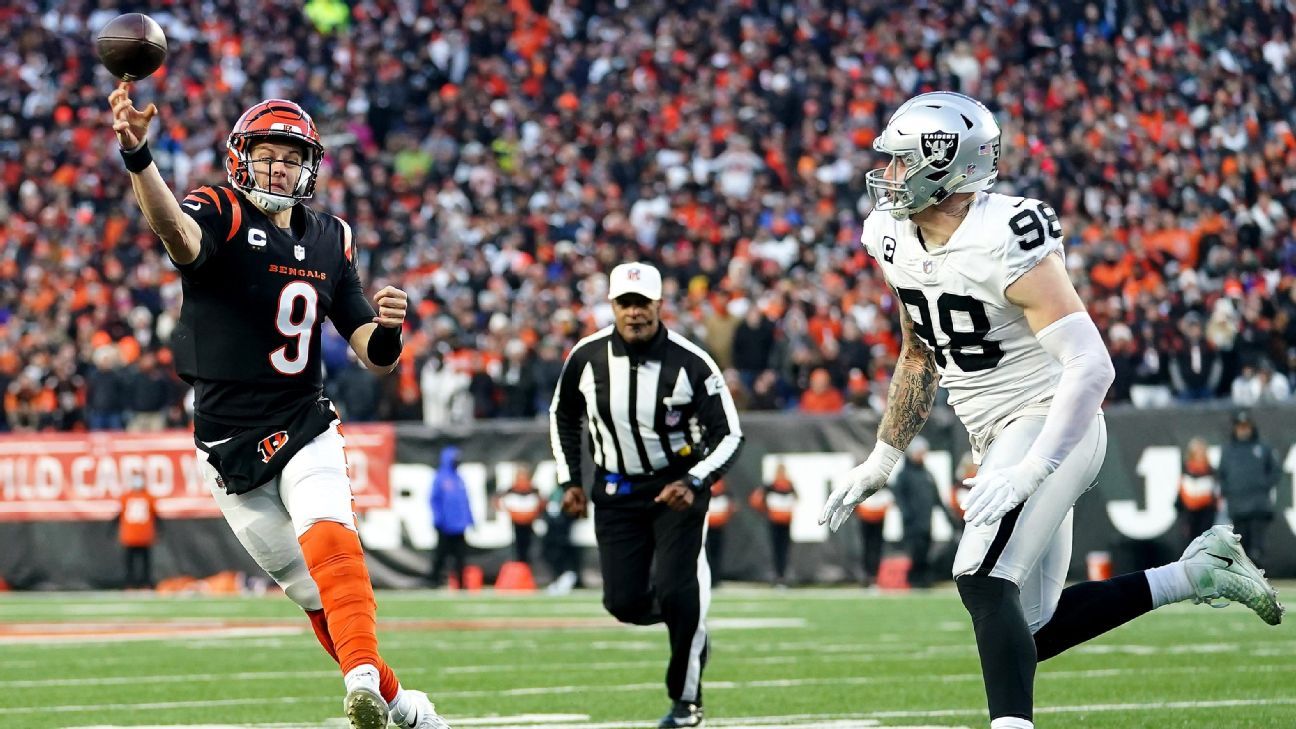 CINCINNATI — Send those text messages. The Cincinnati Bengals have finally won a playoff game.
Cincinnati defeated the Las Vegas Raiders 26-19 at Paul Brown Stadium in an AFC wild-card game on Saturday. It was Cincinnati's first playoff victory in 31 years, since before cell phones were capable of sending texts, as memes on the internet reminded folks in the days preceding the game.
But the win wasn't just about ending the longest playoff win drought in the NFL. It was about the first step in making a run at the AFC title.
Over the course of the season, Cincinnati went from the projected cellar dweller in the AFC North to division champs, ending a six-year stretch without a playoff appearance. That journey included an overtime loss to the Green Bay Packers, one of the top teams in the NFL, and a Week 17 win over the Kansas City Chiefs, the AFC representatives in last year's Super Bowl.
• Full bracket, schedule and format »
• Previewing the NFL playoff field »
• Busting myths for the 14 teams »
• See more playoff content »
Those performances indicated Cincinnati wasn't just a team that could win a playoff game. They showed the Bengals can hang with the best in the NFL.
For the second time this season, the Bengals needed to hang tough against the Raiders in order to pick up a win. The first came on Week 11 and set the tone for the second half of Cincinnati's season.
The second victory was much more significant. It gave the city of Cincinnati something it hasn't experienced in decades and set the table for the Bengals to have a truly special postseason.
"We expect to beat everybody that we play, not just hang with them," Bengals quarterback Joe Burrow said after the game.
Burrow added: "I mean, it's exciting. But this is expected. This isn't like the icing on top of the cake or anything. This is the cake. So we're moving on."
Describe the game in two words: Curse ending. The Bengals ended the fabled "Curse of Bo Jackson" — the former Raiders running back's final NFL game in January 1991 that also ended Cincinnati's last playoff run that featured a win.
"I'm just really, really happy for the city of Cincinnati and that they get a chance to enjoy this," Bengals coach Zac Taylor said. "And now, just exhale and enjoy the ride we have. Because we're not done yet."
Pivotal play: On third-and-four at the end of the first half, Bengals quarterback Burrow scrambled and found Tyler Boyd for a 10-yard touchdown pass to give Cincinnati a 20-6 lead. Initially, it appeared Burrow was going to go out of bounds. A referee even blew an errant whistle. But the play continued and Cincinnati got a key red-zone touchdown.
QB breakdown: Burrow was efficient in his playoff debut. After throwing for 148 yards earlier in the season against the Raiders, Burrow finished Saturday's win completing 24-of-34 passes for 244 yards, two touchdowns and no interceptions.