Fabio Quartararo wins world title, Francesco Bagnaia crash, Emilia-Romagna Grand Prix
Fabio Quartararo won his first MotoGP world title on Sunday after his closest rival Francesco Bagnaia crashed out of the Emilia-Romagna Grand Prix.
Bagnaia, who was 52 points behind Quartararo with three GPs including this race remaining, was comfortably leading when he fell with just four laps left to hand the Frenchman his country's first ever MotoGP championship.
Yamaha rider Quartararo, 22, now leads Bagnaia by 65 points meaning the Frenchman can no longer be caught by his Ducati rival and guarantees a first riders' title for his team since 2015 and a first ever for his nation.
Stream Every Practice, Qualifier & Race of the 2021 Moto GP Championship Live & On-Demand on Kayo. New to Kayo? Start Your Free Trial >
"It's not the way I would have liked to win this championship but it's not the only race we've won," he said to Sky Sport Italia.
"It's been incredible and I think I performed so well this year thanks to Pecco (Bagnaia) who has really pushed me hard… I'm really happy."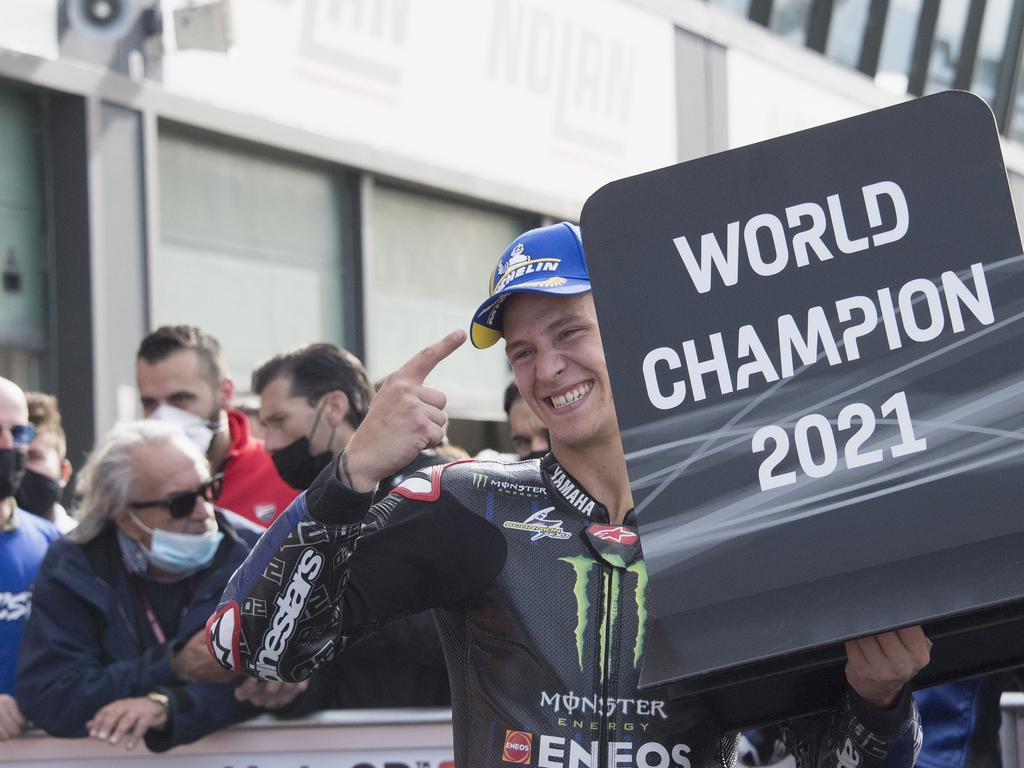 Quartararo broke down in tears as his family sung his praises during the interview, carried out in Italian, covering his face to stop himself crying too hard on national television.
His win comes in his third season in MotoGP, the first with Yamaha's factory team after two years with the SRT satellite outfit.
In the 16 races he has contested this season, he has claimed 10 podiums, including five victories.
Quartararo surged from 15th on the starting grid to finish fourth on Sunday behind race winner Marc Marquez, who had been pursuing Bagnaia for almost the entire race.
Marquez's Honda teammate Pol Espargaro was second and Italian rider Enea Bastianini of Ducati came third.
"By the time that he (Bagnaia) fell, I had already given up, I was thinking I'll be finishing second, but luck was on our side," said Marquez, who also won the Grand Prix of the Americas in the last round.
Marquez, 28, has been slowing returning to his best after missing almost all last season and the first two races of this campaign after breaking his right arm, which he flexed in triumph as he crossed the line.
Australian Jack Miller failed to finish, crashing out with 24 laps to go in what came as a blow to his hopes of protecting teammate Bagnaia's title bid.
F1 news 2022, Lewis Hamilton, Max Verstappen, 2021 title, appeal, decision date, new season calendar, full race schedule
Max Verstappen and Lewis Hamilton must wait two more months for motorsport chiefs to reveal the results of their inquiry into the Abu Dhabi Grand Prix where the Dutchman clinched the 2021 world title.
Governing body, the FIA, said Thursday that the outcome will not be revealed until March 18, just two days before the 2022 season gets underway in Bahrain.
Hamilton was poised to capture a record-breaking eighth world title at the Abu Dhabi finale in December before a controversial safety car restart allowed Verstappen to pass the British driver on the last lap.
Stream the Kayo Mini replay of the F1 World Championship finale FREE on Kayo Freebies. No credit card required. Join Kayo Freebies now & start streaming in minutes.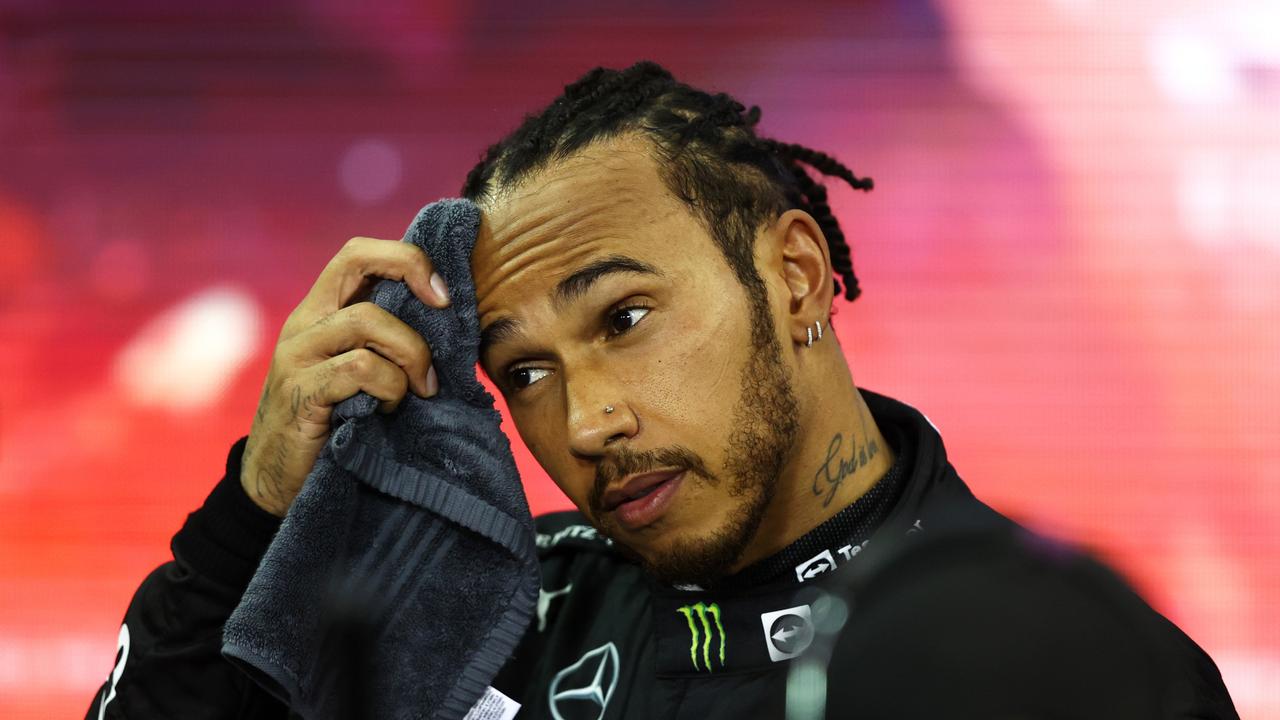 The incident has led to speculation that a disillusioned 37-year-old Hamilton may be prepared to turn his back on Formula One.
On Thursday, the FIA said that team chiefs as well as representatives of the ruling body will meet on January 19 to discuss the use of the safety car.
Drivers will also be brought into the discussions, it said.
"The outcome of the detailed analysis will be presented to the F1 Commission in February, and final decisions will be announced at the World Motor Sport Council in Bahrain on 18 March," added the FIA.
F1 news 2022, Lewis Hamilton, Mercedes, retirement, quit, latest, new contract, 2022 calendar, season
Lewis Hamilton's F1 future still remains unclear with just 69 days to go until the 2022 season begins as the FIA's investigation into the how the 2021 season ended now thought to be key in his decision making.
The FIA has pledged to investigate the controversial circumstances around the final lap of the 2021 season which saw Max Verstappen pip Hamilton to the world title in Abu Dhabi.
Mercedes withdrew their appeal against the result after the FIA announced they would launch an investigation into the events surrounding the safety car procedures.
Hamilton made a cryptic reference to his future in his post-race interview with former teammate Jenson Button.
Stream the Kayo Mini replay of the F1 World Championship finale FREE on Kayo Freebies. No credit card required. Join Kayo Freebies now & start streaming in minutes.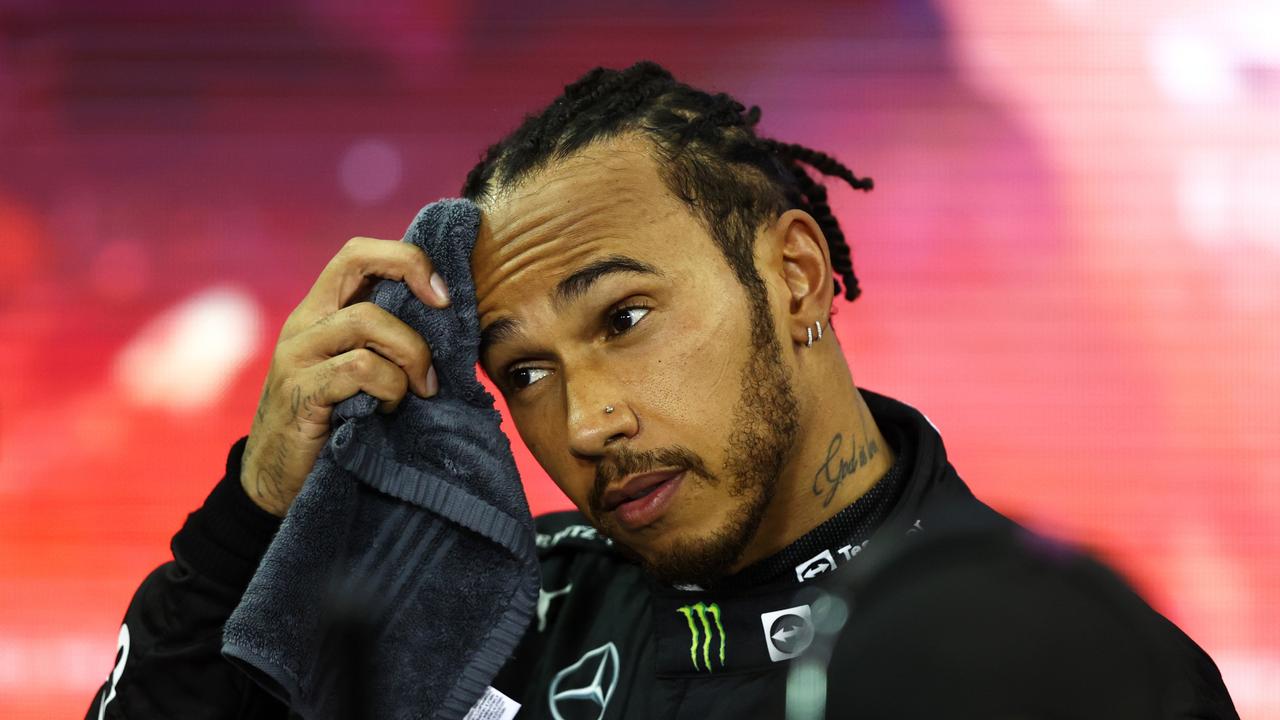 "We gave it everything and never gave up and that's the most important thing. We'll see about next year," he said.
This pledge is now reportedly crucial in whether Hamilton decides to get into a Formula 1 car again, according to Sky Sports, and the delay in its findings are seemingly impacting the delay in the seven-time world champion's decision.
Sky Sports News' Craig Slater reported: "With 69 days to go until the first Grand Prix in Bahrain, it is still unclear whether Lewis Hamilton will be on the grid.
"In terms of Hamilton coming back to Formula 1, having the appetite to do so and getting over the 'disillusionment' that his team boss Toto Wolff said he felt after Abu Dhabi, the onus is on the FIA to deliver on the pledge they made before Christmas to investigate the happenings on that final lap and to come up with some findings.
"It is understood that Mercedes want to see something tangible. It's been put to me like this: the longer this drags on then the worse the Lewis Hamilton situation is, and that is from a senior source."
The 23-race 2022 season begins on March 18 with winter testing for the all-new generation of cars beginning on February 23.
rule changes, Lewis Hamilton, Mercedes, future, retirement, title, FIA, Michael Masi
Newly-elected FIA president Mohammed Ben Sulayem is yet to hear back from Lewis Hamilton after the Mercedes gun boycotted the end-of-season trophy gala.
The aftermath of the F1's controversial Abu Dhabi finale is far from over, with Hamilton still not "100 per cent" according to Ben Sulayem.
Speaking to reporters at a press conference at the Dakar Rally, Ben Sulayem was empathetic of Hamilton's situation.
Catch every moment of The Ashes live and ad-break free during play on Kayo. New to Kayo? Try 14-days free now.
INSANE Horner reaction to title moments | 01:35
He has previously said there will be "no forgiveness" if Hamilton is found to have breached rules in skipping the gala and maintained that stance on Monday.
"I sent him messages," Ben Sulayem said.
"I think he's not ready now to be functioning 100 per cent. You don't blame him. I understand his position, being a driver – of course he's on a different level.
"But also the rule is there. For me it's not particular, a driver or a certain team. It is in general, there are rules that we have to respect, and the integrity of the FIA, we have to respect. And I cannot judge anyone unless I get the correct facts.
"I feel that, of course, not being present at the gala dinner, it's something that the team and Lewis knew about it. But at the end of the day, you are human also. The stress and the pressure has been there."
The King is Crowned! | 00:34
Hamilton's silence has also extended to questions about whether he will race on next year, with Mercedes boss Toto Wolff saying the Brit will never get over the Abu Dhabi heartbreak.
Ben Sulayem responded to queries about Hamilton's future with a question of his own.
"I'll ask your question: did Lewis declare that he's not going to race?" he said.
"No. Exactly. Being a driver, you declare yourself, you don't let the rumours [talk].
"I'm confident that Lewis [will be back]. Lewis is a big part of motorsport, and of course of Formula 1, the new era [can add to] Lewis' wins and achievements, and also Verstappen is there."
While Hamilton looks set to return, it does not mean the F1 cannot ignore what happened at Abu Dhabi.
The FIA, its governing body, is investigating the decisions made by race director Michael Masi in light of the Nicholas Latifi crash, centred around the deployment of the safety car.
Ben Sulayem said the FIA's focus is on introducing "proactive" measures instead of always being "reactive' to such issues.
Huge crash closes gap in title race | 01:06
"I am going to study the case of what happened in Abu Dhabi, and a decision will be taken how to go forward without any pressure from anyone," Ben Sulayem said.
"The integrity of the FIA, it is my job and duty to protect it, but it doesn't mean that we do not look into our regulations, and if there is any [need for] improvement, we will [make changes].
"I said in my first press conference, this is not the book of God. This is written by humans. It can be improved and changed by humans. So that's it."