Problematic Jon Gruden emails may be 'more common' than thought, congressman says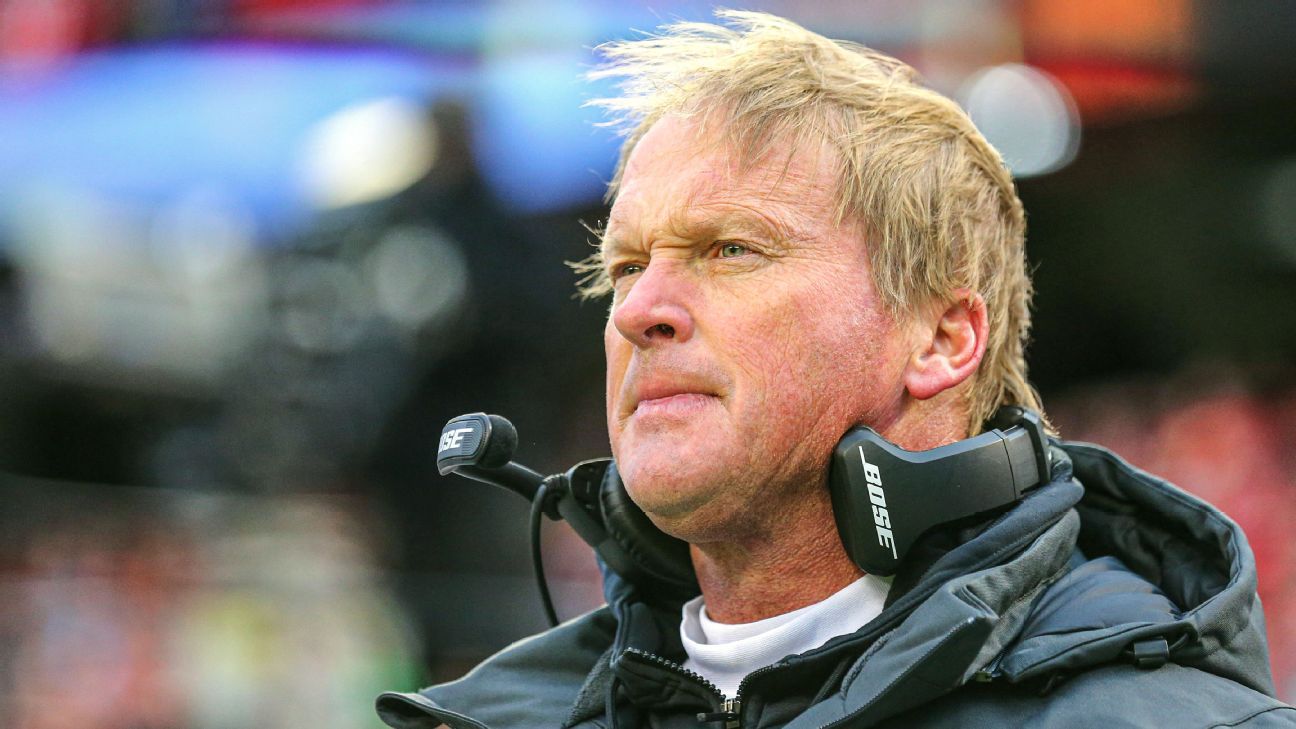 ASHBURN, Va. — One of the House Democrats who sent a letter to the NFL seeking more information about its investigation into the Washington Football Team's workplace culture says he fears Jon Gruden's emails are the "tip of the iceberg."
Rep. Raja Krishnamoorthi, D-Ill., told ESPN that the representatives wanted to get involved because the NFL "holds a special place in American life."
"The way they handle issues of race and gender and the way they treat their employees really influences the way society handles those very issues," Krishnamoorthi said. "We're very much interested in learning more about exactly why the NFL did what they did and the way they did it."
Gruden resigned as Las Vegas Raiders coach earlier this month following reports that emails he wrote over a multiyear period included racist, misogynistic and anti-gay language. The emails were discovered as part of the investigation into Washington's workplace culture.
"The biggest fear is that what Jon Gruden appears to engage in is much more common than what we otherwise thought," Krishnamoorthi said. "That's what a lot of people are concerned about."
Krishnamoorthi and Rep. Carolyn B. Maloney, D-N.Y., who is chairwoman of the Committee on Oversight and Reform, asked the NFL to turn over a number of documents and answer numerous questions about the investigation by Nov. 4.
They have not heard from the NFL, Krishnamoorthi said, other than to acknowledge receipt of the five-page letter. NFL spokesman Brian McCarthy said in an email Thursday night that the league had received the letter and shares Maloney's "concern that all workplaces should be free from any form of harassment and discrimination. We look forward to speaking to her office soon."
If the NFL chooses not to cooperate, Congress could issue a subpoena. Asked if they would consider suing the league, Krishnamoorthi said, "If the NFL were not to cooperate after we attempted to work with them to enlist their cooperation, then we do have the tools to compel the production of documents. But our hope is it doesn't get there. I hope we can work with them to get this information."
In the letter, Maloney and Krishnamoorthi said they want the NFL to produce "all documents and communications obtained in connection with the investigation into the WFT, its management, its owners, and any other matter relating to or resulting from the WFT investigation." They also want the NFL to detail its role in attorney Beth Wilkinson's investigation into the franchise and why there was no written report after 150 people had been interviewed.
"I just don't know of an investigation where someone is not allowed to document what happened or to document the findings," Krishnamoorthi told ESPN, "but that appears to be what happened here. There's a large body of evidence she reviewed that others reviewed that is also somehow not surfacing in any way."
Tom Davis served as chairman of the House Oversight Committee from 2003 to 2007 and was the ranking minority member on the committee during Congress' 2008 investigation into baseball's steroid issue. He said it was able to bring that issue to a hearing because it had bipartisan support in the House and because the target was more than just one player or team.
"Members will want to know why Congress is getting involved and, if so, why are they singling out one team," Davis said. "This isn't unique to the Washington Football Team. It's all over sports. It's all over locker rooms and college campuses.
"To get to the floor of the House, you have to be broader than the Washington Football Team."
The representatives' letter also raised concerns about nondisclosure agreements that former employees had signed and sought more information about the role of the NFL's general counsel, Jeff Pash, in the investigation.
"The biggest fear is that what Jon Gruden appears to engage in is much more common than what we otherwise thought. That's what a lot of people are concerned about."

Rep. Raja Krishnamoorthi, D-Ill.
Pash's close relationship with former Washington team president Bruce Allen was revealed in some of the leaked emails, which included topics that ranged from jokes on the league's diversity initiatives to rescinding an NFL fine. Allen was fired at the end of the 2019 season.
Krishnamoorthi said the Congress members don't think the former Washington employees who cooperated with investigators have received any response.
"The Washington Football Team and the NFL enjoy special privileges under our antitrust laws," Krishnamoorthi said. "We thought it was important to get to the bottom of what's going on in the NFL, in regards to the Washington Football Team in the way they handled their employees. What we've seen so far is deeply disturbing."
Krishnamoorthi said the representatives want to investigate this situation to determine whether new or stronger laws are needed to help employees in a similar environment. He said they also want to make sure the NFL did not cover up information via the nondisclosure agreements signed by the former Washington employees.
The emails from Gruden, sent when he was employed by ESPN as the lead analyst for Monday Night Football, went to Allen's team account, which is why they were uncovered as part of the NFL investigation. Some were also included in court filings in which Washington owner Dan Snyder tried to show that Allen was a source of leaking negative information about the team.
Krishnamoorthi said the representatives were not asked by anyone to send a letter to the NFL. He said they have been observing the situation and that Gruden's resignation "highlighted the rather disturbing nature of the communications happening by high-level officials, and it seems appropriate to now intervene and try to get to the bottom of what's going on."
NFL Playoffs — Clutch kickers dominate in divisional-round showdowns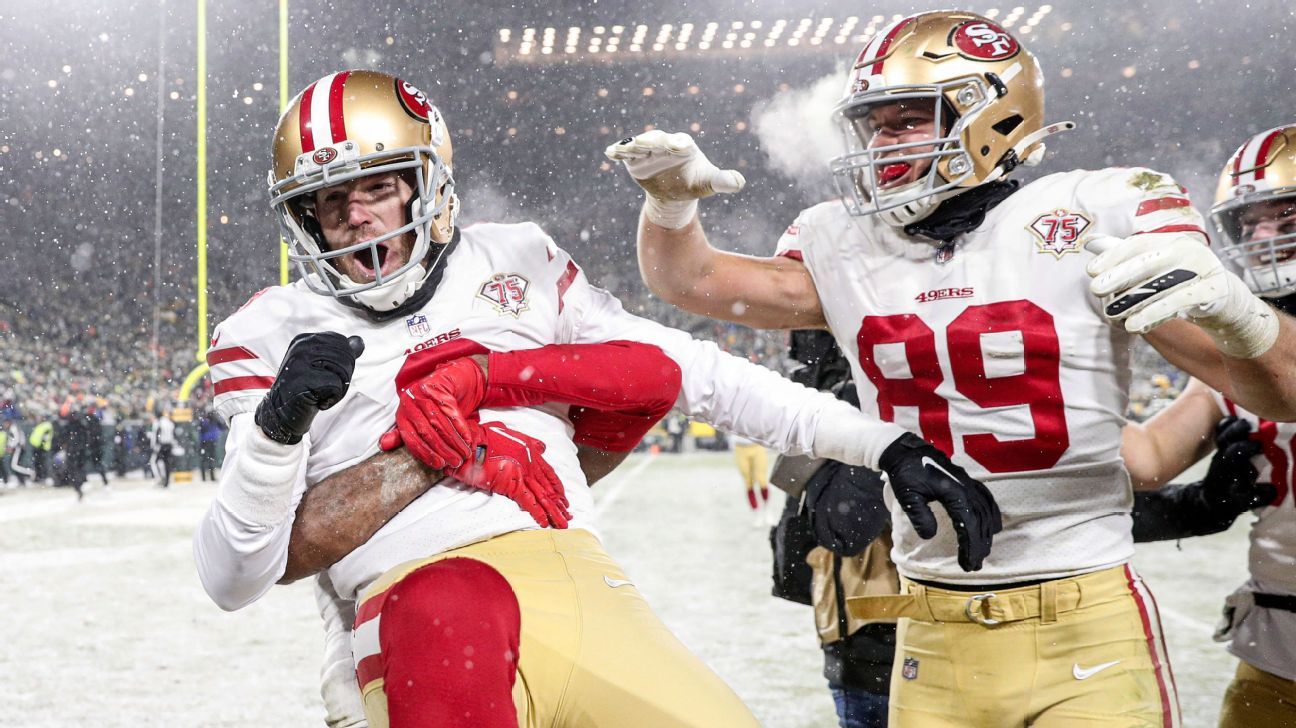 It's a good time to be an NFL kicker.
The AFC and NFC divisional games gave football fans everywhere a reason to root for their team's kicker.
According to Elias Sports Bureau, there have only been 10 games in NFL postseason history which have ended with game-winning field goals as time expired in regulation. Three of them came this weekend — the first time there has been three in a single postseason.
In Saturday's AFC Divisional Game, rookie Evan McPherson kicked a 52-yard field goal as time expired, pushing the underdog Cincinnati Bengals past the top-seeded Tennessee Titans, 19-16.
Money. Mac. Shooter. McPherson. Legend.

Visit https://t.co/KpeqK4RKUm for more highlights. pic.twitter.com/CIrXmzwZI0

— Cincinnati Bengals (@Bengals) January 23, 2022
In his post-win news conference, quarterback Joe Burrow shared that McPherson was ready to call game before he even took the field.
Bengals K Evan McPherson, doing warm-up swings before his game-winner, looked at back-up QB Brandon Allen and said, "Well, looks like we're going to the AFC Championship Game," Joe Burrow said.

— Ben Baby (@Ben_Baby) January 23, 2022
In addition to the walk-off field goal, McPherson made all the three other field goals he attempted in the game. He's now eight-of-eight in the playoffs.
Just a few hours later, the San Francisco 49ers also had their fate secured by a kicker as the game wound down.
Niners kicker Robbie Gould has made all 20 of his field goal attempts in the playoffs during his storied career. Saturday night was a sweet one with his 45-yard kick as time expired, sending the home team Green Bay Packers packing.
For the win!!! On to the next! pic.twitter.com/rd2oJ24fpi

— Robbie Gould (@RobbieGould09) January 23, 2022
"You're a f—ing legend man. F— the Packers," 49ers quarterback Jimmy Garoppolo said to Gould after the game.
On Sunday, more kickers had a say in their team's result.
As time expired Sunday afternoon, the Los Angeles Rams were able to knock off the defending Super Bowl champion Tampa Bay Buccaneers on the road thanks to a 30-yard field goal from Matt Gay.
MATT GAY FOR THE WIN! pic.twitter.com/AQBU54oVhD

— Los Angeles Rams (@RamsNFL) January 23, 2022
Per ESPN Stats and Information, with the Bengals, 49ers and Rams all winning on the road, this is the third time where three road teams won in the divisional round since its inception in 1970.
And even though Harrison Butker had a shaky start to Sunday night's game — including a missed field goal and extra point — the Kansas City Chiefs kicker nailed a game-tying 49-yard field goal at the end of regulation to force overtime against the Buffalo Bills.
BUTKER. CLUTCH. pic.twitter.com/cW0hiBoJS9

— Kansas City Chiefs (@Chiefs) January 24, 2022
Patrick Mahomes then went 75 yards and tossed the game-winning touchdown to Travis Kelce for a ticket to the Chiefs' fourth straight AFC Championship Game.
The win by Kansas City, the No. 2 seed, was the only win by the home team all weekend.
Bills watch victory slip away in 13 seconds as Chiefs end Buffalo's postseason again – Buffalo Bills Blog
KANSAS CITY, Mo. — Buffalo Bills quarterback Josh Allen could have immediately run off the field, headed into the locker room and the offseason that awaited.
Instead, after embracing Kansas City Chiefs quarterback Patrick Mahomes moments after he had thrown the game-winning score Sunday night, Allen took his time and let his eyes linger. He looked around Arrowhead Stadium, watching Kansas City fans and players celebrate another postseason win and a berth in their fourth straight home AFC Championship Game.
"It was tough to be in that moment," Allen said. "Holding on to that feeling and making sure that we don't feel like this again. And like I said, back-to-back years in the same spot. It's tough to take in, but it's part of the game. It's part of the learning process. …
"We got to use this and figure out how we can be better and how we can accomplish what we want to accomplish."
The 42-36 loss to the Chiefs in overtime marked a second straight year the Bills' season has come to an end against Kansas City. Buffalo has yet to win a road playoff game under coach Sean McDermott (0-4).
Their goal of reaching the Super Bowl — and of getting past the Chiefs — will have to wait at least another year. The Bills spent the offseason preparing to beat Kansas City after losing in last year's AFC title game at Arrowhead.
This time, the game ended in devastating fashion on the first drive of overtime after the teams scored four times in the final two minutes of regulation.
"We just ended up on the wrong side of maybe one of the greatest games in postseason history," center Mitch Morse said.
Wide receiver Gabriel Davis had a breakout performance Sunday night, becoming the first player in postseason history to catch four touchdown passes. He finished with eight receptions for 201 yards.
"Gabe had his opportunity tonight and he made some outstanding plays," Allen said.
Despite the offense's heroics, the Bills' defense came up short when it was needed most. Trailing 36-33, the Chiefs got the ball back with just 13 seconds left before marching downfield in two plays, and Harrison Butker kicked a 49-yard game-tying field goal.
The 25 points scored in the last two minutes of regulation are the second most of regulation of any game in the Super Bowl era, per Elias Sports Bureau research.
"We talked about a lot of things," McDermott said of the team's approach to the end of the game. "I'm just gonna leave it at the execution. And that starts with me."
The league's No. 1 pass defense fell apart in overtime, allowing Mahomes to complete 6 of 6 passes, including the winning score to tight end Travis Kelce.
After an offseason partially built around addressing problems that came up last postseason against the Chiefs, especially the pass rush, the Bills have to get back to work on finding ways to get past Kansas City, something that will be no easy feat.
Wide receiver Tyreek Hill and Kelce again had big games against the Bills, combining for 246 yards on 19 receptions and two touchdowns. Mahomes finished with 378 yards and three touchdowns.
On the other side of the ball, the Chiefs were able to take wide receiver Stefon Diggs out of the game. He finished with three receptions on six targets for 7 yards and a successful 2-point conversion.
"[Diggs is] obviously one of our best players and we've got to make sure we're getting him the ball," McDermott said. "But at the end of the day, we scored to take the lead with 13 seconds left. So, there's a lot we can talk about, but we put ourselves in a position to win the game."
The Bills will now head into an offseason with limited cap room and changes on the way in the front office and potentially the coaching staff. Much of the team will be returning, although there are some key veteran decisions on the way, for yet another run at finding their way back to the big game.
Describe the game in two words: Heartbreaking end. The Bills' No. 1 defense fell just short when the team needed stops with a trip to the AFC Championship Game at stake.
QB breakdown: Allen continued his postseason magic, completing 27 of 37 passes for 329 yards and four touchdowns. He was also the team's leading rusher with 68 yards on 11 carries and had six rushing first downs, the most by a quarterback in the past two postseasons.
Allen finished the postseason with nine touchdowns and zero interceptions. It wasn't enough to come away with the win Sunday night, but Allen had some of his best performances of the season in the playoffs. He became the first player with four passing touchdowns and zero interceptions in back-to-back games in postseason history.
"[No.] 17 is always going to make a play with the ball in his hand — we got a lot of trust and faith in him," Davis said. "He's the best quarterback in the NFL and I stand by that, and I know that when it's time to make plays, I know he's gonna be there to make them."
Tom Brady says his thoughts are on Tampa Bay Buccaneers' playoff exit, not own future
TAMPA, Fla. — Tom Brady said Sunday night that it was too soon for him to think about his future and that his emotions were still tied to the Tampa Bay Buccaneers' heart-breaking, last-second playoff loss to the Los Angeles Rams that had ended just minutes earlier.
"Truthfully guys, I'm thinking about this game," said Brady, who rallied the Bucs from a 27-3 second-half deficit only to watch them fall 30-27. "I'm not thinking about anything past five minutes from now."
Brady's comments came after ESPN reported earlier Sunday that the 44-year-old quarterback is undecided about his future, and that while he could return for another season, it is far from a given. Sources told ESPN's Adam Schefter and Jeff Darlington that Brady plans to take time after the season ends — a month or longer — to assess how he feels physically and mentally while also gauging his family's desires.
Brady indicated as much after Sunday's loss.
"I haven't put a lot of thought into it, so you know, we will just take it day by day and kind of see where we are at," said Brady, who has one year left on his contract.
Asked if he thought about Sunday possibly being the final game of his career as he ran out of the South end zone tunnel at Raymond James Stadium, the seven-time Super Bowl winner said no.
"I was thinking about winning," he said. "That's kind of my mentality — always to go out there and try to win. Give my teammates the best chance to win."
In the end, he ran out of weapons to throw to this season. No Chris Godwin, Antonio Brown, Breshad Perriman or Cyril Grayson. Tyler Johnson went down with a rib injury and Jaelon Darden a concussion. Tight end Cam Brate was lining up in the slot by game's end Sunday, and at one point, Brady had a backup right guard filling in at right tackle, because his backup right tackle suffered an ankle injury, on top of a quad injury.
"It's the reality of football," said Brady, who lost in the divisional round for just the fourth time in his career. "Every team is really qualified when you get to the final eight, then the final four, then the final two and it doesn't feel good to lose any one of those games, and I have lost each of those stages. So at the end, there is only one team that is going to be happy. It feels good to move on when you move on, and obviously when you don't, whether it was last week or this week or next week, the week after, two weeks after that — if you are a loser in that game, it all sucks to lose in the end."
Coach Bruce Arians said there's no timetable for when a discussion with Brady about his future will take place.
"That's totally up to Tom," Arians said.
The Bucs don't have a viable successor to Brady on their current roster.
Teammates, many of whom faced questions about Brady's future this past week, acknowledged the reality of the situation.
"I know Tom's a competitor. He always say he's got something to prove, but what more can he do?" inside linebacker Lavonte David said. "He's the GOAT. He's done everything he can. If he comes back, obviously we'll welcome him with open arms. But we'll have to let him decide that for himself."
Wide receiver Mike Evans said he won't make any sort of pitch to Brady.
"I don't have to say nothing to him," Evans said. "He's self-motivated. He knows what he wants. Hopefully we get him back next year. The best player ever, one of the best teammates and one of the best leaders I've ever seen.
"I've said the last two years: I'm super appreciative that he came to Tampa Bay. Nobody had no clue he was even leaving New England. Just very privileged to play with him."
The Bucs have 24 players scheduled to become unrestricted free agents, including aging veterans who, like Brady, have decisions to make — outside linebacker Jason Pierre-Paul, running back Leonard Fournette, tight end Rob Gronkowski and Jensen, to name a few.
Re-signing all 22 starters like they did last year may not be possible.
"It's so tough. A lot of these guys are on the last year of their contracts," David said. "I was the last one to walk in [the locker room]. Seeing the look in everybody's eyes, it was like, 'This is a tough one.' You hate to go out in such a manner. At the end of the day, you know the locker room isn't going to be the same next year.
"You build relationships with guys and to see them go out the way we did — some people are going to have to move on to certain places. It's going to be tough because this is the most tight locker room I have ever been around with the greatest chemistry with guys on and off the field. Great leadership with the young guys and the old guys just gelling together. … It's like a real family-like atmosphere. Luckily you do build bonds with those guys to wish them well in their future endeavors, but we all know it's gonna be different next year."
Pierre-Paul, who just turned 33, will undergo surgery to repair a torn rotator cuff he's played with all season. Asked if he wants to continue playing, he said, "I don't know. We'll see after my surgery."
Fournette, the fourth overall draft pick in 2017 who found a career resurgence with the Bucs after getting released by the Jacksonville Jaguars before the 2020 season, added: "I'm proud of this group — I'm proud of these guys and I'm happy to call myself a Buccaneer."
A number of players stayed in the locker room long after Sunday's game was over.
"You have to cherish the relationships that you have with this team," Fournette said. "They don't come around too often like that. One of the best groups of guys and coaching staffs I've been around. We went out, the way we didn't want to go out, but at the end of the day, I'm just blessed to be a part of this organization, to have guys like Tom Brady, Gronk, Mike [Evans], Scotty [Miller], [Ryan] Jensen…guys like that…It's hard, it's tough."