Miami Dolphins coach reiterates support for Tua Tagovailoa as Deshaun Watson rumors swirl
MIAMI — Dolphins coach Brian Flores gave a public endorsement Friday of Tua Tagovailoa, after rumors of a potential trade for Houston Texans quarterback Deshaun Watson again flared earlier this week.
"I don't really get into rumors — Tua is our quarterback," Flores said when asked about Watson. "We're happy with the quarterback, our quarterback situation. I'll leave it at that, which I've said multiple times."
The Houston Chronicle reported Wednesday that a trade between Miami and Houston could be finalized this week involving Watson, who is facing 22 active lawsuits alleging sexual assault and inappropriate behavior. He requested a trade in January before the first such lawsuit was levied against him, and he has not played in or been active for any game this season.
Tagovailoa, who missed three games with fractured ribs, led the Dolphins to their lone win of the season in Week 1; they're currently on a five-game losing streak.
Flores previously backed Tagovailoa during a team meeting the week leading up to Miami's win over the Patriots. He publicly called Tagovailoa "our quarterback" later that week, saying it was important for players and coaches to feel as if they have their organization's support.
"I think it means a lot with it coming from the head coach," Tagovailoa said in September. "The support that I have from him and from the team, it means a lot."
The No. 5 pick in 2020 has thrown for 544 yards, 3 touchdowns and 2 interceptions in three games this season, although he played only six snaps against the Buffalo Bills in Week 2 before leaving with fractured ribs. He returned from injured reserve for Miami's loss to the Jacksonville Jaguars, completing 33 of 47 passes for 329 yards, 2 touchdowns and an interception.
Flores praised Tagovailoa's play this season, as well as the way he conducts himself throughout the week.
"I think his preparation, the way he practices and the way he performs has been good. I thought he played very well last week," Flores said. "I think his psyche is in a good place. He's a confident kid, he's a tough kid and really, he's played in two games this year, so he should have a lot of confidence in the way he's played. We have a lot of confidence in him because of the way he's played.
"He's developing. I think this kid is smart, I think he's, I think he's talented. I think he's accurate, I think he definitely has the opportunity to be a very good NFL player. … There's always bumps in the road for anyone in any career, any profession. You have to work through those and you become better for it."
Rumors about the Dolphins trading for Watson have swirled for months, with Miami reportedly being the quarterback's preferred destination. However, Watson has yet to face punishment from the NFL while the investigations into the allegations about his behavior continue. Houston has made clear its intentions to keep Watson sidelined, but it is unclear whether he would be allowed to play this season if he were traded to a different team.
Flores said his players are blocking out things that are "going on outside of our building" as they prepare to host the Atlanta Falcons on Sunday
"Some of us have probably heard about it, but as of right now — it's just a distraction at the end of the day," rookie tackle Liam Eichenberg said. "The most important thing this week is we're playing the Falcons and we need a win. I think that's everybody's thought right now is to focus on the Falcons."
Buffalo Bills make playoff history with 7 touchdown drives in blowout win vs. New England Patriots
ORCHARD PARK, N.Y. — The Buffalo Bills didn't just beat the New England Patriots. They made a statement to the entire NFL.
The Bills dominated the teams' third meeting in 41 days, winning 47-17 at home to move on to the Divisional round of the playoffs. Buffalo scored a touchdown on all seven of their possessions, becoming the first team in the Super Bowl era to score a TD on each of their first seven drives of a playoff game, according to the Elias Sports Bureau.
With the win, the Bills have beaten the Patriots twice by double-digits in a single season (33-21 in Week 16), becoming the first team to do so since Bill Belichick became head coach.
Dating back to that game in Week 16, the Bills' last 13 drives against the Patriots have yielded 11 scores (10 touchdowns and one field goal). During that stretch, the only thing that stopped the Buffalo offense was the clock.
Not only did the offense put up an impressive performance, but the Bills continued to show improvements in areas that have caused issues throughout the season. The running game was effective and the offensive line that has had a rollercoaster year set the tempo.
But the most impressive part of the game for the Bills was the performance of quarterback Josh Allen. Coming into the game, one of the big questions was if Allen could step up in freezing temperatures. He did far more than that with temperatures below 10 degrees throughout the game, putting together one of the best performances of his career.
Allen continued his stellar performance against the Patriots from a few weeks prior, completing 21/25 passes (84%) for 308 yards and five touchdowns, in addition to six carries for 66 yards. It is the highest completion percentage in a playoff game with 25 or more attempts since Aaron Rodgers in the 2010 Divisional Playoffs (86.1%)
He became the third player in the Super Bowl era with at least 150 pass yards and 50 rush yards in a single half of a playoff game, per Elias, and joined Drew Brees (2009) and Russell Wilson (2020) as the only quarterbacks to throw for five touchdowns against a Belichick-coached team.
Allen's performance included two touchdown passes to tight end Dawson Knox and one to wide receiver Emmanuel Sanders. The score was Sanders' first touchdown in the postseason, coming in his 14th career playoff game with his fifth different team.
Allen's fifth touchdown was a one-yard throw to reserve offensive lineman Tommy Doyle. All five of his touchdown throws came in play-action, the most by any player in a regular-season or playoff game since 2006 when ESPN began tracking play-action. He has gone four straight games without being sacked.
Running back Devin Singletary ran for two touchdowns behind an offensive line that dominated the line of scrimmage throughout the game.
The defense limited rookie quarterback Mac Jones throughout the game, including forcing two interceptions.
The Bills will now head to the Divisional round of the playoffs for a second straight season with a perfect record in home playoff games under McDermott. With a Chiefs win on Sunday night, the Bills would head to Kansas City, the site of last year's AFC Championship loss.
Buffalo is 0-3 in road playoff games since McDermott became head coach (0-3). With a Pittsburgh Steelers win, the Bills would host the Cincinnati Bengals next week.
Derek Carr, Maxx Crosby want Rich Bisaccia back as Las Vegas Raiders' head coach
CINCINNATI — Raiders quarterback Derek Carr and Pro Bowl defensive end Maxx Crosby both heartily endorsed Rich Bisaccia retaining the head-coaching job permanently following Las Vegas' season-ending 26-19 loss to the Cincinnati Bengals in the opening round of the playoffs on Saturday night.
Bisaccia was promoted from special teams coordinator to interim head coach following Jon Gruden's resignation on Oct. 11.
"I think we can all think that he's the right guy," Carr said of Bisaccia. "He's proven that people listen to him. Our team listens to him. And I love him so much, I'm thankful for him. All those things will be decisions that I don't make; I don't get to make. I just play quarterback … but with everything that went on, if you really look at what happened, all the pieces missing, everything that changed, yeah, he held it together."
Carr referenced the Raiders losing starting guards Richie Incognito and Denzelle Good to injury in the preseason and opener, respectively. He also talked about receiver Henry Ruggs III being cut following his involvement in a high-speed car crash that left a woman dead. Carr also cited Pro Bowl tight end Darren Waller missing five games down the stretch; Pro Bowl running back Josh Jacobs being dinged up and unavailable at times; and losing versatile running back Kenyan Drake to a knee injury in Week 13.
"You go on and on and on and on, and that's just offense," said Carr, who had driven the Raiders to the Bengals' 9-yard line before being intercepted at the 2-yard line on fourth-and-goal with 12 seconds to play Saturday night. "The fact that that staff kept everything together and kept us competitive and kept us finding ways to win football games, I think that's what our organization is about, right? So, we'll see what happens. We know what we want to have happen. But, again, we're Raiders. We're going to play football, but we just hope it, obviously, we hope it's for somebody special."
Carr also said he would stay out of direct conversations when it came to his future with the team. He has one year remaining on the five-year, $125 million extension he signed in 2017.
He said his agent and the Raiders have a good relationship.
"Lord knows there's been a lot of things to communicate about, right?" Carr said. "When the time comes, I never want a face-to-face. I'm going to play quarterback, but my message will be talked about.
"I'm not going to go to dinner and say, 'We have to do something.' I'm not that guy. I'll let my voice be heard, but in a different way."
Crosby, who was just named second-team All-Pro, called Bisaccia a "great leader" for the Raiders.
"If it was up to me, I think everyone in the world knows what my decision would be," said Crosby, who had a sack among his six tackles on Saturday. "I love Rich. You know, I'm biased, obviously, but he's, he's a great coach … he came in and got us to 10 wins. We came on the road, on a short week, and gave Cincinnati everything they could handle.
"One of the best people I know. One of the most honest dudes I know. And I'll go to bat for him any day of the week. I love that dude to death. He knows that. I appreciate everything he's brought to the table. I hope we keep doing it."
Raiders owner Mark Davis has remained silent on the team's head-coaching search, as well as on the futures of Carr and general manager Mike Mayock.
Bisaccia, meanwhile, laughed when asked if he thought about being elevated to the full-time job.
"I'm just thinking about those guys in that locker room that played the game with their heart and soul out there like that," he said, "and had a chance to win at the end."
Bengals win first playoff game in 31 years, set the table for a run at AFC title – Cincinnati Bengals Blog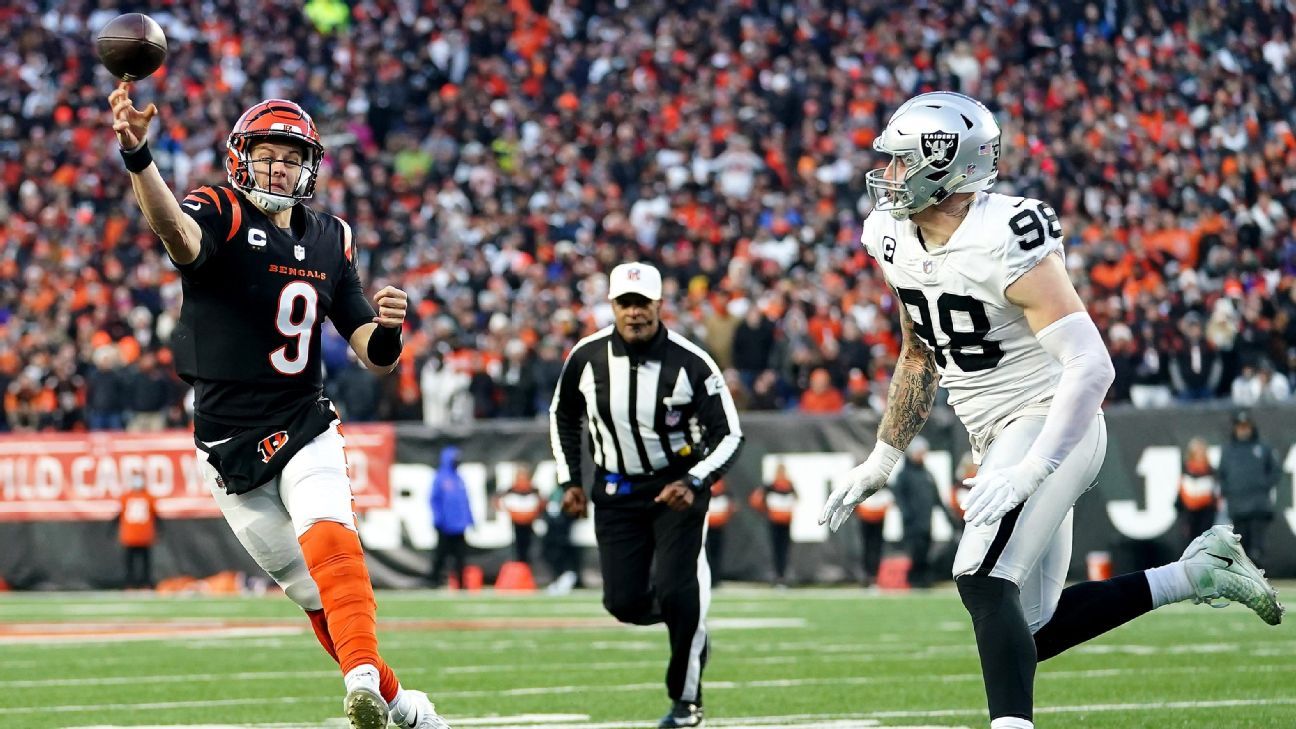 CINCINNATI — Send those text messages. The Cincinnati Bengals have finally won a playoff game.
Cincinnati defeated the Las Vegas Raiders 26-19 at Paul Brown Stadium in an AFC wild-card game on Saturday. It was Cincinnati's first playoff victory in 31 years, since before cell phones were capable of sending texts, as memes on the internet reminded folks in the days preceding the game.
But the win wasn't just about ending the longest playoff win drought in the NFL. It was about the first step in making a run at the AFC title.
Over the course of the season, Cincinnati went from the projected cellar dweller in the AFC North to division champs, ending a six-year stretch without a playoff appearance. That journey included an overtime loss to the Green Bay Packers, one of the top teams in the NFL, and a Week 17 win over the Kansas City Chiefs, the AFC representatives in last year's Super Bowl.
• Full bracket, schedule and format »
• Previewing the NFL playoff field »
• Busting myths for the 14 teams »
• See more playoff content »
Those performances indicated Cincinnati wasn't just a team that could win a playoff game. They showed the Bengals can hang with the best in the NFL.
For the second time this season, the Bengals needed to hang tough against the Raiders in order to pick up a win. The first came on Week 11 and set the tone for the second half of Cincinnati's season.
The second victory was much more significant. It gave the city of Cincinnati something it hasn't experienced in decades and set the table for the Bengals to have a truly special postseason.
"We expect to beat everybody that we play, not just hang with them," Bengals quarterback Joe Burrow said after the game.
Burrow added: "I mean, it's exciting. But this is expected. This isn't like the icing on top of the cake or anything. This is the cake. So we're moving on."
Describe the game in two words: Curse ending. The Bengals ended the fabled "Curse of Bo Jackson" — the former Raiders running back's final NFL game in January 1991 that also ended Cincinnati's last playoff run that featured a win.
"I'm just really, really happy for the city of Cincinnati and that they get a chance to enjoy this," Bengals coach Zac Taylor said. "And now, just exhale and enjoy the ride we have. Because we're not done yet."
Pivotal play: On third-and-four at the end of the first half, Bengals quarterback Burrow scrambled and found Tyler Boyd for a 10-yard touchdown pass to give Cincinnati a 20-6 lead. Initially, it appeared Burrow was going to go out of bounds. A referee even blew an errant whistle. But the play continued and Cincinnati got a key red-zone touchdown.
QB breakdown: Burrow was efficient in his playoff debut. After throwing for 148 yards earlier in the season against the Raiders, Burrow finished Saturday's win completing 24-of-34 passes for 244 yards, two touchdowns and no interceptions.