Congress seeking documents, information from NFL's investigation into Washington Football Team
Two House Democrats sent a letter Thursday to NFL commissioner Roger Goodell, demanding the league provide Congress with the results of the investigation into the Washington Football Team's workplace culture.
The five-page letter was written nearly two weeks after leaked emails led to Las Vegas Raiders coach Jon Gruden's resignation. His emails over a seven-year span, sent to then-WFT president Bruce Allen, included racist, anti-gay and misogynistic language.
It also led to renewed calls for the NFL to release the findings of an independent investigation, led by attorney Beth Wilkinson, into Washington's workplace.
There was no written report after the nearly year-long investigation, and the league has not released all the findings. According to an NFL spokesman, the league is not going to re-open the investigation or release the 650,000 emails it collected.
The letter, sent by Rep. Carolyn B. Maloney (D-New York), who is the Chairwoman of the Committee on Oversight and Reform, and Rep. Raja Krishnamoorthi (D-Illinois) asked the league to turn over a number of documents and answer numerous questions involving the investigation by Nov. 4.
They want the NFL to produce "all documents and communications obtained in connection with the investigation into the WFT, its management, its owners, and any other matter relating to or resulting from the WFT investigation."
They also want the NFL to detail its role in Wilkinson's investigation and why there was no written report after 150 people had been interviewed. It also raised concerns about non-disclosure agreements that former employees had signed. And it wanted to know the role of the NFL's general counsel, Jeff Pash, in the investigation. Pash's close relationship with Allen was revealed in some of the leaked emails on topics that ranged from jokes on the league's diversity initiatives and rescinding an NFL fine. Allen was fired at the end of the 2019 season.
The two democrats wrote, "We have serious concerns about what appears to be widespread abusive workplace conduct at the WFT and about the NFL's handling of this matter. Communications between league management and WFT leadership also raises questions about the leagues asserted impartiality in these investigations."
Washington was fined $10 million after the investigation concluded. At that time, owner Dan Snyder's wife, Tanya, became a co-CEO of the franchise. While Dan Snyder focused on securing a new stadium, Tanya Snyder took over daily operations. Last week, 10 former Washington employees sent a letter to multiple sponsors, including Nike and Amazon, wanting them to press the NFL for detailed findings of the investigation.
The emails from Gruden, when he was employed by ESPN as the lead analyst for Monday Night Football, were sent to Allen's team account, which is why they were uncovered as part of this investigation — and some were included in court filings in which Snyder wanted to show that Allen was a source of leaking negative information about the team.
The letter states, "The NFL's lack of transparency about the problems it recently uncovered raise questions about the seriousness with which it has addressed bigotry, racism, sexism, and homophobia — setting troubling precedent for other workplaces."
NFL spokesman Brian McCarthy said via email, "We have received the Chairwoman's letter and share her concern that all workplaces should be free from any form of harassment and discrimination. We look forward to speaking to her office soon."
Derek Carr, Maxx Crosby want Rich Bisaccia back as Las Vegas Raiders' head coach
CINCINNATI — Raiders quarterback Derek Carr and Pro Bowl defensive end Maxx Crosby both heartily endorsed Rich Bisaccia retaining the head-coaching job permanently following Las Vegas' season-ending 26-19 loss to the Cincinnati Bengals in the opening round of the playoffs on Saturday night.
Bisaccia was promoted from special teams coordinator to interim head coach following Jon Gruden's resignation on Oct. 11.
"I think we can all think that he's the right guy," Carr said of Bisaccia. "He's proven that people listen to him. Our team listens to him. And I love him so much, I'm thankful for him. All those things will be decisions that I don't make; I don't get to make. I just play quarterback … but with everything that went on, if you really look at what happened, all the pieces missing, everything that changed, yeah, he held it together."
Carr referenced the Raiders losing starting guards Richie Incognito and Denzelle Good to injury in the preseason and opener, respectively. He also talked about receiver Henry Ruggs III being cut following his involvement in a high-speed car crash that left a woman dead. Carr also cited Pro Bowl tight end Darren Waller missing five games down the stretch; Pro Bowl running back Josh Jacobs being dinged up and unavailable at times; and losing versatile running back Kenyan Drake to a knee injury in Week 13.
"You go on and on and on and on, and that's just offense," said Carr, who had driven the Raiders to the Bengals' 9-yard line before being intercepted at the 2-yard line on fourth-and-goal with 12 seconds to play Saturday night. "The fact that that staff kept everything together and kept us competitive and kept us finding ways to win football games, I think that's what our organization is about, right? So, we'll see what happens. We know what we want to have happen. But, again, we're Raiders. We're going to play football, but we just hope it, obviously, we hope it's for somebody special."
Carr also said he would stay out of direct conversations when it came to his future with the team. He has one year remaining on the five-year, $125 million extension he signed in 2017.
He said his agent and the Raiders have a good relationship.
"Lord knows there's been a lot of things to communicate about, right?" Carr said. "When the time comes, I never want a face-to-face. I'm going to play quarterback, but my message will be talked about.
"I'm not going to go to dinner and say, 'We have to do something.' I'm not that guy. I'll let my voice be heard, but in a different way."
Crosby, who was just named second-team All-Pro, called Bisaccia a "great leader" for the Raiders.
"If it was up to me, I think everyone in the world knows what my decision would be," said Crosby, who had a sack among his six tackles on Saturday. "I love Rich. You know, I'm biased, obviously, but he's, he's a great coach … he came in and got us to 10 wins. We came on the road, on a short week, and gave Cincinnati everything they could handle.
"One of the best people I know. One of the most honest dudes I know. And I'll go to bat for him any day of the week. I love that dude to death. He knows that. I appreciate everything he's brought to the table. I hope we keep doing it."
Raiders owner Mark Davis has remained silent on the team's head-coaching search, as well as on the futures of Carr and general manager Mike Mayock.
Bisaccia, meanwhile, laughed when asked if he thought about being elevated to the full-time job.
"I'm just thinking about those guys in that locker room that played the game with their heart and soul out there like that," he said, "and had a chance to win at the end."
Bengals win first playoff game in 31 years, set the table for a run at AFC title – Cincinnati Bengals Blog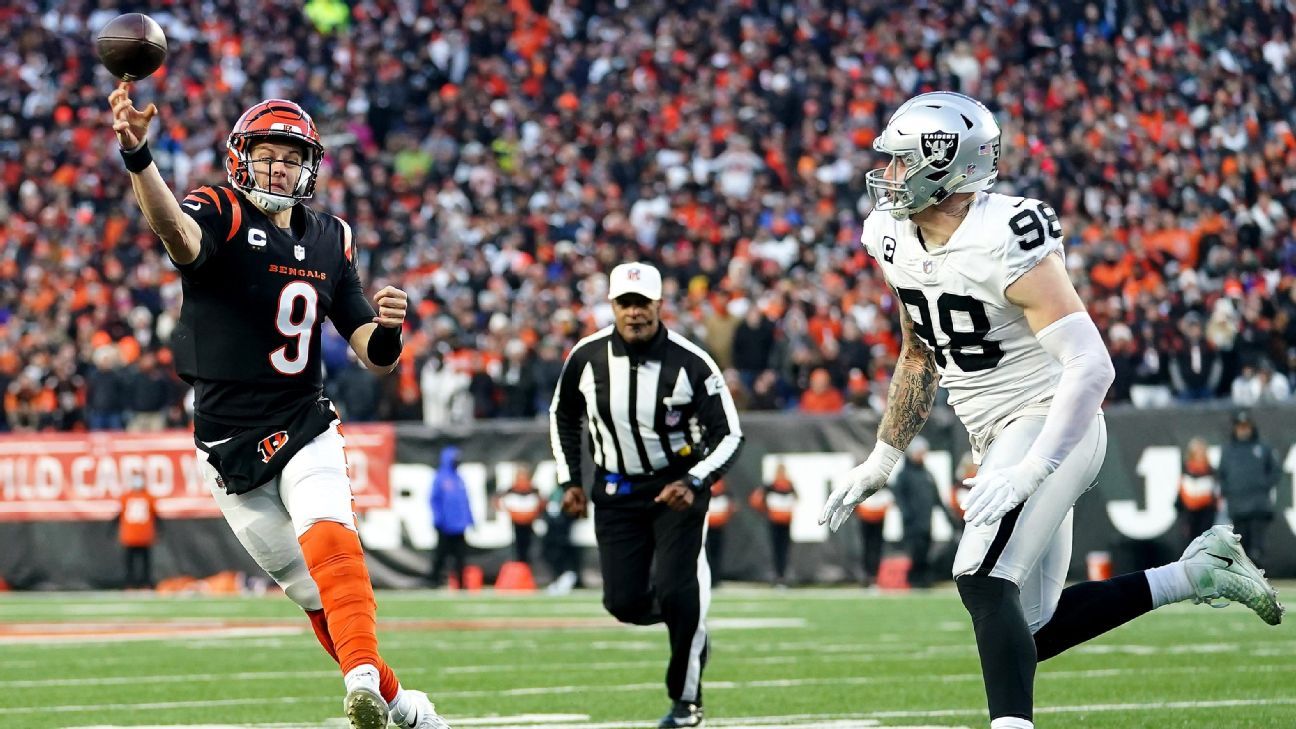 CINCINNATI — Send those text messages. The Cincinnati Bengals have finally won a playoff game.
Cincinnati defeated the Las Vegas Raiders 26-19 at Paul Brown Stadium in an AFC wild-card game on Saturday. It was Cincinnati's first playoff victory in 31 years, since before cell phones were capable of sending texts, as memes on the internet reminded folks in the days preceding the game.
But the win wasn't just about ending the longest playoff win drought in the NFL. It was about the first step in making a run at the AFC title.
Over the course of the season, Cincinnati went from the projected cellar dweller in the AFC North to division champs, ending a six-year stretch without a playoff appearance. That journey included an overtime loss to the Green Bay Packers, one of the top teams in the NFL, and a Week 17 win over the Kansas City Chiefs, the AFC representatives in last year's Super Bowl.
• Full bracket, schedule and format »
• Previewing the NFL playoff field »
• Busting myths for the 14 teams »
• See more playoff content »
Those performances indicated Cincinnati wasn't just a team that could win a playoff game. They showed the Bengals can hang with the best in the NFL.
For the second time this season, the Bengals needed to hang tough against the Raiders in order to pick up a win. The first came on Week 11 and set the tone for the second half of Cincinnati's season.
The second victory was much more significant. It gave the city of Cincinnati something it hasn't experienced in decades and set the table for the Bengals to have a truly special postseason.
"We expect to beat everybody that we play, not just hang with them," Bengals quarterback Joe Burrow said after the game.
Burrow added: "I mean, it's exciting. But this is expected. This isn't like the icing on top of the cake or anything. This is the cake. So we're moving on."
Describe the game in two words: Curse ending. The Bengals ended the fabled "Curse of Bo Jackson" — the former Raiders running back's final NFL game in January 1991 that also ended Cincinnati's last playoff run that featured a win.
"I'm just really, really happy for the city of Cincinnati and that they get a chance to enjoy this," Bengals coach Zac Taylor said. "And now, just exhale and enjoy the ride we have. Because we're not done yet."
Pivotal play: On third-and-four at the end of the first half, Bengals quarterback Burrow scrambled and found Tyler Boyd for a 10-yard touchdown pass to give Cincinnati a 20-6 lead. Initially, it appeared Burrow was going to go out of bounds. A referee even blew an errant whistle. But the play continued and Cincinnati got a key red-zone touchdown.
QB breakdown: Burrow was efficient in his playoff debut. After throwing for 148 yards earlier in the season against the Raiders, Burrow finished Saturday's win completing 24-of-34 passes for 244 yards, two touchdowns and no interceptions.
Josh Allen, Dawson Knox produce fireworks for Buffalo Bills in freezing weather vs. Patriots
ORCHARD PARK, N.Y. — The Buffalo Bills started off Saturday night's wild-card matchup against the New England Patriots with a bang. Quarterback Josh Allen found tight end Dawson Knox for an impressive score in the back of the end zone, giving Buffalo a 7-0 lead in the first quarter.
Allen was given plenty of time to scramble behind his offensive line (9.64 seconds), but initially it looked like none of his options downfield were open. The quarterback moved to his right and appeared to be throwing it out of bounds, but Knox made an impressive toe-tap grab for the score. The 32.1 run yards traveled before passing are the most on any touchdown of Allen's career. The pass had a completion percentage of 18.4%, per NFL Next Gen Stats, the second-most-improbable passing touchdown of his career.
It was the first passing touchdown in the past five playoffs in which a quarterback took at least nine seconds to throw, per Next Gen Stats.
The scored capped off a nine-play, 70-yard drive that included Allen rushing for 41 yards on two carries.
HOW?! 🤯

📺: @NFLonCBS pic.twitter.com/YJkJJEzOxX

— Buffalo Bills (@BuffaloBills) January 16, 2022
On the Patriots' ensuing drive, quarterback Mac Jones moved the ball downfield and appeared to have a touchdown pass to wide receiver Nelson Agholor. Safety Micah Hyde, however, had other ideas and jumped in front of Agholor for an impressive interception in the end zone.
Stop everything and watch this interception by Micah Hyde.

📺: @NFLonCBS pic.twitter.com/VqkkBYIVmq

— Buffalo Bills (@BuffaloBills) January 16, 2022