The Tao of Denver Broncos' Teddy Bridgewater
ENGLEWOOD, Colo. — The Denver Broncos' winningest quarterbacks have covered a spectrum of emotion, drive and "it" factor — each combination as unique as their own fingerprints.
And Broncos players adopt the style of each quarterback. From John Elway's white-hot intensity to Jake Plummer's free-wheeling competitiveness to Peyton Manning's ever-churning brain, those who have flourished at the position over the past four decades have had their way become the Broncos' way.
Teddy Bridgewater is six games into his Broncos tenure and has already experienced the highs and lows of this quarterback-mad Rocky Mountain region. The Broncos opened the season with a three-game winning streak and all was right in the football world. Heading into Thursday night's game at the Cleveland Browns (8:20 p.m. ET, Fox), the Broncos have lost three in a row, with the requisite hand-wringing all around.
Bridgewater has sported a slight limp through the week with a left foot injury, but has offered his trademark don't-worry promise, "I'm going to continue to attack this rehab, continue to just lock in on the game plan, and try to make sure I'm ready when Thursday comes."
What becomes of Bridgewater's tenure is a story in progress, right down to the matter of whether this will be a one-year experiment. But Bridgewater calls himself "a survivor," and he has already put his signature on this team with his calm demeanor and thoughtful words.
His "it's cool" response to most issues is part of a composed, detail-oriented, Zen-infused player who has already become one of the most important voices in the Denver locker room.
"It happened fast," Broncos safety Justin Simmons said. "Because of who he is and how he goes about it."
How it happened so fast it can be seen, perhaps, in the Tao of Teddy.
Giving credit, taking blame
"When you win, point your finger at your teammates and when you lose, point the thumb at yourself. Today was one of those days when I point the thumb at myself." — Bridgewater
Manning always said one of the jobs of a quarterback was to lead the way in accountability — no matter what and without fail.
"Every interception has a story and nobody wants to hear it," he often said. Plummer put it in his own to-the-point way, that a quarterback's job was "to take the blame, you always stand up and fight for your guys."
Bridgewater has blamed himself for every interception or turnover he has made this season, including the four in Sunday's loss to the Raiders. Bridgewater conceded he may have held the ball too long at times while trying to make a play. He lamented not giving "my guys a chance to make a play." He has generally carried the offensive issues on his shoulders.
"I'm a survivor, throw me in the jungle, and I'm going to come out with a fur coat and a headband that I made out of some leaves."

Teddy Bridgewater
"And that's what you do," Plummer has said. "Everybody is going to tell you how great you are when you're winning even though everybody else should probably get more of that recognition, too, so when it's not going right, you stand up. You always fight for your guys, in games, during the week, whatever, man, that's the job."
Bridgewater said he tries to keep all of the chatter, especially social media, at bay, for his own mental health. That includes an electronic blackout of sorts — "I watch a little Netflix" — unless, he concedes, there is a promotional deal involved.
"I get on social media just to post about my children's book, 'Little Bear Teddy,'" Bridgewater said. "I haven't tweeted since the Miami Heat were in the Finals in the bubble against the Lakers. Honestly, it's one of those deals where it can't do anything for you but break you a lot of times in this profession. You've got so many fantasy owners who want you to throw the ball to that guy, or [people] who tell you how good you are and how bad you are. Me, I'm a guy — I really stay away from it unless I'm getting paid to post or something like that."
To yell or not to yell
"I've never been a screamer. I pay attention to guys sometimes. You have those guys who sometimes don't do well when you scream at them, so you pull a guy to the side [and you say], 'Hey man, I need you here. When you hit that seventh step, make sure you get out of the break. I'm throwing it and if you're not there, then I'm getting to the next guy.' … So, little dialogue like that, it holds a lot of value." — Bridgewater
Broncos linebacker Von Miller, who is the team's longest-tenured player, was wearing a microphone during a game earlier this season. Through the years, Miller has transitioned from the uber-talented 20-something to a voice of experience who has routinely cited players such as Manning and DeMarcus Ware as those with the leadership styles he coveted.
Ware was often a calming voice of excellence and experience while Manning, his teammates have often said, exerted pressure with his fanatical preparation.
Bridgewater is often seen talking to players off to the side, away from others, between drills, in the team's cafeteria, at dinners, most anywhere he can put a word in. He also has earned more than a few compliments for his pregame words each week.
It was one of those pregame presentations earlier this season that caused Miller, with microphone on, to tell Bridgewater near the bench: "I haven't felt that in a while, since 18 [Manning] was here, man. Keep with that s—, those little pep talks go a long way … we need that s—. We haven't had that in a minute. I love you bro."
Bridgewater has said, as he has organized some extra sessions with the offense at the end of practices, it's the "extra time" players put in that can be the difference in holding things together during difficult football times like the Broncos are facing now.
"The coaches may say it one way but when the coaches leave the field and we stay behind, I feel like that's when we take ownership as players," Bridgewater said. "We put in the extra, and we make it ours."
Life and football
"Appreciate life and the simple things in life. … Always smile. … I watched my mom go through something; I've been through something. We all have a story. It's all about how we can spin that story, if it's negative, and make it a positive. My mom did just that. Every day I walk around and I put my feet on the soil, I'm happy. Life is short. You can't take it for granted." — Bridgewater
Bridgewater is quick to point out that his mother's battle with breast cancer when he was younger has impacted how he has approached things on and off the field. Earlier this season he described how his mother lost her hair, how her fingernails turned black during chemotherapy and how he would often help her in and out of bed or to the bathroom.
When he suffered a career-threatening tibiofemoral dislocation — the femur and tibia bones essentially became disconnected — in 2016 Bridgewater said, "They were worried they were going to have to amputate my leg." The injury kept Bridgewater off the field for almost two full seasons — he missed all of 2016 and played one game in 2017. He didn't start more than five games in a season again, as he had done the year before the injury in 2015, until 2020 when he had signed with the Carolina Panthers.
Bridgewater has rebounded from it and seems unflappable now. He may not be a social media regular, but his Twitter handle still has a bio that proclaims him as "the neighborhood hope dealer."
"You'd hate to see if a quarterback made a mistake, and you see it on his face, and he's flustered," Broncos running back Melvin Gordon III said. "You don't want to see that from your quarterback. [Bridgewater's] calmness brings calmness to the whole group. It kind of calms everybody down."
Some who know him say it's what makes the usually smiling, mostly unperturbed Bridgewater a study in mental toughness. That even as the game was almost taken away from him as a 24-year-old who had already been named to a Pro Bowl, he seems intent on willing, instead of yelling, something good to happen.
"I'm a survivor, throw me in the jungle, and I'm going to come out with a fur coat and a headband that I made out of some leaves," Bridgewater said earlier this season. "It's about surviving at this point. Every day, I have my fire that's lit and it's like God is placing me in different positions for a reason. I've made an impact everywhere I've been — some on the field, some off the field."
Denver Broncos' coaching search goes coast-to-coast as 10 candidates (so far) have made their case – Denver Broncos Blog
ENGLEWOOD, Colo. — The Denver Broncos have finished the first round of interviews for the team's head-coaching job.
They covered four time zones — five cities and seven interviews this past week alone — and got almost all of them done face-to-face. Now they'll decide if any of the 10 people they've interviewed gets a callback as they move toward the selection of the kind of leader general manager George Paton has said he wants to replace Vic Fangio.
A couple of big-picture items to remember: Since Mike Shanahan was hired in 1995, the only Broncos head coaches to take the team to the playoffs had been head coaches before: Shanahan, John Fox and Gary Kubiak. None of the three first-time head coaches during that span (Josh McDaniels, Vance Joseph and Fangio) made it past three seasons.
Here's a rundown of whom the Broncos spoke to, the biggest football questions those coaches had to answer and any potential hurdles they face — in the order they were interviewed by the team:
Aaron Glenn
Age: 49
Current job: Detroit Lions defensive coordinator
Why Broncos interviewed him: Glenn played 15 seasons in the NFL with four different teams. A three-time Pro Bowl selection as a player, he made the transition to coaching after first working as a scout with the New York Jets for two years.
He worked in both the Jets' pro personnel department as well as college scouting. Couple that with his work as a secondary coach with the Browns (2014-2015) and Saints (2016-2020), and Glenn has the job diversity in his background Paton has said he wants.
• Tracking firings, hirings and openings »
• Latest buzz on each open coach job »
Football questions he had to answer: He's been a coordinator for one season. And in that season the Lions finished 29th in the league in total defense, 31st in scoring defense, 29th on third down and 31st in the red zone.
His work down the stretch with a depleted depth chart got noticed by some in the league. Yes, the Seahawks did pile on 51 points in Week 17, but five of the Lions' final nine opponents scored 20 or fewer points.
Bottom line: He has played at a high level in the league, worked in scouting, been one of the best position coaches in the league during his time with the Saints and players have responded to him at every stop.
His plan for the offense as well as his ability as a first-time head coach, to assemble a staff would be top priorities.
Luke Getsy
Age: 37
Current job: Green Bay Packers quarterbacks coach/passing game coordinator
Why Broncos interviewed him: He has plenty of responsibility in one of the league's best offenses with the quarterback poised to win back-to-back league MVP awards.
Paton spent enough time around the NFC North during his 14 years with the Minnesota Vikings to have scouted the coaching staffs of the other teams in the division as well as the rosters for well over a decade.
Football questions he had to answer: It's an enormous jump from a position coach to a head coach, especially for a coach who has had no playcalling responsibilities in the NFL. Packers coach Matt LaFleur has let his assistants call plays in the preseason at times, but calls them in the regular season.
He, too, had to outline how much reach he would have in the league to assemble a staff to help him in his transition and not slip too much defensively.
Bottom line: Getsy, in the right scenario, could also be a candidate for the Broncos' offensive coordinator, but in terms of the head-coaching job, he would have to roll out a very specific, and doable, plan for his coordinators, starting with who he could actually hire.
Nathaniel Hackett
Age: 42
Current job: Green Bay Packers offensive coordinator
Why Broncos interviewed him: Of the offensive assistants the Broncos interviewed, Hackett has the deepest résumé as a former playcaller for both Buffalo and Jacksonville before his time with the Packers.
When his father, Paul, was on Marty Schottenheimer's Kansas City Chiefs staff, Hackett was a ball boy for the team and even filled in as a long-snapper during drills at times. Packers quarterback Aaron Rodgers has lauded Hackett's preparation and ability to break down, as well as deliver, the information to players.
Football questions he had to answer: Hackett had to detail how he would make the transition to running the entire team as well as the construction of the defensive staff. Also, how he would keep his game day organized if he, as a first-time head coach, was also going to try to call plays.
Bottom line: Hackett is a football lifer who is at the stage of his career when a head-coaching job is the next step. He has the background in an offense the Broncos clearly want to play, has worked with quarterbacks at all phases on the developmental curve. Construction of the staff will be the biggest item on his to-do list.
Kellen Moore
Age: 33
Current job: Dallas Cowboys offensive coordinator
Why Broncos interviewed him: The Cowboys finished the regular season as the league's scoring leader — 31.2 points per game — and one of only two teams that topped 500 points.
He played six years in the league after a record-setting career as a Boise State quarterback.
Football questions he had to answer: He's coached four seasons overall and all four of those years have been with the Cowboys since he started as the team's quarterbacks coach in 2018. There isn't much vocational diversity that comes with that and he's seen one team's infrastructure along the way.
He's been in the highly visible role as a playcaller for one of the league's most high-profile teams so he understands pressure, but it's a big step to run the whole show. And it likely didn't come up specifically, but it is a little strange the Cowboys may have been the only opponent the Broncos dominated on both sides of the ball this season and yet Paton chose to interview both Dallas coordinators.
Bottom line: He's the youngest candidate among those the Broncos interviewed or slightly older than McDaniels was — three months shy of his 33rd birthday — when the Broncos hired him in January of 2009.
And while age is just a number, Moore would have had to show the Broncos a maturity regarding how he would run the day-to-day operations of the team as well as how he would construct his staff with a limited background outside of the Cowboys.
Dan Quinn
Age: 51
Current job: Dallas Cowboys defensive coordinator
Why Broncos interviewed him: Paton and Quinn were both with the Miami Dolphins previously and many in the league have said Paton has eyed Quinn since taking over the Broncos last January. Quinn is the only one of the 10 interviewed who has been a head coach in the league — he was 43-42 with the Atlanta Falcons when he was fired five games into the 2019 season.
Football questions he had to answer: Essentially explain what happened when Kyle Shanahan left the Falcons — he was the offensive coordinator — after the 2016 season and the team went 10-6, 7-9, 7-9 and 0-5 under Quinn before he was fired in 2019.
In Atlanta, Quinn had a solid quarterback in place — Matt Ryan — and a respected general manager in Thomas Dimitroff. Answering why success was elusive, for the most part, after Shanahan's departure should have been covered.
Since guiding the fabled Legion of Boom secondary in Seattle — the Seahawks were the league's No. 1 scoring defense in 2013 and 2014 — just one of Quinn's defenses has finished in the top five in scoring (this year's Cowboys team) and five have finished 19th or worse over the past seven seasons.
Bottom line: Quinn has been considered the front-runner because of his previous work with Paton as well as his Super Bowl appearance with the Falcons. But he would need a big-time plan for the offensive staff to fare better than the Broncos' last two head coaches with defensive backgrounds.
Jerod Mayo
Age: 35
Current job: New England Patriots inside linebackers coach
Why Broncos interviewed him: He has spent 11 years in the winning culture in the NFL over the past 25 years — eight as a player and the past three as a coach for the Patriots.
He also has some business-outside-of-football perspective, having worked in finance for a health care company before he started his coaching career. Mayo's players have spoken highly of him and Mayo said last week Patriots coach Bill Belichick has been an "open book" for him "whether we're talking about X's and O's, or structuring a team or anything like that."
Football questions he had to answer: McDaniels was a former Patriots assistant who had no head-coaching experience, too. McDaniels didn't last through his second season as Broncos head coach.
Mayo will have had to show what would be different during his tenure and how he would make the substantial jump from just three seasons as a position coach to head coach.
Bottom line: Those who know Mayo in the league say he is smart, driven and understands how to communicate with those around him. He also has the benefit of actual business experience, outside of football, in terms of organization and a big picture assessment of things. So much so, even with just three seasons of coaching experience, many in the league were not surprised the Broncos interviewed him.
Jonathan Gannon
Age: 39
Current job: Philadelphia Eagles defensive coordinator
Why Broncos interviewed him: Paton was the Vikings' assistant manager during Gannon's four seasons as an assistant defensive backs coach with the team (2014-17). Gannon, like Glenn, has a background in scouting with one season as a college scout for the Rams to go with two seasons in the team's pro personnel department.
Eagles coach Nick Sirianni has said Gannon will make "a great head coach."
Football questions he had to answer: Gannon would have had to explain how he would make the jump from a short run as a playcaller to leading a team. He has been the Eagles' defensive coordinator for one season — they finished 18th in scoring defense, 10th in total defense.
The Eagles were much better during their 7-2 stretch to close out the regular season as they allowed 16.6 points per game in Weeks 8 through 17 against a long list of backup quarterbacks. Philadelphia lost, 31-15, to Tampa Bay in the wild-card round of the playoffs.
Bottom line: Another candidate with a shorter coaching résumé who fits the leader-communicator profile Paton outlined the day Fangio was fired. And like the rest of those candidates the construction of his staff, and especially the construction of staff and playbook on offense, are enormously important.
Brian Callahan
Age: 37
Current job: Cincinnati Bengals offensive coordinator
Why Broncos interviewed him: Callahan has the most history with the Broncos among those interviewed. Callahan was such a good assistant coach with the Broncos he survived two coaching changes and worked on the staffs of McDaniels, Fox and Kubiak, including the Broncos' Super Bowl 50 winner.
As a quarterbacks coach or offensive coordinator he's worked with Matthew Stafford, Derek Carr and now Joe Burrow. His father, Bill, is a long-time, and well-respected offensive line coach (he's currently with the Cleveland Browns).
Football questions he had to answer: He's in his third year as a playcaller for the Bengals with a 25-year-old superstar behind center in Burrow so Callahan figures to now be on the "hot" list for jobs in the foreseeable future. He has the luxury of patience, so more than any other, Callahan had to show how much he really wanted the job with the Broncos.
Because more than one general manager in the league has crossed a guy off a list for the old didn't-seem-like-he-wanted-the-job assessment.
He would also need to show how the Broncos would not take a step back on defense.
Bottom line: His history in the offense the Broncos want, his success in working with some of the game's best quarterbacks and his overall view of the game make him one of the most well-rounded candidates even though he is one of the youngest.
Kevin O'Connell
Age: 36
Current job: Los Angeles Rams offensive coordinator
Why Broncos interviewed him: He played in two games during an NFL career that spanned five seasons, five teams and three practice squads. Coaches with that kind of background often do well communicating with players worried about their standing or future.
He's worked in the Mike Shanahan-rooted offense the Broncos want to run, especially during the past two seasons as Sean McVay's offensive coordinator with the Rams. And while he doesn't call plays for the Rams — McVay does — O'Connell oversees game preparation, meetings and does plenty of the heavy lifting before game day each week.
Football questions he had to answer: Like the others on the offensive side of the ball, O'Connell had to not only outline his plan for the team's struggling offense, but outline what kind of defensive staff/playbook he would assemble in a division that contained two of the league's top five scoring teams this season.
Bottom line: O'Connell has drawn raves for his work in the Rams' offense, as well as his work with quarterbacks since he began coaching. The move to the big chair is in his future, but the Broncos have to decide if they believe enough in his overall vision at this point on the developmental curve.
Eric Bieniemy
Age: 52
Current job: Kansas City Chiefs offensive coordinator
Why Broncos interviewed him: He played nine seasons in the NFL, has coached in college and was with the Vikings for five seasons when Paton was with the team as well, including Bieniemy's time as Minnesota's assistant head coach. And the Broncos have seen the quality of his recent work up close given the Chiefs haven't lost a game to the Broncos since Sept. 17, 2015.
The Broncos offense needs points and Bieniemy has been part of an offense that has scored plenty of them on the way to two Super Bowls over the past three seasons. Chiefs quarterback Patrick Mahomes has publicly said, multiple times, how important Bieniemy has been to his development into both a league and Super Bowl MVP.
Football questions he had to answer: Bieniemy is on the hasn't-called-plays list of candidates for the Broncos. Any time an assistant works for a head coach like Andy Reid, who has such a pronounced presence on one side of the ball, that assistant coach is always going to have to outline his responsibilities when he's interviewed for another job.
He would also have to outline his staff construction. Any team looking to hire Bieniemy — like Hackett, Getsy, Callahan and O'Connell — will have to decide how much of the success comes from the uber-talented quarterback running the plays and how much is from the plays themselves.
Bottom line: Bieniemy, with his 11th interview for a head coaching job in the past four years, may have been through the job search circuit more than the rest of the candidates combined. The past two offensive coordinators for Reid who were named head coaches — Doug Pederson and Matt Nagy — didn't call plays with the Chiefs either.
Reid and Mahomes have heartily endorsed Bieniemy to be a head coach and given he was the last of the 10 to interview, he had the closing argument of sorts.
Tampa Bay Buccaneers' back-to-back Super Bowl aspirations fall short vs. Los Angeles Rams – Tampa Bay Buccaneers Blog
TAMPA, Fla. – The Tampa Bay Buccaneers' quest to "go for two," as coach Bruce Arians called it, for an eighth ring for quarterback Tom Brady and for a second boat parade along the Hillsborough River, has fallen short.
There will be no NFC Championship Game in Tampa next week, and there will be no shot at a repeat Super Bowl for the Bucs as they suffered a heartbreaking, 30-27 defeat to the Los Angeles Rams in the NFC divisional round Sunday.
Tampa Bay scored 24 straight points to knot the score at 27 with 42 seconds left and clawed its way back thanks to a 55-yard touchdown pass from Brady to Mike Evans and two touchdown runs from Leonard Fournette. But the defense surrendered plays of 20 and 44 yards on the final drive to set up a 30-yard field goal from kicker Matt Gay as time expired.
"It hurts because we had hopes of going to the Super Bowl again to try and repeat," cornerback Jamel Dean said. "Knowing we were down, we got back into the game and there was hope. And then seeing them kick the field goal just crushed everything."
"It's hard," Arians said. "The finality of this league's a b—-. And that locker room [of] guys has been through hell and back this year, and I love 'em. They stuck together through all the injuries and everything else. Really, really proud of the comeback – not the finish."
Now, the San Francisco 49ers, who handed the top-seeded Green Bay Packers a stunning defeat in some of the coldest temperatures ever recorded at Lambeau Field on Saturday, will travel to SoFi Stadium in Los Angeles — the site of Super Bowl LVI — for a rematch of the Niners' Week 18 overtime victory. That game allowed the Bucs to move into the No. 2 seed and bump the Rams to No. 4, which meant a cross-country flight to Tampa for Sean McVay and his team, who are now 3-0 against Brady and Arians over the past two years.
The only other time both of the NFC's No. 1 and No. 2 seeds were wiped out in the divisional round was 2008.
Brady, who finished 30-of-54 for 329 yards, one touchdown pass and one interception, was pressured heavily on 17 dropbacks Sunday – the second-most of his time with the Buccaneers – and struggled to connect with his weapons on third down.
"I think there's a lot of really tough, hard-nosed guys that believe in each other, and we all believe that we've just gotta make one play," Brady said. "But at the end of the day, it was just way too many mistakes. … They made plenty of mistakes too. I wouldn't say it was a perfect game by them either. But in the end, they just made one more play than us."
His seemingly bulletproof offensive line that played 1,769 snaps together since his arrival suffered not one, but two colossal blows last week. All-Pro right tackle Tristan Wirfs suffered a right high ankle sprain and couldn't play, while Pro Bowl center Ryan Jensen suffered a left ankle sprain and wasn't close to full strength.
• Full bracket, schedule and format »
• First look at Bengals-Chiefs, 49ers-Rams conference title matchups »
• See more playoff content »
Then Wirfs' backup, Josh Wells, suffered a right ankle injury during the game, forcing backup guard Nick Leverett to step in, although Wells returned.
"I've got to give Josh Wells a lot of credit," Arians said. "He was playing on a really bad leg."
They were able to get a big piece back Sunday in Fournette, who spent the last month on injured reserve with a hamstring injury and missed the wild-card round. But they were without wide receivers Chris Godwin, who suffered a torn ACL in Week 15, and Antonio Brown, who was released.
Wide receiver Breshad Perriman, who started last week against the Philadelphia Eagles, was also ruled out Friday with hip and abdominal injuries, and Cyril Grayson, who caught the game-winning touchdown in Week 17, was held out with a hamstring injury.
Like their Week 3 loss to the Rams, the Bucs' starting defense — finally 100% healthy for the first time all season — was unable to consistently pressure quarterback Matthew Stafford, who picked apart their blitzes. They had no answers for MVP candidate Cooper Kupp, either, as the Rams receiver got wide open on a 70-yard touchdown when safety Mike Edwards faltered in two-deep coverage.
They did manage to get some takeaways, though. Safety Antoine Winfield Jr. and cornerback Sean Murphy-Bunting both had fumble recoveries to keep the Bucs afloat, with Murphy-Bunting's setting up a 1-yard touchdown run by Fournette to make it 27-13 heading into the fourth quarter. Fournette also scored the tying touchdown with 42 seconds left after Ndamukong Suh forced a Cam Akers fumble that was recovered by Lavonte David, one of four fumble recoveries by Tampa Bay.
But defensive coordinator's Todd Bowles all-out blitz failed to pressure Stafford, and it left Winfield Jr. alone in the middle of the field on Kupp.
"It was an all-out blitz. We should have gotten a ton of pressure," Arians said, adding that he doesn't second-guess the decision, but he wasn't sure everyone was on the same page, something David, a team captain, agreed with.
"It was just the situation – hurry up, guys scrambling all over the place trying to get lined up – just an unfortunate situation," David said. "Some people got the call, some people didn't. It is what it is. They made a great play, they had a great playcall lined up and they made that play. It just sucks for us to lose in that manner, from battling back the way we did."
But is this how it all ends for Brady? Is this the lasting image fans will have of his 22-year career? Battered, bloody-lipped and falling just short of yet another epic comeback win, reminiscent of his Super Bowl LI victory against the Atlanta Falcons and the 38 other times in his career (six in the playoffs) that he surged back from a double-digit deficit?
Sources told ESPN's Jeff Darlington and Adam Schefter that Brady will mull his options over the next month and possibly longer before making that decision.
Arians said there is no timeline for when a conversation will be had with Brady.
"It's up to Tom," Arians said. "Just like all veteran players."
The Bucs were lauded for their salary cap gymnastics this past offseason to retain all 22 of their starters on offense and defense, which hadn't been done by a defending Super Bowl champion since the 1979 Pittsburgh Steelers. But health wasn't on their side. History wasn't either. They fought tooth-and-nail, but they came up short.
Of the 11 previous defending Super Bowl champions who played in the wild-card round the next season, none advanced past the divisional playoffs, including two teams led by Brady. Also, no team had won six straight playoff games since Brady's New England Patriots won 10 straight from 2001 to '05.
Now that the focus shifts to next year, there's much uncertainty.
Arians said after the game that he will return for 2022. But at quarterback, the Bucs don't have a viable successor on their roster. Their two backups? Journeyman Blaine Gabbert and Ryan Griffin, while rookie Kyle Trask, who was selected in the second round of the draft, has been inactive all season and has gotten few practice reps.
The Bucs have 24 players on their active roster who are set to become unrestricted free agents. The cascade of players who could defect if Brady retires could be even more devastating.
On a day when the Bucs needed to be at full strength — against a Rams team that has been "Super Bowl or bust" since, ironically, the same year Brady handed them a 13-3 defeat in Super Bowl LIII — they weren't. They just didn't have enough.
"We scratched and clawed," Evans said. "They kept giving us chances. We took advantage of 'em. We just couldn't get the stop in the end."
"Obviously we showed a lot of fight," Brady said. "But at the end of the day, you lose a game, you lose a game."
NFL Playoffs — Clutch kickers dominate in divisional-round showdowns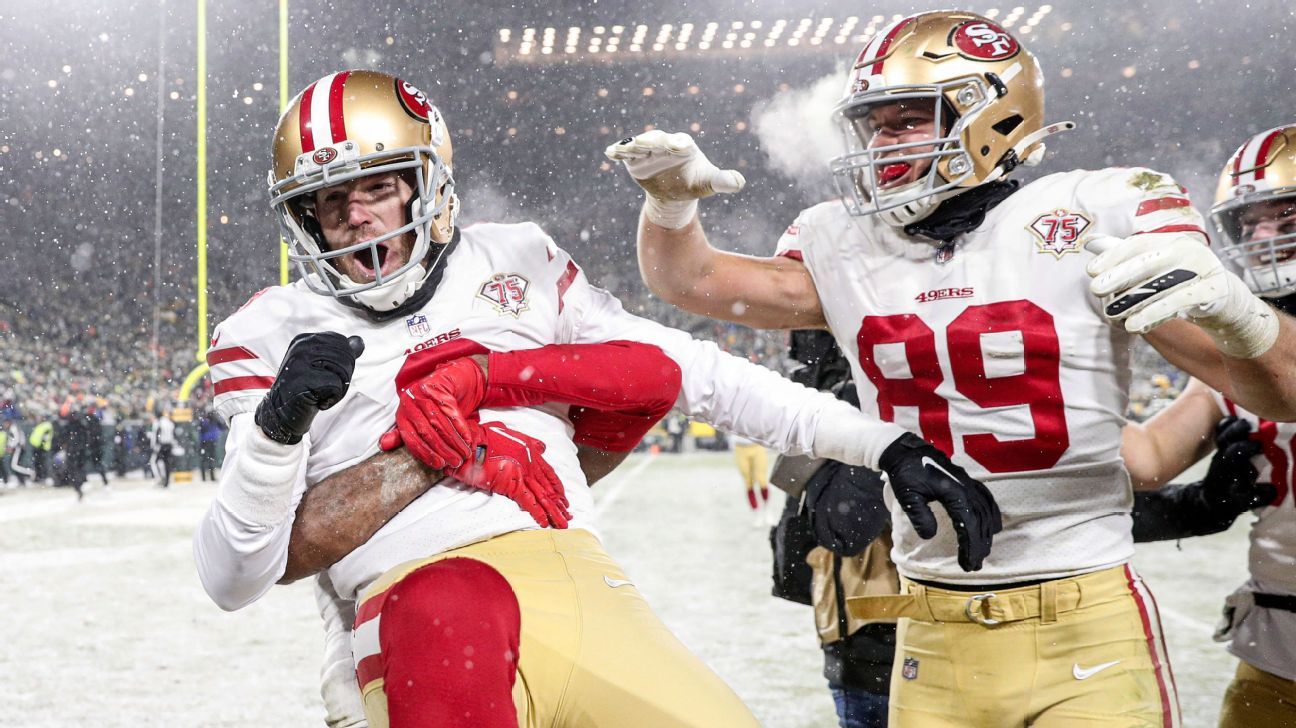 It's a good time to be an NFL kicker.
The AFC and NFC divisional games gave football fans everywhere a reason to root for their team's kicker.
According to Elias Sports Bureau, there have only been 10 games in NFL postseason history which have ended with game-winning field goals as time expired in regulation. Three of them came this weekend — the first time there has been three in a single postseason.
In Saturday's AFC Divisional Game, rookie Evan McPherson kicked a 52-yard field goal as time expired, pushing the underdog Cincinnati Bengals past the top-seeded Tennessee Titans, 19-16.
Money. Mac. Shooter. McPherson. Legend.

Visit https://t.co/KpeqK4RKUm for more highlights. pic.twitter.com/CIrXmzwZI0

— Cincinnati Bengals (@Bengals) January 23, 2022
In his post-win news conference, quarterback Joe Burrow shared that McPherson was ready to call game before he even took the field.
Bengals K Evan McPherson, doing warm-up swings before his game-winner, looked at back-up QB Brandon Allen and said, "Well, looks like we're going to the AFC Championship Game," Joe Burrow said.

— Ben Baby (@Ben_Baby) January 23, 2022
In addition to the walk-off field goal, McPherson made all the three other field goals he attempted in the game. He's now eight-of-eight in the playoffs.
Just a few hours later, the San Francisco 49ers also had their fate secured by a kicker as the game wound down.
Niners kicker Robbie Gould has made all 20 of his field goal attempts in the playoffs during his storied career. Saturday night was a sweet one with his 45-yard kick as time expired, sending the home team Green Bay Packers packing.
For the win!!! On to the next! pic.twitter.com/rd2oJ24fpi

— Robbie Gould (@RobbieGould09) January 23, 2022
"You're a f—ing legend man. F— the Packers," 49ers quarterback Jimmy Garoppolo said to Gould after the game.
On Sunday, more kickers had a say in their team's result.
As time expired Sunday afternoon, the Los Angeles Rams were able to knock off the defending Super Bowl champion Tampa Bay Buccaneers on the road thanks to a 30-yard field goal from Matt Gay.
MATT GAY FOR THE WIN! pic.twitter.com/AQBU54oVhD

— Los Angeles Rams (@RamsNFL) January 23, 2022
Per ESPN Stats and Information, with the Bengals, 49ers and Rams all winning on the road, this is the third time where three road teams won in the divisional round since its inception in 1970.
And even though Harrison Butker had a shaky start to Sunday night's game — including a missed field goal and extra point — the Kansas City Chiefs kicker nailed a game-tying 49-yard field goal at the end of regulation to force overtime against the Buffalo Bills.
BUTKER. CLUTCH. pic.twitter.com/cW0hiBoJS9

— Kansas City Chiefs (@Chiefs) January 24, 2022
Patrick Mahomes then went 75 yards and tossed the game-winning touchdown to Travis Kelce for a ticket to the Chiefs' fourth straight AFC Championship Game.
The win by Kansas City, the No. 2 seed, was the only win by the home team all weekend.