Philadelphia Eagles activate tight end Dallas Goedert from reserve/COVID-19 list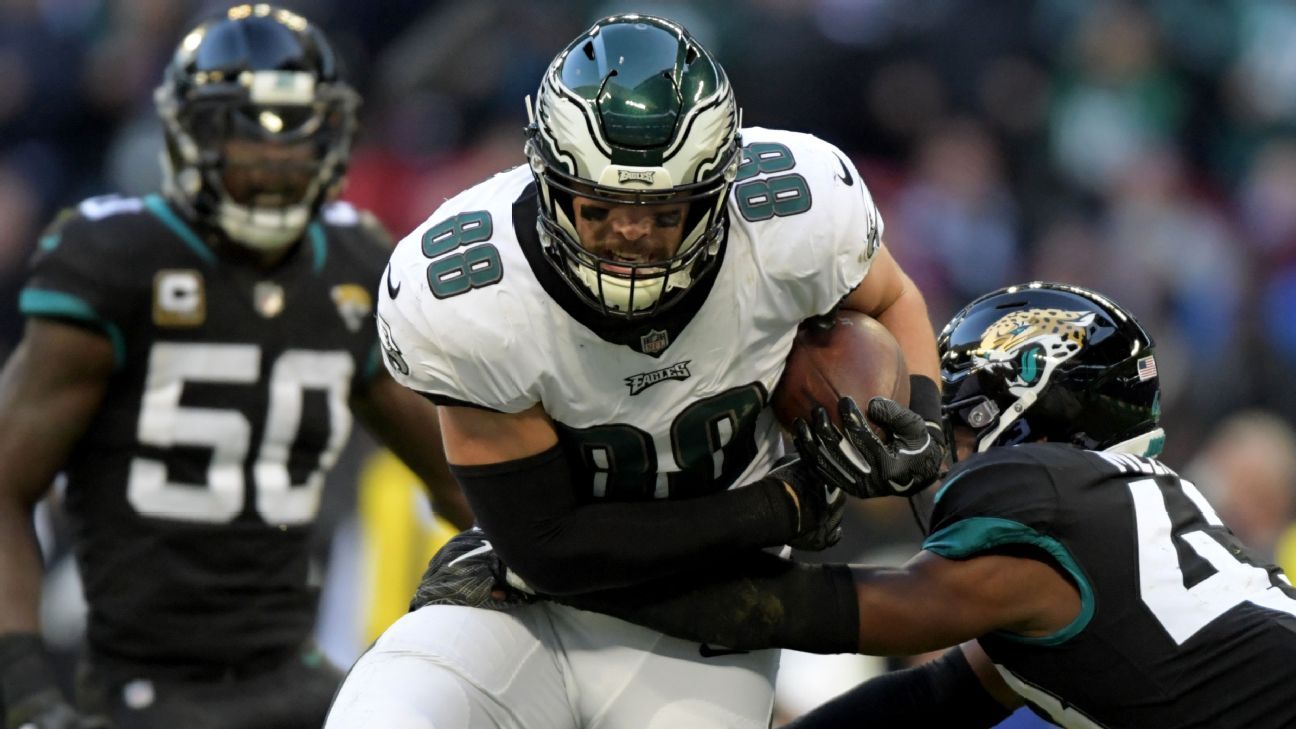 The Philadelphia Eagles activated tight Dallas Goedert from the reserve/COVID-19 list on Thursday.
The move allows Eagles' starting tight end to return to practice and bolsters the depth chart at the position after Philadelphia traded veteran tight end Zach Ertz to the Arizona Cardinals last Friday.
Goedert had been placed on the list Oct. 12 and missed last Thursday night's game against the Buccaneers. Ertz started with Goedert out and caught a touchdown pass in the Eagles' 28-22 loss.
The 26-year-old Goedert is third on the Eagles with 216 receiving yards and is tied with two others for the team lead with two touchdown receptions. He has 15 receptions.
Goedert, drafted in the second round of the 2018 draft, has 152 receptions for 1,681 yards and 14 touchdowns in his career with the Eagles.
The Eagles (2-4) play Sunday in Las Vegas against the Raiders (4-2).
Houston Texans coach David Culley says Tyrod Taylor as starting QB to be evaluated
HOUSTON — After the Texans' 31-0 loss to the Indianapolis Colts, head coach David Culley said Tyrod Taylor isn't necessarily the team's starting quarterback when healthy.
"When you don't score any points during a game, you evaluate everything," Culley said.
Culley's admission is a departure from the stance he has taken all season, including less than a week ago when he said Taylor was the team's starter and rookie quarterback Davis Mills would only play "if something happens to Tyrod [Taylor]."
In the third quarter on Sunday, Taylor went to the blue medical tent. On the Texans' next offensive drive he was replaced by Mills. Mills finished the game, completing 6 of 14 passes for 49 yards.
After the game, Culley said Taylor hyperextended his wrist, but a team spokesperson said Taylor was healthy enough to return to the game. The Texans did not make an announcement with an injury update during the game, but trainers were seen looking at Taylor's left wrist.
"He probably could have came back into the game if we needed him to, but I don't know how effective he would have been in throwing the football," Culley said.
Before Taylor was replaced by Mills, he completed 5 of 13 passes for 45 yards. The Texans, who were shut out for the second time this season, fell to 2-10.
Taylor played the first 1 1/2 games of the season for the Texans before injuring his left hamstring against the Cleveland Browns. He was replaced by Mills, who went 0-6 in his six starts while Taylor was on injured reserve.
This season, Taylor has completed 60.7% of his passes for 966 yards, with five touchdowns and five interceptions.
Las Vegas Raiders running back Kenyan Drake's right ankle injury 'a little bit of an issue'
LAS VEGAS — Las Vegas Raiders running back Kenyan Drake was carted off the Allegiant Stadium field with a right ankle injury midway through the second quarter of a 17-15 loss Sunday to the Washington Football Team.
Drake, who joined the Raiders this offseason after signing a two-year contract worth up to $14.5 million with $11 million guaranteed, was tackled awkwardly as he was pulled down by Daniel Wise from behind while being hit from the front by Deshazor Everett and Jamin Davis.
The Raiders were down to two running backs in starter Josh Jacobs and Peyton Barber, as Jalen Richard was placed on the reserve/COVID-19 list earlier in the day. Drake was officially ruled out at halftime.
Raiders interim coach Rich Bisaccia said, after the loss, that Drake's injury is "a little bit of an issue" and would have an update on Monday. And Jacobs said Drake told him, "It's broke," before the trainers arrived on the field.
"I know he's had significant injuries in the past," said Jacobs, who was a bit choked up. "So, I'm just praying for him right now and praying for his family. His whole family was here at the game."
Drake, 27, has rushed for 254 yards and two touchdowns on 63 carries and caught 29 passes for 283 yards and a score as a change-of-pace back, often spelling Jacobs. He also has returned 10 kickoffs for 192 yards.
The Raiders' rushing attack clearly suffered without Drake. They ran for just 76 yards in the loss, on 16 carries, and even though it was a tight game throughout, Las Vegas relied on its passing attack.
Follow live: Chiefs in search of 12th straight win over Broncos