NFL agrees to end race-based adjustments in dementia testing used to evaluate concussion claims
PHILADELPHIA — The NFL agreed to end race-based adjustments in dementia testing that critics said made it difficult for Black retirees to qualify for awards in the $1 billion settlement of concussion claims, according to a proposed deal filed Wednesday in federal court.
The revised testing plan follows public outrage over the use of "race-norming," a practice that came to light only after two former NFL players filed a civil rights lawsuit over it in 2019. The adjustments, critics say, may have prevented hundreds of Black players suffering from dementia to win awards that average $500,000 or more.
The Black retirees will now have the chance to have their tests rescored or, in some cases, seek a new round of cognitive testing, according to the settlement.
"No race norms or race demographic estimates — whether Black or white — shall be used in the settlement program going forward," the settlement said.
The proposal, which must still be approved by a judge, follows months of closed-door negotiations between the NFL, class counsel for retired players, and lawyers for the Black players who filed suit, Najeh Davenport and Kevin Henry.
The vast majority of the league's players — 70% of active players and more than 60% of living retirees — are Black. So the changes are expected to be significant, and potentially costly for the NFL.
To date, the fund has paid out $821 million for five types of brain injuries, including early and advanced dementia, Parkinson's disease and Lou Gehrig's disease, also known as ALS.
Lawyers for the Black players suspect that white men were qualifying for awards at two or three times the rate of Black men. It's unclear whether a racial breakdown of payouts will ever be done or made public.
Black NFL retiree Ken Jenkins and others have asked the Civil Rights Division of the Justice Department to open an inquiry. The first payouts were awarded in 2017. The fund, now uncapped, is intended to last for 65 years, to cover anyone retired at the time it was first approved.
To date, about 2,000 men have applied for dementia awards, but only 30% have been approved. In some cases, the NFL appealed payouts awarded to Black men if doctors did not apply the racial adjustment. The new plan would forbid any challenges based on race.
"The NFL should be really enraged about the race norming. … That should be unacceptable to them and all of their sponsors," Roxanne "Roxy" Gordon of San Diego, the wife of an impaired former player, said earlier this week.
Amon Gordon, a Stanford University graduate, finds himself at 40 unable to work. He has twice qualified for an advanced dementia award only to have the decision overturned for reasons that aren't yet clear to them. His case remains on review before the federal appeals court in Philadelphia.
The NFL would admit no wrongdoing under terms of the new settlement.
The league had agreed in June, amid the uproar, to halt the use of race-norming, which assumes Black players start with lower cognitive function. That makes it harder to show they suffer from a mental deficit linked to their playing days.
The binary scoring system in dementia testing — one for Black people, one for everyone else — was developed by neurologists in the 1990s as a crude way to factor in a patient's socioeconomic background. Experts say it was never meant to be used to determine payouts in a court settlement.
More than 20,000 NFL retirees or their relatives have registered for the settlement program, which offers monitoring, testing and, for some, compensation. The awards average $715,000 for those with advanced dementia and $523,000 for those with early dementia.
"If the new process eliminates race-norming and more people qualify, that's great," said Jenkins, who does not have an impairment but advocates for those who do.
"[But] we're not going to get everything we wanted," Jenkins, an insurance executive, said Tuesday. "We want full transparency of all the demographic information from the NFL — who's applied, who's been paid."
Senior U.S. District Judge Anita B. Brody, who has overseen the settlement for about a decade, dismissed the suit filed by Davenport and Henry this year on procedural grounds. But she later ordered the lawyers who negotiated the 2013 settlement — New York plaintiffs' lawyer Christopher Seeger for the players and Brad Karp for the NFL — to work with a mediator to address it. In the meantime, the Gordons and other NFL families wait.
"His life is ruined," Roxy Gordon said of her husband, who spent several years in the league as a defensive tackle or defensive end. "He's a 40-year-old educated male who can't even use his skills. It's been horrible."
Pittsburgh Steelers LB T.J. Watt goes on COVID-19 list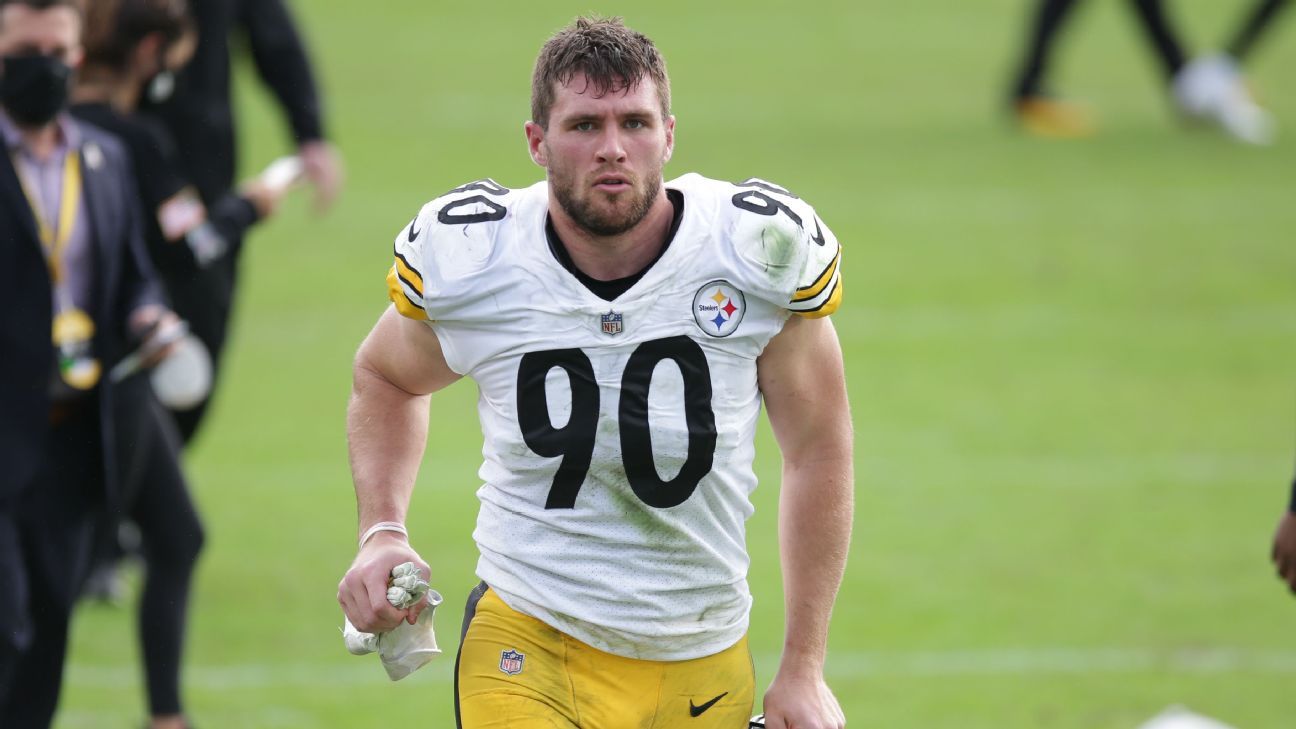 PITTSBURGH — The Steelers placed star pass rusher T.J. Watt on the reserve/COVID-19 list Monday, dealing another significant blow to a maligned defense ahead of an AFC North matchup against the Baltimore Ravens.
Watt recorded just two combined tackles against the Cincinnati Bengals on Sunday, returning after a one-week absence caused by a knee and hip injury sustained against the Detroit Lions.
Watt has missed two previous games this season with injury, but still has 12.5 sacks in nine games.
The Steelers have already been seriously impacted by COVID-19 this season with both quarterback Ben Roethlisberger and safety Minkah Fitzpatrick missing time with positive tests. Returner Ray Ray McCloud is still in the protocol and missed Sunday's loss to the Bengals.
Because he was vaccinated, Roethlisberger tested out of the protocol early with two negative results, but he was still sidelined for seven days.
Fitzpatrick was in COVID-19 protocols for the full 10 days.
With Watt likely out Sunday, the Steelers will turn to Derrek Tuszka and Taco Charlton to fill his role, along with fellow starting outside linebacker Alex Highsmith. Tuszka, formerly a seventh-round pick of the Denver Broncos, has played 115 defensive snaps with the Steelers this season. And Charlton, a former first-round pick signed off the practice squad earlier this season, has played 115 snaps in five appearances with the Steelers. The team's depth at the position is further compromised after dealing a disgruntled Melvin Ingram to the Kansas City Chiefs ahead of the trade deadline.
Just before the season, the Steelers signed Watt to a deal that made him the NFL's highest-paid defensive player.
Cleveland Browns RT Jack Conklin out for rest of season because of torn patellar tendon
Cleveland Browns right tackle Jack Conklin tore the patellar tendon in his right knee and will miss the rest of the season, coach Kevin Stefanski announced Monday.
Tests on Monday confirmed the injury, which occurred in the first quarter of the Browns' 16-10 loss to the Baltimore Ravens on Sunday night.
Conklin went down on the Browns' second offensive possession. After being helped to the sideline by the Browns' training staff and his teammates, he was carted to the locker room.
Conklin had just returned from a dislocated elbow that he suffered in Week 8.
He was an All-Pro selection in his first season with Cleveland in 2020 after signing a three-year, $42 million contract that included $30 million guaranteed.
ESPN's Jake Trotter contributed to this report.
Jacksonville Jaguars TE Dan Arnold has sprained MCL, will go on IR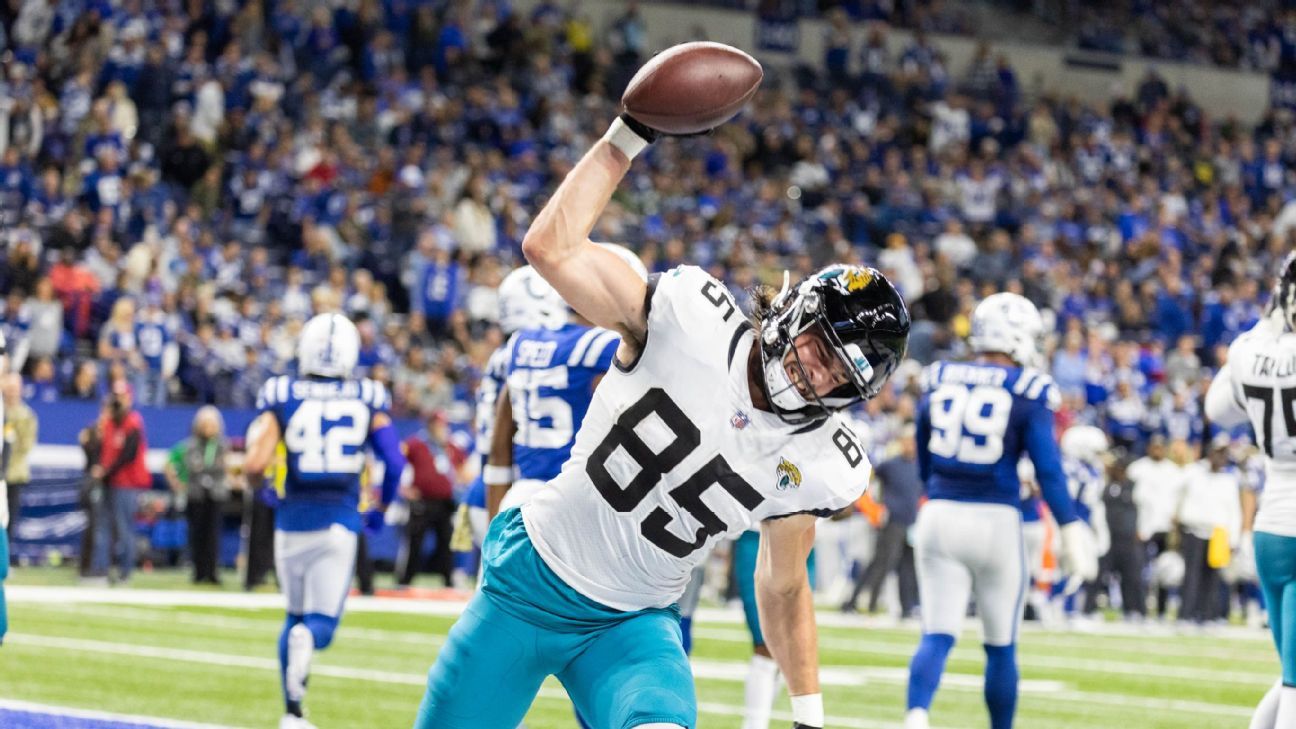 JACKSONVILLE, Fla. — Jacksonville Jaguars tight end Dan Arnold will miss at least the next three games because of a sprained MCL in his right knee.
Head coach Urban Meyer said Monday afternoon the team will place Arnold on injured reserve. The Jaguars (2-9) have six games remaining so there's still the possibility Arnold could return to the lineup.
Arnold was injured during Sunday's 21-14 loss to Atlanta as he was fighting for extra yards and being tackled after a 9-yard catch-and-run. That was Arnold's only target in the past two games, but before that he had led the team in targets, receptions and receiving yards since he was acquired via trade with the Carolina Panthers on Sept. 27.
Arnold has 28 catches for 324 yards in eight games with the Jaguars.
It's the second week in a row the Jaguars have lost a key offensive player. Receiver Jamal Agnew suffered a season-ending hip injury against the San Francisco 49ers on Nov. 21.