New York Yankees first-base coach Reggie Willits becomes fourth not to return to Aaron Boone's staff
NEW YORK — Yankees manager Aaron Boone lost a fourth member of his staff when New York announced Thursday that first-base coach and outfield instructor Reggie Willits will leave at the end of the year to become a volunteer assistant for Oklahoma's college baseball program.
A native of Chickasha, Oklahoma, Willits played for Oklahoma in 2002-03 and coached Binger-Oney High School to Oklahoma state championships in 2013-14.
A former major leaguer, Willits had been with the Yankees for seven years, the first three as minor league outfield and baserunning coordinator and the last four as first-base coach and outfield instructor.
Following the Yankees' loss to Boston in the AL Wild Card Game, the team fired third-base coach Phil Nevin, hitting coach Marcus Thames and assistant hitting coach P.J. Pilittere.
The Yankees announced Tuesday that Boone would return as manager on a new three-year deal with a club option for 2025.
Others on the staff are Matt Blake (pitching), Carlos Mendoza (bench), Mike Harkey (bullpen), Tanner Swanson (quality control and catching), Radley Haddad (bullpen catcher and coaching assistant) and Brett Weber (coaching assistant and replay coordinator).
MLB commissioner Rob Manfred says union's proposals would damage small-market teams
ARLINGTON, Texas — Hours into Major League Baseball's first work stoppage in 26 years, commissioner Rob Manfred said the union's proposal for greater free agency and wider salary arbitration would damage small-market teams.
Owners locked out players at 12:01 a.m. Thursday following the expiration of the sport's five-year collective bargaining agreement.
Since 1976, players can become free agents after six seasons of major league service. The Major League Baseball Players Association proposed starting with the 2023-24 offseason that it changes to six years or five years and age 30.5, with the age in the second option dropping to 29.5 starting in 2025-26.
MLB would keep existing provision or change eligibility to age 29.5.
"We already have teams in smaller markets that struggle to compete," Manfred said during a news conference at the Texas Rangers' ballpark, not far from the hotel where negotiations broke off. "Shortening the period of time that they can control players makes it even harder for them to compete. It's also bad for fans in those markets. The most negative reaction we have is when a player leaves via free agency, We don't see that — making it earlier, available easier — we don't see that as a positive."
Baseball is in its ninth work stoppage, threatening the start of spring training on Feb. 16 and Opening Day on March 31.
"The players' association, as is their right, made an aggressive set of proposals in May, and they have refused to budge from the core of those proposals," Manfred said. "Things like a shortened reserve period, a $100 million reduction in revenue sharing and salary arbitration for the whole two-year class are bad for the sport, bad for the fans and bad for competitive balance."
An agreement by early-to-mid-March is needed for a full season.
"Speculating about drop-dead deadlines at this point, not productive," Manfred said. "So I'm not going to do it."
Union head Tony Clark planned a news conference for later Thursday.
Negotiations have made little to no progress since they began last spring. Manfred said a lockout was management's only tool to speed the process.
"People need pressure sometimes to get to an agreement," Manfred said. "Candidly, we didn't feel that sense of pressure from the other side during the course of this week."
In many ways, the core of the dispute is over the union's desire to have more teams chasing players, leading to more competition on the field and higher salaries, and management's desire to restrain salaries in an effort to prevent high-revenue teams from gaining an even greater percentage of stars.
"I've watched this game as an insider for more than three decades," Manfred said. "I think that most people who understand the game realize that in our smaller markets, it's a lot harder to win than it is in our bigger markets."
Los Angeles Dodgers, Chris Taylor agree to 4-year, $60 million deal, sources say
The Los Angeles Dodgers reached agreement Wednesday with versatile All-Star Chris Taylor on a four-year, $60 million deal that includes a club option for a fifth season, sources told ESPN's Jeff Passan.
Taylor, 31, earned his first All-Star selection with the Dodgers in 2021, hitting .254 with 20 home runs, 73 RBIs and 13 steals. He saw the majority of his playing time as a center fielder and at second base, but he also saw action at the other outfield positions as well as shortstop and third base.
He long has been revered by his Dodgers teammates and coaches for his defensive versatility, offensive approach and quiet professionalism. Since the start of the 2017 season, Taylor has appeared in 88% of the Dodgers' games, has played six positions, has batted .265/.343/.461 and has accumulated 14.1 FanGraphs wins above replacement.
Taylor had received a qualifying offer worth $18.4 million for one year, but he turned it down to enter free agency.
Financial terms for Wednesday's agreement were first reported by The Athletic.
Taylor battled a neck injury down the stretch and struggled his way out of the lineup at the start of October, but he made a huge impact in the postseason for the Dodgers, coming off the bench in the National League Wild Card Game to hit a two-out, two-run walk-off home run against the St. Louis Cardinals. He followed that with three home runs in an 11-2 victory against the Atlanta Braves in Game 5 of the National League Championship Series. His 13 total bases in that game set a Dodgers postseason franchise record.
It was some needed good news for the Dodgers, who had already seen star pitcher Max Scherzer and shortstop Corey Seager leave for big deals via free agency.
After breaking into the majors with the Seattle Mariners in 2014, Taylor was traded to the Dodgers in 2016. In his six-plus seasons in Los Angeles, he hit .264.
ESPN's Alden Gonzalez contributed to this report.
Free-agent pitcher Marcus Stroman reaches 3-year deal with Chicago Cubs; contract for $71 million, sources say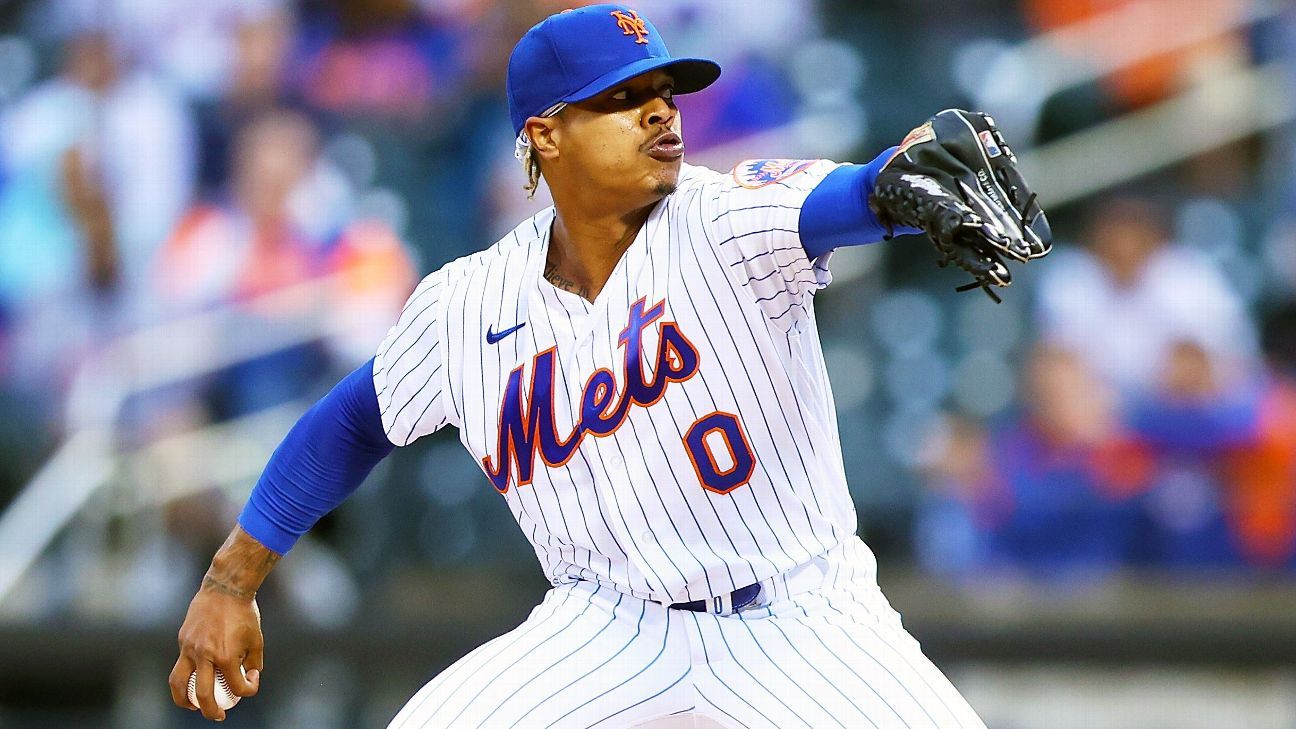 CHICAGO — Marcus Stroman rushed to the airport and caught a flight from Los Angeles to Chicago as soon as he got the word from his agent.
The right-hander arrived just in time with a lockout looming, agreeing to a three-year contract that sources told ESPN's Jeff Passan is for $71 million. And the Cubs landed one of the top remaining starting pitchers on the free-agent market on Wednesday.
"It's one of the best franchises in all of sports and fan bases as well, so it's extremely appealing to me," Stroman said. "It sells out every single night. To pitch in front of that electric crowd is something that kind of draws me."
Stroman announced he was leaving the New York Mets for Chicago in a series of tweets hours before the labor contract between players and owners was set to expire. The Cubs later confirmed the deal.
CHICAGO! @Cubs

— Marcus Stroman (@STR0) December 1, 2021
Chicago has always been one of my favorite cities. Culture and passion everywhere. Beyond excited to pitch in front one of the best fan bases in all of sports. Thank you to everyone in the city for the warm welcome. I can feel it. Let's get to work! @Cubs

— Marcus Stroman (@STR0) December 1, 2021
Wrigley Field is the only big league stadium I haven't pitched at in my career. Crazy. Can't wait to call it home! @Cubs

— Marcus Stroman (@STR0) December 1, 2021
The deal includes an opt-out after the second season, sources told Passan. Stroman will make $25 million in 2022, $25 million in 2023 and $21 million in 2024, and the deal includes $2 million escalators for reaching 160 innings pitched in '22 and '23, sources said.
Stroman said the deal came together "really fast" and his "senses were kind of heightened" once agent Broderick Scoffield told him the Cubs were interested. He's also looking forward to pitching at Wrigley Field for the first time. He toured the famed ballpark on Wednesday after completing his physical and medical tests.
"The city has been incredibly welcoming on socials, and I'm excited. This fan base is incredible, so I can't wait to pitch here," Stroman said.
Improving the Cubs' pitching was a priority for president of baseball operations Jed Hoyer after the team ranked among the worst in baseball with a 4.87 ERA. The 30-year-old Stroman figures to give the rotation a huge boost. He went 10-13 with a 3.02 ERA and tied for the major league lead by making 33 starts for the Mets in 2021.
Stroman was an All-Star with Toronto in 2019 before getting traded to New York that season, then sat out the 2020 season because of the COVID-19 pandemic. He is 61-60 with a 3.63 ERA over seven seasons with the Blue Jays and Mets.
Stroman figures to anchor the Cubs' rotation along with Kyle Hendricks and newcomer Wade Miley. Alec Mills, Adbert Alzolay, Justin Steele and Keegan Thompson are also in the mix for starting spots.
The Cubs are retooling after going 71-91, their first losing record since 2014. They claimed Miley off waivers from Cincinnati on Nov. 7.
Chairman Tom Ricketts said in an October letter to fans that the Cubs would "be active in free agency and continue to make thoughtful decisions to bolster our team this offseason." Stroman said his deal shows the team is serious about winning again soon.
"I think they're definitely in not a full rebuild," Stroman said. "I think they definitely want to win now. Obviously, this is a city that's an incredible fan base and baseball's a competitive sport. You never know what you're going to get going into any year."
Chicago also announced contracts with catcher Yan Gomes and outfielders Clint Frazier and Michael Hermosillo on Wednesday.
Gomes agreed to a two-year, $13 million deal that includes a club option for 2024. Frazier and Hermosillo got one-year contracts.
The Cubs also have Willson Contreras behind the plate, but he is eligible for free agency after next season and the team could decide to trade him if the sides can't reach a long-term deal this winter. Chicago also could use Gomes to provide more rest for Contreras, who turns 30 in May.
The 34-year-old Gomes played for Washington and Oakland this year, batting .252 with 14 homers and 52 RBIs in 103 games.
Frazier agreed to a one-year contract after batting .186 with the Yankees last season. The No. 5 overall pick in the 2013 amateur draft, he hit .239 in five seasons for New York.
Hermosillo spent most of last season at Triple-A Iowa and appeared in 16 games with the Cubs, going 7-for-36 with three homers. He missed the final 3 1/2 weeks because of a strained left forearm.
The Associated Press contributed to this report.