MLB playoffs 2021 – How a word with no English equivalent helped Astros get one win from World Series
BOSTON — Sisu.
It's a Finnish word which, according to Finland's tourism website, typifies the enduring spirit of all Finns: "stoic determination, hardiness, courage, bravery, willpower, tenacity and resilience."
It's also the word Houston Astros pitching coach, Brent Strom, used to his pitchers in a meeting before Game 4 of the American League Championship Series on Tuesday. The message he delivered might be the difference maker in this series, because over the following two days, Astros pitchers held the previously red-hot Boston Red Sox offense to just three runs — and are returning to Houston with a 3-2 series lead.
"I talked to them about getting out of their comfort zone and taking it a step further," Strom told ESPN after the Astros' 9-1 win in Game 5 on Wednesday. "People laugh at me about this but 'sisu' harkens back to when the Soviets invaded Finland and [the Finnish] were outnumbered in men, 3 to 1, 400 airplanes to 32, 600 tanks to 27. And they held them to a stalemate."
Strom wanted his young pitchers to rise to the occasion, even when it seemed everything was working against them. The Astros had given up a whopping 21 runs in Games 2 and 3, and the series seemed to be slipping away.
"I've been very blessed with the [Justin] Verlanders and the [Gerrit] Coles and the [Dallas] Keuchels and all these guys that have been there, done it," Strom said. "This is a whole new group right now and I just asked them to dig a little deep.
"The bullpen was taxed. We were beat up a little. But they stepped up in a big way."
Strom got 7.2 innings of scoreless baseball from his pen in Game 4, then got the performance of the series in the form of lefty starter Framber Valdez, who went eight innings in Game 5. Valdez took "sisu" to heart after a bad start in Game 1 when he lasted just 2.2 innings.
"I had a really ugly outing," Valdez said through a translator. "I felt humiliated after that first outing and I set my mind on not letting that happen again. I did everything I could to work as hard as I possibly could to come back and have success in this outing."
Boston managed just three hits off of him. Red Sox manager Alex Cora called Valdez's sinker "unreal."
"Walks have been an issue in the past but we saw him throw a lot of strikes today," Strom said. "They had a tough time getting the ball out of the infield. When you throw ground balls, sometimes the cost of one out equals two."
In Valdez's only moment of trouble, it wasn't Strom who went to the mound to talk to him — it was Astros manager Dusty Baker. With two on and no outs in the fifth inning with a 1-0 score, this would be the key moment.
"I didn't say a whole bunch to him," Baker recalled. "It was kind of like you call a 20-second timeout in basketball and try to take the air out of the game. That was a 20-second timeout that probably took 15 seconds."
On the next pitch, Valdez threw a sinker to Hunter Renfroe to induce a 6-4-3 double play. A moment later he got Alex Verdugo to ground out. The threat — and, soon enough, the game — was over.
Strom believed it was either just the "first or second time" all season Baker went to the mound without pulling his pitcher.
"Whatever Dusty said to him was better than what I could have done," he said with a smile. "I just pray a lot."
Strom reiterated to Valdez before the game, as he had in their pitchers meeting the night before, that he needed to get ahead in the count.
Through the first four games of the ALCS, the Astros averaged 40 pitches per game in hitter's counts. On Wednesday, Valdez threw just 14.
"In the first game, even in our place, he was amped up," Strom said. "First time in a playoff game with [fans]. It was like spring training last year."
Even Cora noticed the difference — although he didn't mention "sisu."
"They made some adjustments," he said. "There's a few things they're doing that they didn't do in the first three games, and we just got to be ready."
Throwing strikes is No. 1 on that list. It was the one bit of technical advice Strom gave his pitchers after asking them to dig deep.
"This is a very good Red Sox offense which controls the strike zone very well," Strom said. "J.D Martinez is a great leader of them. We had to take the strike zone back."
Strom pointed at one pitch, well before the Renfroe double play on Wednesday, which indicated to him they were in for a different night from their starter. In the bottom of the first, Valdez threw seven pitches to Red Sox leadoff man Kiké Hernandez. That seventh, on a full count, was a beauty of a sinker on the inside portion of the plate. Hernandez was caught looking.
In the dugout, Strom sighed in relief. The Red Sox had been scoring so much, so early in this series. He knew the last thing Houston needed was a free pass to the first Red Sox batter.
"A strikeout rather than a walk," Strom said. "Maybe it's just me but sometimes you go, 'Oh s—, here we go again.' [But] that changed the narrative a little bit."
Perhaps it changed in that meeting room, at a time when the Astros pitching staff had to reset itself or start making offseason vacation plans. The feeling in Fenway after Game 3 was that the series may not go back to Houston. Instead, the Astros are one win from another World Series appearance with two home games waiting for them.
Sisu.
"It's just about determination and grit, going beyond your comfort zone," Strom said. "That's the word they used."
"It's undefinable."
Buck O'Neil joins Gil Hodges, Minnie Minoso, others in being elected to baseball's Hall of Fame
Buck O'Neil, a champion of Black ballplayers during a monumental, eight-decade career on and off the field, joined Gil Hodges, Minnie Minoso and three others in being elected to the baseball Hall of Fame on Sunday.
Former Minnesota Twins teammates Tony Oliva and Jim Kaat, a longtime television analyst after his playing days, also were chosen along with Bud Fowler by a pair of veterans committees.
Oliva and Kaat are the only living new members. Dick Allen, who died last December, fell one vote shy of election.
Kaat pitched 25 seasons with a host of teams, including the Phillies, Yankees and Cardinals, winning 283 games. He served as an analyst for the Yankees before moving on to the MLB Network.
The 16-member Early Days and Golden Days committees met separately in Orlando, Florida. The election announcement was originally scheduled to coincide with the big league winter meetings, which were nixed because of the MLB lockout.
The six newcomers will be enshrined in Cooperstown, New York, on July 24, 2022, along with any new members elected by the Baseball Writers' Association of America. First-time candidates David Ortiz and Alex Rodriguez join Barry Bonds, Roger Clemens and Curt Schilling on the ballot, with voting results on Jan. 25.
The Associated Press contributed to this report.
Daisuke Matsuzaka ends 23-year career, surprised by Ichiro Suzuki in ceremony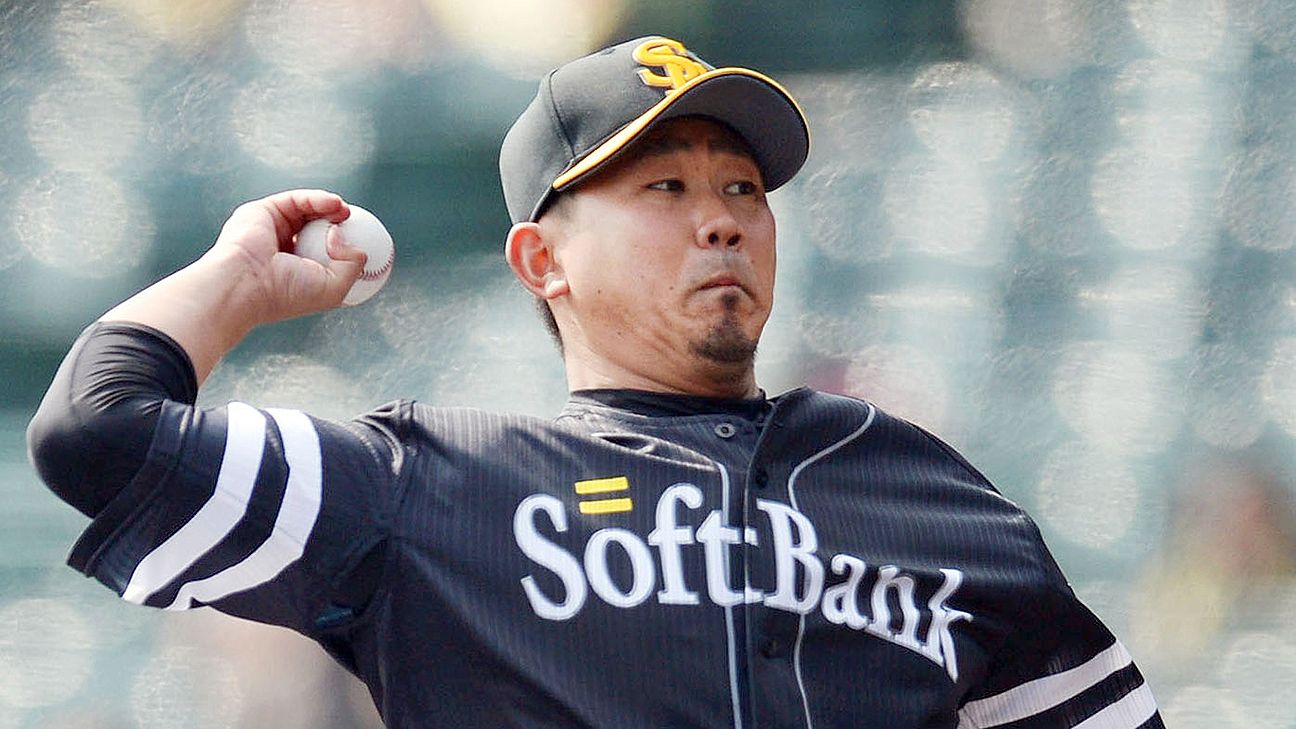 Daisuke Matsuzaka brought his 23-year professional baseball career to a close Saturday in a ceremony that included a surprise appearance by Ichiro Suzuki.
Matsuzaka, who faced only one batter this season for the Saitama Seibu Lions — issuing a walk in an October appearance — told fans at Seibu's MetLife Dome that he was happy to leave the sport on his terms.
"I'm content that I was able to keep playing baseball until I could no longer throw normally in the end," Matsuzaka said, according to Kyodo News.
A video from Suzuki was played, ending with the longtime Seattle Mariners outfielder surprising Matsuzaka on the field and giving him a flower bouquet.
"I hadn't imagined this. It was crazy," Matsuzaka said, according to Kyodo News. "At first I was able to hold up, and then the tears came and I was done for.
"I was surprised and just overjoyed that, at the end, Ichiro-san came to see me. I'm happy I was able to come so far."
Suzuki and Matsuzaka faced each other both in Japan and Major League Baseball over their careers. They were also teammates for Japan's World Baseball Classic titles in 2006 and 2009.
Matsuzaka, 41, was 56-43 with a 4.45 ERA in 132 career MLB starts with the Boston Red Sox and New York Mets from 2007 to 2014. He won a World Series title in his rookie season with the Red Sox in 2017.
He started and ended his career with the Lions, pitching for them from 1999 to 2006 and the past two seasons. He also played for the Fukuoka SoftBank Hawks and Chunichi Dragons after returning to Japan in 2015.
Atlanta Braves shortstop Dansby Swanson and USWNT soccer player Mallory Pugh announce their engagement
Atlanta Braves shortstop Dansby Swanson earned a ring last month. U.S. women's national team forward Mallory Pugh got one this month.
The World Series champion and the World Cup winner announced their engagement on Instagram Thursday night. The two have dated since 2017.
The couple met through Swanson's former teammate Jace Peterson, now with the Milwaukee Brewers, who is married to Pugh's sister.
Pugh plays with the Chicago Red Stars of the NWSL and has been with the U.S. national team since 2016. She played in the 2016 Summer Olympics and the 2019 World Cup, scoring a goal against Thailand.
Swanson made his major league debut with the Braves in 2016. This season, he hit .248 with 27 home runs and 88 RBIs.
The couple is just the latest power couple with connections to the U.S. team. They join Megan Rapinoe and her partner, WNBA star Sue Bird, and Julie Ertz, who is married to Arizona Cardinals tight end Zach Ertz.