Los Angeles Dodgers All-Star Justin Turner likely out for rest of postseason with hamstring injury
LOS ANGELES — His hamstring injured and his season likely over, Justin Turner got to within 25 feet of first base and tried to stop. He throttled back, hobbling at first before slowing enough to turn the hobble to a limp. Slowly, painfully, he worked his way back to the Dodgers' dugout, wincing with every step, before Albert Pujols helped him down the stairs and through the tunnel that leads to to the clubhouse.
So now, one loss away from an inglorious end to a remarkable season, the Dodgers are faced with overcoming a 3-1 deficit in the NL Championship Series without their All-Star third baseman, who sustained a hamstring injury while hitting into a double-play in the seventh inning of the 9-2 loss against the Atlanta Braves in Game 4 on Wednesday night.
Dodgers manager Dave Roberts revealed in his postgame interview that the early indication is that Turner has a Grade 2 strain, which is defined as a partial tear of one or more hamstring muscles.
"So, I think that'll be it for him," Roberts said. The normal recovery period for a partial tear is four to eight weeks.
Turner's injury is just one more addition to the Dodgers' list of unavailable star players. Clayton Kershaw has been out since the beginning of October with a forearm/elbow injury, and first baseman Max Muncy was lost for at least through the NLCS with an elbow injury he suffered on the final day of the regular season.
Turner is one of several Dodgers' regulars who have struggled offensively during the postseason. He had just one hit in 20 at bats in the five games against the Giants in the NLDS, and he jokingly asked for the ball after that one hit, a single. In four games against the Braves, Turner has two hits, a walk and a hit by pitch in 12 plate appearances.
Roberts, who was in no mood to expound on much of anything after his team's loss on Wednesday, said he spoke to Turner and described his mood as, "obviously, very disappointed." Asked how Turner's absence might impact his team's psyche, Roberts said, "Honestly, what I'm thinking about, and what I expect our guys to think about, is only tomorrow."
The Dodgers didn't make Turner available to reporters after the game.
The injury occurred with the Dodgers trailing 5-2 and Walker Buehler, pinch-running after Pujols led off the inning with a pinch-hit single, at first base. Turner hit a ground ball to short, and Dansby Swanson — seeing Turner pull up — took the ball to second on his own and threw to first for the double play.
"I feel bad for Justin," Dodgers outfielder AJ Pollock said. "JT — he's a warrior. You could see him walking off the field. It's a hamstring. I'll let him talk to you about that, but you never want to see your teammate go down."
The Dodgers will be able to replace Turner on the roster for Game 5. Roberts said the choice will be an infielder, and he listed Zach McKinstry, Billy McKinney and Andy Burns as options.
Atlanta Braves shortstop Dansby Swanson and USWNT soccer player Mallory Pugh announce their engagement
Atlanta Braves shortstop Dansby Swanson earned a ring last month. U.S. women's national team forward Mallory Pugh got one this month.
The World Series champion and the World Cup winner announced their engagement on Instagram Thursday night. The two have dated since 2017.
The couple met through Swanson's former teammate Jace Peterson, now with the Milwaukee Brewers, who is married to Pugh's sister.
Pugh plays with the Chicago Red Stars of the NWSL and has been with the U.S. national team since 2016. She played in the 2016 Summer Olympics and the 2019 World Cup, scoring a goal against Thailand.
Swanson made his major league debut with the Braves in 2016. This season, he hit .248 with 27 home runs and 88 RBIs.
The couple is just the latest power couple with connections to the U.S. team. They join Megan Rapinoe and her partner, WNBA star Sue Bird, and Julie Ertz, who is married to Arizona Cardinals tight end Zach Ertz.
Time to put Minnie Minoso in Cooperstown (finally) and more on this weekend's Baseball Hall of Fame vote
As much as it might feel like it, the baseball world has not completely shut down. While the thrilling rush of free-agent signings and trades from the past few days will cease for now because of the lockout, there is a lot of baseball business still to be conducted.
One of the more important items comes this Sunday, when the biggest void in the membership of the Baseball of Hall Fame can be filled: The omission of White Sox legend Saturnino Orestes Armas (Arrieta) Minoso, remembered by history as Minnie.
Minnie Minoso is one of 20 greats who will be under consideration at the winter meetings this weekend for induction to the Hall of Fame. And, yes, the winter meetings will go on even without the presence of Major League Baseball. The minor league portion of the meetings will still take place, and those appointed to consider the Hall's two era-committee ballots will convene, as scheduled.
The ballots are as follows:
• The Early Baseball committee (covers the beginning of time to 1950) will consider Bill Dahlen, John Donaldson, Bud Fowler, Vic Harris, Grant "Home Run" Johnson, Lefty O'Doul, Buck O'Neil, Dick "Cannonball" Redding, Allie Reynolds and George "Tubby" Scales.
• The Golden Days committee (covers 1950 to 1969) will consider Dick Allen, Ken Boyer, Gil Hodges, Jim Kaat, Roger Maris, Minoso, Danny Murtaugh, Tony Oliva, Billy Pierce and Maury Wills.
This is a big weekend for the Hall, which is hoping that 2022 will bring with it the full Hall of Fame induction experience, including the annual Parade of Legends, the induction ceremony itself and the scores of fans who make their way to Cooperstown, New York, each July. After the festivities were canceled because of the pandemic in 2020, 2021 saw a scaled-down version in September in which Derek Jeter, Larry Walker, Ted Simmons and the late Marvin Miller were inducted without parades and with smaller crowds than otherwise would have flocked to upstate New York, particularly for Jeter.
The thing is, Induction Weekend is a heck of a lot more fun — and a bigger draw — when there are actual inductees. And there is no guarantee that this year's BBWAA ballot will produce any new Hall of Famers.
Sadly, of this group of 20, the only candidates still living are Kaat, Oliva and Wills, so obviously it would be great for one or all of that trio to get in. We'll get to that, but for now I want to really focus on Minoso, the most egregious omission in the Hall's plaque room, at least among those not still on the BBWAA ballot.
Advocates for Minor Leaguers forms steering committee to give players a voice, push for better conditions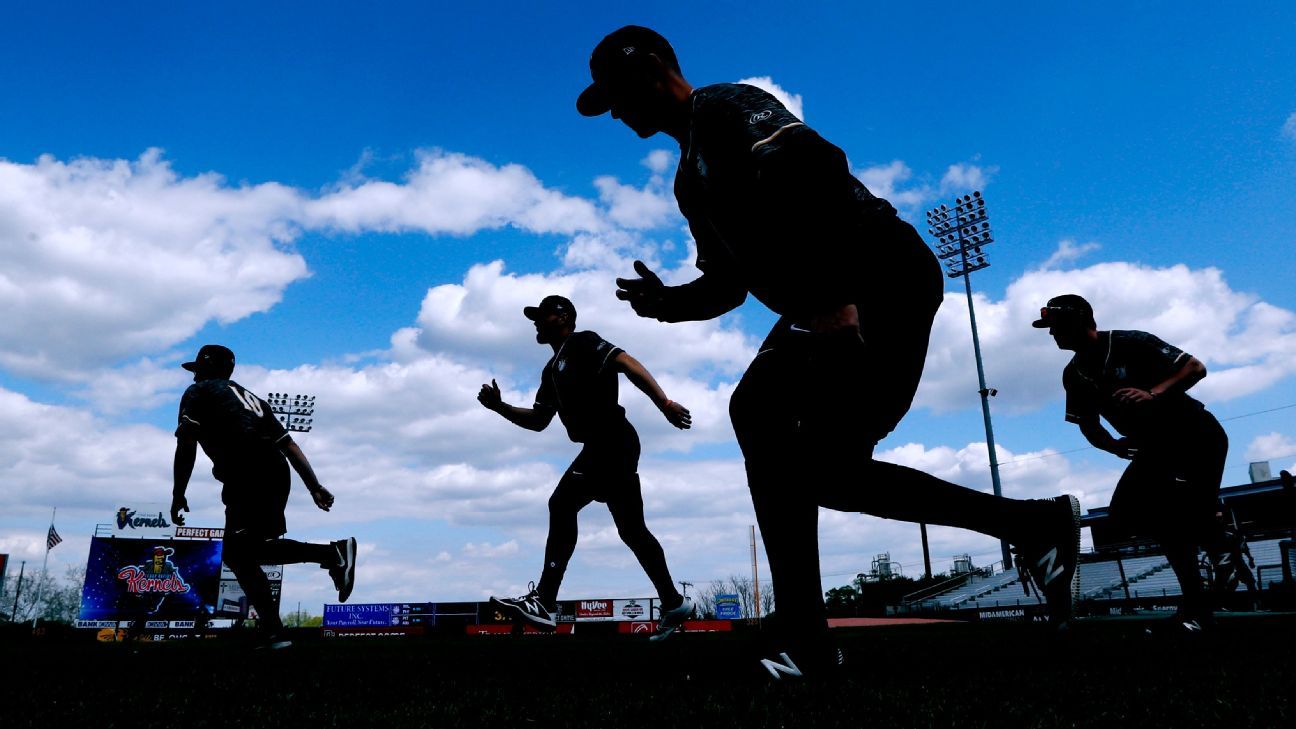 NEW YORK — While the owners and Major League Baseball players intend to collectively bargain for the terms of their next agreement, one group will not be at the table during those discussions: minor leaguers.
While Major League Baseball recently announced improved housing conditions across all levels of the minor leagues — including furnished housing — many across the minor leagues do not believe this is enough. As a result, Advocates for Minor Leaguers announced the formation of a player steering committee on Thursday, which will provide strategic advice and leadership regarding the ongoing labor battle to provide better conditions across baseball's development levels.
"The players on the Advocates for Minor Leaguers Player Steering Committee have decades of combined experience in the Minor Leagues," said Advocates for Minor Leaguers director Harry Marino. "They are thoughtful, intelligent and committed to improving the game of baseball for future generations. At a meeting earlier today, they decided to make public the existence of the committee and to voice support for the Major League Players Association."
The players on the committee will remain anonymous to protect their future job prospects in the sport.
"For decades, we Minor League players have been exploited by Major League Baseball's owners, who have abused their unique antitrust exemption to pay us less than we are worth," the steering committee said in a statement. "This year, most of us will make less than $15,000. Many of us will work second and third jobs, struggling just to make ends meet and put food on the table. Without question, the mistreatment that we endure as Minor League players is the most urgent labor issue facing the sport."
Marino said that the recent concession by Major League Baseball to provide improved housing shows the balance of power is shifting towards minor leaguers.
"There is much work yet to be done," Marino said. "Going forward, I expect the committee to play a key role in our ongoing effort to provide a collective voice for Minor League players and improve Minor League working conditions."
The first action for the committee is to voice their public support for the Major League Baseball Players Association, who the owners decided to lock out at midnight on Thursday morning.
"The owners who have voluntarily decided to shut down Major League Baseball are the same individuals who abuse a legal loophole to pay Minor Leaguers poverty-level wages," the committee said. "As in the past, they use restrictive contracts and collusion to pay the vast majority of professional baseball players less than their actual worth."
The committee stated the uniform player contract for minor leaguers — which ties a player to the same team for seven seasons and prevents them from seeking better pay in baseball domestically or internationally — is fundamentally unfair.
"Now that we have found our collective voice," the committee said, "we intend to use it." —