Seattle Seahawks' Pete Carroll says follow-up tests on injured Darrell Taylor come back clear
Seattle Seahawks coach Pete Carroll said Monday that pass-rusher Darrell Taylor appears to have avoided a serious injury after being stretchered off the field during Sunday night's overtime loss to the Steelers in Pittsburgh.
Carroll's comments were based on the results of an MRI Taylor had Monday following a CT scan Sunday night.
"A really, really positive report," Carroll said. "His MRI stuff was clear. His CT scan stuff was clear. He does not have a neck injury. He got jammed pretty good. We got to wait and see what it's like. It may be a little bit more in his shoulder even as we figure it out."
Carroll said it's not out of the question that Taylor plays when the Seahawks host the New Orleans Saints on Monday night.
"We'll see how that goes," Carroll said. "He's got to have a good week to do that. I haven't talked to Darrell since the MRI stuff came back. I talked to him last night … and he was very positive about it and all that. So we'll see what happens. But a really, really good report, and I know a lot of people were really upset about that (Taylor being hurt) for good reason. Whenever they take a guy off like that, the threat is so huge. Anyway, he came out great, so we'll hope for the best and he may have a chance to go this week."
Taylor was injured in the fourth quarter and remained near midfield for several minutes before he was immobilized on a stretcher, with his helmet still on and his face mask removed. Both teams circled around Taylor as he received medical attention.
He had movement in his extremities and flew back to Seattle with the team. Carroll said on his 710 ESPN Seattle radio show that Taylor wanted to get up while he was was being tended to and that he was upset at having to be taken off the field on a stretcher.
Taylor, a second-round draft pick last year out of Tennessee, missed his rookie season with a leg injury that dated back to his final college season. He has been Seattle's best pass-rusher this season, leading the team with four sacks in the first five games. He had the Seahawks' only official QB hit Sunday night.
The Seahawks also lost running back Alex Collins and guard Damien Lewis to injuries Sunday. Carroll said Collins took separate hits on his hip and glute and Lewis suffered an AC joint sprain.
Carroll said Monday that it's not out of the question that Collins can return this week, but the Seahawks won't know his status for a couple more days.
"He got beat on pretty good," Carroll said. "Cramped up a little bit, too. He had a little bit of everything happen … he just got a lot of wear and tear last night. He played a great football game for us and he was really tough. We'll see what happens, but he didn't have a significant injury."
Collins ran for 101 yards and a touchdown on 20 carries. He started for the second straight week in place of Chris Carson, who was placed on injured reserve Friday with a neck injury. Carson has to spend at least two more games on IR, as does quarterback Russell Wilson.
Carroll has no estimate on when Carson will be back. Asked if Wilson can return after Seattle's Week 9 bye from finger surgery, Carroll said: "I don't know that … the medical side of this thing. But I know Russell, and if it's possible, it's going to happen. If it's possible, it'll happen."
Running back Rashaad Penny (calf) is returning off IR this week, per Carroll.
Los Angeles Chargers lose star DE Joey Bosa in second half with potential head injury
Los Angeles Chargers defensive end Joey Bosa, long considered the best defender on the team, left the game vs. the Cincinnati Bengals Sunday.
Bosa was being evaluated for a head injury he suffered in the second half as the Chargers attempted to hold off a Bengals' rally.
Bosa has battled injuries through much of his career, and usually plays through them. This one was a different story, and the Chargers defense struggled in the third quarter without him.
This season, the 6-foot-6, 280-pound Bosa has 36 solo tackles and 19 assists to go along with 7.5 sacks. In his absence, Kyler Fackrel took over. No further word on Bosa was immediately available.
The Chargers, at one point up 24-0 over the Bengals, saw their lead shrink to 24-22 in the third.
Los Angeles Rams RB Darrell Henderson, WR Odell Beckham Jr. active vs. Jacksonville Jaguars
The Los Angeles Rams running back Darrell Henderson Jr. is active for Sunday's game against the Jacksonville Jaguars.
A source had told ESPN's Adam Schefter that the team was not optimistic about him being able to play but he would test out his injured thigh before Sunday's game before it made a decision.
Wide receiver Odell Beckham Jr., also is active. Like Henderson, he was listed as questionable. Beckham has a hip injury.
Running back James Robinson is active for the Jaguars. He had been listed as questionable due to heel and knee injuries. Robinson has been hobbled for weeks with the injuries but was feeling better Saturday.
Henderson, the Rams' top running back, has rushed for 648 yards and five touchdowns this season.
Gardner Minshew throws first TD as an Eagle, a 36-yard dart to Dallas Goedert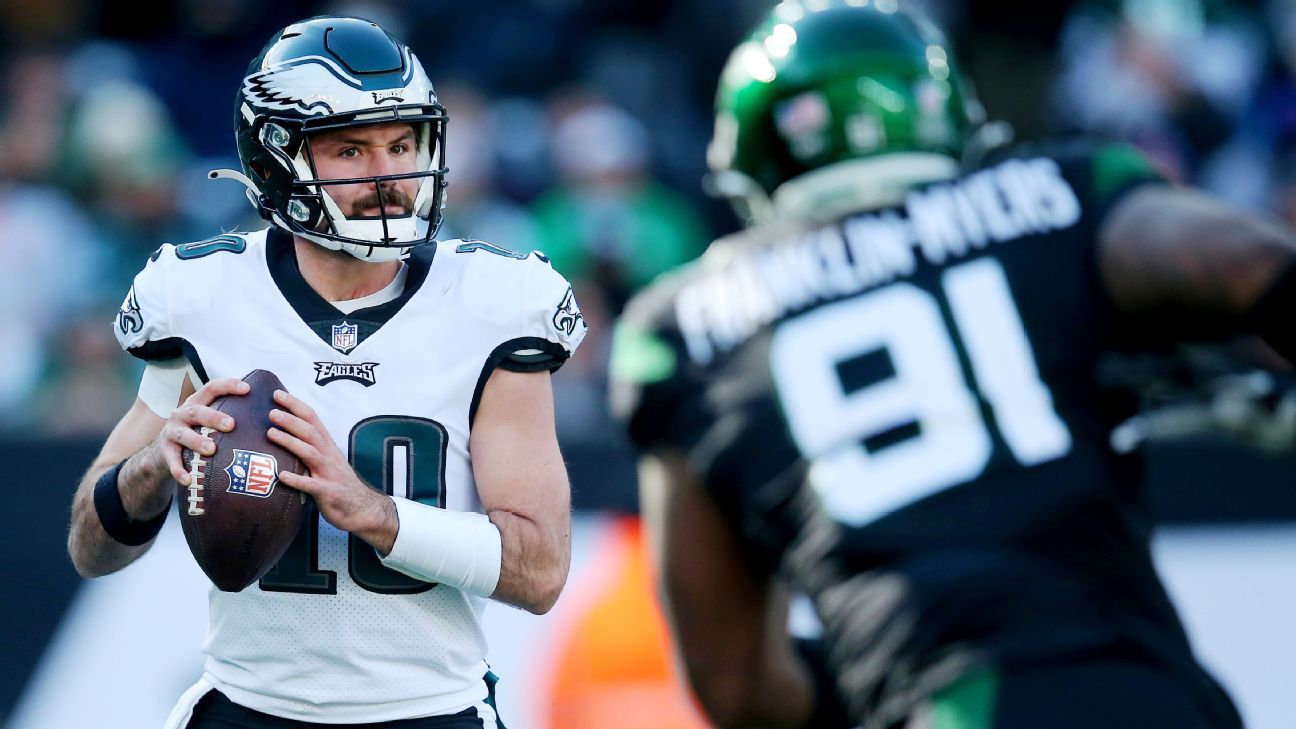 EAST RUTHERFORD, N.J. — Minshew mania — it is upon us.
Starting in place of the injured Jalen Hurts, Eagles quarterback Gardner Minshew II got off to a red-hot start against the New York Jets on Sunday, connecting with tight end Dallas Goedert for a 36-yard touchdown on the team's opening drive. Facing a second-and-1, Minshew unfurled a pass downfield as he was being hit. Goedert hauled it in and shed a tackle attempt before walking into the end zone.
Minshew went 3-for-3 for 61 yards on the Eagles' first possession, with each of those completions going to Goedert. Hurts is sidelined with a sprained left ankle, opening the door for Minshew's first start since Dec. 20 last season, when he was with the Jacksonville Jaguars.
.@GardnerMinshew5 goes deep for his first TD with the @Eagles! #FlyEaglesFly

📺: #PHIvsNYJ on CBS
📱: NFL app pic.twitter.com/ruEPdqKZ3L

— NFL (@NFL) December 5, 2021
Minshew hit Goedert again, this time for a 25-yard score, later in the first half.
Minshew and Goedert have two TD connections already! #FlyEaglesFly

📺: #PHIvsNYJ on CBS
📱: NFL app pic.twitter.com/Q08hl9g37F

— NFL (@NFL) December 5, 2021