Seattle Seahawks' Darrell Taylor stretchered off field, has movement in extremities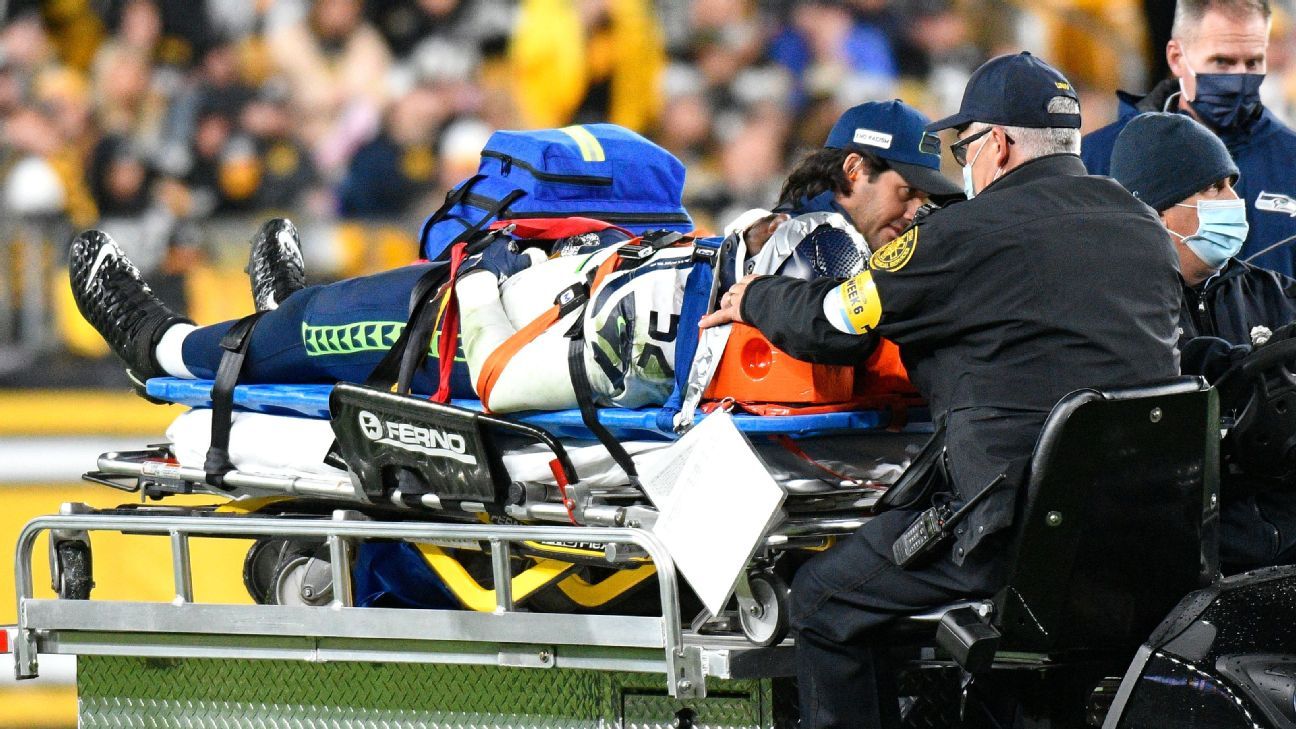 PITTSBURGH — Seattle Seahawks defensive end Darrell Taylor was immobilized and taken off the field on a stretcher in the fourth quarter of Sunday night's 23-20 overtime loss to the Pittsburgh Steelers.
Coach Pete Carroll, while not specifying Taylor's injury, said after the game that preliminary CT scans were clear and that while there were more tests to follow, Taylor was moving his extremities.
"That's a really good preliminary report," Carroll said. "We're thrilled about that news."
A team spokesperson said Taylor will fly back to Seattle with the team.
Taylor was down near midfield for several minutes before he was immobilized on a stretcher, with his helmet still on and his facemask removed. Both teams circled around Taylor as he received medical attention.
"He was so mad at having to be taken off the field like that," Carroll said. "He wanted to get up. They wouldn't let him do it because they had to do all the secure methods to take care of him and all that. He didn't want any part of that."
Taylor was taken via ambulance to the University of Pittsburgh Medical Center.
Former Steelers linebacker Ryan Shazier, who suffered a severe spinal cord injury during a game that initially left him unable to walk and that ended his career, tweeted that he was praying for Taylor.
I pray Taylor is okay. God is strong he will help us over come all obstacles. 🙏🏽🙏🏽🙏🏽🙏🏽

— Ryan Shazier (@RyanShazier) October 18, 2021
Taylor, a second-round draft pick last year out of Tennessee, missed his rookie season with a leg injury that dated back to his final college season. He has been Seattle's best pass-rusher this season, leading the team with four sacks in the first five games. He had the Seahawks' only official QB hit Sunday night.
The Seahawks also lost running back Alex Collins and guard Damien Lewis to injuries. Carroll said Collins took separate hits on his hip and glute but didn't have any further update on his status. The coach said Lewis suffered an AC joint sprain.
Philadelphia Eagles to start Gardner Minshew at QB vs. New York Jets with Jalen Hurts ailing
EAST RUTHERFORD, N.J. — Gardner Minshew will get the start at quarterback for the Philadelphia Eagles in Sunday's game against the New York Jets in place of the injured Jalen Hurts, according to a league source.
Hurts will be inactive for the game, the source said.
Hurts sprained his ankle in the second half against the New York Giants when he was stepped on. He finished the game but was limping noticeably at times.
Earlier this week, Hurts declared that he would be "ready to go" for the Jets game.
"You guys obviously know I'm dealing with a little something, but it's business as usual," he said.
Minshew, however, got the lions' share of snaps during practice on Thursday and Friday.
Hurts is expected to remain the Eagles starter regardless of how Minshew plays, per sources. He has completed 60.1% of his passes through 12 games for 2,435 yards with 13 touchdowns and eight interceptions while racking up 695 yards and eight touchdowns on the ground. Hurts is coming off arguably his worst start as a pro, throwing a career-high three interceptions in a 13-7 loss to the Giants.
The Eagles acquired Minshew for a conditional 2022 sixth-round pick in late August. He has appeared in one game this season, going 2-for-2 for 11 yards in the closing minutes of a blowout win over the Detroit Lions. Minshew, 25, started 24 games over two seasons in Jacksonville, completing 62.9% of his throws for 5,530 yards with 37 touchdowns and 11 interceptions.
"I feel confident with either guy — either of the guys if they have to go play the way they prepared all week and went about their business," Eagles coach Nick Sirianni said earlier this week.
Kurt Warner impressed with Patriots QB Mac Jones, says rookie's ceiling still a mystery – New England Patriots Blog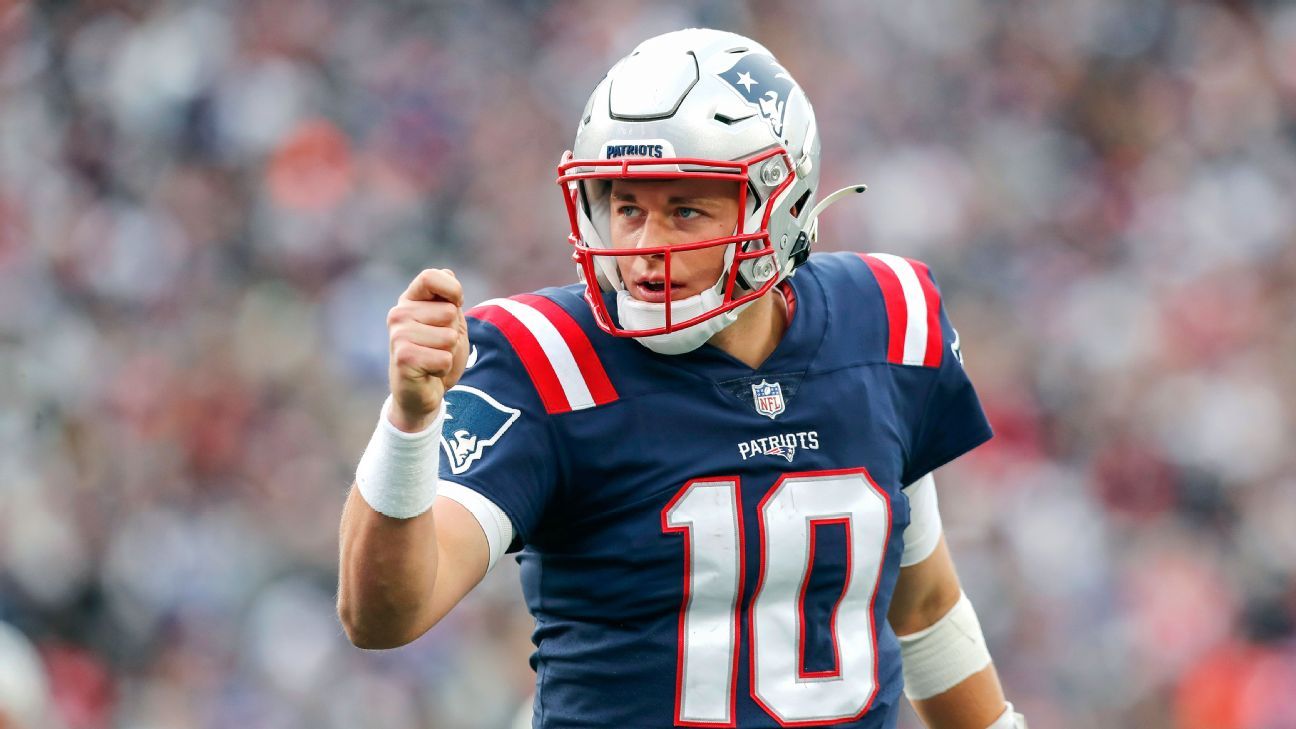 FOXBOROUGH, Mass. — Quick-hit thoughts and notes around the New England Patriots and NFL:
1. Warner on Mac: Pro Football Hall of Fame quarterback Kurt Warner is attending Monday night's AFC East showdown between the New England Patriots and Buffalo Bills at Highmark Stadium (8:15, ESPN), providing analysis for Westwood One's radio call of the game.
Warner's presence provides an ideal opportunity to share his insight on Patriots rookie quarterback Mac Jones.
"I really like him," Warner said. "I'm a firm believer that if you know what you're looking at, and know where to get your eyes quickly, and you can make different kinds of throws, you can always be successful as long as your skill set is good enough at whatever level you're playing.
"You saw it for 20 years with Tom [Brady]. He knew what to look at. He knew how to get the ball out of his hands. He knew exactly where to throw it. And that's exactly what I see with this young kid."
Jones, the 15th overall pick in the 2021 draft out of Alabama, is 268-of-381 for 2,850 yards, with 16 touchdowns and eight interceptions this season.
"Sometimes he might get to his check-down a little too fast, but he's a rookie," Warner said. "Even if it's getting a check-down for 4 [yards], and passing up a play for 12, you can live with that. … People want to compare him to who Tom Brady was in '01. He's doing more for this team, and playing better than Tom Brady did in '01.
"To me, that's the compliment you're looking for. Is he Tom Brady? No. Is he one of the best guys in the league? No. But … what he's doing at such an early stage, and playing within himself and understanding he can win that way, that's impressive. There are guys that have been in the league a long time that don't see the field and understand their reads like he does."
Warner is curious to see how Jones grows over time.
"We've seen him make some really good throws, but I don't know what his upside is. I've always believed at some point that you have to consistently make these off-platform throws, or throws when guys are in your face and you're in different places, and some guys can physically do that and some guys can't," he said. "That … kind of determines, to me, how good a guy like Mac can be. Will he get to the point that he becomes a Tom Brady, who can carry a team with his right arm? That's yet to be seen."
2. Dugger's void: Possibly because he is so soft-spoken, Patriots second-year safety Kyle Dugger doesn't generate a lot of media attention despite his growing impact on the defense (team-high 75 tackles). So it was no surprise the significance of his placement on the reserve/COVID-19 list last week — and the growing likelihood of his absence Monday night — seemed underplayed to me over the last five days. The Patriots are one of only two teams in the NFL to have three primary safeties (Devin McCourty, Dugger, Adrian Phillips) average more than 80% playing time, which reflects how the three-safety package is their base personnel (Washington is the other). The drop off after that trio — with Myles Bryant likely the next safety up, and then Joejuan Williams bumping to the third corner spot in Bryant's place — seems major. Especially against a pass-first team like the Bills.
3. Rare stakes: How unusual is Monday's Patriots-Bills game based on what's at stake? Primarily because of the Patriots' prior two-decade domination in the AFC East, this is just the third Patriots game in December or later under coach Bill Belichick where the winner is guaranteed to take over first place in the division. The Patriots won the previous two — 2001 vs. the Miami Dolphins and 2010 vs. the New York Jets.
4. Van Noy's disruption: Kyle Van Noy leads all NFL linebackers in pass breakups (13) and completion percentage allowed (57%) as the nearest defender, according to NFL Next Gen Stats. That reflects how he's had a solid season in his return to the Patriots. Van Noy plays, and sometimes talks, with an edge — with one example coming last week when he said of his 2020 season in Miami: "I think something a lot of people don't realize is that I've gone somewhere else and played at a high level, even though people don't think I did."
5. UDFA traits: CBS sideline reporter Evan Washburn highlighted the Patriots' success with undrafted free agents during last Sunday's Patriots-Titans broadcast (e.g. cornerback J.C. Jackson), relaying four traits he said came up in his preparation for the game. What do the Patriots look for in UDFAs? According to Washburn, the top four traits are speed, quickness, competitiveness and instincts.
6. Low-scoring battle?: The Patriots and Bills are the top two scoring defenses in the NFL, which makes Monday's game the sixth prime-time matchup in Week 13 or later to feature the league's top two scoring defenses (since the 1970 merger). It's the first since the 49ers-Seahawks matchup in Week 16 of the 2012 season. Linebacker Matthew Judon used the word "transform" when asked what defines the Patriots' defense — in the sense that it can morph into different forms based on how offenses are attacking.
7. Henry-Knox connection: With seven touchdown receptions apiece, Hunter Henry (Patriots) and Dawson Knox (Bills) are tied for most in the NFL among tight ends this season. They will share the same field on Monday night, but it won't be the first time they have done so this year. They attended the offseason "TE University" organized by George Kittle. "He's from Nashville, so that was right there in his neck of the woods," Henry said. "Great dude, and it's awesome to his success."
8. Brown's injury: The Patriots offensive line is at its best when veteran Trent Brown is at right tackle, but his right calf ailment remains an issue. He's battling through it, acknowledging last week, "Some days are better than others. It's all right." Brown wasn't his usual dominating self in the win against the Titans, which could have been injury-related.
9. Protecting Nordin: The Patriots seemed to strategically time their decision to waive undrafted kicker Quinn Nordin last week so he wouldn't be claimed, and they could bring him back on the practice squad to develop him as their possible future option. They couldn't have certainty it would happen, but waiting until Wednesday when most teams were deep into their preparations on a game week increased the likelihood Nordin would slide through. Smart business.
10. Did You Know: With one more victory, the Patriots will clinch their 35th season with a winning record since the 1970 merger. Only the Pittsburgh Steelers (37) have more, followed by the Patriots, Dallas Cowboys (33), Minnesota Vikings (31), Dolphins (31) and Denver Broncos (29).
NFL Week 13 fantasy football inactives watch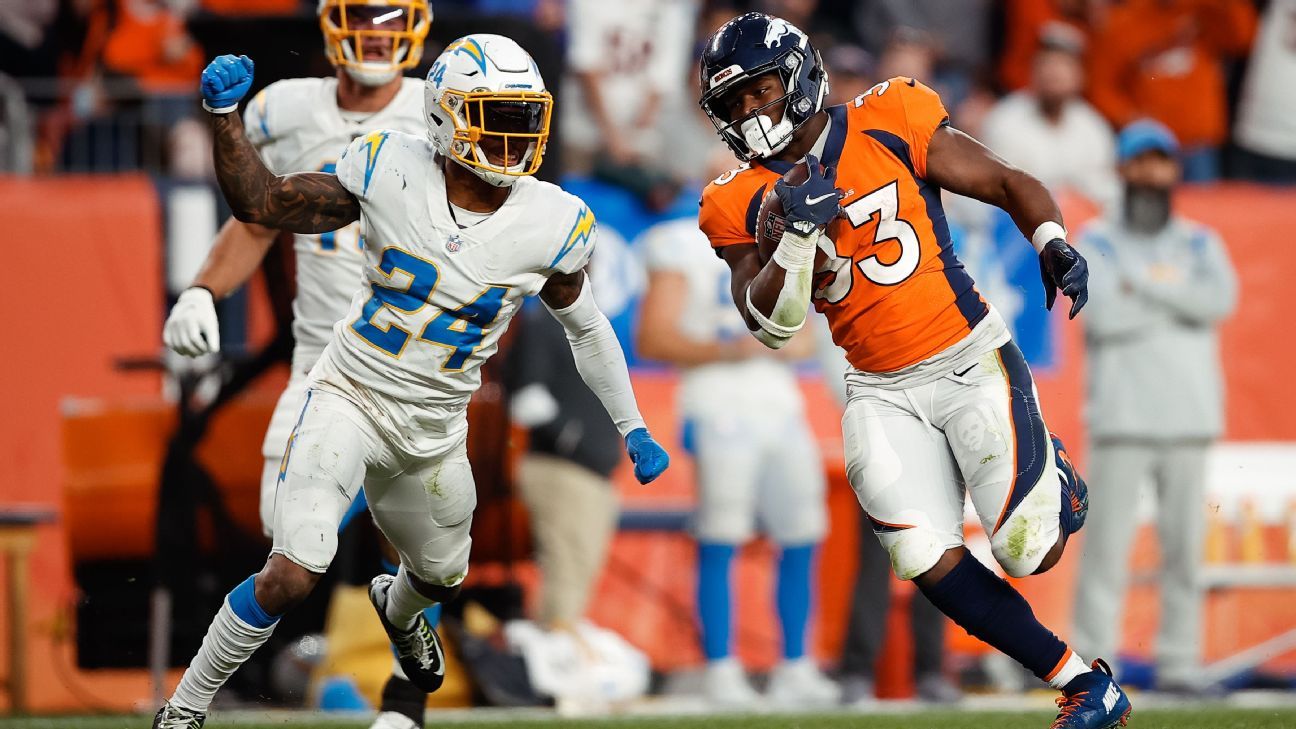 Who should you start? Who should you sit? To help you set your fantasy football lineups and to avoid starting a player who won't be playing, we'll post fantasy-relevant updates and analysis here as NFL teams release their official inactives lists, typically about 90 minutes before kickoff. Any rankings cited in this column come from our ESPN Fantasy staff ranks.
Official Sunday inactives should begin coming in approximately 90 minutes prior to the scheduled kickoff time, around 11:30 a.m. ET for the early games and 2:30 p.m. ET for the late games.
Refresh often for the latest information.
---
1 p.m. ET games
Offense
Kyler Murray, QB, ARI: Ankle — Questionable
Impact: Colt McCoy will start if Murray can't suit up when kickoff rolls around.
DeAndre Hopkins, WR, ARI: Hamstring — Questionable
Impact: He'll also be a game-time call, with Rondale Moore and Christian Kirk due for boosts if he sits.
Justin Fields, QB, CHI: Ribs — Doubtful
Impact: Andy Dalton has already been tabbed to start this one.
Damien Williams, RB, CHI: Calf — OUT
Impact: Khalil Herbert to backup David Montgomery.
Allen Robinson II, WR, CHI: Hamstring — Doubtful
Impact: Darnell Mooney likely to be the team's No. 1 WR this week.
Marquise Goodwin, WR, CHI: Foot — OUT
Impact: Damiere Byrd should see an increase in targets.
Chris Evans, RB, CIN: Ankle — Doubtful
Impact: If Joe Mixon needs to be spelled, Samaje Perine is now the likely option.
D'Andre Swift, RB, DET: Shoulder — OUT
Impact: Jamaal Williams (and possibly Jermar Jefferson) will take over Swift's workload.
David Johnson, RB, HOU: Illness — Questionable
Impact: Didn't practice this week, so Rex Burkhead could play on the majority of snaps.
Danny Amendola, WR, HOU: Knee — OUT
Impact: Phillip Dorsett II was signed to a deal this week to add some WR options.
Brandin Cooks, WR, HOU: Illness — Questionable
Impact: Practiced on Friday, so he should be able to give it a go.
Chris Conley, WR, HOU: Illness — Questionable
Impact: Also could play and join Nico Collins as receiving options.
Jack Doyle, TE, IND: Knee — Questionable
Impact: Practiced late in the week and looks good to start on Sunday.
Phillip Lindsay, RB, MIA: Ankle — Doubtful
Impact: Myles Gaskin should get nearly all of Miami's carries.
Adam Shaheen, TE, MIA: Knee — Doubtful
Impact: With WR DeVante Parker finally back from IR, Shaheen might not be missed if he has to sit.
Dalvin Cook, RB, MIN: Shoulder — OUT
Impact: Kene Nwangwu is under the weather, so Alexander Mattison might be the lone backfield option.
Daniel Jones, QB, NYG: Neck — OUT
Impact: Mike Glennon makes for an unappealing fantasy quarterback.
Sterling Shepard, WR, NYG: Quad — Doubtful
Impact: Kenny Golladay and John Ross will have to step up.
Kadarius Toney, WR, NYG: Quad — Doubtful
Impact: Even if New York's top receivers can play, the loss of QB Jones makes them unappealing for fantasy.
Kyle Rudolph, TE, NYG: Ankle — Questionable
Impact: Evan Engram is already the preferred Giants' TE option.
Corey Davis, WR, NYJ: Groin — Questionable
Impact: A game-time call, Davis has lost ground to Elijah Moore in the battle for the Jets' No. 1 WR honors.
Keelan Cole, WR, NYJ: COVID-19 — OUT
Impact: Fortunately for New York, Denzel Mims is back from his stay on this same list.
Jalen Hurts, QB, PHI: Ankle — Doubtful
Impact: Grab your mustaches! Gardner Minshew II will almost certainly be under center with the mobility-challenged Hurts ailing.
Jordan Howard, RB, PHI: Knee — OUT
Impact: Miles Sanders is the clear No. 1 option for the Eagles.
Boston Scott, RB, PHI: Illness — Questionable
Impact: Kenneth Gainwell will be the clear-cut No. 2 option if Scott sits.
Defense
Byron Murphy Jr., CB, ARI: Foot — Questionable
Jonathan Bullard, DE, ATL: Ankle — OUT
Akiem Hicks, DE, CHI: Ankle — OUT
Roquan Smith, LB, CHI: Hamstring — Questionable
Trey Flowers, DE, DET: Knee — OUT
Michael Brockers, DT, DET: Knee — Questionable
Jalen Reeves-Maybin, LB, DET: Shoulder — OUT
DeMarcus Walker, DE, HOU: Hamstring — OUT
Jonathan Greenard, DE, HOU: Foot — Questionable
DeForest Buckner, DT, IND: Knee — Questionable
Andrew Sendejo, S, IND: Calf — Questionable
Asante Samuel Jr., CB, LAC: Concussion — OUT
Jaelan Phillips, DE, MIA: Hip — Questionable
Brandon Jones, S, MIA: Elbow — Questionable
Anthony Barr, LB, MIN: Knee — Questionable
Eric Kendricks, LB, MIN: Biceps — OUT
Patrick Peterson, CB, MIN: COVID-19 — Questionable
Adoree' Jackson, CB, NYG: Quad — OUT
John Franklin-Myers, DE, NYJ: Hip — Questionable
Folorunso Fatukasi, DT, NYJ: Back — Questionable
Devin White, LB, TB: Quad — Questionable
Jordan Whitehead, S, TB: Calf — OUT
---
4 p.m. ET games
Offense
James Robinson, RB, JAX: Heel — Questionable
Impact: Practiced enough this week that a start seems likely.
Darrell Henderson Jr., RB, LAR: Thigh — Questionable
Impact: Sony Michel stands ready to go if Henderson can't suit up.
Odell Beckham Jr., WR, LAR: Hip — Questionable
Impact: All signs point to Beckham playing on Sunday.
Josh Jacobs, RB, LV: Ankle — Questionable
Impact: Practiced late in the week, so he's looking very likely to play.
DeSean Jackson, WR, LV: Calf — Questionable
Impact: Missed some practice this week, but seems to be ready to go.
Darren Waller, TE, LV: Knee — OUT
Impact: Foster Moreau will take over at tight end and should have a big day.
Alex Collins, RB, SEA: Abdomen — Questionable
Impact: Adrian Peterson was promoted to the active roster and will likely take carries from somebody.
Rashaad Penny, RB, SEA: Hamstring — Questionable
Impact: Apart from Peterson, DeeJay Dallas is the only fully healthy Seattle back.
Travis Homer, RB, SEA: Calf — Questionable
Impact: It's likely to be a game-time call as to which Seattle backs actually dress.
Trey Sermon, RB, SF: Ankle — OUT/IR
Impact: Elijah Mitchell and Jeff Wilson Jr. will be just fine without him.
Deebo Samuel, WR, SF: Groin — OUT
Impact: Expect some of his targets to go to either Trent Sherfield or Jauan Jennings, but not enough for them to matter.
J.D. McKissic, RB, WAS: Concussion — OUT
Impact: Wendell Smallwood was promoted from the practice squad and could catch a few passes.
Curtis Samuel, WR, WAS: Groin — Questionable
Impact: Samuel is expected to play and could even see a bigger piece of the receiving pie than last week.
Ricky Seals-Jones, TE, WAS: Hip — Questionable
Impact: Even if he can return to the field, Logan Thomas is still ahead of him.
Defense
Patrick Queen, LB, BAL: Ribs — Questionable
Tavon Young, CB, BAL: Illness — Questionable
Marlon Humphrey, CB, BAL: Illness — Questionable
Anthony Averett, CB, BAL: Shoulder — Questionable
Shaquill Griffin, CB, JAX: Concussion — OUT
Isaiah Buggs, DT, PIT: Ankle — OUT
Joe Haden, CB, PIT: Foot — OUT
T.J. Watt, LB, PIT: COVID-19 — Expected to play
Fred Warner, LB, SF: Hamstring — Doubtful
Dre Greenlaw, LB, SF: Groin — OUT
Marcell Harris, S, SF: Concussion — Questionable
Landon Collins, S, WAS: Foot — OUT
---
Sunday night game
Melvin Gordon III, RB, DEN: Hip — OUT
Impact: Damarea Crockett has been elevated from the practice squad to provide RB depth behind Javonte Williams and Mike Boone.
Shelby Harris, DE, DEN: Ankle — Questionable
Clyde Edwards-Helaire, RB, KC: Illness — Questionable
Impact: He had a bout of the flu this week, but is currently expected to play.
Rashad Fenton, CB, KC: Knee — OUT