Notable bets – Aaron Rodgers owns the Bears, and Chicago bettors know it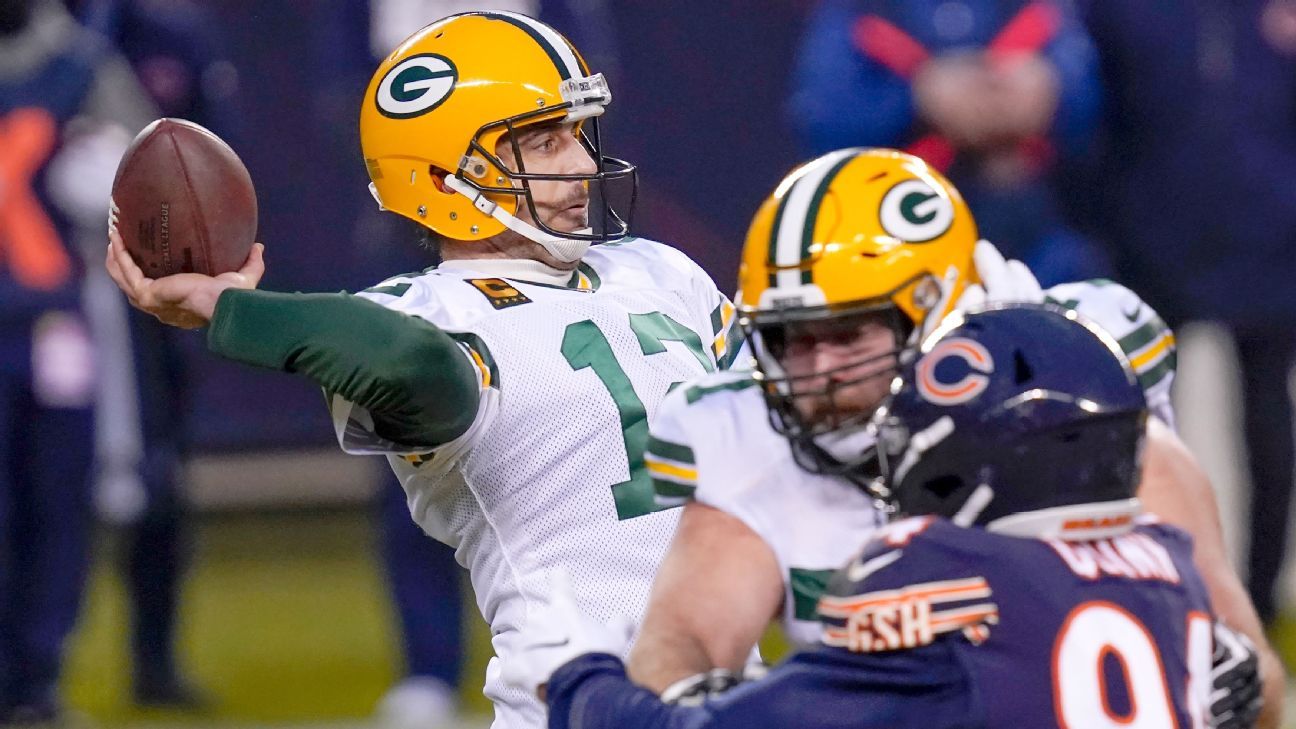 It's becoming a Windy City tradition: When Aaron Rodgers comes to town, Chicago bettors know what to do — load up on the Packers.
On Sunday, with the Packers in Chicago to take on the Bears, sportsbooks in Illinois were inundated with bets on Green Bay. In fact, there was a higher percentage of bets on the Packers at some Illinois sportsbooks than there was in other states:
• At Caesars Sportsbook in Illinois, 87% of the money backed the Packers to cover the 5.5-point spread. But across all Caesars Sportsbooks in all states, there were actually more bets — and more money — on the Bears plus the points than on the Packers.
• At BetRivers' sportsbook in Illinois, 95% of the money was on the Packers to win straight-up. In other states, the Packers attracted only 75% of the money at BetRivers sportsbooks.
"Bears fans appear to have accepted their Rodgers fate and are trying to make a few bucks along the way," BetRivers sportsbook manager Zach Schlouch said. Backing Rodgers and the Pack against the Bears has been a winning strategy for years. With Sunday's 24-14 win, Rodgers improved to 22-5 straight-up and 20-7 against the spread versus the Bears. He's 11-3 outright and against the spread at Soldier Field.
As he noted to the Chicago faithful Sunday, Rodgers indeed owns the Bears.
NFL Notables
• Veteran Las Vegas bookmaker Johnny Avello, now with DraftKings, summarized the Sunday's NFL results for his shop in two words: "Pretty terrible."
NFL favorites went (9-3) straight-up and (8-4) against the spread Sunday, and, for the second straight week, the betting public beat the books.
Avello added that "there's always next week," but that's assuming the sportsbooks can afford to keep the lights on after Sunday's beating …
• The Chiefs covering a touchdown spread in a 31-13 win over the Football Team was the worst decision of the morning for multiple sportsbooks. Kansas City was on a 3-13 run against the spread, but the betting public was undeterred and sided heavily with the favored Chiefs.
Bettors also did well on the Rams, who smashed the Giants 38-11 as 8-point favorites, and the aforementioned Packers.
"We won only one game in the morning out of the whole card. That was the Ravens beating the Chargers, and it really wasn't that big of a win for us," Jeff Stoneback, director of BetMGM sportsbooks in Nevada, said Sunday night. "When the favorites go 7-1 [in the morning games], it's tough."
• With the early run of success for favorites, parlay liability mounted for sportsbooks in the afternoon, a lot of it riding on the Cowboys against the Patriots.
Dallas, which closed as a consensus 4-point favorite, trailed the Patriots twice in a wild final seven minutes of the fourth quarter. The Cowboys managed to force overtime and then covered the spread on a Dak Prescott touchdown pass to CeeDee Lamb in a 35-29 win.
Craig Mucklow, vice president of trading for Caesars Sportsbook, called the Cowboys' comeback "the killer blow" and said that Dallas covering instead of losing outright caused an eight-figure swing against the house. It caused a seven-figure swing against the house at sportsbook PointsBet, which pointed to a heavy percentage of money-line parlays that were connected to the Cowboys.
• Caesars reported taking eight $500,000 NFL bets on Sunday. Seven of them won, with only the Football Team failing to deliver.
"Great day for our customers," Mucklow said in a text message.
• The Cowboys improved to 6-0 against the spread, the best ATS start to a season since the 2018 Chiefs started 7-0.
• A bettor with Caesars in Michigan last week placed $50,000 bet on the Cowboys to win the Super Bowl last week at 14-1 odds. The bet would pay a net $700,000.
• The "Joe's," as the betting public is often referred to, also bested the pros on Sunday, a common occurrence when sportsbooks lose. The SuperBook at Westgate Las Vegas reported taking bets from customers they've learned to respect on: Bears +6, Football Team +7, Colts -10, Vikings pick 'em, Bengals -3, Giants +10.5 and Broncos -4.
• The Borgata in Atlantic City, New Jersey, also reported sharp action on the Giants throughout the week.
"The ticket count was very lopsided in favor of the Rams," Tom Gable, sportsbook director for The Borgata, said in an email to ESPN on Sunday evening, "but over 85% of the money was on the Giants here. We took respected money throughout the week on the Giants, and it just kept driving that number down to 7.5, where it closed."
• The betting interest in Las Vegas on the Raiders was skyrocketing early in the season, when the team got off to a 3-0 start. The Raiders' opening win over the Ravens on Monday Night Football produced one of the biggest losses on a single regular-season game some Nevada sportsbooks had ever suffered. But betting support for the hometown team simmered last week with the Raiders having lost two in a row and coach Jon Gruden resigning. Las Vegas responded with a 34-24 win at Denver.
"We actually did very well on the Raiders beating the Broncos," John Murray, executive director of the SuperBook, said Sunday night. "But with Dallas winning and somehow covering we are in a hole and we have all those parlays carrying to the Dodgers and Steelers tonight and — most of all — the Bills on Monday Night Football. It could get very ugly if we don't get any of these dogs to win."
The Bills are consensus 6-point road favorites over the Titans on Monday.
College football notables
• Clemson opened as a 2-point underdog to Pittsburgh at Circa Sports. The line grew to Pitt -4 on Sunday afternoon. If the line holds, it will be the first time Clemson is an underdog in an ACC game since 2016.
• Oklahoma freshman QB Caleb Williams is 25-1 to win the Heisman Trophy at Caesars Sportsbook.
• "I just wanted to score. That's a quality defense. You don't know how things are going to play out the rest of the year. We had an opportunity to score, so we did." — Kentucky coach Mark Stoops on his decision to call timeout with seven seconds left and the Wildcats trailing Georgia 30-7.
Kentucky, a 22-point underdog, scored on its next play and covered the spread in a 30-13 loss to the top-ranked Bulldogs.
• Projected line: Alabama vs. Georgia -1 via Circa Sports college football oddsmaker Matt Metcalf.
Opening lines
[via Circa Sports, the first sportsbook to post weekly college football lines]
Illinois at No. 7 Penn State -17, 49.5
Northwestern at No. 5 Michigan -19, 53.5
No. 2 Cincinnati -24, 41.5 at Navy
Wisconsin -5, 41.5 at No. 25 Purdue
Clemson at No. 23 Pittsburgh -2, 50.5
No. 10 Oregon -2, 65.5 at UCLA
No. 8 Oklahoma State at Iowa State -7, 45.5
LSU at No. 12 Ole Miss -12, 75.5
Tennessee at No. 4 Alabama -29, 67.5
No. 5 Ohio State -19, 60.5 at Indiana
USC at No. 13 Notre Dame -4, 53.5
What were the odds?
-20,000 — Liberty's money-line odds against Louisiana-Monroe on Saturday. UL-Monroe, which closed as a consensus 33-point underdog and 40-1 on the money-line, won 31-28. It's the largest upset in a game involving two FBS opponents since 2012 — and it paid nicely for one bettor, who backed UL-Monroe at Caesars and won $17,910.90.
37.5 — The consensus closing total on Army-Wisconsin, the lowest of the season. Wisconsin won 20-14.
-8 — The Dallas Mavericks were 8-point favorites over the Charlotte Hornets in preseason action Wednesday. The Mavs won 127-59. NBA preseason games attract about 20% of the handle of regular-season games, according to PointsBet, where 66% of the money bet on Mavs-Hornets game was on the underdog Hornets, who lost by 68 points.
+2200 — The Chicago Sky's odds to win the WNBA title entering the preseason. The Sky finished off the Phoenix Mercury in Game 4 on Sunday to win the championship.
+225 — Kevin Durant's odds to average more than 30.1 points per game — Michael Jordan's career average — this season at WynnBet. In recognition of the NBA's 75th season, the sportsbook released several props matching today's stars with all-time greats.
NFL Playoffs — Clutch kickers dominate in divisional-round showdowns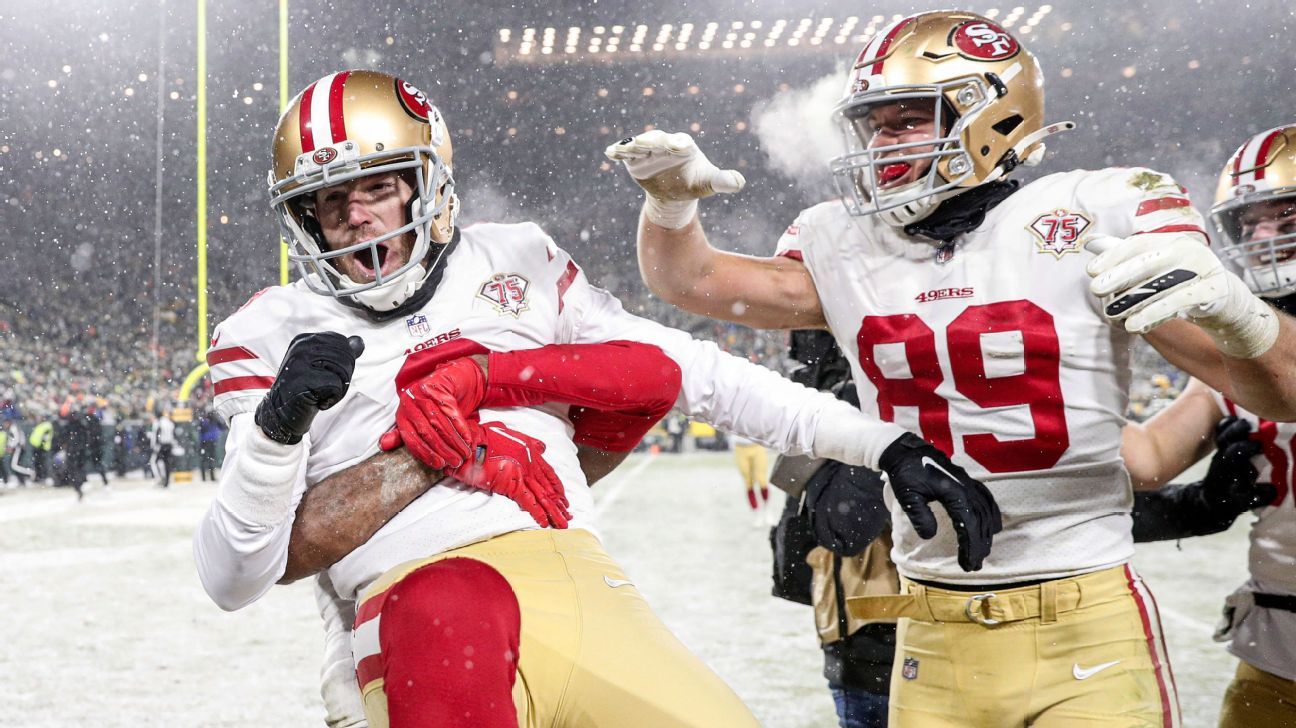 It's a good time to be an NFL kicker.
The AFC and NFC divisional games gave football fans everywhere a reason to root for their team's kicker.
According to Elias Sports Bureau, there have only been 10 games in NFL postseason history which have ended with game-winning field goals as time expired in regulation. Three of them came this weekend — the first time there has been three in a single postseason.
In Saturday's AFC Divisional Game, rookie Evan McPherson kicked a 52-yard field goal as time expired, pushing the underdog Cincinnati Bengals past the top-seeded Tennessee Titans, 19-16.
Money. Mac. Shooter. McPherson. Legend.

Visit https://t.co/KpeqK4RKUm for more highlights. pic.twitter.com/CIrXmzwZI0

— Cincinnati Bengals (@Bengals) January 23, 2022
In his post-win news conference, quarterback Joe Burrow shared that McPherson was ready to call game before he even took the field.
Bengals K Evan McPherson, doing warm-up swings before his game-winner, looked at back-up QB Brandon Allen and said, "Well, looks like we're going to the AFC Championship Game," Joe Burrow said.

— Ben Baby (@Ben_Baby) January 23, 2022
In addition to the walk-off field goal, McPherson made all the three other field goals he attempted in the game. He's now eight-of-eight in the playoffs.
Just a few hours later, the San Francisco 49ers also had their fate secured by a kicker as the game wound down.
Niners kicker Robbie Gould has made all 20 of his field goal attempts in the playoffs during his storied career. Saturday night was a sweet one with his 45-yard kick as time expired, sending the home team Green Bay Packers packing.
For the win!!! On to the next! pic.twitter.com/rd2oJ24fpi

— Robbie Gould (@RobbieGould09) January 23, 2022
"You're a f—ing legend man. F— the Packers," 49ers quarterback Jimmy Garoppolo said to Gould after the game.
On Sunday, more kickers had a say in their team's result.
As time expired Sunday afternoon, the Los Angeles Rams were able to knock off the defending Super Bowl champion Tampa Bay Buccaneers on the road thanks to a 30-yard field goal from Matt Gay.
MATT GAY FOR THE WIN! pic.twitter.com/AQBU54oVhD

— Los Angeles Rams (@RamsNFL) January 23, 2022
Per ESPN Stats and Information, with the Bengals, 49ers and Rams all winning on the road, this is the third time where three road teams won in the divisional round since its inception in 1970.
And even though Harrison Butker had a shaky start to Sunday night's game — including a missed field goal and extra point — the Kansas City Chiefs kicker nailed a game-tying 49-yard field goal at the end of regulation to force overtime against the Buffalo Bills.
BUTKER. CLUTCH. pic.twitter.com/cW0hiBoJS9

— Kansas City Chiefs (@Chiefs) January 24, 2022
Patrick Mahomes then went 75 yards and tossed the game-winning touchdown to Travis Kelce for a ticket to the Chiefs' fourth straight AFC Championship Game.
The win by Kansas City, the No. 2 seed, was the only win by the home team all weekend.
Bills watch victory slip away in 13 seconds as Chiefs end Buffalo's postseason again – Buffalo Bills Blog
KANSAS CITY, Mo. — Buffalo Bills quarterback Josh Allen could have immediately run off the field, headed into the locker room and the offseason that awaited.
Instead, after embracing Kansas City Chiefs quarterback Patrick Mahomes moments after he had thrown the game-winning score Sunday night, Allen took his time and let his eyes linger. He looked around Arrowhead Stadium, watching Kansas City fans and players celebrate another postseason win and a berth in their fourth straight home AFC Championship Game.
"It was tough to be in that moment," Allen said. "Holding on to that feeling and making sure that we don't feel like this again. And like I said, back-to-back years in the same spot. It's tough to take in, but it's part of the game. It's part of the learning process. …
"We got to use this and figure out how we can be better and how we can accomplish what we want to accomplish."
The 42-36 loss to the Chiefs in overtime marked a second straight year the Bills' season has come to an end against Kansas City. Buffalo has yet to win a road playoff game under coach Sean McDermott (0-4).
Their goal of reaching the Super Bowl — and of getting past the Chiefs — will have to wait at least another year. The Bills spent the offseason preparing to beat Kansas City after losing in last year's AFC title game at Arrowhead.
This time, the game ended in devastating fashion on the first drive of overtime after the teams scored four times in the final two minutes of regulation.
"We just ended up on the wrong side of maybe one of the greatest games in postseason history," center Mitch Morse said.
Wide receiver Gabriel Davis had a breakout performance Sunday night, becoming the first player in postseason history to catch four touchdown passes. He finished with eight receptions for 201 yards.
"Gabe had his opportunity tonight and he made some outstanding plays," Allen said.
Despite the offense's heroics, the Bills' defense came up short when it was needed most. Trailing 36-33, the Chiefs got the ball back with just 13 seconds left before marching downfield in two plays, and Harrison Butker kicked a 49-yard game-tying field goal.
The 25 points scored in the last two minutes of regulation are the second most of regulation of any game in the Super Bowl era, per Elias Sports Bureau research.
"We talked about a lot of things," McDermott said of the team's approach to the end of the game. "I'm just gonna leave it at the execution. And that starts with me."
The league's No. 1 pass defense fell apart in overtime, allowing Mahomes to complete 6 of 6 passes, including the winning score to tight end Travis Kelce.
After an offseason partially built around addressing problems that came up last postseason against the Chiefs, especially the pass rush, the Bills have to get back to work on finding ways to get past Kansas City, something that will be no easy feat.
Wide receiver Tyreek Hill and Kelce again had big games against the Bills, combining for 246 yards on 19 receptions and two touchdowns. Mahomes finished with 378 yards and three touchdowns.
On the other side of the ball, the Chiefs were able to take wide receiver Stefon Diggs out of the game. He finished with three receptions on six targets for 7 yards and a successful 2-point conversion.
"[Diggs is] obviously one of our best players and we've got to make sure we're getting him the ball," McDermott said. "But at the end of the day, we scored to take the lead with 13 seconds left. So, there's a lot we can talk about, but we put ourselves in a position to win the game."
The Bills will now head into an offseason with limited cap room and changes on the way in the front office and potentially the coaching staff. Much of the team will be returning, although there are some key veteran decisions on the way, for yet another run at finding their way back to the big game.
Describe the game in two words: Heartbreaking end. The Bills' No. 1 defense fell just short when the team needed stops with a trip to the AFC Championship Game at stake.
QB breakdown: Allen continued his postseason magic, completing 27 of 37 passes for 329 yards and four touchdowns. He was also the team's leading rusher with 68 yards on 11 carries and had six rushing first downs, the most by a quarterback in the past two postseasons.
Allen finished the postseason with nine touchdowns and zero interceptions. It wasn't enough to come away with the win Sunday night, but Allen had some of his best performances of the season in the playoffs. He became the first player with four passing touchdowns and zero interceptions in back-to-back games in postseason history.
"[No.] 17 is always going to make a play with the ball in his hand — we got a lot of trust and faith in him," Davis said. "He's the best quarterback in the NFL and I stand by that, and I know that when it's time to make plays, I know he's gonna be there to make them."
Tom Brady says his thoughts are on Tampa Bay Buccaneers' playoff exit, not own future
TAMPA, Fla. — Tom Brady said Sunday night that it was too soon for him to think about his future and that his emotions were still tied to the Tampa Bay Buccaneers' heart-breaking, last-second playoff loss to the Los Angeles Rams that had ended just minutes earlier.
"Truthfully guys, I'm thinking about this game," said Brady, who rallied the Bucs from a 27-3 second-half deficit only to watch them fall 30-27. "I'm not thinking about anything past five minutes from now."
Brady's comments came after ESPN reported earlier Sunday that the 44-year-old quarterback is undecided about his future, and that while he could return for another season, it is far from a given. Sources told ESPN's Adam Schefter and Jeff Darlington that Brady plans to take time after the season ends — a month or longer — to assess how he feels physically and mentally while also gauging his family's desires.
Brady indicated as much after Sunday's loss.
"I haven't put a lot of thought into it, so you know, we will just take it day by day and kind of see where we are at," said Brady, who has one year left on his contract.
Asked if he thought about Sunday possibly being the final game of his career as he ran out of the South end zone tunnel at Raymond James Stadium, the seven-time Super Bowl winner said no.
"I was thinking about winning," he said. "That's kind of my mentality — always to go out there and try to win. Give my teammates the best chance to win."
In the end, he ran out of weapons to throw to this season. No Chris Godwin, Antonio Brown, Breshad Perriman or Cyril Grayson. Tyler Johnson went down with a rib injury and Jaelon Darden a concussion. Tight end Cam Brate was lining up in the slot by game's end Sunday, and at one point, Brady had a backup right guard filling in at right tackle, because his backup right tackle suffered an ankle injury, on top of a quad injury.
"It's the reality of football," said Brady, who lost in the divisional round for just the fourth time in his career. "Every team is really qualified when you get to the final eight, then the final four, then the final two and it doesn't feel good to lose any one of those games, and I have lost each of those stages. So at the end, there is only one team that is going to be happy. It feels good to move on when you move on, and obviously when you don't, whether it was last week or this week or next week, the week after, two weeks after that — if you are a loser in that game, it all sucks to lose in the end."
Coach Bruce Arians said there's no timetable for when a discussion with Brady about his future will take place.
"That's totally up to Tom," Arians said.
The Bucs don't have a viable successor to Brady on their current roster.
Teammates, many of whom faced questions about Brady's future this past week, acknowledged the reality of the situation.
"I know Tom's a competitor. He always say he's got something to prove, but what more can he do?" inside linebacker Lavonte David said. "He's the GOAT. He's done everything he can. If he comes back, obviously we'll welcome him with open arms. But we'll have to let him decide that for himself."
Wide receiver Mike Evans said he won't make any sort of pitch to Brady.
"I don't have to say nothing to him," Evans said. "He's self-motivated. He knows what he wants. Hopefully we get him back next year. The best player ever, one of the best teammates and one of the best leaders I've ever seen.
"I've said the last two years: I'm super appreciative that he came to Tampa Bay. Nobody had no clue he was even leaving New England. Just very privileged to play with him."
The Bucs have 24 players scheduled to become unrestricted free agents, including aging veterans who, like Brady, have decisions to make — outside linebacker Jason Pierre-Paul, running back Leonard Fournette, tight end Rob Gronkowski and Jensen, to name a few.
Re-signing all 22 starters like they did last year may not be possible.
"It's so tough. A lot of these guys are on the last year of their contracts," David said. "I was the last one to walk in [the locker room]. Seeing the look in everybody's eyes, it was like, 'This is a tough one.' You hate to go out in such a manner. At the end of the day, you know the locker room isn't going to be the same next year.
"You build relationships with guys and to see them go out the way we did — some people are going to have to move on to certain places. It's going to be tough because this is the most tight locker room I have ever been around with the greatest chemistry with guys on and off the field. Great leadership with the young guys and the old guys just gelling together. … It's like a real family-like atmosphere. Luckily you do build bonds with those guys to wish them well in their future endeavors, but we all know it's gonna be different next year."
Pierre-Paul, who just turned 33, will undergo surgery to repair a torn rotator cuff he's played with all season. Asked if he wants to continue playing, he said, "I don't know. We'll see after my surgery."
Fournette, the fourth overall draft pick in 2017 who found a career resurgence with the Bucs after getting released by the Jacksonville Jaguars before the 2020 season, added: "I'm proud of this group — I'm proud of these guys and I'm happy to call myself a Buccaneer."
A number of players stayed in the locker room long after Sunday's game was over.
"You have to cherish the relationships that you have with this team," Fournette said. "They don't come around too often like that. One of the best groups of guys and coaching staffs I've been around. We went out, the way we didn't want to go out, but at the end of the day, I'm just blessed to be a part of this organization, to have guys like Tom Brady, Gronk, Mike [Evans], Scotty [Miller], [Ryan] Jensen…guys like that…It's hard, it's tough."