Matthew Stafford views Los Angeles Rams' upcoming date vs. Detroit Lions, his former team, no different than 'every other game'
EAST RUTHERFORD, N.J. — Matthew Stafford stood at a podium in the bowels of MetLife Stadium on Sunday to answer questions about a 38-11 rout over the New York Giants. Then when asked about an upcoming Week 7 matchup against the Detroit Lions, his team of 12 seasons, the Los Angeles Rams quarterback deftly responded.
"Just like every other game," Stafford said when asked how he'd prepare for his former team. "It's an NFL opponent coming into our building."
However, Stafford admitted that some extraordinary exchanges were bound to happen ahead of kickoff next Sunday at SoFi Stadium.
"In pregame, am I going to be saying hey to some old teammates and friends, the Ford family, hopefully, if they make the trip? Absolutely," Stafford said. "I've got nothing but great relationships with people over there, so have a lot of respect for the organization, the team, the ownership."
The Lions selected Stafford with the first overall pick in 2009, but after 12 seasons and three winless playoff appearances, Stafford requested that the organization trade him after last season, ending his time in Detroit with a 74-90-1 record and with two seasons remaining on a five-year, $135 million contract.
To acquire the one-time Pro Bowl quarterback in a blockbuster deal, the Rams sent Detroit two first-round picks, a third-round pick and quarterback Jared Goff, who Rams general manager Les Snead traded up 15 spots to select first overall in the 2016 draft and who led the Rams to a Super Bowl LIII appearance.
Under Goff, 27, and first-year coach Dan Campbell, the Lions are 0-6, and are the first team in NFL history to lose two games on last-second field goals of 50 yards or longer in a season.
"It will be just another football game once the ball is snapped," Stafford said.
Stafford, 33, has led the Super Bowl hopeful Rams to a 5-1 start and has passed for 16 touchdowns, which ranks third in the NFL behind Chiefs quarterback Patrick Mahomes and Buccaneers quarterback Tom Brady.
Stafford's 16 passing touchdowns also are the most by any quarterback through his first six games with a team in NFL history, according to the Elias Sports Bureau.
However, both Stafford and coach Sean McVay have recently admitted that there is not only room, but a need, for improvement.
On Sunday against the 1-5 Giants, the offense relied on a dominant defensive performance that included four turnovers to help overcome a slow start and scoreless first quarter. The offense converted three takeaways into touchdowns on a short field.
Stafford completed 22 of 28 passes for 251 yards and four touchdowns, with an interception, and running back Darrell Henderson rushed 2 yards for a score.
But still, McVay expects to be better.
"There's just some sharper things that we can do at more of a premium level, execution wise, and then mostly where I'm frustrated with is myself on some of the decisions," McVay said. "Just having a better feel for the flow of the game and those are the things that really bother me because those are things that I have to be better for our team for."
"There's room for improvement," Stafford said. "But I'm proud of the way that we just stuck to it."
Bills watch victory slip away in 13 seconds as Chiefs end Buffalo's postseason again – Buffalo Bills Blog
KANSAS CITY, Mo. — Buffalo Bills quarterback Josh Allen could have immediately run off the field, headed into the locker room and the offseason that awaited.
Instead, after embracing Kansas City Chiefs quarterback Patrick Mahomes moments after he had thrown the game-winning score Sunday night, Allen took his time and let his eyes linger. He looked around Arrowhead Stadium, watching Kansas City fans and players celebrate another postseason win and a berth in their fourth straight home AFC Championship Game.
"It was tough to be in that moment," Allen said. "Holding on to that feeling and making sure that we don't feel like this again. And like I said, back-to-back years in the same spot. It's tough to take in, but it's part of the game. It's part of the learning process. …
"We got to use this and figure out how we can be better and how we can accomplish what we want to accomplish."
The 42-36 loss to the Chiefs in overtime marked a second straight year the Bills' season has come to an end against Kansas City. Buffalo has yet to win a road playoff game under coach Sean McDermott (0-4).
Their goal of reaching the Super Bowl — and of getting past the Chiefs — will have to wait at least another year. The Bills spent the offseason preparing to beat Kansas City after losing in last year's AFC title game at Arrowhead.
This time, the game ended in devastating fashion on the first drive of overtime after the teams scored four times in the final two minutes of regulation.
"We just ended up on the wrong side of maybe one of the greatest games in postseason history," center Mitch Morse said.
Wide receiver Gabriel Davis had a breakout performance Sunday night, becoming the first player in postseason history to catch four touchdown passes. He finished with eight receptions for 201 yards.
"Gabe had his opportunity tonight and he made some outstanding plays," Allen said.
Despite the offense's heroics, the Bills' defense came up short when it was needed most. Trailing 36-33, the Chiefs got the ball back with just 13 seconds left before marching downfield in two plays, and Harrison Butker kicked a 49-yard game-tying field goal.
The 25 points scored in the last two minutes of regulation are the second most of regulation of any game in the Super Bowl era, per Elias Sports Bureau research.
"We talked about a lot of things," McDermott said of the team's approach to the end of the game. "I'm just gonna leave it at the execution. And that starts with me."
The league's No. 1 pass defense fell apart in overtime, allowing Mahomes to complete 6 of 6 passes, including the winning score to tight end Travis Kelce.
After an offseason partially built around addressing problems that came up last postseason against the Chiefs, especially the pass rush, the Bills have to get back to work on finding ways to get past Kansas City, something that will be no easy feat.
Wide receiver Tyreek Hill and Kelce again had big games against the Bills, combining for 246 yards on 19 receptions and two touchdowns. Mahomes finished with 378 yards and three touchdowns.
On the other side of the ball, the Chiefs were able to take wide receiver Stefon Diggs out of the game. He finished with three receptions on six targets for 7 yards and a successful 2-point conversion.
"[Diggs is] obviously one of our best players and we've got to make sure we're getting him the ball," McDermott said. "But at the end of the day, we scored to take the lead with 13 seconds left. So, there's a lot we can talk about, but we put ourselves in a position to win the game."
The Bills will now head into an offseason with limited cap room and changes on the way in the front office and potentially the coaching staff. Much of the team will be returning, although there are some key veteran decisions on the way, for yet another run at finding their way back to the big game.
Describe the game in two words: Heartbreaking end. The Bills' No. 1 defense fell just short when the team needed stops with a trip to the AFC Championship Game at stake.
QB breakdown: Allen continued his postseason magic, completing 27 of 37 passes for 329 yards and four touchdowns. He was also the team's leading rusher with 68 yards on 11 carries and had six rushing first downs, the most by a quarterback in the past two postseasons.
Allen finished the postseason with nine touchdowns and zero interceptions. It wasn't enough to come away with the win Sunday night, but Allen had some of his best performances of the season in the playoffs. He became the first player with four passing touchdowns and zero interceptions in back-to-back games in postseason history.
"[No.] 17 is always going to make a play with the ball in his hand — we got a lot of trust and faith in him," Davis said. "He's the best quarterback in the NFL and I stand by that, and I know that when it's time to make plays, I know he's gonna be there to make them."
Tom Brady says his thoughts are on Tampa Bay Buccaneers' playoff exit, not own future
TAMPA, Fla. — Tom Brady said Sunday night that it was too soon for him to think about his future and that his emotions were still tied to the Tampa Bay Buccaneers' heart-breaking, last-second playoff loss to the Los Angeles Rams that had ended just minutes earlier.
"Truthfully guys, I'm thinking about this game," said Brady, who rallied the Bucs from a 27-3 second-half deficit only to watch them fall 30-27. "I'm not thinking about anything past five minutes from now."
Brady's comments came after ESPN reported earlier Sunday that the 44-year-old quarterback is undecided about his future, and that while he could return for another season, it is far from a given. Sources told ESPN's Adam Schefter and Jeff Darlington that Brady plans to take time after the season ends — a month or longer — to assess how he feels physically and mentally while also gauging his family's desires.
Brady indicated as much after Sunday's loss.
"I haven't put a lot of thought into it, so you know, we will just take it day by day and kind of see where we are at," said Brady, who has one year left on his contract.
Asked if he thought about Sunday possibly being the final game of his career as he ran out of the South end zone tunnel at Raymond James Stadium, the seven-time Super Bowl winner said no.
"I was thinking about winning," he said. "That's kind of my mentality — always to go out there and try to win. Give my teammates the best chance to win."
In the end, he ran out of weapons to throw to this season. No Chris Godwin, Antonio Brown, Breshad Perriman or Cyril Grayson. Tyler Johnson went down with a rib injury and Jaelon Darden a concussion. Tight end Cam Brate was lining up in the slot by game's end Sunday, and at one point, Brady had a backup right guard filling in at right tackle, because his backup right tackle suffered an ankle injury, on top of a quad injury.
"It's the reality of football," said Brady, who lost in the divisional round for just the fourth time in his career. "Every team is really qualified when you get to the final eight, then the final four, then the final two and it doesn't feel good to lose any one of those games, and I have lost each of those stages. So at the end, there is only one team that is going to be happy. It feels good to move on when you move on, and obviously when you don't, whether it was last week or this week or next week, the week after, two weeks after that — if you are a loser in that game, it all sucks to lose in the end."
Coach Bruce Arians said there's no timetable for when a discussion with Brady about his future will take place.
"That's totally up to Tom," Arians said.
The Bucs don't have a viable successor to Brady on their current roster.
Teammates, many of whom faced questions about Brady's future this past week, acknowledged the reality of the situation.
"I know Tom's a competitor. He always say he's got something to prove, but what more can he do?" inside linebacker Lavonte David said. "He's the GOAT. He's done everything he can. If he comes back, obviously we'll welcome him with open arms. But we'll have to let him decide that for himself."
Wide receiver Mike Evans said he won't make any sort of pitch to Brady.
"I don't have to say nothing to him," Evans said. "He's self-motivated. He knows what he wants. Hopefully we get him back next year. The best player ever, one of the best teammates and one of the best leaders I've ever seen.
"I've said the last two years: I'm super appreciative that he came to Tampa Bay. Nobody had no clue he was even leaving New England. Just very privileged to play with him."
The Bucs have 24 players scheduled to become unrestricted free agents, including aging veterans who, like Brady, have decisions to make — outside linebacker Jason Pierre-Paul, running back Leonard Fournette, tight end Rob Gronkowski and Jensen, to name a few.
Re-signing all 22 starters like they did last year may not be possible.
"It's so tough. A lot of these guys are on the last year of their contracts," David said. "I was the last one to walk in [the locker room]. Seeing the look in everybody's eyes, it was like, 'This is a tough one.' You hate to go out in such a manner. At the end of the day, you know the locker room isn't going to be the same next year.
"You build relationships with guys and to see them go out the way we did — some people are going to have to move on to certain places. It's going to be tough because this is the most tight locker room I have ever been around with the greatest chemistry with guys on and off the field. Great leadership with the young guys and the old guys just gelling together. … It's like a real family-like atmosphere. Luckily you do build bonds with those guys to wish them well in their future endeavors, but we all know it's gonna be different next year."
Pierre-Paul, who just turned 33, will undergo surgery to repair a torn rotator cuff he's played with all season. Asked if he wants to continue playing, he said, "I don't know. We'll see after my surgery."
Fournette, the fourth overall draft pick in 2017 who found a career resurgence with the Bucs after getting released by the Jacksonville Jaguars before the 2020 season, added: "I'm proud of this group — I'm proud of these guys and I'm happy to call myself a Buccaneer."
A number of players stayed in the locker room long after Sunday's game was over.
"You have to cherish the relationships that you have with this team," Fournette said. "They don't come around too often like that. One of the best groups of guys and coaching staffs I've been around. We went out, the way we didn't want to go out, but at the end of the day, I'm just blessed to be a part of this organization, to have guys like Tom Brady, Gronk, Mike [Evans], Scotty [Miller], [Ryan] Jensen…guys like that…It's hard, it's tough."
Kansas City Chiefs open as touchdown favorites, Los Angeles Rams 3.5-point favorites in conference title games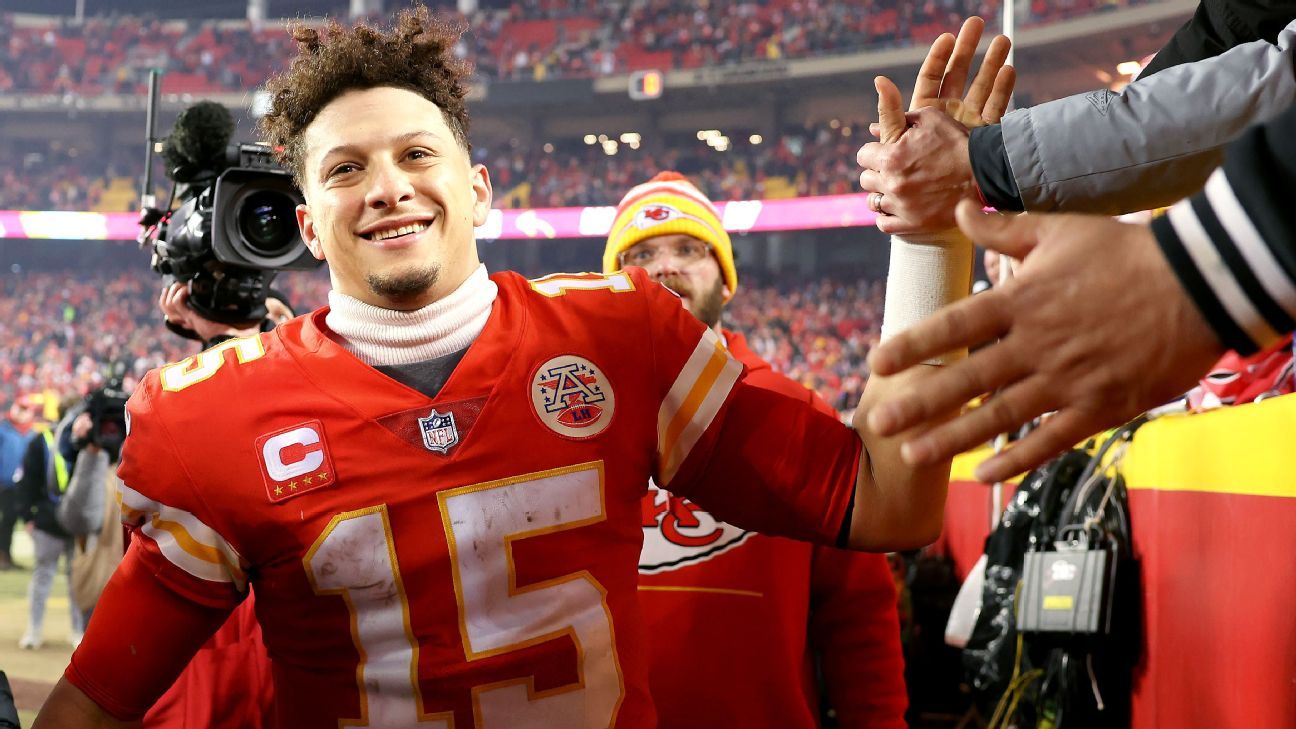 The Kansas City Chiefs opened as touchdown favorites over the Cincinnati Bengals in the AFC Championship Game, after a wild playoff weekend filled with dramatic upsets.
The Chiefs outlasted the Buffalo Bills in a back-and-forth thriller Sunday night to earn a spot in the AFC Championship Game for a fourth straight season. Caesars Sportsbook opened the Chiefs as 6.5-point favorites over the Bengals. The line quickly moved to Kansas City -7 at sportsbooks around the nation.
In the NFC Championship Game, the Rams opened as 3.5-point favorites over the San Francisco 49ers.
The Chiefs were the only favorite to survive the divisional round. Three underdogs – San Francisco, Cincinnati and the Los Angeles Rams – pulled outright upsets. It's only the third time in the Super Bowl era that there has been three outright betting upsets in the divisional round, according to ESPN Stats and Information.
The Bills nearly made it four outright upsets, something that's never happened in the division round during the Super Bowl era. Buffalo took a 36-33 lead over Kansas City with 13 seconds to play – only to have Patrick Mahomes move the Chiefs into field-goal position with quick passes to Tyreek Hill and Travis Kelce. Harrison Butker made a 48-yard kick to force overtime, and Mahomes connected with Kelce for the winning touchdown on the opening drive of overtime.
"I admit I thought the game was over," John Murray, executive director of the SuperBook at Westgate Las Vegas, told ESPN. "We had our admin team start setting up a Bengals-Bills AFC title game. Stunning. We were planning on Bills -7.5 versus the Bengals."
Adam Pullen, assistant director of trading for Caesars Sportsbook, said he would've given the Chiefs 10-1 odds to win the game when they started their drive from their 25-line down three with 13 seconds to play.
"I know it's Mahomes, but 13 seconds," Pullen said. "It had to be 10-1, maybe higher."
Sunday's NFC divisional game also featured a thrilling ending. The SuperBook opened betting on a 49ers-Rams NFC Championship Game after Los Angeles took a 27-3 lead over the Buccaneers in the third quarter. The sportsbook eventually was forced to halt betting on a 49ers-Rams matchup, as the Buccaneers mounted a rally.
Down 27-3, Tampa Bay was 25-1 odds to win the game. The Buccaneers tied the score 27-27 with 42 seconds left in the game, but Rams quarterback Matthew Stafford hit Cooper Kupp on a 44-yard completion down to the Tampa Bay 12-yard line. Kicker Matt Gay connected from 30 yards, sending the Rams to the NFC Championship Game, where they'll face a 49ers team that's beaten them six straight times.
"That was about as wild of a playoff game as I could ever remember watching in the book," Murray said. "At least until the very next game."
The Chiefs enter championship week as the consensus favorites to win the Super Bowl. Kansas City is +130 to win the Super Bowl at Caesars Sportsbook, followed by the Rams at +210, the 49ers at +450 and the Bengals at +750.