Lane Johnson returning to Philadelphia Eagles after two-week absence to address mental health
PHILADELPHIA — Philadelphia Eagles right tackle Lane Johnson is returning to the team following a two-week absence to address his mental health.
"I would like to thank everyone for their understanding and support over the last two weeks," he wrote on social media. "I appreciate the positive notes and messages as I've worked hard to restore my personal life. Depression and anxiety are things I've dealt with for a long time and have kept hidden from my friends and family. If you're reading this and struggling, please know that you are not alone.
"I am excited to re-join my teammates and coaches. I'm grateful for the entire Eagles community and look forward to continuing to play in front of the best fans in the world."
— Lane Johnson (@LaneJohnson65) October 18, 2021
Johnson, 31, was a surprise inactive prior to the Eagles' Oct. 3 game against the Kansas City Chiefs. His replacement, Jack Driscoll, said he was notified just a couple of hours before kickoff that he would be starting.
The team said he was dealing with a personal matter.
Johnson has been open about football-related anxiety in the past. One of his best friends, Eagles right guard Brandon Brooks, has missed multiple games over his career due to anxiety-related illness. Johnson and Brooks have shared that they'll often vomit at the same time pregame, and text each other to joke about it.
"We're all human. We're not monsters," Johnson said during the Eagles' Super Bowl run in 2017. "I think I heard it at the combine: 50 percent of guys have dealt with anxiety, depression. It's not foreign. It's just something that's not talked about. It's a stigma where it's seen as a weakness. When you bring it to light, a lot of people in this world have it."
Johnson missed three games in all, with Driscoll filling in for him against the Chiefs before left tackle Jordan Mailata was moved to the right side against the Carolina Panthers and Tampa Bay Buccaneers. His teammates continually wished Johnson well during his absence while keeping Johnson's matter private.
"A lot of love for Lane. I'm praying for him," quarterback Jalen Hurts said. "He's in my heart, for sure."
Gardner Minshew throws first TD as an Eagle, a 36-yard dart to Dallas Goedert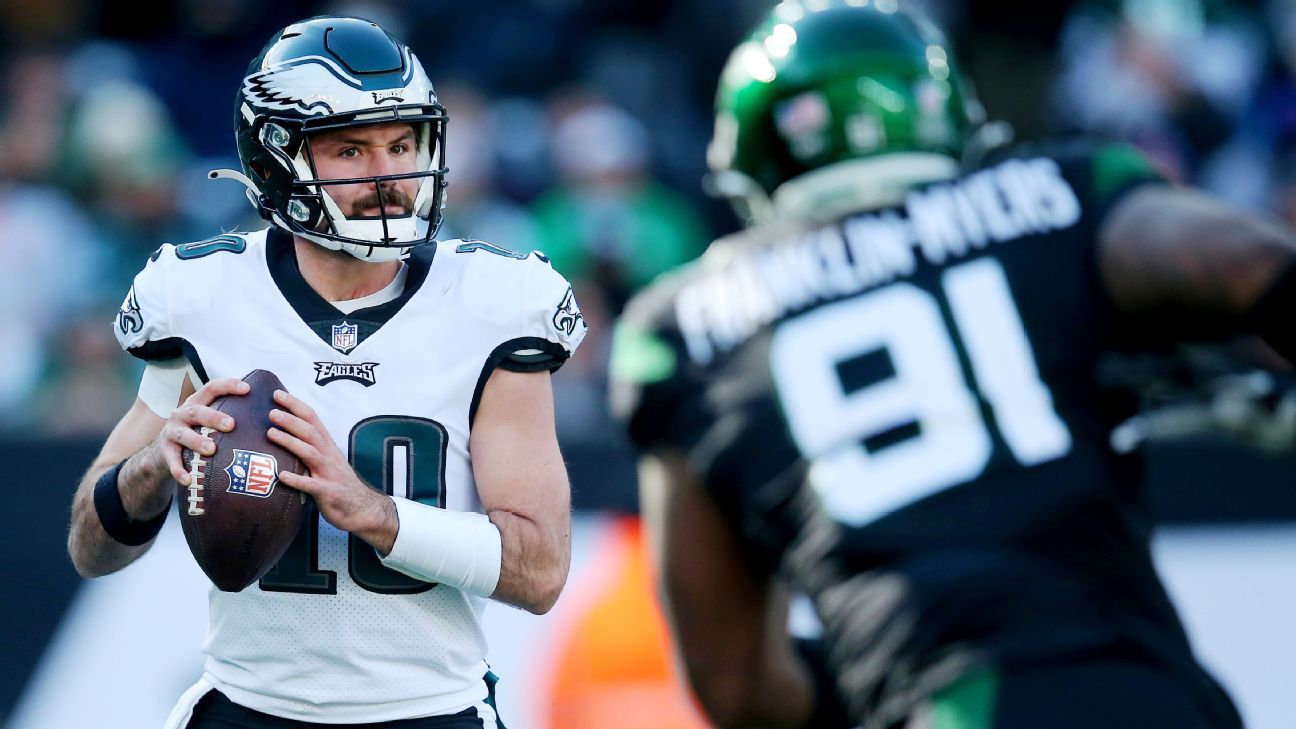 EAST RUTHERFORD, N.J. — Minshew mania — it is upon us.
Starting in place of the injured Jalen Hurts, Eagles quarterback Gardner Minshew II got off to a red-hot start against the New York Jets on Sunday, connecting with tight end Dallas Goedert for a 36-yard touchdown on the team's opening drive. Facing a second-and-1, Minshew unfurled a pass downfield as he was being hit. Goedert hauled it in and shed a tackle attempt before walking into the end zone.
Minshew went 3-for-3 for 61 yards on the Eagles' first possession, with each of those completions going to Goedert. Hurts is sidelined with a sprained left ankle, opening the door for Minshew's first start since Dec. 20 last season, when he was with the Jacksonville Jaguars.
.@GardnerMinshew5 goes deep for his first TD with the @Eagles! #FlyEaglesFly

📺: #PHIvsNYJ on CBS
📱: NFL app pic.twitter.com/ruEPdqKZ3L

— NFL (@NFL) December 5, 2021
Minshew hit Goedert again, this time for a 25-yard score, later in the first half.
Minshew and Goedert have two TD connections already! #FlyEaglesFly

📺: #PHIvsNYJ on CBS
📱: NFL app pic.twitter.com/Q08hl9g37F

— NFL (@NFL) December 5, 2021
Carolina Panthers fire offensive coordinator Joe Brady with team sitting at 5-7
The Carolina Panthers have fired offensive coordinator Joe Brady with five games left in their season, the team announced Sunday.
Panthers coach Matt Rhule said in a statement that he met with Brady on Sunday morning and "informed him that I have decided to make a change."
"I'm very grateful to him for his time and effort in helping us get established over this past year and a half," Rhule said.
Senior offensive assistant Jeff Nixon will take over the offensive coordinator duties with the rest of the offensive coaching staff for the remainder of the season.
The Panthers are on their bye this week.
In October, Rhule said he was sticking with Brady but wanted him to commit more to the running game. Brady, however, never committed to the running game to the level Rhule preferred (at least 30 attempts per game).
The Panthers started the season 3-0 but are currently 5-7. Star running back Christian McCaffrey is out for the season with an ankle injury while the team has started three different quarterbacks. Sam Darnold struggled after a strong start in the first three games and is currently on injured reserve with a shoulder injury. Cam Newton is now starting at quarterback in his second stint with the franchise.
Brady joined the Panthers in January 2020 after helping LSU win a national championship as the Tigers' passing game coordinator.
ESPN's David Newton contributed to this report.
Follow live: Bucs eyeing third straight win, take on Falcons