Cleveland Browns quarterback Baker Mayfield plans to play Thursday after aggravating shoulder injury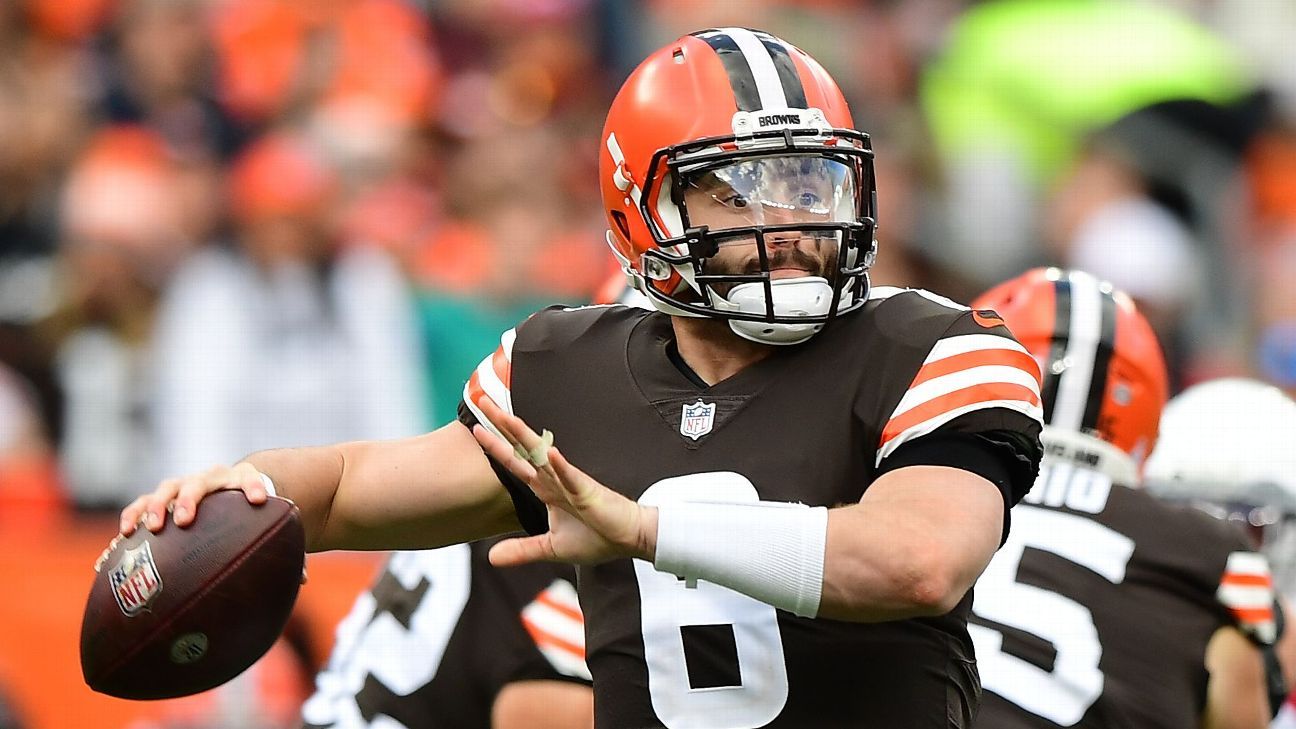 CLEVELAND — Despite emerging from the postgame locker room Sunday wearing a sling on his non-throwing left shoulder, Cleveland Browns quarterback Baker Mayfield vowed to play Thursday against the Denver Broncos.
"Feels like s—," Mayfield said of his injured shoulder before answering, "Yes," when asked whether he believed he would still be able to play despite the short week.
Mayfield is scheduled to have an MRI on the shoulder Monday.
During Cleveland's 37-14 loss to the Arizona Cardinals, Mayfield aggravated the partially torn labrum he suffered on Sept. 19. In the third quarter, Mayfield scrambled left while trying to evade Cardinals pass-rusher J.J. Watt, who drove Mayfield's left shoulder in the ground. The play resulted in a fumble that Arizona linebacker Devon Kennard recovered. Mayfield stayed down on the ground for several minutes, although afterward he said the initial aggravation came earlier on the drive when his shoulder popped out during a noncontact play.
Mayfield, who has been playing with a harness on the shoulder, said this felt worse than when he injured the shoulder in Week. 2
"Just got to figure out a way to get better," Mayfield said.
Mayfield turned the ball over three times in Cleveland's second consecutive loss, the Browns' first back-to-back losses under second-year coach Kevin Stefanski. Those three turnovers led to a combined 13 Arizona points, helping ignite the route. Mayfield did throw for two touchdowns, including a Hail Mary as time expired at the end of the first half. Cleveland, however, failed to score in the second half as Arizona pulled away.
The Browns are now 3-3 and dealing with multiple other injuries. Minus starting offensive tackles Jedrick Wills Jr. and Jack Conklin, the Browns struggled to protect Mayfield, who was sacked five times, including once on a fourth-down attempt in the red zone.
Wide receiver Odell Beckham Jr. also had to leave the game temporarily with a right shoulder injury, and running back Kareem Hunt had to be carted off the field with a calf injury. The Browns already were without Pro Bowl running back Nick Chubb, who suffered a knee injury last weekend.
Cleveland has not lost three consecutive games since 2019, when the Browns dropped three in a row to end the season on the way to a 6-10 finish, resulting in front-office and coaching changes.
"It's a huge challenge, short week, and we've got a bunch of guys banged up right now, but we have to be able to bounce back and respond," Mayfield said of the Denver game. "We're going to see what we're made of. Our backs are against the wall right now. And I like our chances."
Cleveland Browns QB Baker Mayfield taking break from 'all social media for foreseeable future'
CLEVELAND — As he recovers from shoulder surgery, Cleveland Browns quarterback Baker Mayfield plans to rest his thumbs as well.
Mayfield said he's going to take a break from "all social media for the foreseeable future."
Ironically, the polarizing QB went on his Instagram page Wednesday to announce his hiatus from tweeting and posting.
"Gotta do what's best to focus on me, my family and loved ones," Mayfield wrote. "Appreciate all the support. Time to get right."
Mayfield concluded his message by also including a contact for anyone making business or marketing inquiries.
Mayfield recently concluded a dreadful, injury-filled fourth season with the Browns, who were among the NFL's most disappointing teams. Cleveland went 8-9, missed the playoffs and dealt with drama, much of it involving Mayfield.
Late in the season, Mayfield went on Twitter to dispel a story about issues between him and coach Kevin Stefanski. He called the report "clickbait" and added that "many other Cleveland local media continue to be drama stirring reporters with no sources or facts."
Mayfield's wife, Emily, also used her Twitter platform to claim he received death threats. Mayfield downplayed those and described his attackers and critics on social media as "keyboard warriors."
The 26-year-old Mayfield injured his left, non-throwing shoulder in Week 2 while trying to make a tackle and struggled all season. He recently underwent surgery in Los Angeles for a torn labrum and is expected to need more than four months to recover.
The team said he should begin light throwing in April.
Following the season, both Stefanski and Browns general manager Andrew Berry publicly supported Mayfield by saying they believe he will bounce back next season as their starter. However, it's likely the team will at least explore other options at quarterback during this offseason.
Mayfield is under contract next season for $18.9 million after the team exercised his fifth-year option.
Baltimore Ravens targeting Michigan Wolverines' Mike Macdonald to be new DC
The defensive coordinator who keyed Michigan's dramatic turnaround in 2021 is on the cusp of heading back to the NFL.
The Baltimore Ravens have targeted Michigan defensive coordinator Mike Macdonald, a former Ravens assistant, to be John Harbaugh's next defensive coordinator, sources told ESPN.
A deal is expected to be finalized in the upcoming days, according to sources. Macdonald has been replaced on the road recruiting by a graduate assistant coach, Dylan Roney, in preparation for his departure.
The Detroit Free Press first reported that the Ravens were targeting Macdonald.
This comes after Macdonald stabilized a defense that keyed a one-year turnaround for Jim Harbaugh at Michigan, as the Wolverines went from 2-4 in 2020 to the College Football Playoff and a 12-2 record this past season.
Michigan's scoring defense under Macdonald improved from No. 95 in 2020 with 34.5 points per game to No. 8 with 17.4 ppg. Michigan went on to beat Ohio State for the first time since 2011 and win the Big Ten for the first time since 2004.
Macdonald's hire at Michigan proved to be one of the most impactful in all of college football last season. His schemes helped eliminate Michigan's propensity to give up big plays under former defensive coordinator Don Brown. Under Macdonald, the Wolverines yielded 100 yards less per game in 2021, an average of 330.8 after giving up 434.3 the prior season.
Macdonald also helped launch the Heisman candidacy of defensive end Aidan Hutchinson, who finished as a finalist for the award after finishing with 14 sacks and two forced fumbles.
Macdonald, 34, would become the youngest defensive coordinator in the Ravens' 26-year history. Before leaving for Michigan last year, Macdonald spent seven years in Baltimore (2014-20), joining the Ravens in 2014 as an intern. He was Baltimore's inside linebackers coach for three seasons (2018-20) and was considered the heir apparent for the Ravens defensive coordinator position before leaving for Michigan.
The Ravens fired Don "Wink" Martindale on Friday after the sides were unable to agree on a contract extension through 2023, a source said. Under Martindale, the Baltimore defense ranked in the top 10 in three of four seasons.
Macdonald would take over a Ravens defense that finished No. 25 in the NFL last season. That was Baltimore's worst defensive ranking since it was 25th in 1997.
In 2018, Macdonald interviewed for the Ravens defensive coordinator position that eventually went to Martindale. Now, four years later, it appears Macdonald will get his chance to step into that role.
New York Giants won't trade for Deshaun Watson, seek to 'build an offense around' Daniel Jones
EAST RUTHERFORD, N.J. — The New York Giants don't appear likely to make major changes at quarterback in 2022, and they definitely won't be in the market for Deshaun Watson.
"We're not trading for Deshaun Watson," Giants co-owner John Mara said Wednesday after introducing Joe Schoen as the team's new general manager. "There are so many reasons why we wouldn't do that. Cap-wise, we couldn't afford [the acquisition], but more importantly, with the allegations that are out there right now, that is just not the right fit for us."
Daniel Jones has been New York's starting quarterback for the past three seasons but has struggled with injuries and inconsistent play since being drafted No. 6 overall in 2019.
Watson wants to be traded from the Houston Texans but didn't play this past season while facing 22 civil lawsuits alleging sexual assault and inappropriate behavior.
Schoen said Watson wasn't even a topic he addressed during the interview process, almost as if he viewed not having interest in Watson as common sense.
Watson has a no-trade clause in the deal he signed with Houston in September 2020 and is set to make $35 million in base salary next season.
"Where we are salary-cap-wise and the pending legal issues, I don't know how you can go down that road right now," Schoen said.
The Giants are currently projected to be about $5 million over the salary cap next season and still have Jones on his rookie contract for at least another year.
Schoen and a new head coach who is expected to be hired by early next week will have to decide whether to exercise Jones' fifth-year option for 2023. The Giants have until May before making that decision.
In the meantime, it appears the Giants are committed to moving forward with Jones, the No. 6 overall draft pick in 2019. Jones threw 10 touchdown passes and seven interceptions in 11 starts this past year before missing the final six weeks with a neck injury.
Jones is expected to be medically cleared in plenty of time for the 2022 season, and Schoen still sees enough potential to have him part of the Giants' plans.
"The kid has physical ability. He's got arm strength, he's athletic, he can run," Schoen said. "I'm really excited to work with Daniel.
"Again, when the new staff gets in here, we'll build an offense around Daniel to accentuate what he does best."
There are reasons for the Giants to build around the 24-year-old Jones, who has flashed potential despite playing with an insufficient supporting cast.
The Giants were 28th in the NFL in pass block win rate this season at 53.6%. Their starting running back, tight end and top four wide receivers all missed at least two games as they finished with the 31st-ranked offense.
The Giants organization still seems to believe in their starting quarterback for most of the past three seasons.
"We do feel Daniel can play," Mara said. "We've done everything possible to screw this kid up since he's been here. We keep changing coaches, keep changing coordinators, keep changing offensive line coaches. I take a lot of responsibility for that. But let's bring in the right group of coaches now and give him some continuity and try to rebuild the offensive line and then be able to make an intelligent evaluation of whether he can be the franchise quarterback or not.
"I have a lot of hope in Daniel. I know how badly he wants it. I know how the players feel about him. We are certainly not giving up on him by any stretch of the imagination."