New England Patriots running backs undone by fumbling, injuries – New England Patriots Blog
FOXBOROUGH, Mass. — Quick-hit thoughts/notes around the New England Patriots and NFL:
1. RBs dropping the ball: Things were looking so good for Patriots running backs in the preseason that coaches Bill Belichick and Ivan Fears were asked by reporters about an "embarrassment of riches" at the position.
The outlook has shifted quickly.
Take out the "of riches," and that aptly describes where things stand as New England (2-3) prepares for Sunday's home game against the Dallas Cowboys (4:25 p.m. ET, CBS). Patriots running backs have lost four fumbles this season, easily a league high according to ESPN Stats & Information research.
Starter Damien Harris' two have been daggers, costing the team a chance at a season-opening win against the Miami Dolphins, and then taking a touchdown off the board last week against the Houston Texans. Rookie Rhamondre Stevenson was benched for three games after his lost fumble in the opener, and second-year back J.J. Taylor was a healthy scratch last week after losing one in a game-turning play in Week 4 against the Tampa Bay Buccaneers.
The Kansas City Chiefs and Minnesota Vikings are the only other teams whose running backs have lost multiple fumbles (two apiece). Thirteen teams have had a running back lose one fumble. That leaves 16 teams — half the NFL — with no lost fumbles from their running backs.
Fears, the veteran running backs coach now in his 31st NFL season and 25th with the Patriots, didn't sugarcoat things this week when he said: "That's our reputation right now. It's going to take us all year to get that out of people's mind."
Six weeks ago, things looked so promising at running back the Patriots traded Sony Michel to the Los Angeles Rams. Belichick had referenced it as the type of situation any team wants to have — a surplus of good players.
They have since lost reliable "passing back" James White to a hip injury that is expected to be season-ending, could be without Harris on Sunday after he suffered an injury to his ribs in Houston, and haven't been able to hold on to the ball consistently.
Meanwhile, the Cowboys (4-1) are one of the last teams that fumble-prone teams want to see. They have forced multiple turnovers in nine straight games, which ties for their second-longest such streak in franchise history. Their 12 takeaways — 10 interceptions, two fumble recoveries — are second in the NFL behind the Buffalo Bills (15).
It highlights one of the Patriots' keys to victory and future success, which can be summed up in five words.
Hold. On. To. The. Ball.
2. Harris stayed behind: One sign that Harris might be limited against the Cowboys, or possibly not available at all, was that he didn't return with the team after last Sunday's win in Houston. Harris went to a local hospital after the game after being knocked out with an injury to his ribs, and traveled back to town separate from the team's charter. Those decisions are often precautionary in nature from a medical standpoint, but also reflected the pain that Harris was managing.
3. Mac and Dak: Rookie quarterback Mac Jones' efficiency is one of the reasons the Patriots are optimistic about his growth and future success. He's just the third quarterback since 1950 to have four games with a completion percentage of 70% in his first five starts. The others? The New York Jets' Chad Pennington (2002) and the quarterback who is on the opposite sideline Sunday — Dak Prescott of the Cowboys (2016).
Cowboys cornerback Trevon Diggs, who leads the NFL in interceptions with six, isn't surprised Jones has joined such company. He saw it when they were teammates at Alabama.
"He's very smart. With him, you have to be careful because he can make all the throws," Diggs said. "He comes from where I come from, so I know what type of person he is, what kind of heart he has."
4. Folk's knee: Veteran kicker Nick Folk's left knee injury — which has limited him in practice the past couple of weeks but hasn't seemed to have a negative effect on him in games — is more than just a passing note. It was a factor in the club bringing kicker Riley Patterson back for a second workout Friday, and the expectation is that he will soon be added to the practice squad. Kickers aren't often associated with toughness, but those close to Folk see how he's gutting it out and the respect for him grows that much more.
5. Belichick and Brandt: Belichick said he was reviewing his notes on the Cowboys, and looking at them over a period of years, and what stood out was their high total of Pro Bowlers and a veteran personnel staff that has "over 500 years of NFL experience." He added, for effect: "That's five centuries. It's amazing. This is not a young group [and] I say that respectfully because of the job they've done."
Belichick's respect traces to Gil Brandt, the longtime architect of Cowboys teams who was inducted into the Pro Football Hall of Fame in 2019. The respect is mutual.
"He didn't have to do this, but I'm sitting on the stage in Canton, and all of a sudden someone taps my left shoulder. He's behind the stage, and on a break, he comes by to say hello," Brandt said. "I get notes from him a lot. They're not typed notes, they're handwritten notes. I'm always amazed by that."
6. Revis' recollections: Did cornerback Darrelle Revis enjoy his 2014 season in New England? "No. I did not," Revis said on the "I Am Athlete" podcast. "You know, I'm happy for the grind and the hustle. Winning Super Bowl XLIX. But waking up every day, and walking into the facility and having to deal with the tension; you see why they've been to 10 Super Bowls … but at the end of the day, there's other philosophies to win. It doesn't have to be that way. When you deal with the things up there, it's strenuous."
7. Reporter's perspective: For the first time this season, Belichick held an opponents videoconference with Dallas-area reporters. And Cowboys coach Mike McCarthy's conference call with New England reporters was the first of its kind this year. Belichick seemed to like the changeup Friday, at one point complimenting a question. Then after Belichick talked about Dallas' offensive tempo and the balance for a young cornerback between aggressiveness and patience, one of the Cowboys' reporters reached out behind the scenes to say, "Covering Bill seems like such a good opportunity to learn about football."
8. Devin's motivation: On his "Double Coverage" podcast, veteran Patriots safety Devin McCourty said his performance last week was one of his all-time worst. Leadership starts with performance, and he said that's what stings on a day like that. McCourty relayed part of a conversation he had with safeties coach Brian Belichick on the topic: "You set a standard as a player, you have to bring that every week. When you don't, it creates a sense of urgency. You want to get back out there and put it behind you."
9. McDaniels on scrutiny: Patriots offensive coordinator Josh McDaniels understands why his playcalls are sometimes scrutinized (e.g. why so many screens in the red zone?!), and he takes no offense, saying he's human and there's no game in which every call is right despite his best intentions. He joked last week that he even gets grief at times from his wife, Laura. "The frustration," he said with a smile, "I understand it."
10. Did you know? This year marks the first time the Patriots have lost three straight home games under Belichick since 2000. The last time the Patriots lost more than three straight home games was 1993, when they had a five-game winless streak at then-Foxboro Stadium.
Defending champion Tampa Bay Buccaneers enter playoffs in dramatically different position – Tampa Bay Buccaneers Blog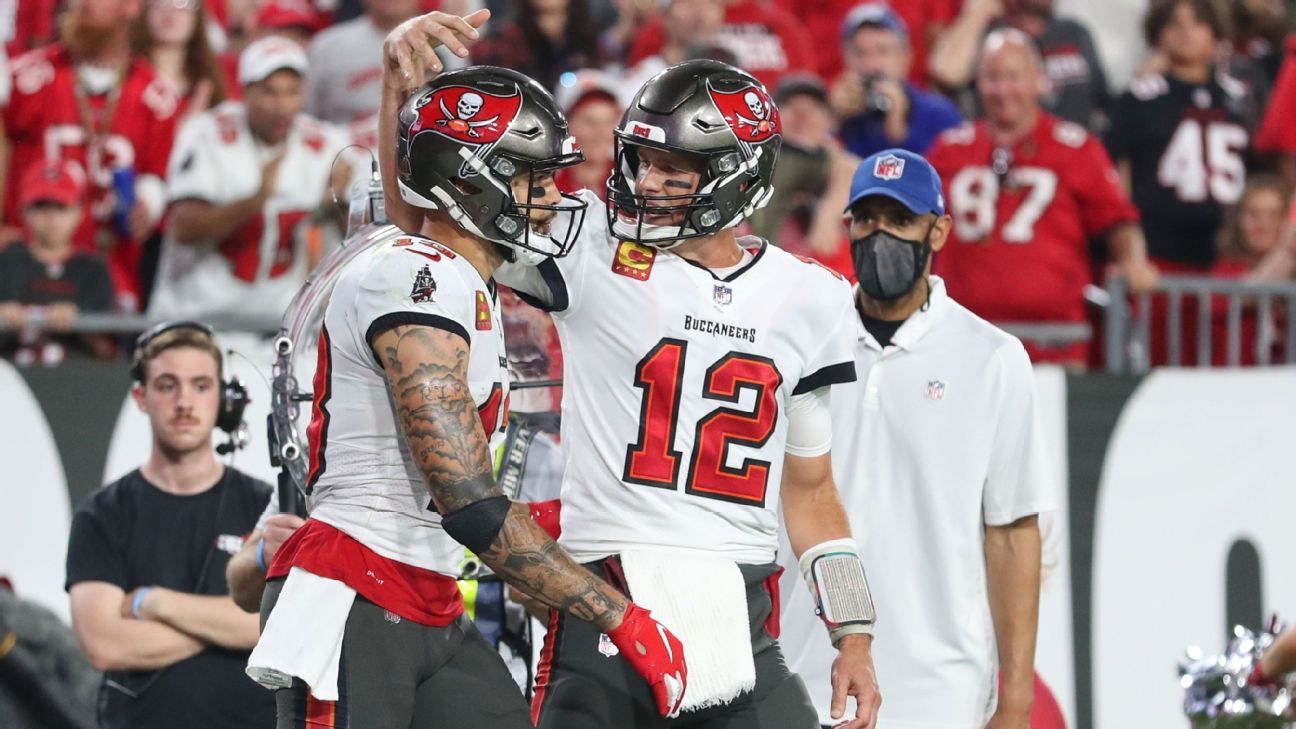 TAMPA, Fla. – One year ago, quarterback Tom Brady and the Tampa Bay Buccaneers embarked on a three-game road playoff odyssey that ended at home with a Super Bowl championship at Raymond James Stadium.
This season, the Bucs pursuit of a repeat begins Sunday when they host the Philadelphia Eagles (1 p.m. ET, FOX) in the wild-card round of the playoffs.
A 6-seed last year, the Bucs, despite having Brady, were given a 15.2% chance of reaching the Super Bowl at the beginning of the postseason — fifth of all playoff teams — by ESPN Analytics. But as defending champions who finished the regular season 13-4 with the No. 2 seed (and tied for the best overall record) in the NFC, that changed this year.
Currently, ESPN Analytics gives the Bucs a 52.1% chance of reaching the conference championship and a 29.6% chance of making the Super Bowl, second only to the Green Bay Packers, who are 68.7% and 37.5%, respectively, in those departments.
Here's a look at what to expect this weekend and the possibilities beyond.
Home-field flavor
While the top two seeded playoff teams no longer both get first-round byes (only the No. 1 seeds in each conference do), by defeating the Carolina Panthers last week — and because the Los Angeles Rams lost to the San Francisco 49ers — the No. 2-seeded Bucs will also host their second game if they win Sunday. If they reach the NFC Championship game and play anyone besides the Packers, they would also host that game.
The Bucs went 7-1 at home this year, second only to the No. 1-seeded Packers for the NFL's best home record. Their 129-point margin at home was the league's best.
They went 6-3 on the road, with a points margin of just 29. At home, they averaged 33.25 points per game this year, giving up an average of 17.13. On the road, they averaged 27.22 points and allowed 24.
Health has been a problem
Last year, the Bucs entered the playoffs as one of the healthiest teams in the league. This year, they closed out the season without wide receivers Chris Godwin (torn ACL), Antonio Brown (released) and Brown's replacement, Cyril Grayson (hamstring strain). They also were without their top two running backs in Leonard Fournette (hamstring strain) and Ronald Jones II (ankle sprain).
• Josh Allen's cold obstacles
• Ranking the NFL's top highlights
• Inside: "How 'bout them Cowboys"
• Hurts cites new offense
• Bucs in different position
On defense, they were without outside linebackers Shaq Barrett (sprained ACL/MCL) and Jason Pierre-Paul (torn rotator cuff) and inside linebacker Lavonte David (foot sprain). They were able to get cornerbacks Sean Murphy-Bunting and Jamel Dean back from the reserve/COVID-19 list and safety Antoine Winfield Jr. back from a foot injury to close out the season, marking two games (Weeks 17 and 18) that the Bucs have had every starter in their defensive backfield together, even though the group didn't complete a game intact.
Fournette, Barrett, Pierre-Paul and David all returned this week. Fournette looked fine moving around during the portions of practice open to the media. Barrett was wearing a bulky brace on his right knee, raising questions about how effective he'll be moving with it.
Coach Bruce Arians said David will be the "closest call" in terms of readiness for Sunday, and on Friday, Grayson and Jones were ruled out.
Barrett had an NFL-leading four sacks last postseason while Pierre-Paul had two. Barrett's 22.2% pass rush win rate was third-highest of any player last postseason while Pierre-Paul finished at 16.1%. David's 26 tackles were second-most of any player last postseason, behind teammate Devin White. David's absence is a key reason the Bucs have struggled with missed tackles and have given up uncharacteristic chunk plays on the ground and struggled with defending run-pass option plays.
"Just his calming influence as a leader out there," Arians said of David, adding that with Barrett and Pierre-Paul, "They don't panic." He believes that "will help the run defense tremendously."
Life without Godwin and Brown
Aside from wide receiver Mike Evans – whom Eagles cornerback Darius Slay held to two catches for 27 yards in the Week 6 matchup that the Bucs won 28-22 in Philadelphia — and tight end Rob Gronkowski, Brady will have to rely on Breshad Perriman, Tyler Johnson, Scotty Miller, Cameron Brate and O.J. Howard to step up without Godwin and Brown.
"You think there's a lot of Chris and ABs out there? There's not a lot of them out there on the planet," offensive coordinator Byron Leftwich said. "You don't ask [the replacements] to be them — you ask them to be themselves."
He added, "Even though we've lost some great guys — some special, unique guys — the production from the group hasn't really stopped."
The Bucs still managed to put up 41 points last week without Godwin and Brown, but it was against a banged-up 5-12 Panthers team.
After missing six games because of cracked ribs and a punctured lung, Gronkowski has gotten healthy at the right time — his 618 receiving yards since Week 11 were second only to Baltimore Ravens tight end Mark Andrews for most in the league at the position.
Gronkowski has had 252 receiving yards over the last two weeks. Brate had a productive postseason last year, catching 14 passes for 175 receiving yards, with an 8-yard touchdown in the NFC Championship Game.
Brady and the Bucs would be well-served to target the Eagles' safeties. Pro Football Focus ranks Eagles safeties Rodney McLeod 48th and Anthony Harris 54th in the league. The Eagles have given up 14 touchdowns and a 77% completion rate to tight ends this year, ranking worst in the NFL in both categories.
Eagles a 'completely different' team
When the Bucs faced Philadelphia in Week 6, coach Nick Sirianni hadn't committed to running the ball the way he has now, making the Eagles the league's top-ranked rushing attack.
"We're a completely different team from that game," Sirianni said. "I think the change is evident based off of who we are now. We play offense a completely different style, which I know is rare in this league where you change completely who you are, but that's exactly what we did."
Running back Miles Sanders' lateral quickness is problematic for a Bucs defense that has had issues setting the edge as of late. The Eagles are averaging 6 yards per carry on perimeter runs while the Bucs are giving up 4.6 yards per carry in that department.
The Eagles announced Friday that Sanders will play despite having had hand surgery less than three weeks ago, but the Eagles have also gotten production out of backups Jordan Howard and Boston Scott.
Quarterback Jalen Hurts has also developed more as a pocket passer after suffering an ankle injury that limited his mobility.
"You just continue to see Jalen get a little bit better each day because it means so much to him," Sirianni said. "We've always known with Jalen that he is very dangerous with his feet and the things that he can do to extend plays and create plays. But what you've seen the last three weeks … when he's been a pocket passer, he's had over a 100 quarterback rating in all three games and we won all three games. That's huge for his development."
"He's got great pocket presence," Bucs defensive coordinator Todd Bowles said. "He can run like a halfback, but he can throw the ball very well. … You can see the maturity, you can see the control of the offense, and I think he's done a hell of a job."
Looking ahead
If the Bucs beat the Eagles, the only teams Tampa Bay would be guaranteed not to face in the next round are the top-seeded Packers and No. 6 seed 49ers. The Bucs would end up hosting the highest remaining seed, and the Packers the lowest.
The Bucs defeated the No. 3 Dallas Cowboys (who play the 49ers) in Week 1 and lost to the No. 4 Rams (who play the No. 5 Arizona Cardinals) in Week 3. Brady and the Bucs are 0-2 against coach Sean McVay and the Rams going back to last year.
The Rams could present the biggest problem of the divisional-round opponents because they don't rely on a run game to fuel their offense. Wide receiver Cooper Kupp has been virtually unstoppable.
The Rams were 7-2 on the road this season, but their secondary is banged up. Safety Jordan Fuller is out for the playoffs and safety Taylor Rapp is in the concussion protocol — which is why they summoned safety Eric Weddle out of retirement this week.
The Cowboys have, at times, played like the league's best team, but they have also been inconsistent. Quarterback Dak Prescott had eight games in which he threw for two touchdowns or fewer. Unlike the Rams, they rely more on the ground game, and Ezekiel Elliott has been banged up.
The Cowboys didn't even really try to run the ball against Tampa Bay's No. 3-ranked rushing defense in Week 1, though the Bucs are looking more vulnerable in that department now.
The Cardinals started out the year 7-0 but went 4-6 down the stretch. Cooling off late has been a bit of an issue for coach Kliff Kingsbury's past teams in college and the NFL.
Kingsbury's game and clock management have also been called into question, particularly some of his decisions in the Cardinals' loss to the Rams in Week 14. Still, Kyler Murray is one of the NFL's most dangerous quarterbacks with his legs, and the Bucs have had issues with mobile QBs this season. They surrendered 109 rushing yards to the Buffalo Bills' Josh Allen in Week 14.
Jalen Hurts: Eagles have 'revolutionized' their offense since last meeting with Bucs – Philadelphia Eagles Blog
PHILADELPHIA — Going back and watching the Week 6 matchup between the Philadelphia Eagles and Tampa Bay Buccaneers, the Eagles' offense is downright unrecognizable.
It's strange to think the No. 1 rushing team in the NFL (the Eagles finished the regular season averaging 159.7 rush yards per game — 10 yards more per game than the second-ranked Indianapolis Colts) largely neglected the ground game for a big chunk of the year, but those are the facts. From Weeks 1 through 6, Philadelphia rushed 132 times, which ranked 28th in the league. And that was with dual-threat quarterback Jalen Hurts at the controls, making that stat all the more unbelievable. The Eagles went through a four-week stretch where their running backs were averaging under nine carries a game.
The end of that stretch was Oct. 14 versus Tampa. Miles Sanders' one rush for one yard represented the only running back carry for Philly in the first half. The results were rather predictable: Quarterback Tom Brady and the Bucs dominated in time of possession (21:05 to 8:55) and total yards (233 to 73) while the Eagles managed to run just one play in opponent territory. Tampa went into the break up 21-7, grew the lead to 28-7 in the third quarter and held on to win 28-22.
Things ought to look much different when these two teams play again Sunday in the wild-card round of the playoffs (1 p.m. ET, Fox).
"As an offense, we've kind of revolutionized and evolved in terms of who we are, our identity," Hurts said. "Early on, we were kind of searching for who we were — what we wanted to do, how we wanted to do it. We've fine-tuned some things and we've gotten good at doing a lot of different things."
Especially pounding the rock. From Week 7 on, the Eagles led the NFL in rushing attempts (418) and rush yards with a staggering 185 ground yards per game. They scored a rush TD in seven straight games to end the season, their longest streak since 2003 (15 straight), according to ESPN Stats & Information.
The philosophical switch was hatched after their Thursday night game against the Bucs in Week 6. The coaching staff used the extra time before their next game against the Las Vegas Raiders to self-evaluate, and made the decision to dramatically change their offensive approach. Now they get to see if that change can lead to a different outcome against the defending Super Bowl champs.
"Looking at that last game, I feel like it's really not the same team we've got now," tight end Dallas Goedert said. "Players-wise, it's pretty similar, but the way we attack teams is completely different."
Goedert did not play in the first matchup after landing on the reserve/COVID-19 list. Right tackle Lane Johnson also missed the game while addressing his mental health.
Hurts, who makes his playoff debut Sunday, had a tough day at the office in the passing game Week 6, going 12-of-26 for 115 yards with a touchdown and an interception. Bucs coach Bruce Arians was asked what he has seen out of the 23-year-old Hurts since that time.
"Dramatic improvement," he said. "Total command of the offense. Really accurate down the field. He's really improved as a passer. He knows when to pull it down and he knows when to throw it, so I've seen great growth out of him."
True: Vita Vea is a hotel.

Also true: the Buccaneers allow 5.2 yards/rush on attempts not up the middle. That ranks 29th in the NFL.

The Eagles can get 200.

— Paul Hembekides (@PaulHembo) January 13, 2022
On paper, it will be strength on strength Sunday, with Philadelphia's top-rated rushing attack going against a Tampa defense that finished third against the run (92.5 yards per game). However, the Bucs have allowed eight 100-yard games this season compared to four in 2020, and have been susceptible of late on the outside.
Tampa linebacker Lavonte David is trying to return from a sprained foot, and the Bucs' secondary, which was missing safety Antoine Winfield Jr. and others in the first game against the Eagles, should be in better shape. But the Eagles' offense will provide a bigger test now that it has found the right formula.
"Just good discipline," said Arians, of what's necessary to be successful against the Eagles. "That's the problem when you have read-option quarterbacks and all the RPOs [run-pass options] that go off of it — it's not just stopping the run, it's stopping the RPOs also. You've got to have great discipline and you've got to really tackle well, because whoever has the ball in their hands for Philly is very dangerous."
Ranking Kyler Murray's scramble, Jonathan Taylor's top speed and other amazing NFL highlights
Statistics in an NFL box score sometimes don't reflect the incredible nature of a play. A 10-yard touchdown pass might not sound like much, but when the quarterback had to scramble 30 yards before making the pass, there's another level of appreciation.
That's where Next Gen Stats comes in, going inside the numbers to provide a true look at the level of difficulty — or excellence — on certain plays.
Here is a collection of Next Gen highlights from the 2021 regular season, from the fastest speeds clocked during a touchdown to the tightest windows for a touchdown pass, and more.
Fastest speed clocked during a TD: Running back
JONATHAN TAYLOR. 67 YARDS. GOOD NIGHT.

📺: #NEvsIND on @NFLNetwork
📱: https://t.co/DL75sQUMR5 pic.twitter.com/V0jzema8xz

— NFL (@NFL) December 19, 2021
1. 22.13 mph: Jonathan Taylor, Indianapolis Colts, during 67-yard TD on Dec. 18 vs. the New England Patriots
2. 22.05 mph: Taylor during 78-yard TD on Nov. 4 vs. the New York Jets
3. 21.80 mph: Derrick Henry, Tennessee Titans, during a 76-yard TD on Oct. 18 vs. the Buffalo Bills
---
Fastest speed clocked during a TD: Wide receiver
Marquez Valdes-Scantling takes it 75 yards and WE ARE TIED

(via @NFL)pic.twitter.com/diAm6YgNG4

— Sports Illustrated (@SInow) November 21, 2021
1. 22.09 mph: Marquez Valdes-Scantling, Green Bay Packers, during a 75-yard TD on Nov. 21 vs. the Minnesota Vikings
2. 21.74 mph: Ja'Marr Chase, Cincinnati Bengals, during a 72-yard TD on Jan. 2 vs. the Kansas City Chiefs
3. 21.62 mph: Jamal Agnew, Jacksonville Jaguars, during a 66-yard TD on Nov. 14 vs. the Colts
---
Fastest speed clocked during a TD run: Quarterback
Taysom Hill ices it with a 44-yard TD run! #Saints

📺: #NOvsNYJ on CBS
📱: NFL app pic.twitter.com/CZPXnrq9cy

— NFL (@NFL) December 12, 2021
1. 20.0 mph: Taysom Hill, New Orleans Saints, during a 44-yard run on Dec. 12 vs. the Jets
2. 19.92 mph: Jalen Hurts, Philadelphia Eagles, during a 3-yard run on Nov. 21 vs. the Saints
3. 19.51 mph: Taylor Heinicke, Washington Football Team, during a 4-yard run on Sept. 26 vs. the Bills
---
Fastest speed clocked during a TD catch: Tight end
The @Lions pull off ANOTHER trick play! #OnePride

📺: #GBvsDET on FOX
📱: NFL app pic.twitter.com/L5C6Gek8qP

— NFL (@NFL) January 9, 2022
1. 20.54 mph: Brock Wright, Detroit Lions, during a 36-yard TD on Jan. 9 vs. the Packers
2. 19.7 mph: David Njoku, Cleveland Browns, during a 71-yard TD on Oct. 10 vs. the Los Angeles Chargers
3. 18.86 mph: Tommy Tremble, Carolina Panthers, during a 7-yard TD on Sept. 23 vs. the Houston Texans
---
Fastest speed clocked during a scoring play: Defensive lineman
BLOCKED PAT RETURNED FOR TWO POINTS. #Seahawks

📺: #SEAvsWAS on ESPN
📱: https://t.co/2WYXwxxKrL pic.twitter.com/R2Or7Thm0Z

— NFL (@NFL) November 30, 2021
1. 18.41 mph: Rasheem Green, Seattle Seahawks, during a blocked PAT return, resulting in a 2-point conversion on Nov. 29 vs. Washington
2. 17.51 mph: DeMarcus Lawrence, Dallas Cowboys, during a 40-yard interception return on Dec. 26 vs. Washington
3. 17.26 mph: Carlos Watkins, Cowboys, during a 29-yard interception return on Dec. 2 vs. the Saints
---
Fastest speed clocked during a TD: Linebacker
This one's for you baby boy 💙🙏🏾 pic.twitter.com/jItU05RxaR

— Mykal Walker (@MykalWalker3) December 13, 2021
1. 21.05 mph: Mykal Walker, Atlanta Falcons, during a 66-yard interception return on Dec. 12 vs. the Panthers
2. 19.47 mph: Dre Greenlaw, San Francisco 49ers, during a 39-yard interception return on Sept. 12 vs. the Lions
3. 19.27 mph: Alex Singleton, Eagles during a 29-yard interception return on Dec. 26 vs. the New York Giants
---
Fastest speed clocked during a TD: Offensive lineman
Conor McDermott. BIG MAN TOUCHDOWN! @ConorMcD68 #TakeFlight

📺: #JAXvsNYJ on CBS
📱: NFL app pic.twitter.com/LuJOZRUtJx

— NFL (@NFL) December 26, 2021
1. 12.4 mph: Conor McDermott, Jets, during a 1-yard reception on Dec. 26 vs. the Jaguars
2. 10.86 mph: Taylor Decker, Lions, during a 6-yard reception on Jan. 2 vs. the Seahawks
3. 10.76 mph: Danny Pinter, Colts, during a 2-yard reception on Nov. 4 vs. the Jets
---
Fastest speed clocked during a TD: Defensive back
Pat Surtain II goes 70 yards for his first career pick-6! #BroncosCountry @PatSurtainll

📺: #LACvsDEN on CBS
📱: NFL app pic.twitter.com/1SYAoJuQYS

— NFL (@NFL) November 28, 2021
1. 22.07 mph: Pat Surtain II, Denver Broncos, during a 70-yard interception return on Nov. 28 vs. the Chargers
2. 21.68 mph: Tavierre Thomas, Texans, during a 48-yard interception return on Dec. 26 vs. the Chargers
3. 21.52 mph: Anthony Brown, Cowboys, during a 45-yard interception return on Oct. 10 vs. the Giants
---
Fastest speed clocked overall by a ball carrier on any play
1. 22.13 mph: Taylor, Colts, during 67-yard TD on Dec. 18 vs. the Patriots
2. 22.09 mph: Valdes-Scantling, Packers, during a 75-yard TD on Nov. 21 vs. the Vikings
3. 22.07 mph: Surtain, Broncos, during a 70-yard interception return on Nov. 28 vs. the Chargers
---
Most air distance (point of release to point of catch) on a completed pass
Baker Mayfield's Hail Mary 57-yard touchdown pass to Donovan Peoples-Jones traveled 66.4 yards in the air, the longest completed pass in the Next Gen Stats era (since 2016) by 2.0 yards.

🔸 Completion Probability: 15.4%#AZvsCLE | #Browns pic.twitter.com/7iBWUg60V8

— Next Gen Stats (@NextGenStats) October 17, 2021
1. 66.4 air distance: Baker Mayfield, Browns, on a 57-yard TD pass to Donovan Peoples-Jones on Oct. 17 vs. the Arizona Cardinals
2. 63.8 air distance: Justin Herbert, Chargers, on a 59-yard TD pass to Jalen Guyton on Dec. 12 vs. the Giants
3. 62.0 air distance: Russell Wilson, Seahawks, on a 55-yard TD pass to Tyler Lockett on Dec. 12 vs. the Texans
---
Most yards scrambled before a TD pass
KYLER MURRAY IS ELECTRIC. #AZCardinals

📺: #MINvsAZ on FOX
📱: NFL app pic.twitter.com/MQ2THg6Qau

— NFL (@NFL) September 19, 2021
1. 34.0 scramble yards: Hurts, Eagles, on a 15-yard TD pass to Greg Ward on Sept. 27 vs. the Cowboys
2. 29.9 scramble yards: Zach Wilson, Jets, on a 53-yard TD pass to Corey Davis on Oct. 3 vs. the Titans
3. 29.4 scramble yards: Kyler Murray, Cardinals, on a 77-yard TD pass to Rondale Moore on Sept. 26 vs. the Jaguars
---
Tightest window for a TD pass
Patrick Mahomes & Darrel Williams (38-yard TD)
Completion Probability: 25.8%

🔹 Speed at Throw: 12.70 MPH
🔹 Air Distance: 43.1 yards
🔹 Target Separation: 0.3 yards*

*Mahomes' least amount of target separation on a completion in his career#StatThat | Powered by @awscloud pic.twitter.com/oUC72ncOr6

— Next Gen Stats (@NextGenStats) November 15, 2021
1. 0.29 yards: Patrick Mahomes, Chiefs, on a 38-yard pass to Darrel Williams on Nov. 14 vs. the Las Vegas Raiders
2. 0.30 yards: Tom Brady, Tampa Bay Buccaneers, on a 2-yard pass to Mike Evans on Oct. 24 vs. the Chicago Bears
3. 0.32 yards: Jimmy Garoppolo, 49ers, on a 21-yard pass to Ross Dwelley on Oct. 3 vs. the Seahawks
---
Quickest to record a sack
"Shaq Thompson playing like early 2000s Ray Lewis out here."
– @greggrosenthal somewhere pic.twitter.com/Mf4lIu8Afp

— Panthers 24/7 (@Panthers24_7) November 14, 2021
1. 1.87 seconds: Shaq Thompson, Panthers while sacking the Cardinals' Colt McCoy on Nov. 14
2. 1.90 seconds: Jordyn Brooks, Seahawks, while sacking Garoppolo on Oct. 3
3. 2.00 seconds: Brandon Jones, Miami Dolphins, while sacking the Jets' Joe Flacco on Nov. 21
---
Lowest completion probability on a completed pass
Herbert threw up a prayer to Jared Cook 👀 #BoltUp

📺: #LACvsDEN on CBS
📱: NFL app pic.twitter.com/TFOfONQLEQ

— NFL (@NFL) November 28, 2021
1. 8%: Dak Prescott, Cowboys, on a 26-yard pass to Amari Cooper on Jan. 8 vs. the Eagles
2. 8.2%: Herbert , Chargers, on a 16-yard pass to Jared Cook on Nov. 28 vs. the Broncos
3. 9.1%: Sam Darnold, Panthers on a 27-yard pass to DJ Moore on Sept. 12 vs. the Jets
---
Most yards gained over expectation on a rush
28 goes 78 💨

📺 FOX/NFLN/Prime pic.twitter.com/tVsxEbelQc

— Indianapolis Colts (@Colts) November 5, 2021
1. +75: Taylor, Colts, on a 78-yard run on Nov. 4 vs. the Jets (expected yards: 3)
2. +73: Taylor, Colts, on an 82-yard run on Oct. 17 vs. the Texans (expected yards: 10)
3. +72: Justin Jackson, Chargers, on a 74-yard run on Sept. 19 vs. the Cowboys (expected yards: 3)
---
Most yards after catch above expectation
Deebo takes it 83 yards to the 2-yard line 🙌

— 49ers on NBCS (@NBCS49ers) October 31, 2021
1. +78: Deebo Samuel, 49ers, on an 83-yard reception on Oct. 31 vs. the Bears (expected YAC: 9 yds, actual YAC: 87)
2. +73: Ja'Marr Chase, Bengals, on an 82-yard reception on Oct. 24 vs. the Ravens (expected YAC: 3, actual YAC: 76)
3. +62: Deonte Harris, Saints, on a 70-yard reception on Dec. 2 vs. the Cowboys (expected YAC: 3, actual YAC: 65)